When cycling for exercise, you should always try to ride during the day. At night, there are safety concerns, such as reduced visibility and an increase in crime.
However, if you have to cycle to and from work, you may have no choice but to ride your bike at night. You may also have a busy schedule that prevents you from going for a ride in daylight.
Fortunately, there are several things you can do to ensure your safety when riding a bike at night. At Bike Station we take safety very seriously, which is why we decided to outline 6 tips for a safe ride during the night.
Visibility
When daylight fades, so does visibility. One of the most common causes of cycling accidents is drivers failing to see cyclists who share the road with them.
In addition to being visible to other road users, you should also be able to see where you are going. The most effective way to be visible and increase your visibility is with lights. Ideally, you should mount one light on your handlebar, one light on your helmet, and one on the back of your bike to make it easier for drivers to see you.
If you have to ride far, make sure you have sufficient battery capacity to power your lights. If you ride on dark roads with limited street lighting, your bike lights should have a minimum intensity of 800 lumens.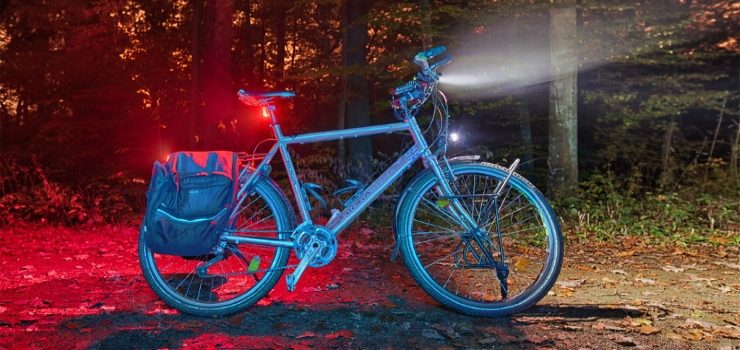 In addition to lighting, you should also wear reflective clothing and stick reflective duct type to your bike.
Plan a Safe Route
When planning the route between your work and home, stick to well-lit roads, preferably with designated bicycle lanes. If a road doesn't have a bike lane, it may be worth taking a longer route to avoid heavy traffic. Potholes and loose surfaces can also be hazardous, especially in low-light conditions.
Use Google Maps to research the roads between your work and home and to find a route without busy intersections, blind corners, and surface hazards. If possible, use the roads that you know well.
Tools and Accessories
When riding a bike at night, you may encounter a mechanical issue that you have to fix before you can continue riding. If you don't have the necessary tools or accessories, a problem with your bike may leave you stranded next to the road or pushing your bike home.
Your cycling kit in your backpack or saddlebag should include:
A multi-tool with a chain breaker
Spare inner tubes
A pump that is compatible with your wheels' Presta- or Schrader valves
A tire boot
A mobile phone
Proper Bike Maintenance
Ideally, you should never have to repair your bike in the dark as it can be a hassle, dangerous, and a waste of time. With proper bike maintenance, you can mitigate the risk of a mechanical problem when riding to or from work.
Before every ride, inspect your tires to ensure proper inflation. You should also pull your brakes and check that they engage and are functioning correctly. Additionally, inspect your chain, chainrings, rear cassette, and rear derailleur for any apparent issues.
As part of bike maintenance, lubricate your entire drivetrain regularly and keep it clean to prevent problems with shifting.
Follow Traffic Rules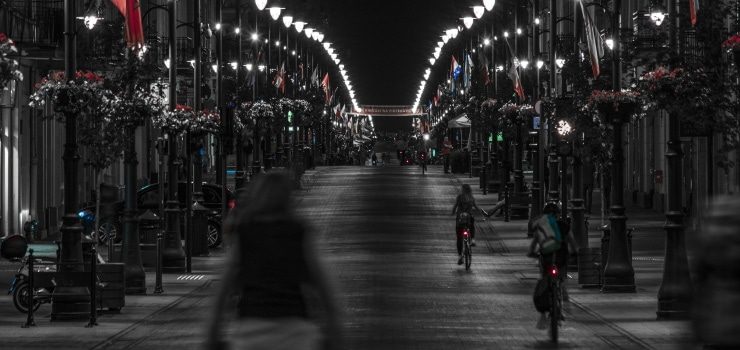 Obeying the laws of traffic is critical to ensure your safety while riding at night. Swerving through traffic, riding on the wrong side of the road, and taking chances when crossing intersections will increase the risk of being in an accident.
You should also ride defensively and never assume that drivers on the road can see you. Maintain safe distances from other vehicles. If there is no bike lane, consider riding in the middle of the lane where there is more room.
Ride with Others
If you ride with someone else, you are not alone when encountering a mechanical issue or if you are in an accident. Having someone around who can call for help or hold a light so you can see what you are doing when repairing your chain can make a big difference. If you ride in a group, you are also less likely to fall victim to theft.
If you are cycling for exercise, riding with others can be motivating and can make your workout more enjoyable.