Are you looking for convenient, environmentally friendly, and affordable forms of transportation? Electric bikes are a popular choice for commuters across the globe—and it is easy to see why these road bikes have garnered so much attention.
Folding E-bikes have an electric motor, alleviating the strain associated with cycling. You can cover longer distances quickly, beating the congestion of public transportation.
E-bikes are available in all shapes and sizes, and most folding electric bikes are more technical. Each model has a different max speed, power rating, maximum load capacity, and weight.
Finding the best foldable E-bike can be challenging. In this folding electric bike review, we explore the best folding electric bikes of 2019, for a comfortable ride and the fastest, lightest electric folding bike available.
Short on Time? See our Top Rated Products From 3 Categories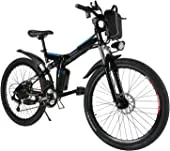 Pure electric and pedal assist modes
Chain-out protector prevents the chain from slipping off
26-inch wheels and fat tires for any terrain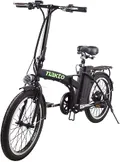 Single-speed drivetrain
A top speed of 20 mph
Sturdy carbon steel construction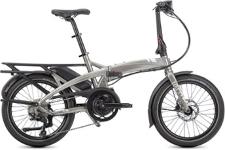 Magura MT4 hydraulic disc brakes
400-watt Bosch Powerpack to charge the battery
Tern Vektron hydroformed 7005-AI frame
The Best Folding Electric Bikes
1. Kemanner 26″ Folding Electric Bike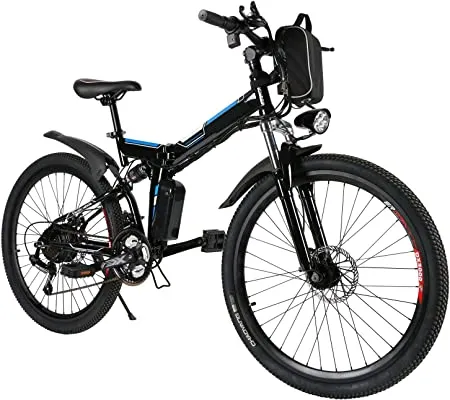 Key Features:
Pure electric and pedal assist modes
Chain-out protector prevents the chain from slipping off
26-inch wheels and fat tires for any terrain
Key Specifications:
Available colors: black
Dimensions: 26" x 64.4" (66 x 162 cm)
Weight: 44 lbs. (19.95 kg)
The Kemanner 26 -inch electric bike is a cost-effective option for all-terrain traveling with high-quality components and great design. This model's main features include an industrial aluminum frame that has an anti-rust coat. The 36v lithium battery offers a fast charging time of six hours.
The electric foldaway bike has two modes of riding: pure electric mode and pedal assist mode.
There have three levels of pedal assist—low, mid, and high. You can switch between levels with the LED 3-speed smart meter buttons. In pure electric mode, you can travel up to 15.5 miles on one charge.
The 26-inch wheels with Chaoyang fat tires are suitable for riding on wet and snowy surfaces. The electric folding bike also has a Shimano 21-speed gear system which makes it the fastest folding electric bike in this review.
Other notable features include a headlight, an adjustable seat post, and a carbon steel fork that absorbs rough terrain. This easy to fold bike has a maximum load capacity of 330.6 lbs. (150 kg) and an impressive top speed of 21.8 miles per hour.
2. Aceshin 20″ Folding Electric Bike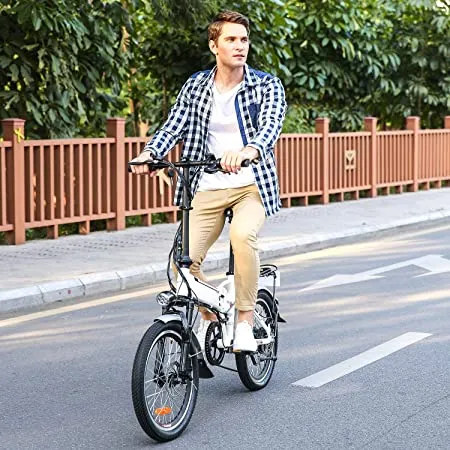 Key Features:
Three riding modes
36V/8Ah battery with a charge time of up to six hours
Lightweight aluminum alloy construction
Key Specifications:
Available colors: White
Dimensions: 21.8" x 32.0" (55.3 x 81.2 cm)
Weight: 50.7 lbs. (23 kg)
The Aceshin 20″ Electric Bike is an entry-level 7-speed Shimano model. The durable 6061 lightweight aluminum frame is resistant to corrosion and easy to store. It is a lightweight electric folding bike with a maximum weight capacity of 330.7 lbs. (150 kg.)
The 36-volt lithium-ion battery allows for 15 to 30 miles per charge, and these electric folding bikes can reach speeds of up to 20 mph. Riders have a selection of three drive modes: assisted bicycle, E-bike, and regular bike.
The assisted bicycle mode provides for three levels of pedal assistance: low, mid, and high. You can switch between modes using your LCD display panel on your handlebar.
This electric bike has several safety features that make it suitable for night riding. These features include a bright LED light, warning taillight, horn, and wheel reflectors.
The Aceshin is the lightest electric folding bike in this review and suitable for almost any terrain with its durable, aluminum 20-inch wheels, anti-slip Wanda King tires, and front carbon steel fork. The mechanical disc brakes bring the bike to a quick standstill in any weather conditions.
3. ONWAY HF-201701D Folding Electric Bike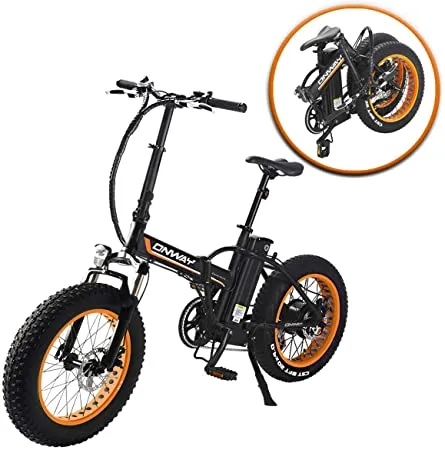 Key Features:
Twist throttle mode allows for variable speed control
The display indicates power on and off, battery charger level, and pedal assist
Quick-release, comfortable, and turn-able saddle
Key Specifications:
Available colors: Black
Dimensions: 48" x 70" (122 x 178 cm)
Weight: 74.7 lbs. (34 kg)
The ONWAY HF-201701D is one of the most popular electric bikes under $1000. This model is suitable for different terrains with its suspension fork, 6061 aluminum alloy collapsible frame, and 20″ x 4″ KENDA tires. The SHIMANO 7-speed gears also contribute to a smooth riding experience.
A high-end electrical system supports the fat tire folding electric bicycle's construction. The electric components include a 36-volt lithium Samsung battery and a 350-watt Bafang rear hub brushless gear motor. On a single charge, the geared hub motor provides a range of up to 50 miles and a maximum speed of 18 mph.
You are equipped with three riding modes with the HF-201701D: electric mode, 3-level electric-assisted mode, and normal riding mode. Select the appropriate riding mode for the terrain using the LED panel on the handlebar.
The electric folding bike is suitable for a range of applications and tough terrains. You can ride it easily on snowy and wet surfaces, as well as the beach. The twist throttle variable speed control, favorable weight, and durable construction adds to the electric bike's surprising versatility.
4. NAKTO Fashion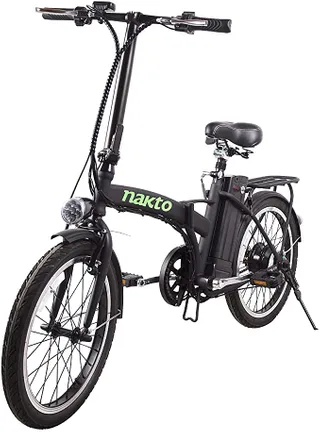 Key Features:
Single-speed drivetrain
A top speed of 20 mph
Sturdy carbon steel construction
Key Specifications:
Available colors: Black
Dimensions: 42" x 48" x 30" (106 x 122 x 76.2 cm)
Weight: 50 lbs. (22.6 kg)
The NAKTO Fashion 20″ Foldable Bicycle is ideal for commuters who value convenience and durability. The folding electric bicycle features a 250W brushless motor and a 36V/10Ah lithium battery with six hours until it is fully charged.
Together, the battery and gear motor provide up to 20 miles of range on a full charge. You can achieve a top speed of up to 20 mph, which is quite fast for a single-speed drivetrain. The driving distance and speed that the Fashion provides make it suitable for both city and off-road driving—a great benefit to double as a folding electric mountain bike.
The Fashion has a sturdy, lightweight carbon steel construction, and a weight capacity of 250 lbs (113 kg.) The 20-inch tires are 1.75 inches wide, and they provide grip and stability on wet and rugged surfaces. Safety features include powerful brakes and a motor safety cut-off. The foldable electric bikes boast a design that allows for easy storage and convenience on public transportation. Another feature that many electric bike review commenters highlighted was the pedal assist feature for harsher terrains and long distances.
5. Tern Vektron D8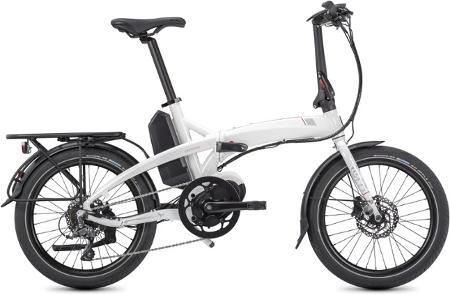 Key Features:
56-mile capability
20" wheels
Short charging time
Key Specifications:
Available colors: Black + white
Dimensions: 16.1″ x 33.9″ x 26.8" (41 x 86 x 68 cm)
Weight: 49 lbs. (22.2 kg)
The Tern Vektron D8 is a wonderful choice for those that live in the city. With precise control of speed and brakes, it's sure to get you safely around town while keeping your fatigue at bay (20 mph speeds possible). This model has hydraulic disc brakes and 20" wheels – allowing you to easily move around people and traffic.
The torque of this D8 is at 80 Nm, allowing for easy acceleration. The Shimano Claris rear derailleur helps with quick and easy gear shifting – something that is needed for city-riding. Another great thing about this model is that it is an ideal commuter bike; the 400-watt-hour battery will allow you to comfortably travel 56 miles. On top of that, it only takes 5 hours to reach a full charge. Another bonus is that this bike is made with recycled materials.
The Tern Vektron D8 only takes approximately ten seconds to fold, which makes it convenient for quick storage at work or at home. It is also easily mountable with the proper rack.
6. Tern Vektron S10 Gen 2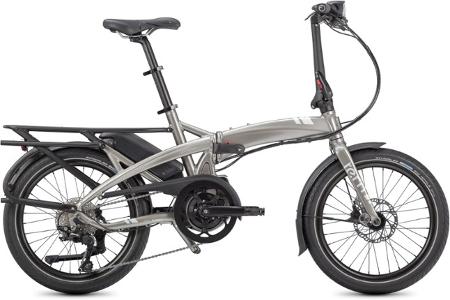 Key Features:
Magura MT4 hydraulic disc brakes
400-watt Bosch Powerpack to charge the battery
Tern Vektron hydroformed 7005-AI frame
Key Specifications:
Available colors: Silver
Dimensions: 16.1" x 33.9" x 26.8" (409 x 81 x 60 cm)
Weight: 48.1 lbs. (22 kg)
The Tern Vektron S10 Gen 2 is the ideal option for urban cycling with its powerful motor, the Bosch Active Plus motor, and a foldable large-rack compact design.
What makes this mini folding electric bike ideal for city riding is the moped-like profile with a steep head-tube angle and 20-inch tires. The design allows for ample maneuverability at low speeds, which is convenient in traffic.
Eco mode is suitable for flat surface riding, and the motor will contribute around 40 percent of your pedaling input.
If the motor is in Tour mode, the electric motor will match your contribution.
When you are climbing hills, Sport mode increases the powerful motor's input to 180 percent of your effort.
The motor produces 50 newton meters of torque in Turbo mode and up to 270 percent of your pedaling power.
In the pedal assist mode, the bike can reach a top speed of 20 miles per hour. On a single charge, the Tern can reach 80 miles, but only if you stay in Eco mode and travel on mostly flat surfaces.
7. Tern GSD S10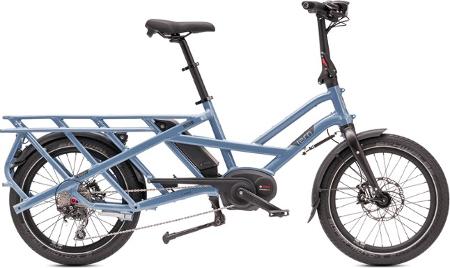 Key Features:
Class 1 pedal assist E-bike
7005 aluminum frame
Motor torque of 63 newton meters
Key Specifications:
Available colors: Blue
Dimensions: 71″ x 16″ x 33" (180 x 41 x 84 cm)
Weight: 59 lbs. (27 kg)
The Tern GSD S10 is one of the versatile cargo foldable electric bikes, compatible with a wide range of add-on accessories. The model is the standard Shimano 10-speed, and at 59.53 lbs. (27 kg,) it is heavy in comparison with other folding electric bicycles in this category.
There are several benefits to the added weight, however. The S10's frame is incredibly strong, with a high load capacity of up to 400 lbs. (181 kg.) There is plenty of packing space at the rear, and you can attach Thule Yepp Maxi child seats for carrying two children.
The GSD 210 has sufficient power to carry these loads. Power features include a Bosch 400 watt-hour lithium battery and a 250-watt Bosch Performance line motor with a torque rating of 63 newton meters.
In pedal assist mode, you can reach a distance of up to 68 miles on a single charge, and a top speed of 20 mph on flat terrain. The bike is longer than most other folding E-bikes and has a similar feel to a touring bike. The S10 has smaller wheels, however, and is easy to maneuver.
Folding E-bike Buying Guide – 3 Things to Think About
Power
A crucial consideration is the power that determines the bike's ability to climb steep hills and ride over rough terrains. An E-bike has several power ratings, but the most significant one is wattage. As a rule, the higher the wattage, the more power the electric bike can muster.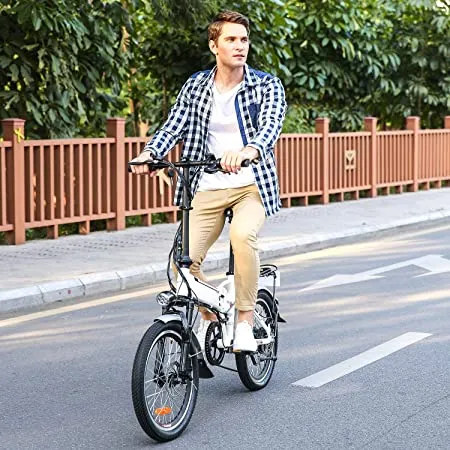 Every electric bicycle has a battery with a voltage rating and a controller with an amp rating, which determines the wattage of the bike. For example, if you have a 36-volt battery and a 15-amp controller, the bike will have a wattage of 540 watts (volts x amps =watts).
Three things determine the wattage you need: your weight, the inclines in your area, and the speed you want to achieve. If you weigh more than 220 lbs. (100 kg) and live in a hilly area, don't settle for a cheap folding electric bike with a power rating of fewer than 1,000 watts. If you weigh 160 lbs. (72.5 kg) and live in a flat area, a power rating of 500w motor will be enough.
Torque is another rating to consider as it is the hub motor's ability to turn the rear wheel. This rating determines an electric bike's ability to accelerate. Your load should also play a role when selecting an appropriate power rating. Take the weight of your kids, their child safety seats, and your bags into account when considering a suitable power rating.
Type
The type of bike you choose should be suitable for your needs. Each type of electric bike has a unique construction, design, and power rating to cater to specific customization.
Electric Folding Mountain Bikes
These electric bicycles are popular among people who like to explore the outdoors with the assistance of motor power for steep hills and rugged terrain. The bikes are larger than road bikes, and typically have limited packing space and load capacities.
Electric Road Bikes
Electric road bikes are like conventional road bikes in design and load carrying capabilities. Typically, people who like riding bicycles to stay fit don't prefer this alternative, but it is ideal for recreational activities.
Electric Hybrid Bikes
Electric hybrid or power assists bikes are becoming increasingly popular to commute to work and other places, like retail stores. These functional bikes are not as impressive as electric mountain bikes, but they have high load capacities for groceries, luggage, and briefcases. Of all the cheap electric bikes, hybrids are the most popular.
Wheel Size
The wheel size of your electric folding bicycle is significant as it determines the terrain you will be able to handle. Wheels with a diameter of 20 inches or more provide a smooth, stable ride over rocky, sandy, and slippery surfaces, as they have better roll-over characteristics. Larger wheels have more rubber on the ground, providing better traction and making steep climbs much less challenging.
Some people prefer smaller wheels as they are lighter than fat tires. This bike doesn't require the same clearance, which makes a smaller frame possible. Smaller wheels may also be the better option for people who prefer the enhanced maneuverability and control of a small folding electric bike.
The size of the wheels might also affect how small a bike can fold down. If you want it to fit comfortably into public transport, a 20-inch wheel will be enough. If your storage space if more compact, consider a 16-inch wheel or smaller.
How Does an Electric Folding Bike Work?
An electric folding bike has the same construction as a conventional bicycle without electric power. The primary difference is that an electric bike has additional components to turn the rear wheel effectively. Other features of an electric bike include a battery, electric motor, sensor, and electronic display, typically not found on normal bicycles.
The battery pack provides the E-bike's driving power. Most electric bike kits use a lightweight lithium-ion battery that offers ranges of 10 to 40 miles on a charge. You can extend this range by pedaling over a portion of the journey.
The battery powers an electric motor that can be fitted to the rear or front wheel. Some motors power the bike's pedal sprockets. Full-power bikes have larger batteries and powerful motors and are designed for as little pedaling as possible. Power assist or hybrid bikes have electric systems to drive the bike when you are tired or need a boost when climbing steadily up a hill.
How Fast is the Fastest Folding Electric Bike?
Your pedaling ability limits a foldable electric bike's speed considerably. The electronic drive system of most E-bikes will stop assisting with a speed of 20 miles per hour. These bikes fall under Class 1 and 2 categories and are also called low-speed throttle-assisted bicycles.
High-performing models power the foldable bike at speeds of up to 28 miles per hour. These are considered Class 3 bikes and are called speed pedal-assisted electric bicycles. The fastest bikes on our list can reach speeds of 20 miles per hour.
How Much Does the Lightest Electric Folding Bike Weigh?
The best folding electric bikes are heavier than regular ones you can buy on Amazon because they have enforced frames. They also carry additional equipment like a battery and motor. Weight affects the performance of an electric bike, and a lightweight model is easier to lift and load into a storage space or car trunk.
High-end bikes can weigh as little as 17 lbs. (7.7 kg,) but these models are not as powerful as the E-bikes between 30 and 70 lbs. (13.6 – 32 kg.) The lightest bike in our list is the Kemanner 26″ Electric Bike that weighs 40 lbs. (18 kg.) The bike's low weight makes it incredibly easy to ride, and you will get 15.5 miles on a single charge.
If weight is a concern for you, this model may be the most viable of all the E-bikes on the market. Weight is not everything, however. If you are planning on transporting heavy items, a more robust frame will provide the support you need.
References