There are two types of people – those who use the same sports or training shoes for everything and others who have different footwear for grocery shopping, city biking, mountain biking, commuting to work, and other activities.
Regardless of which category you fall into, you would need a good pair of cycling shoes if you're gonna be on your bike frequently. Shoes designed exclusively for cycling or similar activity will have specific features to keep your feet comfortable and safe from any unwanted movements or injuries.
That said, it's quite a headache of a task to decide on the "best cycling shoes" you should buy. For starters, there are multiple companies with different ranges of products, and you'll have to choose between getting road cycling shoes, mountain biking shoes, and so on.
Next, you'll have to find the right features for your requirements, including the soles and cleats. And all of these decisions and efforts will go in vain if your feet don't feel comfortable inside the shoes.
Lucky for you, I have bought many cycling shoes over the years, and you get to use all that experience through this beginner's guide.
What kind of shoes should I wear for cycling?
Choosing the type of shoes you would be wearing is the most important and frankly the easiest choice you'd be making in this guide. To be clear, you can go cycling in practically anything, but it's not efficient to do so – different types of shoes have different features that work best in particular circumstances.
There are three primary shoe categories used in cycling:
Casual Bike Shoes are similar to sneakers in aesthetics and are suitable for recreational or "casual" bikers. They're used mainly by commuters instead of competitive bikers since they offer the basic bike shoe-like features such as stiff sole and pedal attachments.
Road Cycling Shoes are made for competitive bikers. They offer the stiffest soles and maximum pedal power efficiency. The only downside is that you can't walk with them over long distances because it only has minimum tread. Although road shoes come with three-hole protruding cleats to attach them onto clipless pedals.
Mountain Biking Shoes are super important if you go biking in the mountains. While you can use them on roads, road shoes aren't that good in the mountains. Mountain biking shoes have grippy soles that add extra traction on longer trails and come in two options – with and without cleats.
Which is the best cycling shoe you should buy?
Shimano's S-PHYRE Editions – RC5 and RC9 are the best cycling shoes money can buy right now. RC5 cost around $125 – making them ideal entry level shoes while RC9 cost $255 – ideal for competitive cyclists. Both offer a full carbon sole and dial closures with breathable synthetic uppers.
1. Shimano RC5 Cycling Shoe – Men's
Shimano's RC5 are road shoes designed for on-road cycling to provide maximum performance. While the shoe offers a nylon sole, they're reinforced with carbon to offer better support and efficient power transfer compared to standard nylon soles.
Shimano Dynalast design is not only aesthetically pleasing but is seamless which improves fitting of the shoe. As for the fastening system, RC5 offers a single BOA dial closure with lifetime warranty. It also offers a 3-bolt cleat for the premium feel.
Buy Links:
2. Shimano SH-RC9 S-PHYRE Cycling Shoe
Shimano's RC9 is the ultimate mid-range (price-wise) cycling shoe but its features lie somewhere between mid-range and the rather expensive ones. Forget about the compromises you made in RC5. RC9 has everything you'll ever need and more.
RC9 has pro-level durability paired with a super lightweight carbon sole. Along with a seamless Shimano Dynalast design, RC9 offers perforations for breathability AND drainage holes to evacuate water during rainy days. It also offers not one but dual BOA dial closures with 3-hole cleats.
Buy Links:
Read More: Best Stylish Bike Helmets for Men & Women To Buy in 2021
Best Budget Cycling Shoes For Beginners
Specialized Torch 1.0 Cycling Shoes are the best entry-level cycling shoes for beginners at $110. It offers a nice stiff sole with a BOA dial closure. Although it doesn't have a good support insole (something you can upgrade later) and lacks heel support (non-upgradable).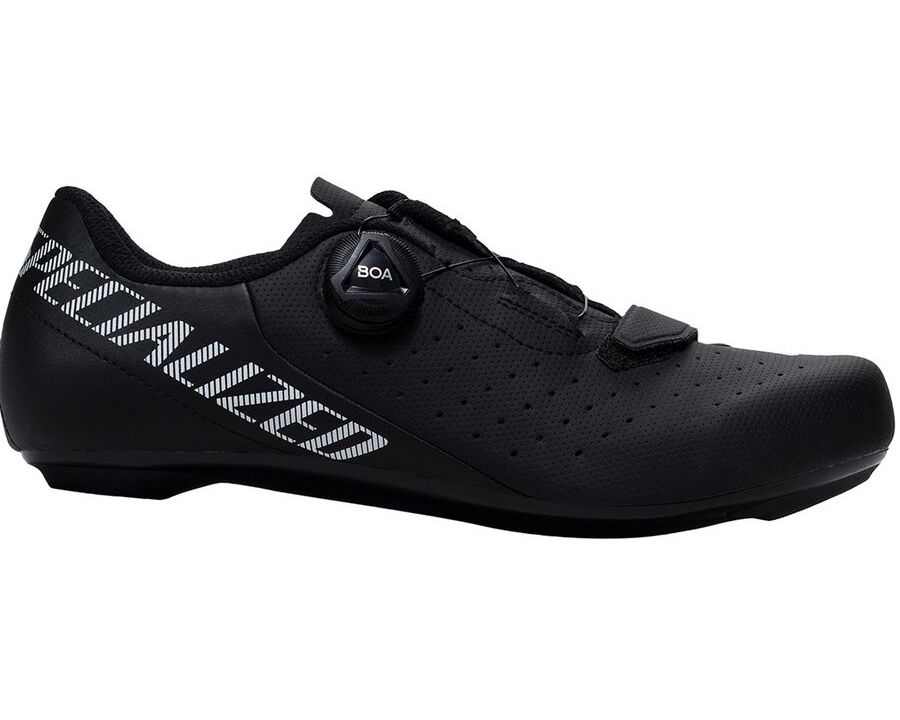 Buy Specialized Torch 1.0 on Competitive Cyclist
Although if you don't require Specialized, there's no shortage of good beginner-level cycling shoes on the market.
If you have a similar budget, I'd suggest adding a few bucks and just going with Shimano RC5 but if you're on a tighter budget, DHB Dorica Carbon Cycling Shoes will be an excellent addition to your cycling kit.
Best Cycling Shoes For Competitive Cyclists
Lake's CX332 Wide Cycling Shoes are the best for professionals and competitive riders. They provide an astounding level of performance for $450.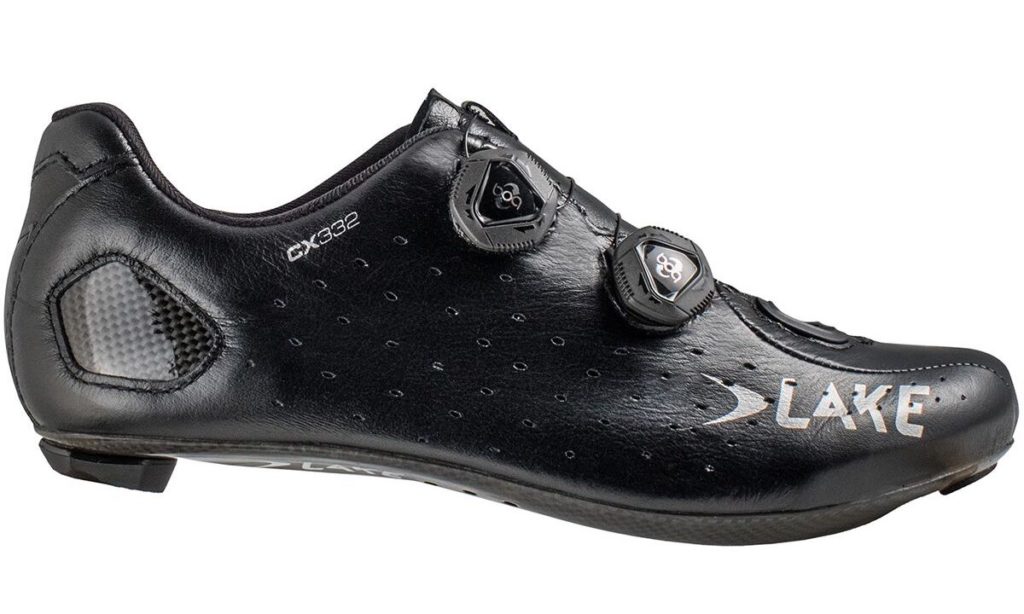 They come with a leather upper and a premium-grade stiff carbon sole. Similar to RC9, CX332 offers dual BOA dial closure with 3-hole cleats. In addition to the carbon sole, CX332 also has a moldable heel cup that minimizes any chances of slipping.
You can still buy Shimano's RC9 at a cheaper price with almost equal features, Lake's CX332 are for pros who need that extra edge. But if you're on a tighter budget, RC9 is an excellent option as well.
Buy these specialized cycle shoes here:
What factors to look for when buying cycling shoes?
I know you're gonna get confused with all the information about this factor and that factor. So, let me give you a quick difference table about the shoe types and the factors affecting your choice.
| | | | |
| --- | --- | --- | --- |
| | Casual Biking | Road Biking | Mountain Biking |
| Cleat | Built inside the sole | Built outside the sole | Built inside the sole |
| Pedal Style/Fastening System | Flat or 2-hole clipless pedals | Generally 3-hole | Flat or 2-hole clipless pedals |
| Insole | Slightly stiff | Extremely Stiff | Moderately Stiff |
| Outsole | Sneaker-like smooth rubber outsole | smooth | Grippy for extra tread |
Now that you have the basic idea, let's decide which option is the best for you.
Ps…if you don't wanna read all this and just want my recommendations, skip to the next section.
1. Soles & Cleat Types
Cycling shoes come in varying thicknesses of soles – the general idea is to get the stiffest sole possible. With a regular shoe, the soles would bend when you pedal, which will waste some of your energy. They'd also be generally heavier and provide resistance against the force of your pedal power.
But if the sole is stiff and lightweight, it won't bend or resist, and all your energy will be transferred to the pedal. And finally, the material of the sole – you can find soles with three options – nylon (cheapest and beginner-level), carbon composite (slightly expensive, recommended), and carbon-only (super expensive, ultra-stiff).
Although I should warn you that money doesn't always mean premium quality. Incorrectly engineered carbon soles make for ultra-stiff soles that can be uncomfortable and harmful to your foot.
The next factor you'll need to look at is the cleats. As a beginner, you'll find yourself at a crossroads between nylon vs. carbon composite (both good for beginners) and your budget. So, check out what kinda cleats the soles support – they'll be either compatible with 2-bolt or 3-bolt.
Here's how you make the right choice:
2-bolt: If you're off road riding and want to walk as well.
3-bolt: If you're riding on the road, especially if you do competitive biking.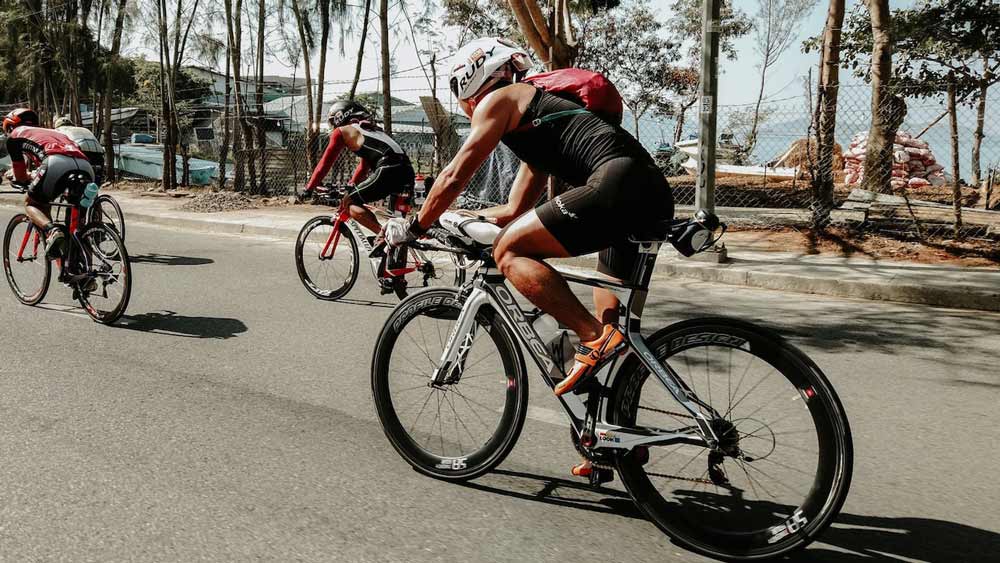 2. Fastening System
Biking or cycling shoes have four fastening system types to choose from – laces, dials, ratchets, and velcro straps. Let me give you a quick insight on all four so you can take an informed decision:
Velcro is the cheapest and super-lightweight. Biking shoes on the cheaper end come with a velcro strap by default. The downsides are that velcro loses its grip (or effectiveness) over time, and these clipless pedals are challenging to adjust the velcro strap on the go.
Ratchets are in many ways upgraded velcro straps. They're pretty cheap, lightweight, and have rather precise adjustability options compared to a velcro strap. And the cherry on the top is that they can be adjusted on the go. Ratchets come in mid-range biking shoes and are good options with minimum downsides.
Laces come on some high-end shoes since they're the most flexible in terms of adjustability and comfort. But these clipless pedals impossible to adjust on the go, obviously.
Dials are the best and most expensive fastening systems for biking shoes. They come on most high-end shoes and offer maximum security, easier and precise adjustability, and the ability to adjust them on the go.
3. Custom Features (Insoles)
While there are many features offered by different manufacturers, I'm gonna talk about the one that's most important – an insole upgrade.
Most shoes come with flat insoles, which aren't suitable for a longer period. You should definitely consider buying arched insoles from a good company if you have some extra bucks to spare. Try heat molding to get an insole that perfectly fits your feet.
4. Your Requirement & Budget
Once you have a fair idea of all these factors, filter your potential list based on your budget and then physically try them on for the "feel" of it. Don't forget that you won't ever NEED to go for the priciest option as a beginner.
Find perfectly fit cycling shoes for your requirements and budget perfectly.
Read More: Quick & Easy Guide to Adjusting Bike Brakes the Right Way
Frequently Asked Questions:
1. Are training shoes suitable for cycling?
Well, what if you wanna use training shoes instead of buying one of the three primary choices? Is that a good choice?
Training shoes are excellent for cycling, be it road biking, mountain biking, or daily commute. Training shoes are more flexible than standard cycling shoes, so many riders find the former more comfortable. They also provide a steady grip for pedaling.
2. Are triathlon shoes suitable for biking?
Triathlon shoes are a good choice of on-road shoes, especially if you take part in triathlons frequently. They're easier to wear and remove. The only downside to using triathlon shoes for biking is that they have drainage holes for wet feet, so they aren't suitable during winters.
Don't forget to wear and try on your shoes before buying them. Even if you buy them online, checking them out for comfort is well worth the effort.