As a parent, it can be confusing trying to filter through all the information provided in this technological age. That's why we've scoured the net for you. Below, you'll find the 10 best balance bikes for 2, 3, and 4-year-old toddlers in [current_year]. Each of these balance bikes has been hand-picked to be the best mix of reliability, strength, and cost.
That is not all. We have also included why a balance bike is better than using training wheels, and what you should be looking for in a balance bike. We even delve into the murky world of why a brake may not be necessary and is not needed for safety reasons. So, grab a coffee, sit back, and let us guide you through the tricky world of balance bikes. First up are the reviews.
Short on Time? See our Top Rated Products From 3 Categories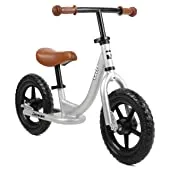 Maintenance-free
Air-free tires
Available in a huge range of colors

Strider 14x Sport Balance Bike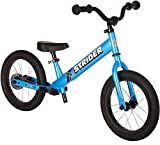 Instant Success
Made to last bike kit
Designed for kids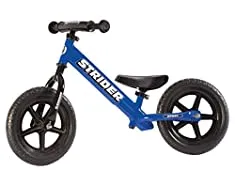 Mini grips, perfect for small hands
No-flat foam tires
No-tool assembly
The Best Balance Bikes
1. Strider 12 Sport Balance Bikes for Toddlers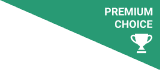 Key Features:
Mini grips, perfect for small hands
No-flat foam tires
No-tool assembly
Key Specifications:
Dimensions: Wheel Size: 12 Inch, Frame Size: 19 Inch
Weight: 9.6 lbs
Available Colors: Pro Blue, Strider Black, Strider Pink
Strider is one of the most popular balance bikes for kids available. If you have a look at reviews, you will find that many people consider the Strider 12 Sport to be the best bike for a two-year-old. Strider is a brand that has put a lot of thought into balance bikes, and their bikes can take children from 18 months to 5 years old.
On the Strider Sport you will see that they have fitted thin grips and a 43% thinner width than that of a standard handlebar. Thin bars and grips make it easier for your toddler to keep control of their balance bike.
With a foam tire set, you have a balance bike with tires you won't need to pump up. The foam found on the Strider Sport is a proprietary blend used just by Strider bikes. It can be used on BMX tracks and in indoor halls. Strider runs toddler races at most National BMX events.
The Strider Sport comes with a short post, but if you need higher bike seats, it is possible to buy longer posts from Strider. The short post helps to make the Strider an excellent choice for children ages 18 months and up.
2. Retrospec Cub Balance Bikes for Toddlers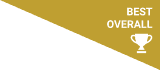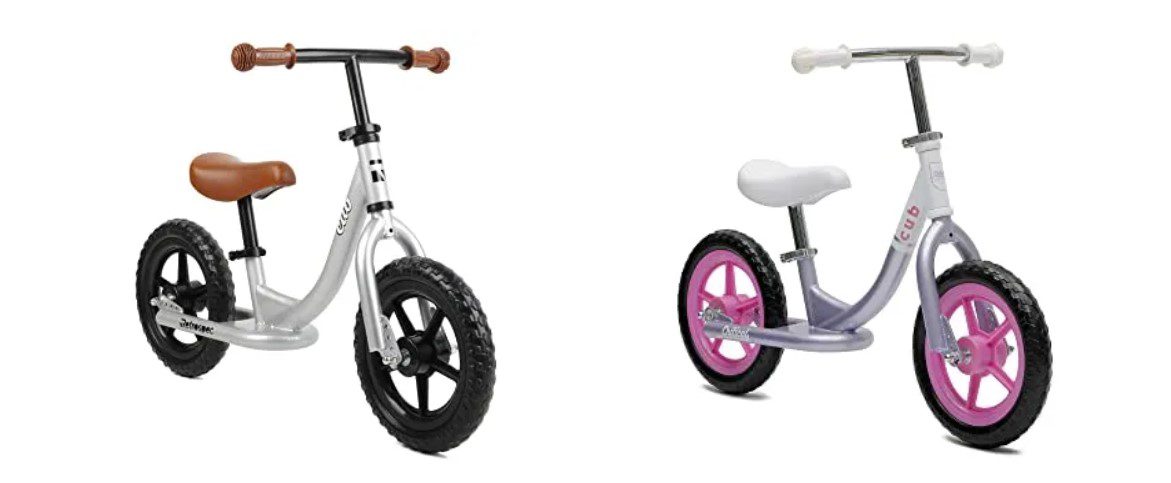 Key Features:
Maintenance-free
Air-free tires
Available in a huge range of colors
Key Specifications:
Dimensions: Wheel Size: OSFM, Frame Size: not provided
Weight: 9 lbs
Available Colors: Four colors available
The Retrospec Cub balance bike has to be seen as being great value for money, putting it in the running for the title of best value balance bike for a toddler. Like many of the balance bikes in this review, it has a low frame, but this hi-ten steel frame has something extra added.
Where your child's pedal would typically be there is a standing platform. Your child can then put their feet on this platform and glide off into the distance. This platform helps in getting children accustomed to putting their feet where pedals should go, and it will also help them with their balance.
The Retrospec Cub balance bike also comes with quick release clamps for the seat post and handlebars. The quick release clamps allow you to change and set the bike seat height and handlebar height quickly.
The great news about the Retrospec is that it is designed to be maintenance-free. This is a great feature if you are planning on handing the balance bike down. It also helps to make the bike very easy to set up straight out the box. Your child should be playing on it in 5 minutes.
3. Banana Bike LT Balance Bikes for Toddlers

Key Features:
Maintenance-free
Air-free tires
Available in a huge range of colors
Key Specifications:
Dimensions: Wheel Size: 11 Inch, Frame Size: not provided
Weight: 6.4 lbs
Available Colors: Blue, green, pink
Banana by name, banana by looks. The banana-style frame of the Banana Bike LT is great for young kids. It allows them to step over the balance bike to get on and off of it easily, and it makes it easier to jump off the balance bike if they are going to crash.
The Banana bike has foam tires, so you do not need to bring the pump out or worry about punctures. It also comes with a headset that has bearings inside. The bearings make it so that this balance bike will steer like a proper bike for when your child moves onto pedal bikes.
The Banana Bike LT is an improved and upgraded model from the balance bike they previously had available. It is almost 6 lbs lighter than the previous model. Saving this amount of weight will make the new Banana bike very easy for your child to ride.
To save this weight from the previous model, Banana has made a few changes. As well as fitting the new metal headset, the bike also now comes with a new quick release seat clamp and a new, stronger handlebar.
4. Radio Flyer Glide N' Go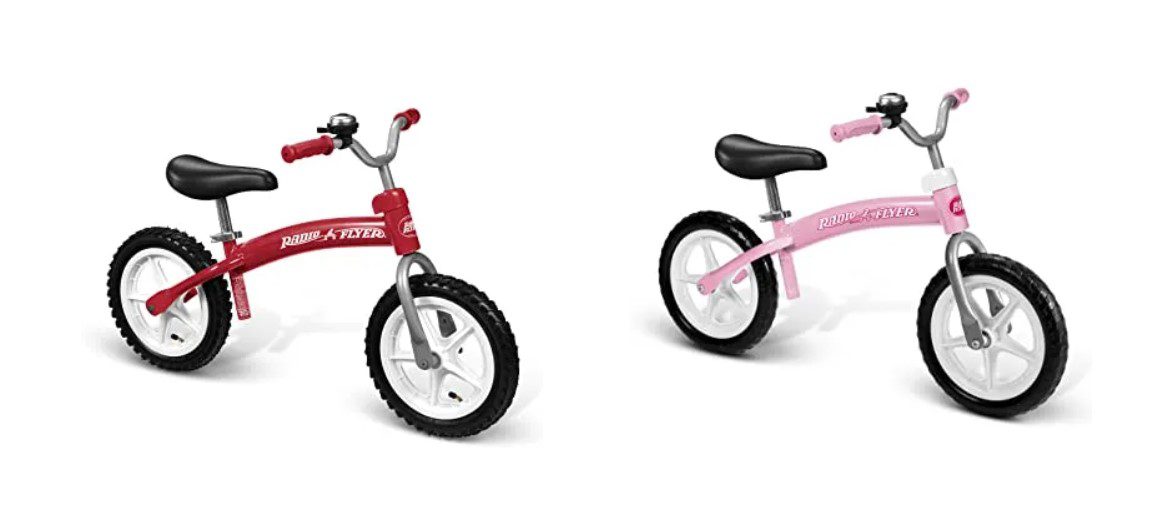 Key Features:
Available in steel or wood
Air tires
Comes with a bell
Key Specifications:
Dimensions: Wheel Size: 12 Inch, Frame Size: not provided
Weight: 9.53 lbs
Available Colors: Red Air Tire, Gray
The Radio Flyer Glide N' Go balance bike has a lovely Americana feel to it. It is also the first bike on our list to have air-filled rubber tires fitted. It also comes in two frame varieties. You can buy it with a steel frame, or you can buy it as a wooden balance bike.
The steel version has an adjustable seat post with a lot of adjustment and a nicely cushioned saddle. The wooden version is less adjustable and has a set handlebar height as well. The steel Radio Flyer Glide N' Go balance bikes also come with a real bell. Your child will love this. You might not love that feature as much as they do.
The frames on the Radio Flyer all sit a bit higher than on other balance bikes in this review, so this Radio Flyer is geared more towards 3-year-olds. It is easier for an older toddler to balance and step over this frame design. They will also feel more in control with a higher frame.
The good news about the air tires is that they come fitted with an L-shaped tube valve. Many balance bikes with air tires come with a standard straight valve. A standard valve on such small wheels can be almost impossible to pump, as there is not enough room between the top of the valve and the wheel's axle. The L-shaped feature brings the valve out to the side and makes putting on a pump easy. It is the small details that can make all the difference.
5. Joystar Marcher

Key Features:
Airless EVA tires
Quick release seat clamp
Low standover design
Key Specifications:
Dimensions: Wheel Size: 12 Inch, Frame Size: not provided
Weight: 5.9 lbs
Available Colors: Red, Green, Evory, Orange
The Joystar Marcher is a high tensile steel-framed children's balance bike. This should make the bike almost indestructible. It, like many other balance bikes, has a low, easy to step over frame. The Joystar comes with EVA airless tires. Not only does this stop you from getting punctures, the EVA tires will also be pretty light.
The Joystar has a minimum saddle height of 12.6", so you need your child to have a longer inner leg than that. You want them to be able to have flat feet on this bike. When balance bikes do not have brakes, flat feet are essential as they will help your child stop and gain the confidence that they need.
To help you set the seat height quickly and easily, the Joystar comes with a quick release seat clamp, making for an easily adjustable seat height. You will not need any tools to adjust the ride height when you and your kid are out playing in the park.
The Joystar is a simple, no thrills kid's bike; everything that you need and none of what you don't need. It will need minimal upkeep and it will be ready to hand down to younger siblings.
6. Strider – 14x Sport Balance Bike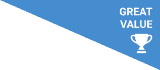 Key Features:
Puncture resistant EVA tires
Anti-rust frame
Low standover frame design
Key Specifications:
Dimensions: Wheel Size: 12 Inch, Frame Size: not provided
Weight: 5.9 lbs
Available Colors: Black
The Strider – 14x Sport balance bike looks very similar to the Strider Sport. It is a lot cheaper than the Strider. It does weigh more and does not have the easy-to-use quick release clamps that you'll find on the Strider.
The lack of the quick release clamps can be a negative or positive, depending on how you use the balance bike. If you want to change bar and seat height often, having to use tools to do so may be annoying. If you are not moving things regularly, you may prefer the reassurance of knowing everything is bolted down.
The Enkeeo has an anti-rust coated frame. Once your child has learned how to use a balance bike and he/she is ready to move on, you can safely store the bike in your garage until the next child in your family is ready to start riding.
The Enkeeo 12 Sport comes with foam tires. You are, therefore, never at the mercy of punctures. The foam tires help to keep the Enkeeo light and make it a good balance bike for toddlers.
7. The Croco Premium & Ultra-Light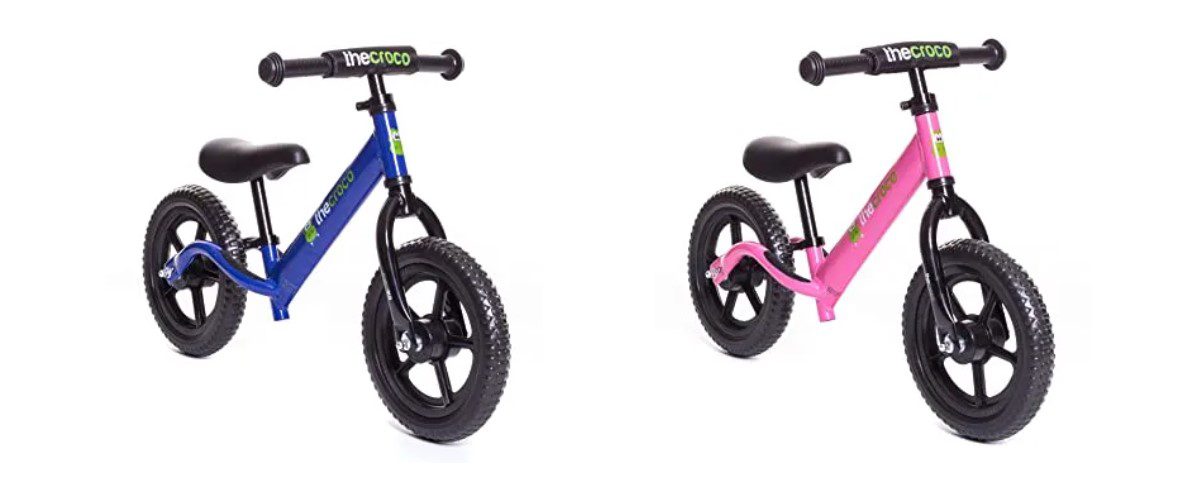 Key Features:
Very light
Tool free assembly
Quick release clamps for the seat post and handlebar
Key Specifications:
Dimensions: 28.6 x 12.9 x 6.8 Inch
Weight: 4.3 lbs
Available Colors: Blue, Green, Light Pink, Orange
The Croco Premium & Ultra-Light is a kid's bike with a name that tells you everything you need to know about the bike. At 4.3lbs., the Croco is one of the lighter balance bikes in this review, and indeed in the greater world.
The frame design is again of the low-slung variety, but the Croco has an interesting feature: the rear stays that connect the rear wheel to the top tube of the bike sweep up and have grip tape. Your child can put their feet in this comfortable place.
The placement here is excellent as it fits exactly where we would like your child's foot to stop when they are scooting. They don't have to bring their foot down to find a platform or hold them up. It might take them a few times to get their feet here but once they do, there will be no stopping them.
You will also find that when you pull The Croco out of its box, it can be assembled without any tools. The tool-free design means that you can have The Croco quickly up and running. It also means that if you need to adjust the seat and handlebars when outside, you will be able to thanks to the quick release clamps. No tools needed, and no need to visit a bike shop.
8. KaZAM v2e

Key Features:
Air filled tires
Very low stepover
Lots of color options
Key Specifications:
Dimensions: Wheel Size: 12 Inch, Fame Size: not provided
Weight: 11.2 lbs
Available Colors: Green, Magenta, Metallic Bright Blue
The KaZAM v2e has a very low step-over height, even for a balance bike. It will comfortably accommodate toddlers that have just started to walk and might even help them as they take their first few tentative steps.
The stepover is as low as the footsteps are on other models of balance bike. For many toddlers the hardest part of riding a balance bike is standing over the frame, the KaZAM takes that issue away.
The KaZAM comes with air-filled tires that look rugged enough to withstand the roughest of back yards. Before you know it, your toddler will be motocrossing it across your lawn and jumping over toys that are strewn around.
As many children can be fussy about which bike color they would like the KaZAM comes in a load of color options. There will be one there that will suit the fussiest of children. Getting a bike in a color that your toddler likes is a great way to make sure that they can start a lifelong love of bikes from an early age.
9. Smart trike folding Toddler Balance Bike

Key Features:
Free safety gear
Lightweight
Adjustable
Key Specifications:
Made for Kids
It folds
Multi award winning brand
The Smartrike Folding Toddler balance bike is very different from the previous Enkeeo balance bike we checked out. One of the key differences is that the Enkeeo 14 12 Sport comes with a hand brake. You are allowing your child to learn how to brake. Most children won't use the hand brake, but it will get them acclimated to the idea.
The Enkeeo also comes with a saddle that is both upholstered and has a handle that you can hold to help give your child a little bit more confidence when they are starting out. It also has some pretty chunky air tires. If you want your kid to be a future mountain bike star, this might be the balance bike to start on.
Finally, there is a big platform on the Enkeeo's frame. Your child can safely put their feet here when they are gliding. The platform will help with their confidence and give them a little more balance when they are scooting along.
The Enkeeo may only come in two colors, but it comes with a couple of sticker sets, allowing your child to make the bike theirs and to show off their creativity. As the frame colors are neutral, you use the stickers to make it a boy's balance bike or a girl's balance bike.
10. Strider 14X Pedal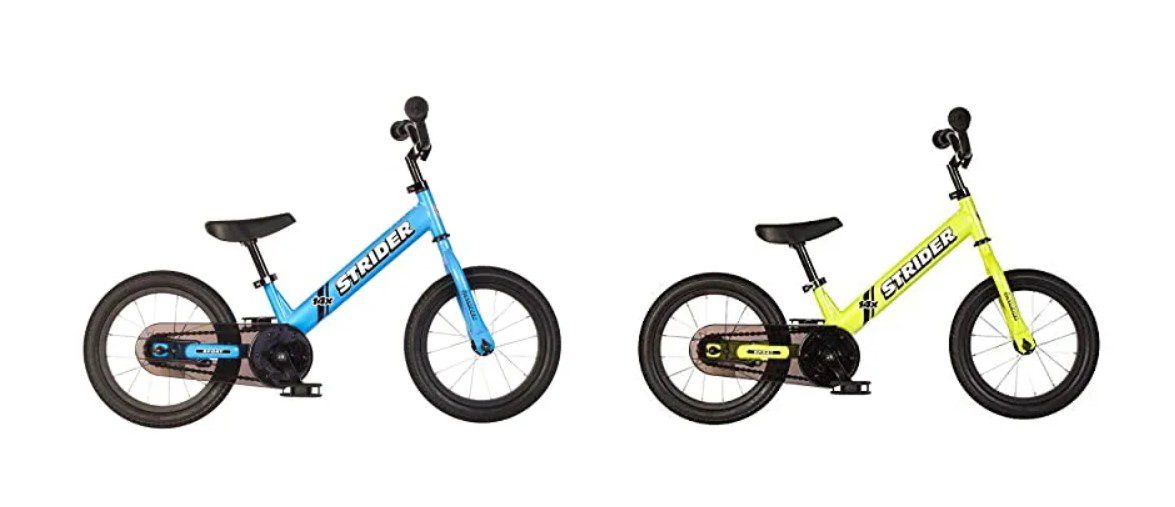 Key Features:
Can be converted to a pedal bike
Suitable for older children
Rubber tires
Key Specifications:
Dimensions: Wheel Size: 14 Inch, Frame Size: not provided
Weight: 9.2 lbs
Available Colors: Blue, Fantastic Green, Fuchsia
The Strider 14X pedal balance bike is the bigger sibling to the Strider Sport 12. As it is designed to fit older kids, it is the best bike for 4-year-olds in this review. However, the Strider 14Xs can also be used as a bike for a 5-7 year old (if they were not interested in a balance bike when they were a toddler).
The Strider 14X is an excellent bike for older children as it is a pedal balance bike. By this, we mean that you can fit pedals and a traditional drivetrain to the balance bike once your child can balance. The parts you need for this change are included with the bike. A great 2in1 buy for you.
The Strider 14X comes with rubber tires. When you have swapped in the pedals, the Strider will look like a normal kid's pedal bike — you won't even be able to tell that it was used for a toddler.
When you fit the pedals, remember the Strider 14x does not come with any brakes. So, practice learning to ride somewhere safe and traffic-free.
Balance Bike Buying Guide – What to Look For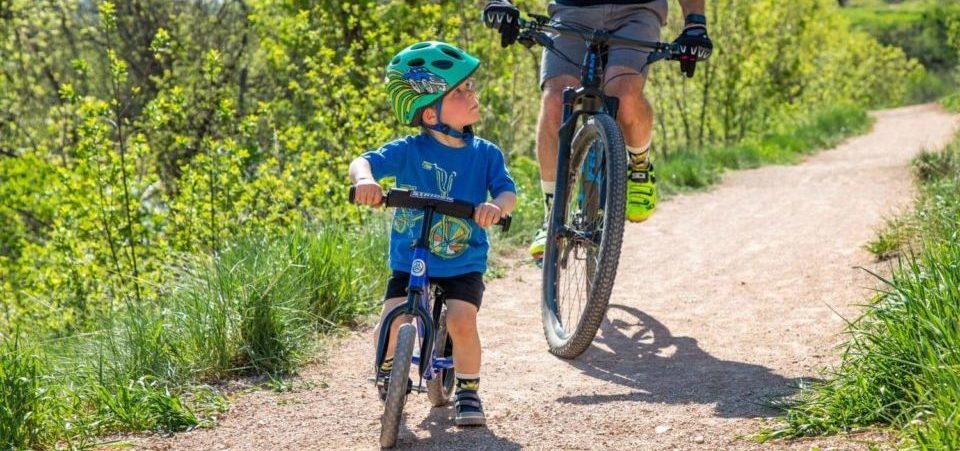 Fit
The most important thing to look for when buying a balance bike is that it fits your child. If the balance bike is too big, put it away until your child is the correct size for it. Make sure when your child is sitting on the saddle that their feet are flat on the ground.
Size
Size is not only saddle height but also your child's reach to the handlebars. You want your child to be sitting in an upright position and not being stretched out. If they are stretched out, they will have less control. Sitting upright keeps your child's center of gravity at a safe and stable point.
Height
As always, remember that the balance bike age ranges are just a rough guide to give the rough bike sizes for kids, so it is better to use a height range to be more accurate.
Weight
You want to check the weight of the balance bike. Remember, what feels light to you may not feel light to a 28lb toddler.
Hand Brake
Make sure you check to make sure the bike has a hand brake if you want it. The use of a hand brake is an emotive issue, but a child with feet flat on the ground does not need brakes to slow them down. Many toddlers will be safer if you introduce the hand brake later, as it is hard for them to have the coordination needed to brake. Balance bikes without hand brakes make the best balance bikes for toddlers.
Materials
Check the materials the balance bike is constructed with. Steel will be heavier than aluminum; toddlers will be better off on the lightest you can afford. You might want air tires or foam tires. Air tires are better if you are riding outdoors and foam tires are better if you are learning to ride indoors.
How Does a Balance Bike Work?
The way a balance bike works is in the name: you have a bike that you have to balance. In reality, that would make all bikes a balance bike. A more accurate description would be a no-pedal balance bike. A balance bike is designed to allow toddlers to develop the balance they need when learning to ride a bike.
To make this lesson simple to learn, they do not have pedals or a drivetrain, and many also do not have brakes. The lack of the pedals, drivetrain, and brakes are designed to simplify cycling. Your toddler does not have to worry about the coordination needed to use all these parts.
As there are no pedals, your kids' balance by scooting along the ground. When they scoot it looks like they are a frog jumping. Scooting allows them to get used to balancing and steering their balance bike. These are the two most difficult parts of riding. Once they have mastered these, there will be no stopping them.
We would say that balance bikes are the best bike for a two-year-old, thanks to their lack of training wheels. Remember when using balance bikes, children should always wear bike helmets.
Are Balance Bikes Better Than Training Wheels (Stabilizers)?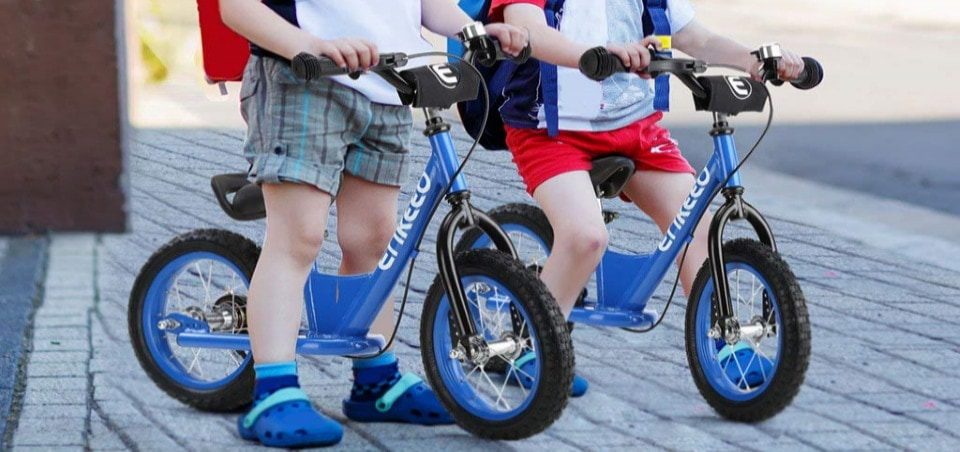 You might be thinking about training wheels or stabilizers depending where in the world you live. After all, the majority of adults learned to ride a bike with stabilizers. What we have forgotten though is that the stabilizers held us back.
With training wheels fitted, we become reliant on them to help us with our balance. So when you take the training wheels off your child's pedal bike, they have to learn to balance, which is one of the hardest skills of cycling. They also have to learn how to steer all over again. Effectively, your child has gone back a step.
If you start with a balance bike, your child only needs to learn to pedal and, depending on the balance bike you had, brake. These are fairly easy skills, and the transition will take less than a day. Some children will even manage it first try.
In the battle of balance bike vs training wheels we would say that the balance bike wins.