Mudguards, or fenders, commonly known on the other side of the world, are an absolute necessity for bikers. More so if you frequently go out during the rainy season or on mountain trails.
At just $25 – $75, you can protect your back (or the rider behind you) from a splash of mud. Additionally, you save your bike's parts from getting dirty, which might make them susceptible to rust.
The ideal mudguard for your road or mountain bike will depend on
the width of your tire,
the type of bike,
and the intensity of mud in the area you're going to ride.
But I'm getting ahead of myself. Let's start with the list of best mudguards / bike fenders I personally created.
Best Bike Mudguards to Buy in the US in 2023
1. Premium Choice: Portland Design Works Full Metal Fenders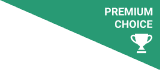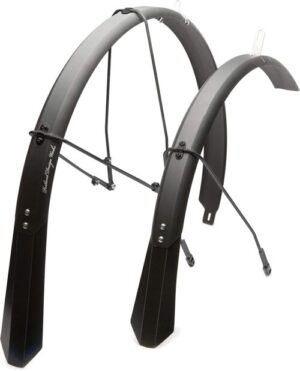 Full Metal Fenders by Portland Design Works are the best mudguards you can buy in the market. They're far better than similar options in almost every category. Nonetheless, you'll be paying for acquiring that edge as they're priced at a whopping $158.
The price of this fender kit can be a turn-off for most bikers, understandably, I might add. But if you can look past that, the features speak for themselves. They're made from aluminum, simultaneously rigid, durable, and lightweight.
They come with breakaway clips on both mudguards for extra safety and will not rub against your tires under most circumstances.
Buy Portland Design Works Full Metal Fenders on Amazon:
2. Best for No Eyelet Installation: Crud RoadRacer MK3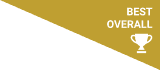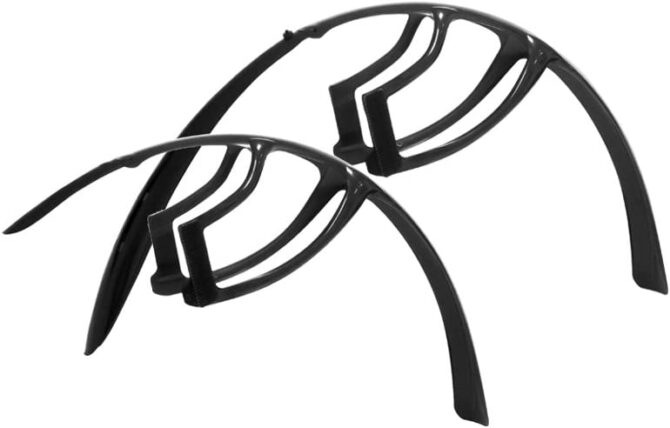 Crud RoadRacer MK3 is the best fender kit for bikes with no eyelets or extremely right clearances. They're sleek in design to fit into smaller openings and are installed through velcros or adhesive strips.
At $67, the product is definitely not cheap, but it's well-made, lightweight and almost a full-length mudguard. It gives enough coverage for road and mountain trails, but I wouldn't recommend gravel biking or off-roading.
Honestly, it doesn't look all that cool because of the visible velcro. Still, it's the best option if your bike has no eyelets.
Buy Crud RoadRacer MK3 on:
3. SKS P35/P45 Chromoplastic Bicycle Fenderset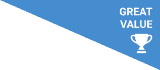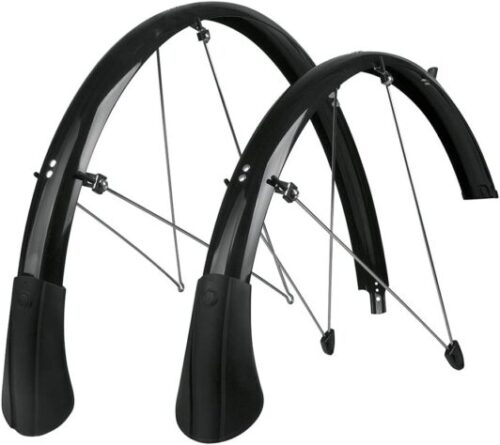 Read More: Best Bike Pumps to Buy in 2022 & How to Choose One!
4. Best for Gravel Bikes: SKS Speedrocker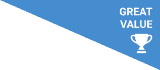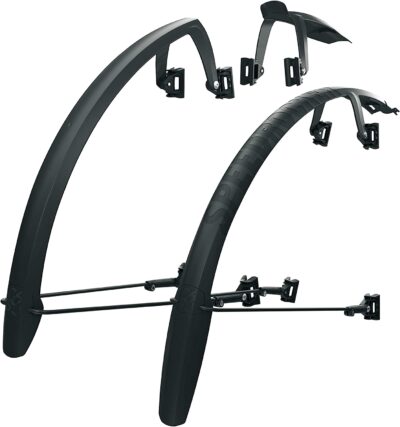 5. Best for Fat Tires: Portland Design Works Mud Shovel 6.5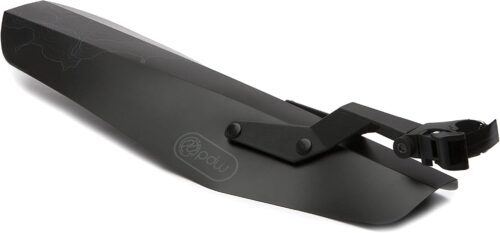 6. Best on Budget: BlueSunshine Adjustable Rear Mudguard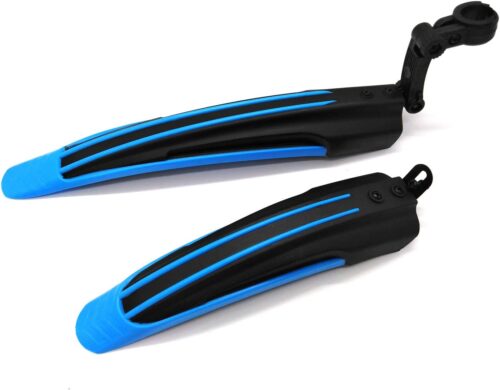 How do I choose a bike mudguard?
1. Budget
First off, make a reasonable budget and stick to it. You can buy a good quality mudguard for between $25 and $75, which is a huge difference.
For older bikes, you might have to go with the plastic ones, while the newer ones designed for gravel will be able to support metallic fenders.
2. Fitting
Fitting is technically the most influential factor in the choice of your mudguard. Most professional bikes, especially winter and gravel bikes, will have specific mounts and eyelets for mudguard installation.
These mounts make for a rigid and almost permanent setup. And you can use metal fenders.
3. Coverage
Again, it mostly depends on the size of your tire and fitting options in your bike. With coverage, you have two options – the smaller ones (ass-savers) or a full-length mudguard.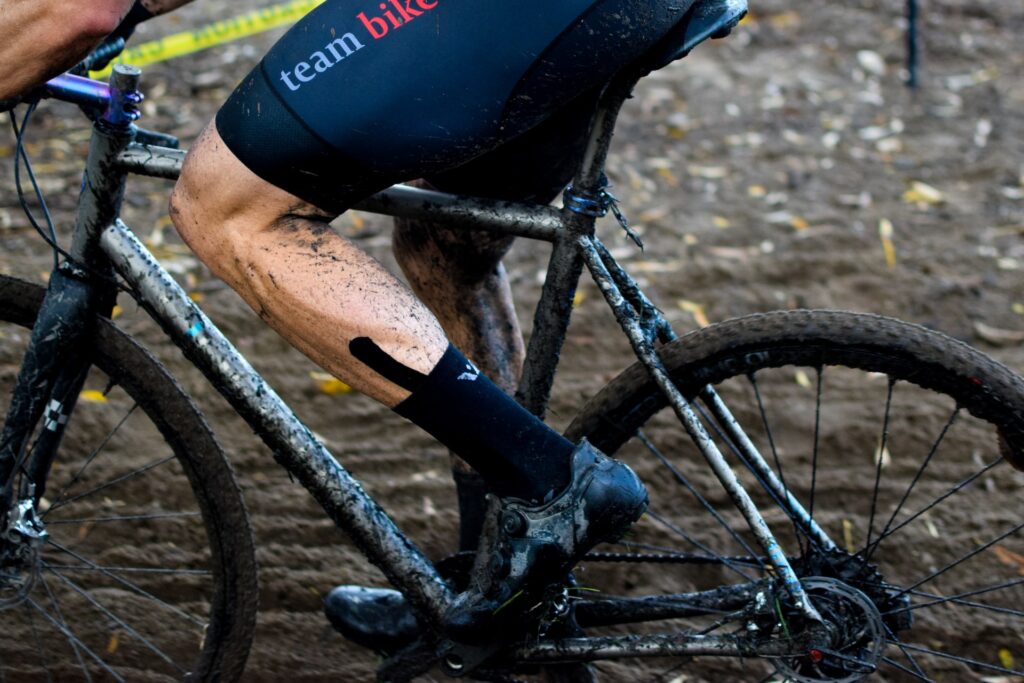 4. Clearance
Finally, you'll have to decide just how much clearance you need. Unless you have a bike with proper mounts, you'll probably have to compromise on this clearance issue.
If your bike doesn't have the proper mounts, your mudguard will likely be placed between the brake bridge and tires – close to the brake calipers. In that case, you must take extra care and frequently clean the grime and mud off the calipers.
Read More: 10 Best Cross-Country Mountain Bikes in 2022-23
Frequently Asked Questions (FAQs)
1. Is a fender the same as a mudguard?
Bike fenders and mudguards are the same things. It's a plastic unit attached at the back of the rear tire to block-off mud from splashing above.
2. Can mudguards / fenders be added to any bike?
Generally speaking, mudguards can be installed on all road / mountain bikes. The clip-on detachable ones are compatible with all bike types. In comparison, bolt-on bike mudguards or full-length fenders require specific mountain points and enough space for installation.
3. How do you fix a tire rub on a fender?
In most cases, the front fender starts rubbing against the bike's tire if it's bent or made poorly. Regardless of the front or rear, the solution is to bend the mudguard into the desired position so it doesn't rub against the tire.
If you have a plastic mudguard, you can simply insert a metal punch into the space between the tire and the fender. Use a hot gun and bend the plastic to the desired shape.
You'll have to bend the metal with sheer force if you have a metal mudguard. You can bend it against the tire to ensure proper form / curve.
4. How do you fit bike fenders?
Bike fenders or mudguards are easy to install. Just follow the manufacturer's instructions provided that the mudguards you bought are compatible with the model of your bike. You just need to set up the support rods for ideal clearance and then screw some bolts.
You might be in a pickle if you're using an old bike. How do you mount bike mudguards without eyelets?
You can use p-clips that attach to the bike rods for installing mudguards if your bike doesn't have eyelets. Additionally, people just go with cable ties after ensuring ideal clearance. The second method is cheaper but unsafe, so I wouldn't recommend it.
Buy TICONN 42 Piece Cable Clamp / P-Clip Set on Amazon