Don't get these nifty little machines confused with a traditional speedometer and odometers. The best bike computers today are super efficient in comparison. Although, if you're in the market for the first time, you might get confused with the terminology (as I did a long time ago).
Bike computers also go by "bike speedometers," "bike odometers," "bike head unit," "cycling computers," and other synonymous names in the bikers' lingo.
People who have used indoor cycling machines are already familiar with the product – it's the screen (display unit) that tracks your calories, max and average speed, etc. The menu offers various functions, such as starting and stopping an activity for even more accurate data.
Now that we know how cool they are let me tell you why you should buy one immediately!
What is a bike computer? How much do they cost?
Bike computers are the latest replacements for odometers and speedometers with multiple added features. They help measure speed, distance covered, activity and work done (calories burned), and cadence. A bicycle computer cost anywhere between $30 (most basic) to $500 (fairly premium).
Note: The GPS functionality isn't available on products under $100, that's why they are called "bike speedometers" more often. "Bike computer" as a term is mostly used for units with GPS tracking data.
Best Budget Bike Computer in 2022! (Non-GPS, Under $100)
1. CatEye Velo 9 Wired Bike Computer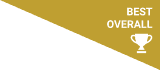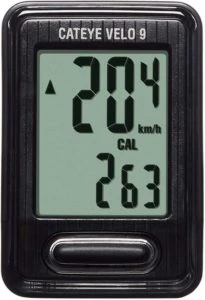 CatEye's Velo 9 wired bike computer, at an astonishingly low cost of $30, is just what you need on a budget. 
CatEye's Velo (wired) series offers most of the basic stats. You get three types of speed (current, max, and average), two types of distance (total and for specific trips), elapsed time, clock, calorie tracking, and even pace arrow.
It's basically only missing a GPS tracking system. And of course, another downside for some of you could be that it's wired. But if you don't mind having a wired unit, the battery life is supposedly three years.
Ps…Velo 9's white-colored variant is even cheaper (only $20).
2. CatEye Padrone & Padrone Plus Wireless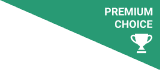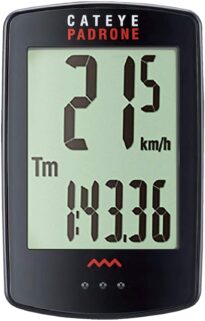 I have two recommendations for you this time, both quite amazing so that you can buy either one based on your budget and requirement. In particular, the CatEye's Padrone and CatEye's Padrone Plus cost $54.95 and $59.95, respectively.
The Padrone series is frankly my favorite type of budget-friendly wireless computer for bicycles. CatEye Padrone comes with all basic stats (like Velo), from speed and distance to time and calorie tracking. Additionally, it comes with LED bike lights and an automatic start/stop function for red lights and other breaks.
Of course, the battery life isn't as long as a wired unit, but there's a caveat – the Padrone series has a special option to set the mileage after a battery change manually.
Buy CatEye Padrone Bike Computer on Amazon
3. Bontrager RIDEtime Elite Cycling Computer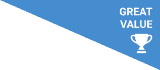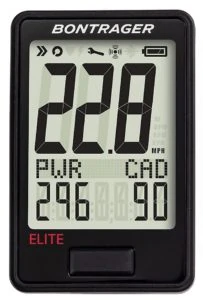 The 2-inch screen comes with a programmable LED backlight display and sensors that let you measure speed (maximum, current, average) and distance. Bontrager's RIDEtime Elite offers a cadence measurement sensor which you won't find in other units under $100.
Best Bike Computers Under $500 in 2022!
1. Wahoo Fitness ELEMNT BOLT Cycling Computer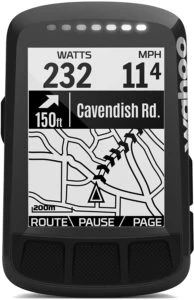 Wahoo's ELEMNT BOLT is one of the best bike odometer or computers under $500 that tells you everything about your life and health while on your bike rides. BOLT might sound relatively expensive at a price tag of $300, but it has advanced and basic functions to back it up.
The 2.2-inch backlit display offers all of the functionalities and can display up to 11 data points simultaneously. It has GPS to track mileage and speed, a speedometer that tracks three types of speed including average speed and maximum speed; a bike odometer to track the distance, clock and stopwatch, smart device connectivity, heart rate data, pressure-based altimeter, and temperature sensor data.
The wireless unit comes with a rechargeable Lithium-Ion battery that lasts up to 15 hours. The computer also has 16 gigabytes of memory onboard that offers detailed navigation and an option to save your favorite places on the route.
You can also connect it to ELEMNT RIVAL multi-sport watch for a seamless user experience.
Buy Wahoo Fitness ELEMNT Bolt Cycling Computer:
2. Garmin Edge 530 GPS Tracking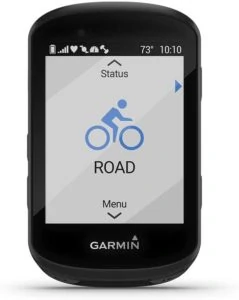 Garmin Edge 530 is the best bike computer under $500 that you can buy in 2022. It only costs about $350-$400 and offers dynamic performance insights, including a GPS sensor. It's a wireless product with an internal battery that lasts upto 10 hours.
As for functionality, it pretty much offers everything that Wahoo's ELEMNT BOLT does. Additionally, you get insights on your VO2 max, recovery, training balance, heat and altitude acclimation, nutrition, hydration, and more—when paired with compatible sensors.
Garmin Edge 530 also has a pin-protected bike alarm that alerts you on your smartphone if someone is stealing or just moving your bike. Isn't that cool?!
There are loads of other features that you can read up on Garmin's website.
Buy Garmin Edge 530 GPS Bike Computer:
Best Bike Computers Under $1000 – Worth Buying?
It's simple: the best bike computers include premium features…and a premium price tag. But they're only recommended for professionals who can get the most out of the product. In short, you don't need to get anything higher than Garmin Edge 530 GPS bike computer if you're a casual biker.
And if you're a pro or you wanna buy a premium product anyway, here are my two top picks:
Read More: Best Stylish Bike Helmets for Men and Women To Buy in 2021
How to choose your bike computer?
I might have given you more options than you asked for. Don't worry, though. I'll help you choose a bike computer that suits your needs.
1. Deciding Between Wired vs. Wireless
As you know by now, a bike speedometer has two parts: a display on the handlebar and a sensor on the bike's front fork.
Now, this combination comes in two variations of its own – wired and wireless. It can be quite a hassle to decide between them since both variants have pros and cons. You can refer to this table to make your choice:
| | | |
| --- | --- | --- |
| Criterion | Wireless Bike Computers | Wired Bike Computers |
| Price | Expensive | Relatively cheaper |
| Accuracy | Slightly less accurate because the display and sensor are connected wirelessly. | More accurate because of the wired connection |
| Battery Life | Limited battery life | Relatively longer battery life |
| GPS Tracking | Relatively better | Less accurate |
| Installation | Easy to install | Challenging to install because of the wire routing |
| Versatility | It can be removed and used on another bike | It's fixed to one bike |
2. What are the best bike computer brands?
Garmin and Wahoo arguably make the best bike computers in 2022. Garmin is known for its exceptional GPS technology. Wahoo is famous for making durable and high-quality training equipments and products for pro bikers.
While you can get either a Garmin bike computer or a Wahoo one without second-guessing yourself, they do come at a higher price. Specialized, CatEye, Lezyne, and Bontrager are other good brands
In short, try getting a deal or discount on a good-quality option from these brands.
3. Automation: Smartphone App Connectivity & Stats
You know what, don't start looking for deals and discounts just yet because brands also influence automation features (smartphone cycling app).
Indeed, there's not a lot of difference among the products these days, but I can't say the same for their respective smartphone apps. Why do you think almost 60% of the United States uses iPhones when there are many alternatives? Because UI (user interface) and functionality make a HUGE difference these days.
You need a cycling app to plan and track your route and mileage during biking, one that easily synchronizes with the device for GPS data and other cool features.
4. What is cadence? Do you need a bike computer with cadence?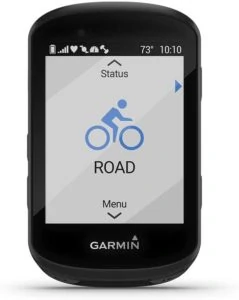 Cadence is the speed at which you pedal the bike wheel, which a cadence cycle computer or good bike speedometer can track. Cadence is very close to the bike's average speed, which a basic bike speedometer can track, so they're often confused. Cadence is an important measurement factor as it tells you about the frequency of your rotations (legs). Average-to-good bikers have cadence values of around 50 to 80 RPM (revolutions per minute).
So, do you need that number on your bike computer? Well, why not?
Generally speaking, you don't need both a cadence sensor on your front or rear wheel and a separate bike speedometer. But if you're interested in calculating your workout data more thoroughly and in a practical manner, your bike speedometer must include cadence measurements.
Read More: How to remove (and fix) bike pedals with & without tools?
Frequently Asked Questions (FAQs)
Lemme tell you some of the most common questions beginners ask me.
1. How accurate are bike speedometers and odometers?
Bike speedometers and odometers are pretty accurate. These all-in-one computers come equipped with a bicycle odometer, speedometer, cadence tracking, an internal GPS to track your location, activity and distance. Make sure to follow the instruction manual properly during installation to ensure maximum accuracy of the device.
2. Why can't I just use my smartphone instead?
Technically, you can use your smartphone instead of a bike speedometer or odometer, but it's far from an ideal choice. Constant vibration and climatic conditions will result in wear and tear, and may affect the accuracy of the data. The same can be said for using a SmartWatch.
Honestly, this question is quite subjective and one that I have pondered about a lot. A bike speedometer and other types of devices are cool (really cool), but they don't come cheap, and most of their tasks can be done through a smartphone. Although, road and weather conditions will affect a smartphone's performance and physical body.
I know, there are some excellent phone stands on the market these days. But it depends on how much you're willing to spend on a phone stand and how much trust you have in the brand.
The bottom line is that the best bike computers designed for mountain bikes and other types of bicycles will display your mileage data and other important information about your bike rides in a hassle-free manner. If you can accomplish that with your smartphone, continue using it by all means.