Bike mirrors often feel insignificant until you need one. And then shopping for them is one of the most confusing things you'll ever do with so many options and features, and you have to do it fast. Or else you'll spend half your time looking over your shoulder to check the traffic.
And that would increase the chances of a road accident in addition to taking the fun out of the entire biking experience.
But don't worry, because here we'll browse through all the categories of road bike mirror options, mountain convex mirror options, and more. This way, you'll be able to choose the best bike mirror that suits your needs well.
Short on Time? See our Top Rated Products From 3 Categories

Bike Peddler Take A Look Cycling Eyeglass Mirror


EVT Safe Zone Bicycle Helmet Mirror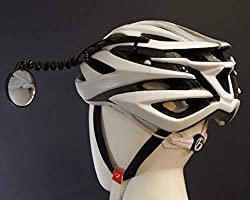 Sprintech Road Drop Bar Rearview Bike Mirror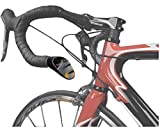 Bike Mirror Types & Major Brands
Honestly, I could just tell you my favorite picks for the best bike mirror, and this guide would be over in a second. But there's no guarantee you'll like the specific product as much as I do.
So, let me tell you about the types of bike mirrors and other crucial details first so you can make an informed decision and buy a mirror that suits your needs.
1. Where do you hang your bike mirror?
There are three basic types of bicycle mirrors, but there's no difference between the actual glass used in the mirror. So, the only difference is how they're mounted in your bike setup. In short, choosing the type boils down to two factors:
Your use case
Your level of convenience with the mount
A. Sunglass or Eyeglass Mounted:
Sunglass or eyeglass-mounted bike mirrors are actually quite quirky, but their reviews tend to lie on the opposite ends of the spectrum. You'll either find them really cool for their perks or highly inconvenient. There's no in-between.
These mirrors come with a mount already, so they get clipped to your sunglasses. And obviously, they're super lightweight. They'll also make full use of your peripheral vision because now you can look at the traffic behind your bike without moving too much.
B. Handlebar Mounted:
Handlebar mirrors are the most relatable out of the three since they're the most "traditional ." As the name suggests, they get clipped or screwed in on your handlebar.
They're slightly less distracting because the mirror is a certain distance away, so the road ahead will have your undivided attention. And of course, if you have driven a bike before, you're already accustomed.
C. Helmet Mounted:
These mirrors have two types of mounts – one that attaches to your helmet itself and the other sticks to the visor. Thanks to an extendable pole, they're flexible and adjustable to ensure they don't cover your vision and cause an accident.
2. How much do bike mirrors cost on average?
A good bike mirror will approximately cost $15 to $25 in the United States. These bike mirrors are not as sleek but quite durable and functional. The cost can go easily above $25, depending on added features in the mirror, such as an anti-glare film.
3. What are some good bike mirror manufacturing brands?
Bell and Mirrycle are two well-known bike accessories manufacturing brands that make top bicycle mirrors in the United States and overseas. Both Bell and Mirrycle make highly durable and well-crafted mirrors for your bicycle without compromising the weight and adjustability.
Best Bike Mirrors To Buy In 2021
Here are my top picks for each category.
1. Best Sunglass or Eyeglass Mounted Bike Mirrors in 2021
Bike Peddler Take A Look Cycling Eyeglass Mirror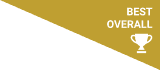 Unfortunately, the eyeglass-mounted category doesn't have a lot of options, and Bike Peddler's Take A Look Cycling Eyeglass Mirror is pretty much the only recommendation-worthy mirror on the market.
It'll cost you between $10 – $20 based on your size choice. It works well with eyeglasses and helmet visors, and if it's not safe for you, it can also be clamped onto the arm of your eyeglasses.
Alternative: Specchio Eyeglass Mounted Cycling Mirror
At $35, it's advertised to be the best in this category, but honestly, our reviews are a bit mixed. Some of my friends like it, while others don't (including me). So, I won't be actively recommending this one, but it's still an option to check out.
2. Best Handlebar Mounted Bike Mirrors in 2021
Sprintech Road Drop Bar Rearview Mirror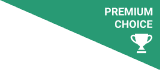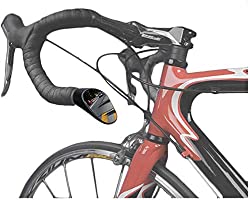 I used to think that I'd be fine with just any bicycle mirror as long as it works OK, but Sprintech's Road Drop Bar Rear View Mirror blew my mind. Beyond its precision performance, Sprintech's bar end mirrors are aesthetically the most badass road bike mirror on this list.
At just under $24, this rear view mirror retains its durability while being super lightweight – 0.06 lbs (with plug). The rearview mirror is surprisingly functional, given how small it is.
It's designed as a mirror mounted on the handlebar, so you don't need to move your neck around a lot. Plus, the convex mirror setup gives you a broader view than average.
Cons:
The viewing area may be a bit too small for some people.
It's not specifically designed for handlebar mirrors.
Mirrycle Mountain Bike Mirror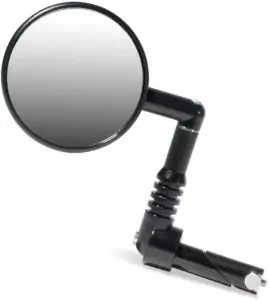 As I said, Mirrycle makes some of the best bicycle accessories in the US market. Mirrycle's Round Mountain option is 3-inches wide, mounts mostly on every type of handlebar.
The mirror is practically a steal at a surprisingly reasonable price of $15.90. The mirror is very easy to use, and the pivot connections allow a fold-back design when moving from cramped spaces. They're also tight enough to hold your alignment study even against a bumpy road or a minor hit.
3. Best Helmet Mounted Bike Mirrors in 2021
EVT Safe Zone Bicycle Helmet Mirror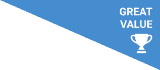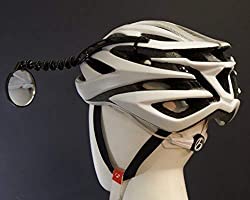 SafeZone by EVT is the best helmet-mounted bicycle mirror on the market. It comes at a premium price of $40. Although its price-to-performance game is pretty solid so you'll be getting your dollar's worth.
The biggest concern with helmet-mounted helmets is that they tend to wobble. Still, SafeZone's construction is quite sturdy – the bike mirror doesn't vibrate, let alone wobble.
It's easily adjustable and comes with a 5-year warranty from the manufacturer. While the mirror is designed to fit just about any bike helmet, SafeZone promises to provide free-of-cost fitting supplies if it doesn't fit your helmet.
The only con for this mirror is the price for some people, and that's understandable. But if it's within your budget, it's well worth the price.
Cycleaware Reflex Bicycle Helmet Mirror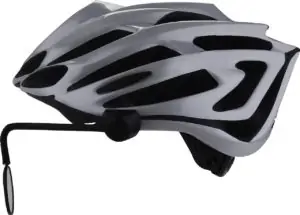 Cycleware's Reflex costs just under $15 (2.7 times cheaper), and personally, it looks much cooler to me than Safe Zone. It attaches at the lower edge of your helmet, contrary to the upper area, giving it a minimalistic look.
It's incredibly lightweight (0.7 pounds) and comes with a Kraton-covered wiring system that allows flexibility while being relatively stable.
Read More: 10 Best Mountain Bikes Under $1000 in 2021 (Review)
How do I choose a bike mirror?
Now that you know your mount options and budget, let's look at the factors you have to look for when buying a bike mirror and how you can make the right choice.
1. Mirror Size
You don't necessarily need the biggest mirror option available but don't go for the aesthetics entirely and buy something completely unusable either. You gotta find the right balance when it comes to the mirror size.
The idea is to find the smallest mirror that doesn't reflect sunlight on your eyes and allows you to see the road behind you with minimal movement. A convex mirror (also called curved mirror), for example, reflects light outwards.
2. Build Quality
Build quality is probably the most crucial factor when buying a mirror for your bike because you gotta be able to trust that it won't break down mid-biking. For this, find the balance between the manufacturing company, build quality, and your actual budget.
Bike mirrors above $20 are generally free of wobbling and more durable compared to their cheaper counterparts. In the $20 range, you'll find the mirror in a plastic mold, but as you go higher, you'll see a layer of plexiglass or aluminum or even stainless steel if you go high enough.
3. Adjustability
It feels like common sense to go for the mirror with maximum flexibility to adjust it on your bike as you wish. Except that it's not the right way – by only looking for the most flexible option, you're bound to end up with a product with big promises and a lack of durability.
It would work fine for a relatively short period until you realize that the bar is not strong enough to hold the mirror and has started to bend. Look for bike mirrors that are from a reputable company and offer good enough room for adjustment.
Read More: Best Stylish Bike Helmets for Men & Women To Buy in 2021
FAQs
1. Why do you need a bike mirror?
I know some of you will take away from this guide that "it's too much of a hassle." And if that's you, allow me to change your mind.
Everyone should get bike mirrors. They're a fantastic way to keep yourself safe by monitoring the road behind you, so you're not caught in an unexpected collision. They also improve your eye and brain coordination by forcing you to process data from your peripheral vision.
And if you commute to work or college on a bike, you shouldn't even have an option. Road traffic can be a bit dangerous if you're not aware of your front and rear view mirror during those hours.
2. How many mirrors do you need on your bike?
Unlike on motorcycles (or cars), you don't need two mirrors for your ride bike or mountain bike. You only need a single mirror on the left side in the United States (right side in Europe) to check the vehicles approaching from behind.
Final Thoughts & Tips
Long story short, don't sleep on buying bike mirrors – they're super important! But don't rush it either. Take your time to see what's the best and most convenient option for you.
And don't forget to measure the actual dimensions of your handlebar and other bike parts to make sure the mirror you like will fit on your bike. Also, always check the model of bike mirror against your bike because some mirrors are made for specific bikes only.