E-bikes are slowly changing the world. More and more people are buying e-bikes as a healthy and environmentally friendly way to get around towns and cities. You might have noticed this growth and would now like to buy one. To help in making your choice easier, we've compiled the 7 best cheap electric bikes in 2021.
Not only have we included some great reviews, but we've also included some advice to make sure you get the most from your purchase afterward. We'll tell you the types of e-bikes that are available for your budget, and we will give you some honest advice on whether or not you need to spend any more of your hard-earned cash.
Short on Time? See our Top Rated Products From 3 Categories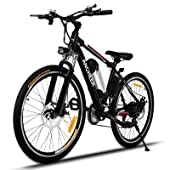 Aluminum frame
Mechanical disc brakes
Shimano 21 speed drivetrain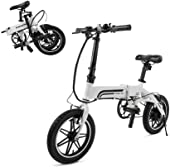 Folding bike design
Aluminum frame
Quick-release power lines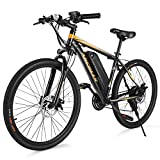 20MPH Adults Ebike
7.8/10.4Ah Battery
21 Speed Gears
The Best Cheap Electric Bikes
1. Ancheer AN-EB001 Electric Bike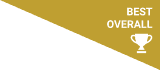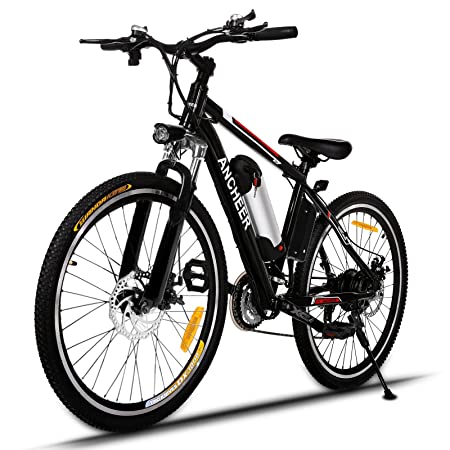 Key Features:
Aluminum frame
Mechanical disc brakes
Shimano 21 speed drivetrain
Key Specifications:
Dimensions: Wheel Size: 26 Inch, Frame Size: not provided
Weight: 50.71 lbs 23kg
Available Colors: Classic Black
The Ancheer AN-EB001 is a direct from China e-bike. By going directly to the manufacturer, you can expect to save money and get a great value inexpensive e-bike. Given that many of the brand-name e-bikes will be built in the same factories, if you don't care about what the stickers say on your bike, you can save some money.
The ANCHEER AN-EB001 is a 26" wheeled aluminum-framed mountain bike. With its 250-watt motor, you'll find getting up offroad climbs easier than they ever were before. On the way down, you can use gravity to bring you extra speed, and you'll find a quality set of mechanical disc brakes fitted to the ANCHEER to help slow you down.
The battery on the ANCHEER features a lithium battery that will be good for 30 miles on a lower assistance setting. There are 3 assistance settings, and you'll also find a Shimano 21 speed drivetrain to make sure you'll have plenty of gearing choices.
2. SwagCycle EB-5 Electric Bike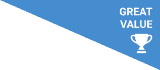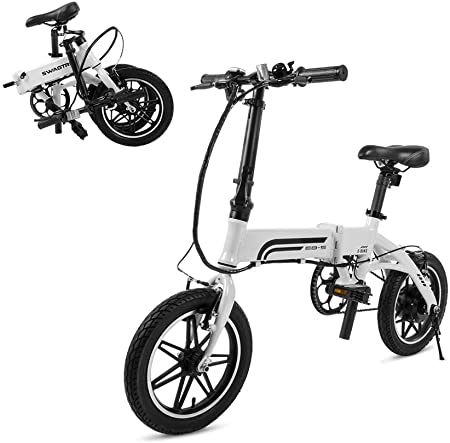 Key Features:
Folding bike design
Aluminum Frame
Quick-release power lines
Key Specifications:
Dimensions: Wheel Size: 14 Inch, Frame Size: 58cm/Medium
Weight: 37 lbs 16.8 kg
available Colors: White, Black, Blue
The SwagCycle EB-5 would make a great choice for a commuter bike. It has a range of 15.5 miles and given that most commutes are under 5 miles, you should be able to charge your electric bike every night at home. You can also use the SwagCycle EB-5 as a moped it has a throttle and is capable of 15 mph unaided. You will need to check your particular state's laws on whether this makes it a motorbike or an electric bike.
The SwagCycle EB-5 can also be folded away when you're at work, or if you jump on a subway to make life easier. It will also be a great a space saver if you live in a small apartment. With 14" wheels, the bike doesn't take up a large footprint and can also accelerate up to speed quickly.
SwagCycle have also tried to make the bike easy for maintenance, or if you get a puncture, and fitted the bike with quick-release power lines. You'll be able to disconnect cables easily and remove wheels quickly.
3. Ancheer Electric Bike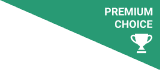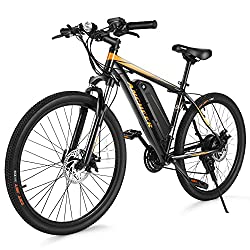 Key Features:
20MPH Adults Ebike
Removable Battery 7.8/10.4Ah Battery
21 Speed Gears
Key Specifications:
Dimensions: Wheel Size: 26 Inch
Disc Brake Style
Aluminum Frame Material
The Ancheer Electric Bike electric bicycle is based on a traditional 26" wheel mountain bike design. There is a word of warning here. The bike only comes in a 19" frame design. On their listings, they say this bike will fit from 5ft 4" upwards. We would say to safely ride the Cyclamatic you will need to be 5ft 10" upwards.
If you want to ride offroad or down gravel tracks, the Cyclamatic features a suspension fork and mountain bike style tires. With 3 levels of pedal assist, you'll be able to maximize the mileage you can get from the Cyclamatic. The lowest level mode will help the Cyclamatic to reach 28 miles of assist. If you click up into the highest mode of assist, you can expect that mileage number to decrease dramatically.
The Cyclamatic features a new and upgraded motor design that will deliver 250 watts. The new motor engages more smoothly than the previous motor, and you won't get as much of a jerk as the power assist kicks in.
Powering the motor is a rechargeable Li-ion battery. The battery is enclosed in a waterproof casing. We wouldn't advise river crossings, but you should be more than safe riding through puddles or riding in the rain.
4. VIVI ELECTRIC BIKE
Key Features:
350W Ebike 20MPH
Ebike with removable 8Ah Lithium-Ion Battery
Shimano 7 Speed
Key Specifications:
City Commuter Electric Bicycle
26 Inches Wheel Size
70 Pounds Item weight
The Vivi Electric Bike is defined by three things: convenience, speed, and style. Equipped with a fork spring and a strong frame, the bike weathers all terrains. Its large capacity battery also gives it a lot of power while on the road.
Depending on the speed that you are most comfortable with, the MACWHEL 500 lets you manoeuvre its 21-speed lever. You can choose different gears according to your road conditions. You no longer have to worry about skidding because the KENDA tires protect you from unnecessary accidents. Where safety is concerned, the light with horn comes in handy when riding at night.
There are three riding modes to choose from. You can decide to cut off the power and let the MACWHEEL Ranger 500 function like a normal mountain bike. You can also use it in its pure electric mode or use it in power assist mode where you can pedal with minimal effort.
5. Nakto 26″ City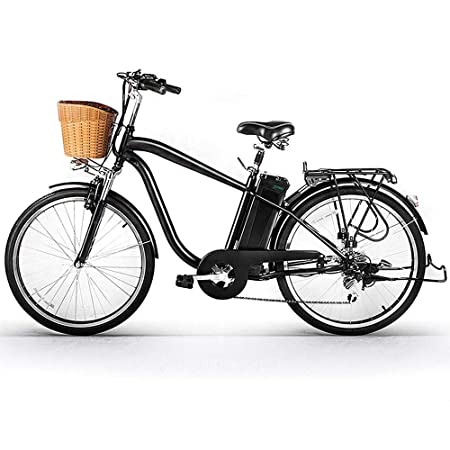 Key Features:
Throttle and assist options
Basket
Rear pannier rack
Key Specifications:
Dimensions: Wheel Size: 26 Inch, Frame Size: not provided
Weight: 32 kg
available Colors: Black
The Nakto 26″ City is a very retro-looking bike. It looks like a bike you'd expect a tradesperson to ride in times gone by. Handily the NAKTO comes with a front basket and a rear pannier rack to allow you to transport most everyday items.
If you want a bike to go and get your shopping and allow you to navigate city traffic quickly, the NAKTO might be the bike for you. It also comes with a throttle option so you can give up on pedal assist if you weigh the bike down too much. It would also make a good work commuter as you'll find it easy to carry your work equipment with you.
The assist option will bring you a battery life of around 28 miles, and you will get a much lower mileage if you only use the throttle. The 250-watt motor will allow the bike to get to 20 mph easily, and assist will help you to reach 26 mph. You may want to double-check your local state's laws and make sure you won't have any problems with these speeds.
The Nakto 26" City is possibly the cheapest e-bike that is highly functional.
6. Aceshin 26″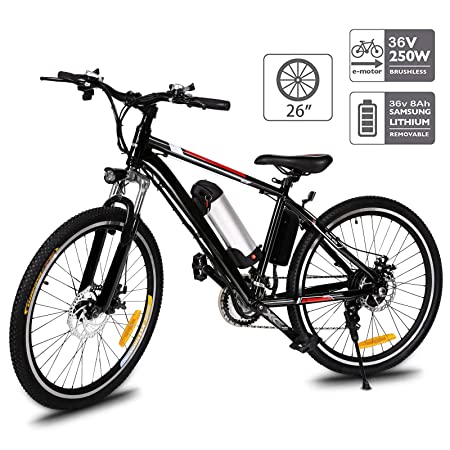 Key Features:
Aluminum alloy frame
21 speed
Mechanical disc brakes
Key Specifications:
Dimensions: Wheel Size: 26 Inch, Frame Size: Large
Weight: 4.85 lbs
available Colors: Black
The Aceshin 26″ is a simple e-bike. It is based around a simple aluminum alloy mountain bike with an added 250-watt electric motor and a fast-charging 36V/8AH lithium battery. The combined motor and battery life will deliver 31 miles on the assist mode. If you only use the throttle, you can expect 15 miles of range and can reach speeds of 19 mph. 19 mph keeps the bike under the legal requirement for it to be classed as a motorbike if it goes over 20 mph.
As the Aceshin is based on a classic mountain bike frame, you can expect 26" wheels. As bikes move away from 26" wheels, you may find getting new tires and tubes becomes more troublesome, and this is something to think about when you're purchasing a new e-bike.
Carrying on with the mountain bike features you get a set of mechanical disc brakes. The mechanical discs will bring you good stopping power regardless of the weather, or if you decided to nip down a muddy track to get away from busy roads. As with all disc brakes make sure you clean them weekly if you ride on roads to remove diesel from them.
7. Speedrid Electric Bike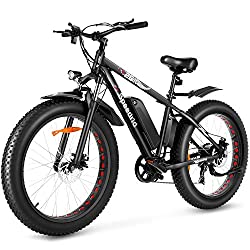 Key Features:
48V 500w
48V 10Ah Removable Battery
Professional 7 Speed
Key Specifications:
500W powerful motor
Up to 22 miles per charge
5 Speed Display
The Speed Electric is an interesting folding e-bike. It contains a few features you don't see on many other bikes. As standard, the MEIYATU features a cage at the back. You can use the cage to store your shopping as you ride home. If you are feeling more adventurous you can buy a seat that replaces the cage. You now have a folding electric tandem bike.
The interesting features don't stop there. You also have a front suspension and a rear shock. The rear shock fits directly under the seat. In this position, it doesn't allow the back wheel to track the ground, like a standard rear shock. Instead, it allows the seat to move up and down. At first, this will feel weird, but you will get used to it.
You'll find that battery and motor combine to bring you a range of around 20 miles on a single charge. The range will drop down to around 15 miles if you use the throttle and stop using the power assist mode. The top speed of the MEIYATU is 15 mph, so you'll be below the 20-mph legal requirement for a bike to be an e-bike.
Cheap Electric Bikes Buying Guide – 3 Key Features to Look for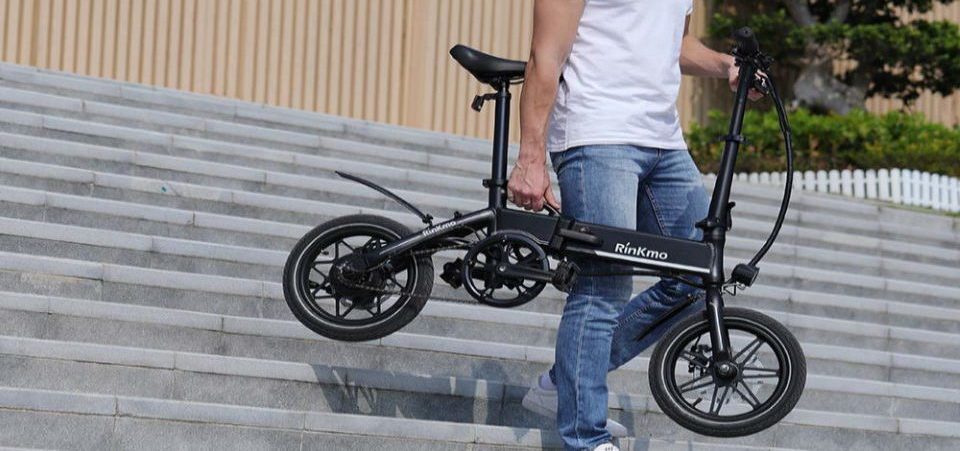 Legalities
The laws and rules regarding e-bikes change from state to state. You'll then need to make sure you know the legalities of your state and make sure that you comply with them. You may find that locally, you can only ride on certain trails and paths. Make sure you comply with these rules.
Battery
Make sure that the e-bike you're looking at has a rechargeable lithium-ion (Li-ion) battery. If you buy an e-bike with a lead-acid battery and ever have to carry the bike, you'll quickly feel why a Li-ion battery was a better investment. A lithium-ion battery will charge more efficiently than a lead-acid battery, and it will also lose its charge more slowly than a lead-acid battery.
Range
Check the range on the e-bike you're thinking of buying. Does it have a range that covers the distance you want the bike for? Remember that manufacturers may slightly overstate the range their bike can cover. Have a look at the routes you'll be using the bike on. Steep hills will drain power faster. Headwinds will also significantly lower your bike's range. Make sure your new e-bike will have range left after completing your routes.
What Performance Can You Expect When Purchasing a Cheap E-Bike?​
When you buy a cheap electric bicycle, you should be aware that you won't get the same level of performance as you would on an e-bike costing thousands of dollars. For the majority of us, that level of performance will also be more than we would need anyway. If you're using an e-bike to recuperate from an injury, help with a disability, or just a more environmentally friendly way to get to the shops, an affordable e-bike will have all the performance you need.
The battery and the motor should provide you with enough performance to make riding along at 20 mph when fully-laden — not to difficult a task. It should be easy enough to make you consider leaving the car at home for most tasks.
You'll find that if you live somewhere with very steep hills that you may find that the performance on a cheap electric bike starts to falter. The closer you get to a 20° slope, the more likely it will be that you'll be relying on your own strength or getting off and pushing the bike up the hill.
Which Types of Electric Bikes Are Available on a More Affordable Budget?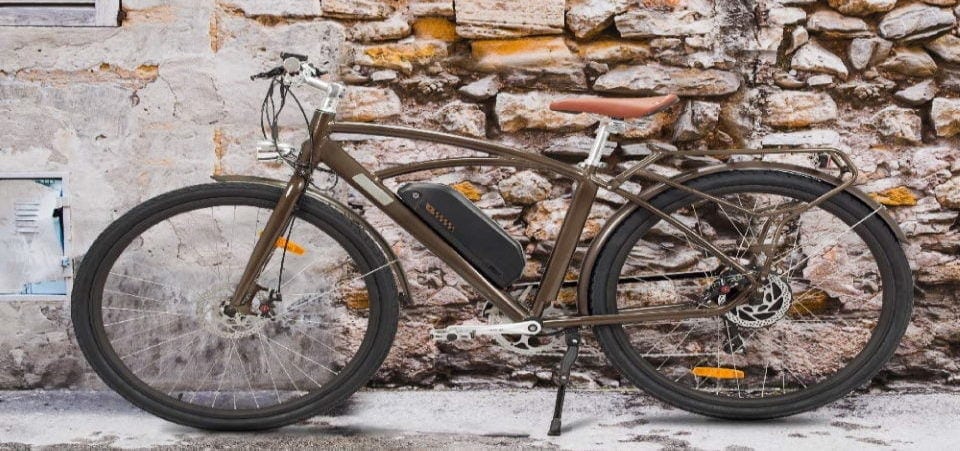 Inexpensive e-bikes tend to fall into 3 categories. You'll find folding bikes, mountain bikes, and hybrid/town bikes. You won't see fully-fledged road-style affordable electric bikes because their gearing systems cost more than those for other bikes.
The most common style of cheap e-bikes are basic electric mountain bikes. One which you can take on easy off-road trails. You don't want to be getting out into the mountains. Trails that roll through parkland or local forests the bikes will be more than capable of conquering.
There are a lot of folding electric bikes at the affordable price point. They are great for people who live in a city and don't have room to store a regular bike. They also make jumping on and off public transport with a bike a more viable proposition.
Hybrid/town-style bikes are a good way to get around towns and cities if you have a lot to carry, or if you want to stop using a car. They will be stable and will allow you to get your shopping and other items stored on the bike.
These bikes can all be seen as practical utility vehicles. They are not designed for speed or the racy looks you may get with higher-priced e-bikes. Affordable e-bikes are designed to fit a transport niche and be practical.
Is It Worth Increasing Your Budget up to $1000 Instead?
If you can easily afford $1000, then go for it. If not, don't worry about it. A $1000 electric bike will not bring you a huge upgrade to the battery or motor over cheap e-bikes, but it will bring you some better standard bike parts. Always remember the best electric bikes are the ones that you can afford.
These parts will generally be a little lighter and a little more robust. The lighter weight parts you might not even notice due to the electric bike assisting you, or being used as a small moped. You should notice that you do get a slightly crisper gear change.
Buying any of our electric bikes under $1000 will get you a good practical electric bike. It will be one that will be good for exercise, commuting, and helping with daily tasks. You wouldn't buy a sports car if you needed a practical utility vehicle, so don't feel you have to do that with an e-bike.
References
Electric Bicycle Laws – Wikipedia