10 Best Cheap Mountain Bikes Under $200 in 2020 (Review)
You have $200 burning a hole in your pocket, and you want to see if mountain biking is for you. Well, we have created a list of the 10 best cheap mountain bikes under $200 in 2020. We have a nice mix of rigid, front suspension, and full suspension mountain bike models for you to check out. No matter how you want to ride, we have the mountain bike for you.
We've also included some great tips for how to buy a mountain bike properly when you're on a budget. We'll then debunk the myth of ghost shifting and tell you how to keep your suspension parts in working order.
Short on Time? See our Top Rated Products From 3 Categories
The Best Cheap Mountain Bikes Under $200
1. Stowabike 26 inch MTB V2 Mountain Bike
The Stowabike 26" MTB V2 might be the best option for a cheap full suspension mountain bike for those of us with little space. The reason why it's called Stowabike is that this bike is also a folding bike. It has a sturdy hinge in the middle of the Y-shaped frame so you can neatly stow the bike away.
The Stowabike comes with an 18-speed grip shift system. Grip shift is a gear changing mechanism that works a little like the throttle you will find on a motorbike. You grip it and twist it to change gears. 18 speed means that you have a choice of 18 gears.
One of the features that you might not notice (but is worth its weight in gold) is that the bike comes with a kickstand. You will not need to lean your bike against a wall where it can easily fall down and get damaged. Pull the kickstand out and your bike will be safe from accidental spills.
Not only is the Stowabike one of the best mountain bikes under $200, it is also one of the best folding bikes under $200.
Key Features:
Folding frame design
Full suspension
Kickstand
Key Specifications:
Colors: Black/green, white/red
Weight: 38.5 lbs.
Dimensions: 67.3 x 23.2 x 55.1 in
2. Kent KZ2600 Mountain Bike
The Kent KZ2600 is a dual suspension mountain bike. It has an aluminum frame with a 65mm travel front suspension steel crown fork. It's also equipped with a front disc brake and a rear linear pull brake. We also call a linear pull brake a v-brake due to the shape it makes when pulled. It is a cheap downhill mountain bike.
The KZ2600 comes with a Shimano Tourney groupset. The Shimano Tourney groupset is the leading groupset for mountain bikes under $300. It is great because it does its job right. It can easily be described as a workhorse groupset.
The wheels on the KZ2600 are v-shaped alloy rims. You get a small aero advantage because of their 36 spokes. These wheels are then shod in tires with a nice blue sidewall to give the bike some class. The tires have an excellent tread for giving you speed on the road. They also help to bite into the dirt when cornering offroad.
Key Features:
Aluminum frame
Full suspension
Front disc brake
Key Specifications:
Colors: Grey
Weight: 40 lbs.
Dimensions: 55 x 28 x 8.5 in
3. North Woods Z245 Mountain Bike
The North Woods Z245 Aluminum Full Suspension Mountain bike is one of those products that has a name that nicely sums up precisely what it is. The North Woods has a 50mm steel crown front suspension fork combined with a rear shock and you'll have enough to cushion bumps, giving you a smooth ride.
To help get you up to speed, it has a 21-speed twist shift groupset. Twist shift is an interchangeable term with grip shift. They both do the same thing. The groupset is finished with a rear Shimano derailleur. The Shimano derailleur will help to ease out your gear changes and make them more fluid.
The bike uses front and rear v-brakes. You honestly do not need anything stronger than linear pull brakes for the majority of cycling that people do. They are simple to set up and cheap to get replacement parts should they wear out.
The bike also comes with nutted wheel axles. You might think that this is a lower option than a quick release lever, but nutted wheels have an advantage over quick release wheels. They are much harder to steal. You can be sure if your lock your bike up that your wheels will still be there when you get back.
The North Woods is certainly one of the best cheap full suspension mountain bikes available today.
Key Features:
Alloy Rims
21 speed twist shift
Dual Suspension
Key Specifications:
Colors: Grey/green, grey/orange
Weight: 42 lbs.
Dimensions: Not listed
4. Dynacraft Women's 24″ 21 Speed Rip Curl
The Dynacraft Women's 24 21-Speed Rip Curl has a bit of a classic look to it, mostly due to its neon coloring. This is a white bike with sharp accents of pink, making it stand out from many of the bikes you'll see on the road.
This bike has a full suspension frame, front and rear v-brakes, and 21 versatile speeds with grip shifters. Whether your climbing a hill or coasting around downtown, the speed variety allows you to pedal comfortably. Another comfortable thing about this bike is its padded bike saddle – it is made of metal but covered generously in comfortable plush underneath a layer of leather. The seat post also has a quick release for convenience. This is a dual suspension model with linear pull brakes.
For wanting an "around town" bike or a daily exercise bike, this is a great choice. People who are new to biking will find this easy to ride and use.
Key Features:
Linear pull brakes
21 speeds
Dual suspension
Key Specifications:
Colors: Pink + white
Weight: 42.5 lbs.
Dimensions: 50 x 25 x 8 in.
5. Merax Falcon Full Suspension
The Merax Falcon mountain bike has a great sounding name. It conjures up escape and freedom; the ability to go wherever you want. It is constructed around a full suspension 6061 aluminum mountain bike frame. The Merax color scheme nicely ties in through the whole bike, with your saddle matching your alloy wheel rims.
One of things you might notice at first glance is the big gusset welded into the front of the Merax Falcon. You can be sure with this gusset that your head tube will not crack. The next thing you may notice is that the Merax has chunkier tires than some of the other bikes here.
These tires are anti-skid. You will find that these tires help you to stay upright, even under powerful braking. A great feature for when some unexpected person walks in front of you by accident.
The bike also comes with Shimano's Revoshift gearing system. This is their marketing name for grip shift. It also comes with a highly coveted, for this price range, rear Shimano derailleur to help keep your gears in check.
The Merax Falcon is one of the best cheap men's bikes for people getting into cycling.
Key Features:
6061 aluminum frame
21 speed Shimano gears
Anti-skid tires
Key Specifications:
Colors: White/red
Weight: Not listed
Dimensions: Not listed
The Huffy Summit Ridge series is a nice range of cheap hardtail mountain bikes. The bikes have a classic look slim steel tube profile, which reminds us of the mountain bikes of the late 80s. The frame is mated to a Kool 1200 suspension fork which will help to take the sting out of the trail for you.
The Summit Ridge also features a 21 speed Shimano groupset. A grip shift system operates the gears much like the other bikes in this review. You will find linear pull brakes fitted front and rear to help you slow down and possibly pull some cool skids.
You have a set of 1.95" tires that will cope with both road and dry trail conditions. They come with little side knobs that will make all the difference when you are cornering offroad. The tires are fitted to a clack set of alloy wheels that help to make the bike look more expensive than it is.
The bike is available in a 24" version for people who are smaller, or as a child's first adult bike.
Key Features:
Steel frame
21 speed Shimano gears
Limited lifetime warranty
Key Specifications:
Colors: Purple, red, charcoal, denim blue
Weight: 42.6 lbs
Dimensions: 55.5 x 9.1 x 27.2 in
As you might guess from the name, the Raleigh Talus 1 is the first model in the Raleigh Talus range. The Talus, like the Summit Ridge, is a thin steel tubed bike. Unlike the Huffy though, the Raleigh does not have a suspension fork.
It does have 27.5" wheels. These are 1.5" bigger than the 26" wheeled bikes we have previously looked at in this bike review. Raleigh has thought about this and decided that the 27.5" tires will give you the same suspension as a cheaper fork and will help you roll over things easily.
The lack of a suspension fork is excellent if you don't want to have to take care of your suspension. It also helps to make the bike a little bit lighter than all the other bikes in this test. It helps this Raleigh to be one of the cheapest mountain bikes in our bike review.
Like many of the other bikes, the Raleigh uses a 21 speed Shimano twist shift gearing to help you pick your speed. With a choice of 21 gears you have a nice spread to help you get over and down hills with a smile on your face, and maybe just a bit of effort. It is probably the best cheap mountain bike available.
The Raleigh is a great choice for a commuter bike. The design of the bike will make it as fast as some cheap road bikes. The lack of suspension and the bigger wheels and tires will allow the bike to roll with road bike style speed. Being cheaper than many road bikes the Raleigh will save you money if you need a road bike for getting to work and a mountain bike for the weekends.
Key Features:
27.5" wheels
Steel frame
Shimano twist shift gearing
Key Specifications:
Colors: Black
Weight: 39.1 lbs
Dimensions: Not listed
The Hyper Shocker looks exactly like you would hope it would with a name like that. With a steel full suspension frame, the Hyper is a bike that looks like it wants to take on the world. It has nice wide knobby tires to help you tame offroad terrain, but it also works on the road should you use it to commute.
The Hyper comes with front and rear v-brakes and uses a Shimano twist shift groupset to allow you to change gears. The bike also comes with a saddle that looks like a small sofa, so it may just provide you with the right amount of comfort.
To get your saddle to the right height quickly and easily, the Shocker comes with a quick release seat clamp. It will take you seconds to set and lock your correct seat height or to change it for friends to have a shot on your new bike.
Key Features:
Full suspension
Steel frame
Shimano twist shift gearing
Key Specifications:
Colors: Black/red
Weight: 32 lbs
Dimensions: Not listed
The Mongoose Ledge 2.1 has a simple black paint job that is nicely set off by the green linkage for the rear shock. The aluminum full suspension frame should help you to conquer your local trails.
The Mongoose comes with Shimano twist shift gearing to make working your way through its 21 gears pretty easy. The Mongoose has three chainrings at the front and 7 cogs on your rear wheel.
The three front rings are designed to be ridden in a certain way. The big ring is for downhill and works with the small cogs on the back. The middle ring works with the cogs in the middle and is used on the flat. The little front ring works with the big cogs at the back and is designed to make climbing easier.
Key Features:
Aluminum frame
27.5" wheels
Full suspension
Key Specifications:
Colors: Black/green
Weight: 50.1 lbs.
Dimensions: 68 x 25 x 41 in
The Yeogned 520/530/540 is actually a small range of bike built around the same steel hardtail frame. The Yeogned is the first one in the range and comes with Shimano twist shift gears, single-walled alloy wheel rims, and linear brakes.
The 530 and 540 both come with Shimano EZ Fire gears. The EZ Fire system is a brake lever combined with gear shifters. The shifters are now operated by your thumb rather than by twisting your hand. The EZ Fire system is a more natural way to change gears than by using a twist shift.
The brake lever on both models is also connected to disc brakes. You will then be able to stop quicker on wet days or if you are carrying a lot of weight. Like the Eurobike, the 530 and 540 both come with double walled rims to help carry weight.
Key Features:
Steel frame
Shimano gears
Front suspension
Key Specifications:
Colors: Green, red, blue
Weight: 37 lbs.
Dimensions: Not listed
Cheap Mountain Bike Buying Guide – 5 Tips to Avoid Disappointment
Do not be swayed by cool stickers or paint job
If a cheap bike has a great paint job, it means they have cut corners somewhere else on the bike. You can also guess that this corner will be a much more integral feature to a longer lasting bike
Make sure it fits you
The majority of cheap mountain bikes will have 26" wheels but remember, if it has a 27.5" or 29" wheel size, the bike will be bigger than the frame size you might be used to. You will find though that cheap 26-inch mountain bikes are the most readily available.
Buy a bike with spoked wheels
If you go on Amazon and eBay, you will see bikes with crazy mag wheels. They may look cool, but those wheels weigh a ton and will make cycling a chore.
Don't buy the first bike you see within your budget
Look around and you may get lucky and find a better-quality bike that is reduced, or one that fits you better at the same price. Take your time and make sure you make the correct decision. You will find the best values for mountain bikes online. You will find many inexpensive mountain bikes for sale on Amazon.
Be realistic
Don't expect a bike that you can take on Black Diamond downhill mountain bike tracks. Many $2k bikes might have a problem there as well. You will also need to be realistic with yourself. If you think you will be mostly riding dirt paths, get one with knobby tires. If you are mostly going to be using the bike on roads and to get to work, get one with less knobby tires.
Should I Avoid Cheaper Mountain Bikes and Invest in a Better-Quality Bike?
The marketers answer to this is yes. The realistic answer is no. Everyone has to start somewhere, and not all of us have thousands of dollars to invest in a new hobby or way to commute. That is where a $200 mountain bike comes in.
You can use it to get an idea of whether you like cycling or not. If you love cycling, then you can either slowly upgrade your bike as parts wear out. Eventually, you'll have an all-new bike. The other option would be to make your mountain bike your winter bike.
A winter bike is cycling speak for your cheaper bike that you take out in bad weather. Leave your good bike at home. We are not necessarily saying everyone should start on a sub-$200 mountain bike though. If you have a budget where you can easily afford a more expensive bike, then go for that.
A more expensive bike should come with longer lasting parts and a fewer upgrades. If you have decided that you want to upgrade your cheap bike, we have a few cheap and easy upgrades to make your bike feel like a better-quality bike.
How to Upgrade a Cheap Mountain Bike
The first thing I would upgrade on a cheap mountain bike is the pedals. The pedals that come with the vast majority of cheaper bikes do not offer any grip, especially in the wet. They also tend to crack and break if you drop your bike.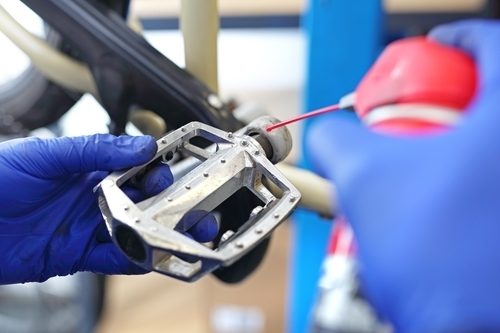 On Amazon, you can buy a set of Rock Bros nylon fiber pedals with grippy metal pins for around $20. It may seem like a lot but they will outlast your bike and can be moved onto any new bikes you buy in the future. It is honestly a lot better than having your feet slip all the time.
Our next upgrade is a great way to make any bike feel better. All bikes come with cheaper tires. It is how manufacturers keep costs down. Upgrading your tires can take a lot of weight off your bike and provide better grip. It will feel as if you have turned your bike into a race bike with this one change.
If you find you are mostly riding on the road or hard trails buy a more urban style of tires and not knobby tires. If you are doing the opposite, buy a knobby tire to help bite into the dirt and give you more traction. Just always check and make sure your new tires are lighter.
If you do not get along with your saddle, upgrading it would be a great call. Saddles take around 200 miles of use to break in properly, so remember that and do not bin a saddle too early.
The other thing to remember is that a wide saddle is not always a comfortable saddle. Yes, those saddles that you saw that looked like razor blades may actually be more comfortable. It all comes down to how your body is proportioned.
A good saddle will be able to live through many bikes. My current commuter has a saddle I got from a relative, and he bought it in the 1960s. It was an expensive saddle then, but the cost of nearly 60 years of use has made it a bargain.
 Cycling does not need to be expensive, and these upgrades will all make your bike more comfortable for you. You do not need to be taken in by marketing and buy a cheap carbon fiber mountain bike to fit in with all the other cyclists.
Are Cheaper Mountain Bikes More Likely to Ghost Shift and How Can I Prevent This?
Ghost shifting has multiple causes, but many of them are not linked to the fact that you are riding a cheaper bike. The reason why many people think it is a problem for cheap bikes is because most cheap bikes are pulled from a box and ridden straight away. A more expensive bike will be set up before being ridden.
I think that answers how to prevent ghost shifting. You need to set your gears up properly before taking your bike out for a ride. After you have taken it for a few rides, you will need to go back over your setup as your new cables will have stretched.
When your cables stretch, fray, or get contaminated, you will be adding play into your gear system. Your cables need to be correctly tensioned for your bike to shift gears correctly and not accidentally change when you press down on the pedals.
You will also want to make sure that the hanger on which your rear derailleur hangs is straight. If this is not straight, your gears will be out of line. You can usually get away with bending this a few times. The hanger is a part that is designed to fail. If it snaps, collect the pieces go around bike shops looking for a matching one.
You can either take your bike to a mechanic to get them set up correctly, or you can learn to do it yourself. Setting up gears is not tricky, it just takes a little thought. Never rush in and try and speed through the job. Stop and take your time, and you will get it right the first time. Park Tools, the leaders in bike maintenance, have a few videos that will help you understand what to do.
For more information about this we recommend checking out this Youtube video.
How to Properly Maintain Cheap Shocks So That They Last
Regardless of the price of your bike you should do regular maintenance. All bikes, cheap and expensive, will fail if you don't look after them. Setting yourself a regular maintenance schedule is a nice and effective way to maintain your bike. Every Saturday you could make sure to wash your bike, pump up your tires, and check your suspension.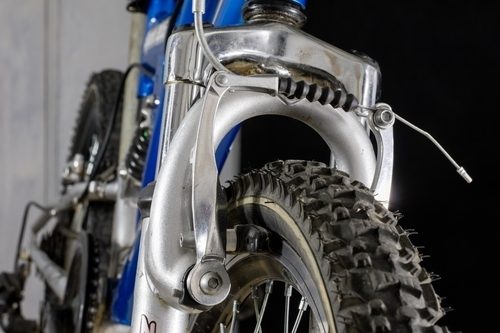 What you want to do is to wiggle all the parts in your suspension. Do they feel loose or tight? If something is loose, check your bolts and make sure that they are not coming loose. Bolts can be shaken loose as you ride your bike. If you do not check this regularly, they will fall out during a ride and you will be left with a broken shock.
On your forks, press down on them and see how they feel. If they feel gritty, give them a good wash. You need to make sure that the black wiper seals or boots are clean. You will then want to lubricate the fork stanchions. Doing so will stop dust and grit getting into your fork's internals.
On a bike below $200, this is all you can do to keep them going. There is no point in looking for spare parts to service the forks, as they will cost you more than the bike. Just keep them clean and lubed and you will get the maximum lifespan from them.