If you've been fruitlessly searching for the best cross-country mountain bike in [current_year], you're in the right place.
Cross-country riding puts more emphasis on endurance than trail riding. In order to achieve optimum performance on rocky ground, cross-country bikes tend to be super light. These are often hardtail mountain bikes with front suspension only.
So, are you looking for something bigger and better than a road bike to punish rough terrain? If so, you're in for a treat. We'll showcase the top ten mountain bikes ideal for these purposes. We'll also be showing you what to look for on the buying trail. Read on and you'll learn how to find the best cross-country mountain bikes — the easy way.
Short on Time? See our Top Rated Products From 3 Categories

Suspension lockout
Smart wheel size
Shorter chainstays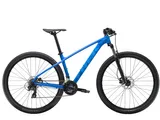 Independent brake and gear levers
Mounts in place for rack and kickstand
Agile handling

Scott Genius 960 Complete 2021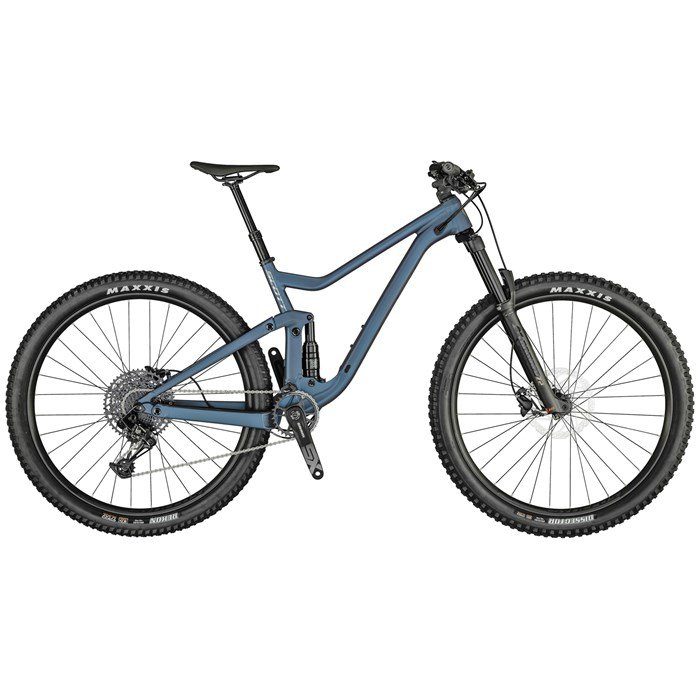 Rugged aluminum alloy
11-speed drivetrain
Easy three-position shock adjustments
The Best Cross-Country Mountain Bikes
1. Trek Marlin 5 Cross Country MTB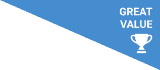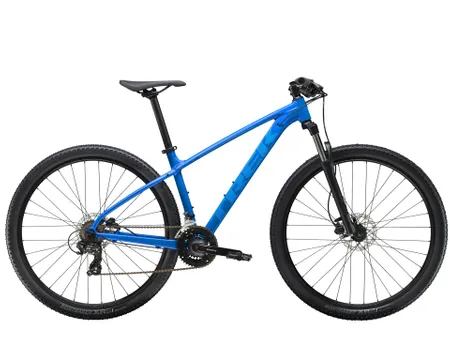 Key Features:
Independent brake and gear levers for improved positioning
Mounts in place for rack and kickstand along
Agile handling
Key Specifications:
Dimensions: Wheel Size: 29 Inch, Frame Size: 18.5 Inch
Weight: 32.17 lbs
Available Colors: Matte Royal
First up, Trek proves you can get a cheap cross-country mountain bike without compromising quality with the entry-level Marlin 5. This bike will take you nearly everywhere, from commuting on city streets to hitting a rocky mountain trail. Front suspension with 100mm of travel combined with 21 speeds gives you a rugged yet nimble mountain bike.
If you plan to use your Marlin 5 commuting, you'll appreciate the integrated mounts for your rack and stand. The super light aluminum frame gets you up to speed, and then you can take advantage of mechanical disc brakes to stop on a dime. With independent brake and gear levers, you can manipulate positioning with great precision.
Backed by an unbeatable lifetime guarantee, the Trek Marlin 5 Cross is one of the best mountain bikes for beginners. Whether you choose the 29 or 27.5 cross-country mountain bike, you're in for an all-terrain treat.
2. Trek X-Caliber 7 Cross Country MTB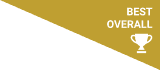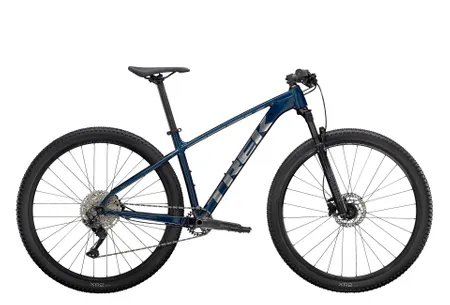 Key Features:
Suspension lockout
Smart wheel size
Shorter chainstays
Key Specifications:
Dimensions: Wheel Size: 29 Inch, Frame Size: 17.5 Inch
Weight: 29.53 lbs
Available Colors: Mulsanne Blue/Anthracite
Next up in our cross-country mountain bike reviews is the X-Caliber 7, another fine model from Trek's deep bench.
The X-Caliber is one of Trek's enduringly popular XC hardtail mountain bikes packing an Alpha Gold aluminum frame. Lightweight yet durable, you'll also find this bike remarkably maneuverable thanks to the tapered head tube. Shorter chainstays further enhance handling.
The RockShox 300 Silver air fork comes with 100mm of travel and lockout. You'll find most bumps nicely cushioned. With rebound adjust, you can tweak set-up nicely in line with your weight.
You can upgrade the dropper post with ease thanks to internal routing ports. This feature comes in handy if you want to raise and lower your saddle on the go. Pop a stand and rack on your Trek X-Caliber 7, and you'll be all set for a hard day on the trail. This is one of those bikes that performs just as well when you're racing as when you're barreling cross country.
3. Marin Wildcat Trail 5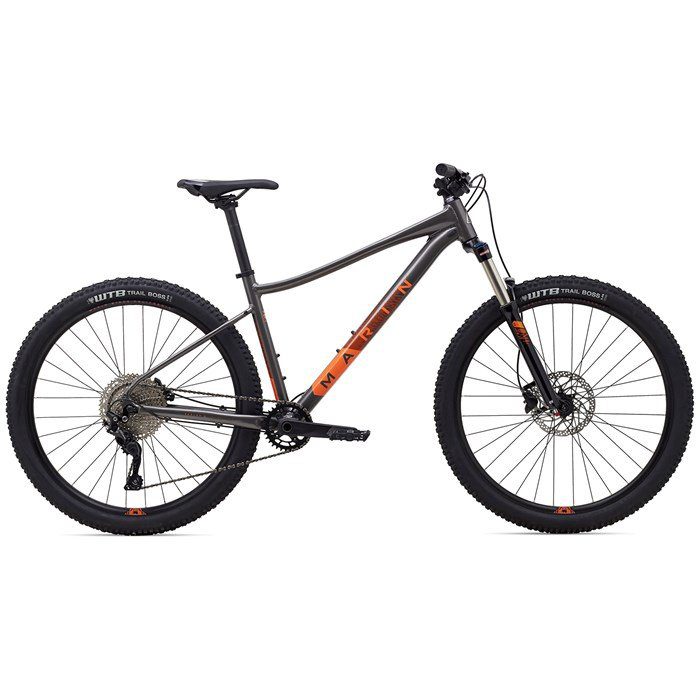 Key Features:
Light and durable 6061 aluminum frame
Shimano, MicroShift, & Marin for inexpensive drivetrain with great performance
Shimano MT201 Hydraulic Disc Brakeset for clean levers with power
Key Specifications:
Dimensions: Wheel Size: 27.5 Inch, Frame Size: M
Weight: not specified
Available Colors: Gloss Charcoal/Coral/Dark Coral
The Marin Wildcat Trail 5 shows why the 29-er trend is in no danger of dying out. The bigger wheels on this bike allow you to harness plenty of momentum on the trail.
The 130mm Maestro suspension helps you achieve control and comfort alongside great traction and blistering speed. This model is an adaptable full-suspension cross-country mountain bike with highly effective active rear suspension. While not a full carbon bike, you'll get carbon fiber components in the suspension.
The ALUXX SL Aluminum build gives you a frame that's built to withstand some serious punishment without weighing you down as you shoot off cross country. You'll get 12 speeds, which is the optimum set-up for the best cross-country mountain bikes.
The raking design, impeccable brand heritage, and ambitious frame design make this an absolute must if you have exacting tastes and a fluid budget. Snare strength, power, and style in one appealing bike. This is the best cross-country mountain bike for racing.
4. Trek Procaliber 6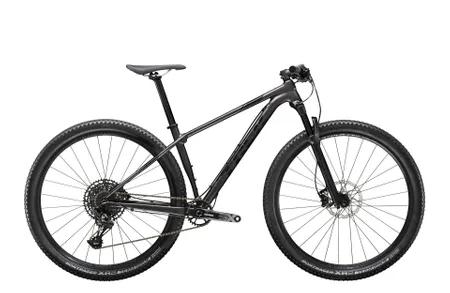 Key Features:
IsoSpeed – mixed drivetrain and hydraulic disc brakes
1 x 12 drivetrain
Shimano hydraulic disc brakes
Key Specifications:
Dimensions: Wheel Size: 29 Inch, Frame Size: 17.5 Inch
Weight: 26.92 lbs
Available Colors: Matte/Gloss Black, Purple Phaze
The Trek Procaliber 6 is hands down one of the most effective mountain bikes for dirt trails.
The innovative IsoSpeed decoupler means the seat tube can rotate separately from the junction between the top tube and seat stay. This aspect improves vertical compliance without any impact on pedaling efficiency. The result is a smoothness you don't typically find on hardtail mountain bikes.
You get the 1 x 12 drivetrain you want when you're zooming through bike parks or snaking up and down a trail. It yields ample choice of gears without overcomplicating things. With all that potential pace comes excellent stopping power thanks to hydraulic disc brakes from Shimano.
Are you just starting to get interested in competitive racing? If so, the Procaliber 6 gives you the best cross-country parts on a commendable frame with a fair price tag in the bargain. What's not to love?
5. Scott Genius 960 Complete 2021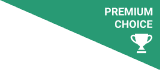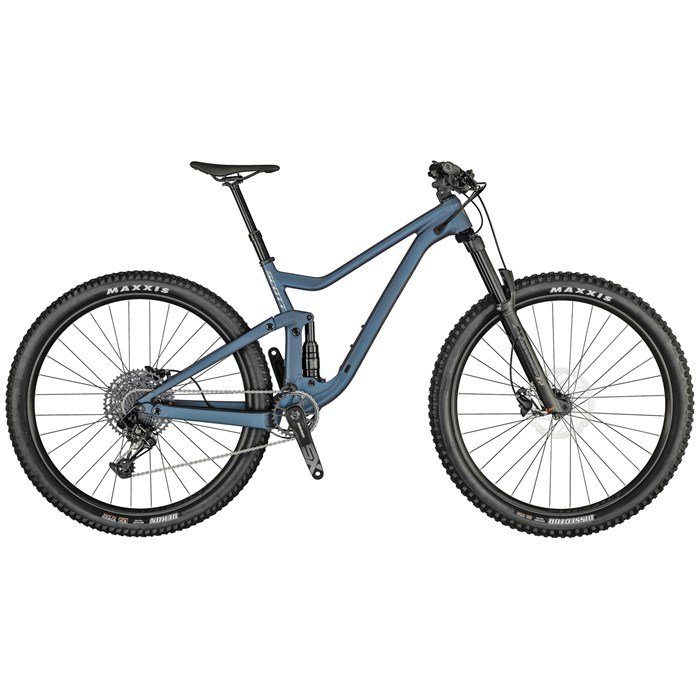 Key Features:
X-Fusion NUDE Rear Shock  for excellent small-bump sensitivity
Virtual 4 Link Design for perfect balance and control to the platform
Easy wheel size changes
Key Specifications:
Dimensions: Wheel Size: 29 Inch, Frame Size: S & L
Weight: 32.4 lbs (14.7 kg)
Available Colors: Matte Juniper Blue/Brushed Metal
The Scott Genius 960  is one of the most versatile bikes on our list today. From whizzing around city streets to mountain biking on a trail to competitive cross country, the Tallboy lets you do it all.
110mm VPP suspension allows you to ride in comfort as well as style. The DPS valve has both compression and rebound pistons resulting in solid lockout without sacrificing bump compliance. The shocks come with a three-position lever.
The SRAM NX drivetrain is a 1 x 11 set-up so you can shoot quickly out of the blocks, accelerate uphill, and get just the right gear when you're twisting downhill at speed.
The wheels are 29s with spokes triple-crossed to aluminum hubs. This results in a smooth trail feel along with remarkable robustness. The Tallboy A D serves up versatility and performance at a reasonable price point. It's not cheap, but it's not a bank-breaker, either.
6. Orbea Alma M-Team Bike 2021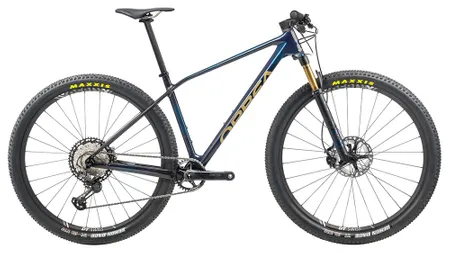 Key Features:
Alma Carbon OMX frame with internal cable routing and a BlockLock headset
Shimano XTR drivetrain provides incredibly reliable shifting in the most demanding terrain
Shimano XT hydraulic disc brakes offer confidence-inspiring stopping power
Key Specifications:
Dimensions: Wheel Size: 29 Inch, Frame Size: L
Weight: not specified
Available Colors: Golden Blue/Carbon
If you're prepared to forego front and rear suspension in favor of a hardtail mountain bike, why not road test the Orbea Alma M-Team ? This fantastic 29er comes with a featherlight frame and race geometry that enables you to pick up some serious speed.
The frame is made from Orbea OMR carbon. The overhauled geometry serves up stability without the added weight of bonded sections. The head angles, seat angles, and the tube angle are all configured with speed in mind. The fork and rear triangles are extra-stiff and tremendously efficient.
The 12-speed drivetrain from Shimano XTR gives you a broad enough gear choice without introducing too much complexity. Easy to use and equally simple to maintain, this is one of those bikes that's a genuine pleasure to ride.
Whether you opt for the smaller 27.5-inch wheel frame or you roll with the enduringly popular 29er, you're in safe hands with the Alma M15.
7. Santa Cruz Bicycles Tallboy C S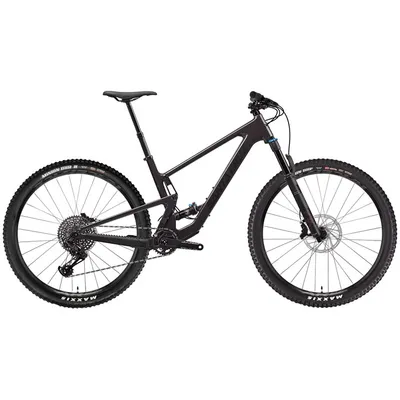 Key Features:
Carbon C frame provides strength and stiffness
SRAM GX Eagle drivetrain
VPP 120mm suspension
Key Specifications:
Dimensions: Wheel Size: 29 Inch, Frame Size: XS, S, M
Weight: 30 lbs
Available Colors: Black
One of the pricier bikes for those cross-country trails, the iconic Santa Cruz Bicycles Tallboy C S has a highly capable carbon C frame. It gives you the ability to climb hills without feeling fatigued and to barrel downhill at considerable speed.
The VPP 120mm suspension gives you a pair of short links that rotate in opposite directions, allowing for precisely fine-tuned shock rates to suit everything from enduro mountain bikes to road bikes.
The seat tube angle is 73 degrees regardless of whether you go for a small, a size large, or an XXL.
A SRAM Guide R brake set means you can confidently stop on a dime even if you're navigating the most complicated of trails. Despite the heavyweight performance of these brakes, the components are blissfully lightweight.
Tough and lightweight 29er alloy wheels complete an alluring package and make this one of the strongest cross-country bikes in a crowded vertical.
8. Procaliber 9.7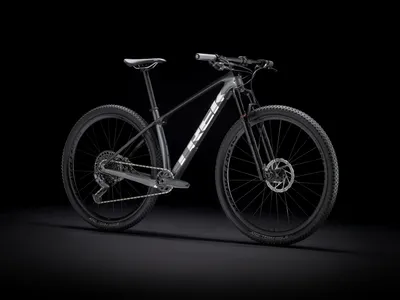 Key Features:
Portable, durable, light for taking and riding
Central folding design is compact and can be placed anywhere
Shock absorber is comfortable and the rebound is strong
Key Specifications:
Dimensions: Wheel Size & Frame Size: not provided
Weight: 30 speed
Available Colors: White Red
With a BallisTec carbon frame and a carbon handlebar, the Procaliber 9.7  lives up to its name. What else makes it so good aside from that space-age material?
Next-level geometry helps you to work your way up the sharpest inclines and head down the steepest slopes with ease and precision.
While your ride won't be cushioned like a full-suspension mountain bikes, that's not the effect you're looking for with XC bikes. The superlight XC fork helps ensure handling is agile enough, and you won't be rattled around too much. The Shimano XT 1 x 12 drivetrain is the ideal rig for XC biking. You'll have gears to suit all occasions with no upkeep.
If you're motivated primarily by the bottom line, this bike is not for you. If, on the other hand, you're looking for an ultralight and highly efficient cross-country steed, put your trust in HCMNME.
9. Schwinn S29 Mens Mountain Bike
Key Features:
Special tires are puncture-resistant
Highly sensitive disc brake pads are wear-resistant
Disc brake pads are stable and durable
Key Specifications:
Dimensions: Wheel Size: 26 Inch, Frame Size: M & L
Weight: 48.5 lbs
Available Colors: Black Blue
Last but certainly not least, in our quest for the finest cross-country bikes, the Schwinn S29 allows you to power your way up sharp inclines then coast downhill at full clip even if you're navigating awkward trails.
Like most of the bikes we explore today, this bikes comes with  26-inch wheels so that you can dial it in according to your size and tastes.
The KLYHCHN  gives you the stability you need for cross country trails without compromising speed and agility under other conditions. The Lefty fork provides valuable steering precision set against the rigidity you need.
Weighing just over 23 pounds, this carbon gem is slightly beefier than others but still no heavyweight. If you have a flexible budget and demanding tastes, you won't be disappointed with this fantastic KLYHCHN  softail.
10. Niner Rip 9 RDO 29 2-Star Bike 2021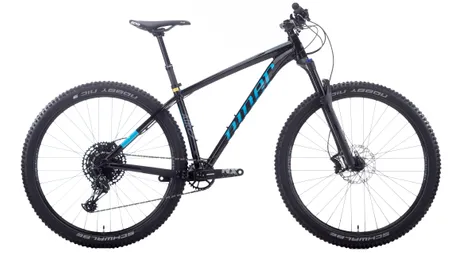 Key Features:
RDO carbon frame with CVA suspension, wide tire clearance, and a geometry flip chip
Niner Alloy wheels paired with Schwalbe tubeless-ready tires
KS LEV Si dropper post quickly lifts and lowers your saddle with the press of a lever
Key Specifications:
Dimensions: Wheel Size: 29 Inch, Frame size: M
Weight: not specified
Available Colors: Satin Carbon
Next up in our quest for the best XC mountain bikes is the Niner Rip 9 RDO, a lean and mean racing machine as well as one of the best bikes for cross country riding. What makes it so good?
The Hydroformed process consists shaping the aluminum into lightweight. This makes the frame snappy and excelent designed for trail riding.
Packing a boosted rear end, you'll get less twisting and the benefit of larger wheels. The 12-speed drivetrain, a SRAM GX Eagle, comes with a 10-50T cassette. You'll be able to confidently negotiate just about any type of terrain from city streets to challenging XC trails.
The Hydroformed aluminum frameset gives you all the support and durability you need while weighing comparatively little. Its components are built for performance without destroying your bank balance, making this one of the best options if you're looking for power and pace on a budget.
5 Things to Consider When Choosing a Cross-Country Mountain Bike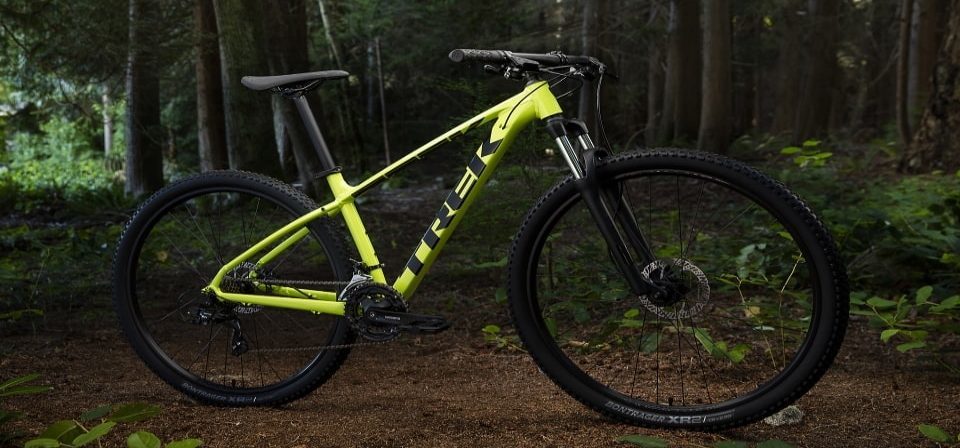 When you're looking for XC mountain bikes, focus on the following areas when assembling your shortlist:
Suspension
Wheels and tires
Bike geometry
Seat post
Cockpit
1) Suspension
Suspension design is arguably your most important consideration. Hardtails are typically favored over full-suspension bikes as they are lighter. Rear suspension adds weight that you could thoroughly do without when you're snaking around demanding trails.
That said, you might want a rear shock if you plan to ride predominantly on rocky paths and trails with plenty of roots getting in your way.
The bulk of hardtails have a suspension fork with 100-120mm of suspension travel. You'll get the same amount for rear travel if you opt for a full-suspension alternative.
When you're considering which suspension platform would make the best fit, don't forget that it's all about what kind of terrain you plan to be tackling. Get this right, and you'll find the right bike with ease. Get it wrong, and you'll be making an expensive mistake.
2) Wheels and Tires
Next, give due consideration to the wheels and tires.
When you're choosing between 27.5-inch wheels and 29-inch wheels, the dominance of 29er wheels makes your decision pretty easy. The vast bulk of XC bikes come with 29s.
What's the benefit of larger wheels? Well, you'll roll more readily over rocky terrain, and you'll also find you can maintain speed more easily.
Carbon wheels are stiffer and lighter with the inbuilt benefit of being extremely responsive, too. There's a price to pay for this improved power transfer and enhanced steering, so be prepared to dig deeper for carbon. Alloy wheels make a reasonable alternative, and they come in at a much better price point.
3) Bike Geometry
The geometry of your XC bicycle will dramatically impact the overall bike feel. This is another area of these bikes that's changed quite significantly over recent years. Manufacturers are prioritizing aggressiveness and descending.
Slackness has not reached the point of trail bikes, but head angles are certainly slacker. While you can find the occasional 66.5-degree head, the standard head falls somewhere between 68 and 70 degrees. This set-up will help when the trail gets steep and technical while still providing the responsiveness you need to feel comfortable.
Seat angles are usually 74 or 75 degrees for traction and weight distribution.
Shorter chainstay lengths improve both power transfer and traction.
4) Seat Post
There's little to fire up a healthy debate among riders than the issue of rigid posts vs. dropper posts.
If you opt for a titanium or carbon rigid post, this will shave off some precious weight, but you'll pay the price when it comes to heading downhill. Unless you're planning to get involved in some serious racing, the weight saving probably isn't worth fussing about.
Dropper posts, on the other hand, might weigh very slightly more, but they make descending a whole lot easier.
5) Cockpit
The cockpits on XC bikes have evolved over time. Where handlebars were once incredibly narrow, these days, they have widened while stems have shortened. Why? Well, the modern configuration ramps up stability and keeps your weight nearer the front than the back.
Typical handlebar width on cross country machines is anywhere from 720mm to 760mm.
Standard stem length of 60mm is more in line with dedicated trail bikes or mountain bikes. With the largest frames available, this could nudge up to as much as 90mm.
What Is a Cross-Country Mountain Bike Used For?
As the name makes abundantly clear, the core purpose of these bikes is for riding cross country.
Although this is the primary use, many XC bikes are also designed to accommodate the needs of commuters, too. If you're looking for this, make sure the bike comes with mounts for a rack and kickstand.
You might also ride a cross-country bike on a range of trails from fire roads to quite technical singletracks. If you're competing, cross-country racing spans everything from short, gritty sections to hardcore endurance events.
When you buy a XC bike, and you're getting a great deal of versatility.
Which Material Is Better for Your Bike? Aluminum Vs. Carbon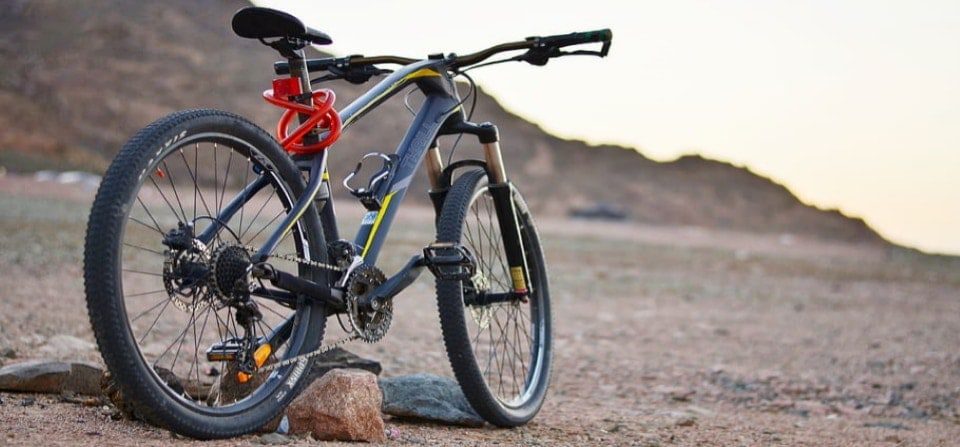 You'll need to decide between an aluminum frame and a carbon frame when you're scoping out cross-country bikes, but which material is best?
While you can still find steel and titanium frames, it's aluminum and carbon that rule the roost in 2020.
Aluminum once reigned supreme, but carbon fiber has become far more accessible, so it's vying for primacy.
Carbon frames give you all the stiffness you need without too much weight thrown in. The malleable nature of carbon makes from superb aerodynamic tubing, as well.
One thing to note with carbon frames, though—it's tough to detect damage. That can lead to failure under stress when you very least need it. If you take a serious tumble, you should rigorously inspect your carbon frame afterward.
Aluminum frames are alloyed with another metal. You'll pay less while the material is still pretty light and stiff. The major drawback of aluminum comes in the form of a harsh ride that not everyone enjoys.
How Relevant Is the Wheel Size for a Cross Country Mountain Bike?
How relevant is wheel size, then?
According to research [1], wheel size "does not significantly influence performance" when trained mountain bikers are riding cross country. It's generally considered that "personal choice" is usually the reason for choosing one size wheel over another.
The good news?
With the dominance of 29ers, you can stick with that size and get solid cross-country performance.
References