Electric bikes offer a wide range of benefits. They are also widely available and affordable. There are many e-bikes to choose from, even if you have a limited budget. To help you make an informed decision, let's take a look at the best electric bikes under $1,000 in [current_year]. Every bike here features high-quality components and is popular among riders from all walks of life.
To ensure you pick the perfect e-bike, we'll also look at buying considerations and different model types, as well as what features you can expect in this price range. Let's get started!
Short on Time? See our Top Rated Products From 3 Categories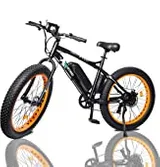 26″ x 4″ tires for traction on all surfaces
Maximum weight capacity of 260 lbs
Maximum speed of 20 mph (32 km/h)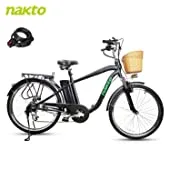 Riding distance of up to 35 miles
Speed of 25 mph
LED display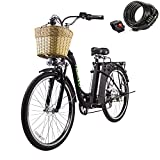 Riding distance of up to 40 miles
Top speed of 20 mph (32 km/h)
7-speed freewheel and 7-speed chain
The Best Electric Bikes Under $1000
1. ECOTRIC 26″ Electric Bike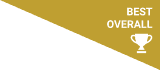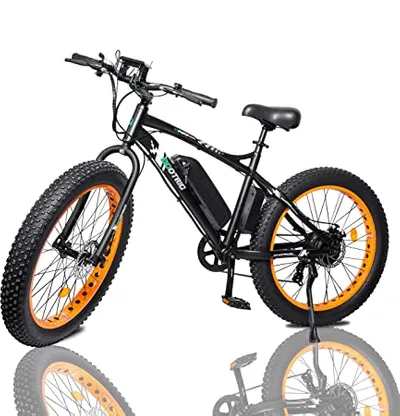 Key Features:
26″ x 4″ tires for traction on all surfaces
Maximum weight capacity of 260 lbs. (117.9 kg.)
Maximum speed of 20 mph (32 km/h)
Key Specifications:
Dimensions: Wheel Size: 26 Inch, 26 Inch
Weight: 58 lbs (26.3 kg)
Available Colors: Black
The ECOTRIC 26″ Fat Tire electric bike is a viable option for riders who need an e-bike with off-road capabilities and stability on loose surfaces. The most prominent attribute of this model is its 26″ x 4″ anti-skid tires. These tires can adapt to any topography and adds to the bike's versatility.
It also features a lightweight aluminum frame and a fixed front suspension fork. Because the frame and fork are highly responsive, these components make for a lively, easily-controllable ride. You can adjust the height of the seat, but if the handlebar is still too low, consider adding a handlebar extension.
Powering the ECOTRIC 26″ is a 500-watt brushless rear-hub electric gear motor and a 36-volt, 12AH removable lithium battery. With this combination, you can reach speeds up to 20 mph and ride 25 miles on one charge. With additional pedaling, you can increase this distance to 35 miles.
2. Ancheer Sunshine Electric Bike
Key Features:
350w powerful motor
Upgraded transmission system
LCD display
Key Specifications:
Dimensions: Wheel Size: 26 Inch, Frame Size: not provided
Weight: 52 lbs
Available Colors: Black/Orange
The Ancheer Sunshine is a solid e-bike that fits right into your budget. Brought to you by a renowned distributor in the world of electric bikes, you can count on this entry-level bike to take you to your destination in speed and style. Sandy beaches or snowy mountain trails, this bike can weather all terrains.
The Ancheer Sunshine is a great find for any biking enthusiast. Amongst all Ancheer brand bikes, this one has the largest battery capacity. Its 10.4 Ah lithium-ion battery will let you ride for up to 30 miles per charge. That is the right power for your daily trips or adventures.
The electric bike especially has hill climbing capabilities that no other similar bike in its range can muster. This is because of its 24-speed gear options and great terrain adaptability.
The bike's 350w motor also makes it a dream come true for your daily commutes or favorite meanders. This Ancheer also comes with an upgraded LCD display that will let you know your light signal, motor power, speed as well the battery level.
3. DJ Electric Bicycle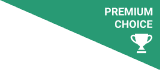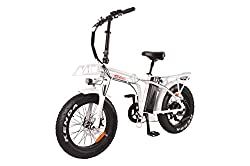 Key Features:
750W 48V 13Ah Power
Pearl White
LED Bike Light
Key Specifications:
Suspension Fork and Shimano Gear
Wheel soize: 20 inches
Disc break style
The DJ Electric Bike 750W Electric Mountain Bike is an affordable, high-quality e-bike with a wide range of valuable features. The bike has a sturdy, lightweight alloy frame and a Suntour XCT fork with a preload setting. With this frame and fork combination, it offers optimal responsiveness, control, and comfort – even on rugged terrain.
The quality of the bike's electric system matches that of its construction. The system consists of a powerful Das-Kit 350-watt rear-drive motor, 468Wh DeHawk battery, and Das-Kit L68 LCD and controller.
These components deliver a top speed of 20 mph and a 20- to 40-mile range on a single charge. How far you can ride on a full charge depends on the pedal assistance level you choose. There are six levels with level six being pure electric mode.
The battery is easy to remove, and you can charge it anywhere. The battery also includes a 5V USB port to charge your mobile devices.
4. Bright GG Nakto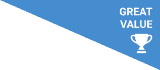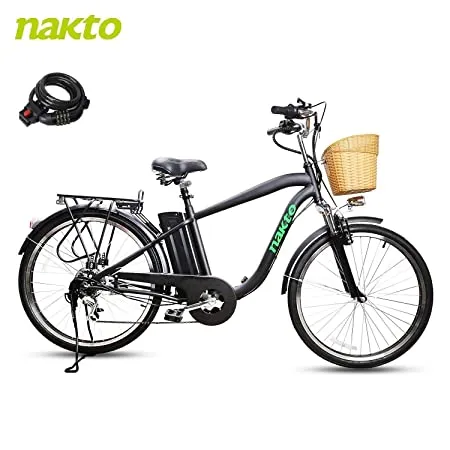 Key Features:
Riding distance of up to 35 miles
Speed of 25 mph
LED display
Key Specifications:
Dimensions: Wheel Size: 26 Inch, Frame Size: not provided
Weight: 50 lbs
Available Colors: Matte Black
The Bright GG Nakto is a great choice if you appreciate the little technological details that go into the newer E-bike models. This bike has LCD headlights and an LED display so you can track your distance. The illumination distance of the headlight is quite far, so its suitable and safe for evening rides.
This is also considered a high-speed bike with its 250W rear hub and detachable (and lightweight) 10AH lithium ion battery. Your top speed with this bike will be around 25 mph and you can ride anywhere between 25-35 miles without charging the battery. It has a carbon steel frame and comfortable padding on the saddle. The front and rear brakes are Shimano with a six-speed shifting system, so shifting will be effortless. There are also three modes of operation: pure electric, electric pedal assist, and pure pedal. That way, you can control how much of a workout you're going to get.
5. Nakto Fat Tire Electric Bike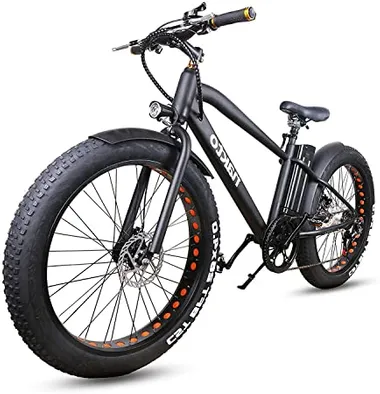 Key Features:
300-watt Bafang motor
Shimano rear derailleur with six-speed freewheel
26″ x 4″ fat tires for enhanced grip
Key Specifications:
Dimensions: Wheel Size: 26 Inch, Frame Size: Large
Weight: 57 lbs
Available Colors: Black
The Nakto Electric Bike is a powerful, yet affordable option for riders who want to take on all terrains, including sand, lawns, hills, and speed bumps. It has a highly durable and responsive Q345 carbon frame with an alloy hub. Adding to the bike's versatility and durability are two 26″ x 4″ tires with a front V-brake and rear expansion brake.
With this bike, you get three types of working modes, namely pure electric mode, foot assist, and pure pedal mode. The NAKTO has a relatively powerful 300-watt brushless motor and a 36-volt 10AH lithium battery to optimize the motor's efficiency. The result is a top speed of 16 mph with a range of up to 26 miles on a single charge in pure electric mode.
The Samsung battery is removable and has a charging time of six hours. The battery is also highly efficient, with an energy conversion rate of up to 91.8%. The NAKTO 26″ has a maximum weight capacity of 300 pounds (136 kg) and is ideal for riders between 4'9" and 6'6" tall.
6. EIGSO Eahora XC100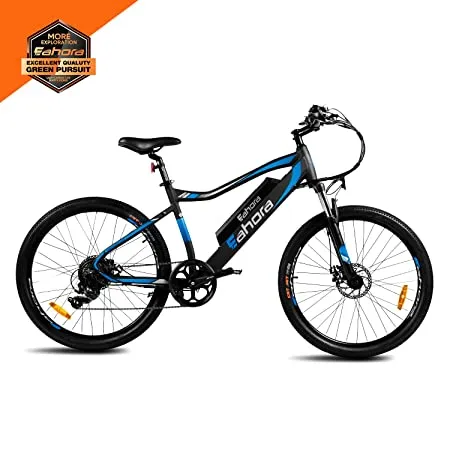 Key Features:
Powerful motor
Multi-tooth tires for added comfort and grip
Speed of 20 mph
Key Specifications:
Dimensions: Wheel Size: 26 Inch, Frame Size: not provided
Weight: 50 lbs
Available Colors: Black/Blue
The EIGSO Eahora XC100 Challenger Plus e-bike is suitable for a wide range of terrains, including hills, trails, gravel roads, and even sand. This model has a durable and lightweight 6061 alloy frame and mechanical spring fork with 100mm of travel. The frame and fork make for a lively and comfortable ride.
The optimized electric system that powers the Rattan and consists of a 350-watt SHENGYI rear-drive motor and a 36-volt 10.4AH Samsung lithium battery. You also get an M5 intelligent LCD with a thumb throttle.
This system produces a speed of 20 mph and three levels of pedal modes. In eco mode, you can travel a distance of up to 50 miles on a single charge, making this model ideal for commuting to work. The 7-speed Shimano shifter and TX30 derailleurs allow for smooth shifting. The gear selection also makes it easier to climb hills. This bike is ideal for riders who are looking for versatility and value.
7. Ecotric Leopard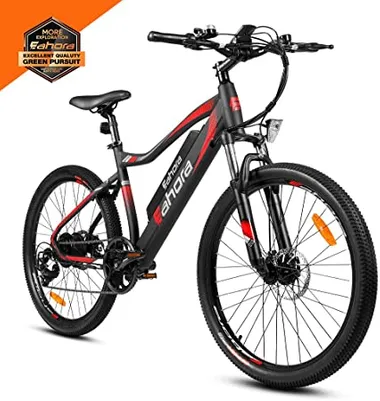 Key Features:
Removable, lightweight battery
Shimano disc brakes
LCD display
Key Specifications:
Dimensions: Wheel Size: 26 Inch, Frame Size: 26 Inch
Weight: 55 lbs
Available Colors: Black/Orange
If you're looking for an electric bike with a lot of power, the Ecotric Leopard is your best bet. This model has a 500W motor and only takes about 6 hours to charge. It allows you to reach distances between 18-33 miles, depending on how much you use the pedal assist. While it might not go as far or ass fast (20mph) as some of the other bikes in this review, it makes up for it with its quick charging time.
Along with the quick charging time, the Ecotric Leopard also has a 36V LCD Display that can do things like set your wheel diameter and set your speed limit. With pedal assist, throttle assist, and Shimano disc brakes, you can be sure that you'll have a safe ride with incredible stopping power. The removable li-ion battery is extremely convenient – you can take it into work with you and charge it right at your desk for the ride home. For convenience and power, this is one of the best options you can choose.
8. Rattan Electric Snow Bike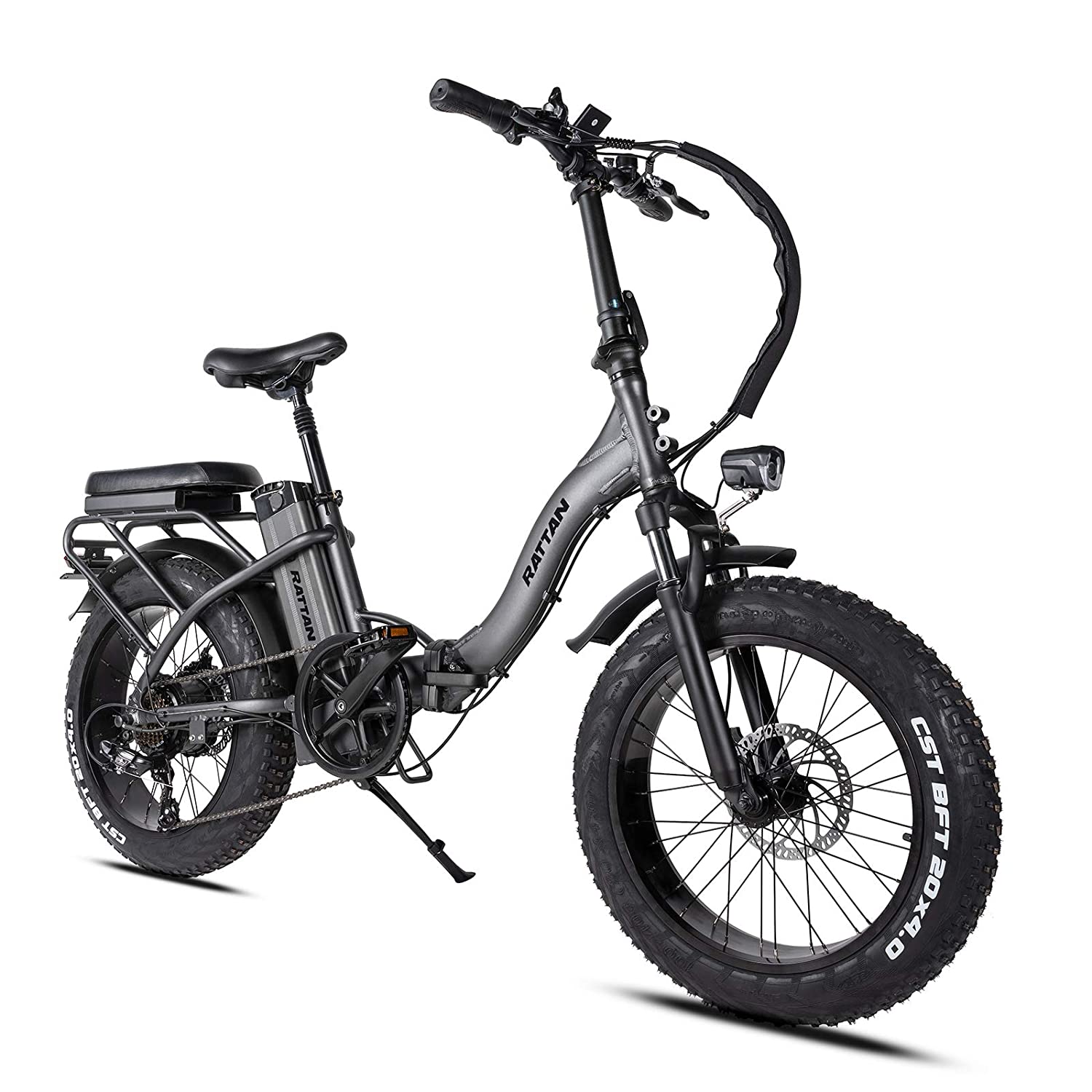 Key Features:
Top speed of 12.5 mph (20 km/h)
Riding distance of up to 20 miles per charge (32 km)
Designed for comfort with an adjustable seat height
Key Specifications:
Dimensions: 40 x 75 x 25 Inch
Weight: 54 lbs
Available Colors: Black
The R Rattan Electric Bike is a popular option with its fat tires and lightweight, durable frame. This model is suitable for all terrains, including roads, trails, snow, sand, and mud. The bike's casing has an iron frame and alloy hub combination, giving it a maximum weight capacity of 440 pounds. Together, the 350-watt brushless motor and 36-volt 10AH lithium battery allow for a top speed of 12.5. With the Goplus 26″, you get three riding modes, namely manual mode, power assist mode, and fully electric model. You can ride up to 20 miles per charge, provided that you use pedal assist. The 26″ x 4″ fat tires provide you with optimal traction on loose surfaces, and, in combination with the iron lockout fork, ensure optimal comfort on rugged terrain. An ergonomic design and adjustable seat height also contribute to a comfortable and controlled ride. This bike features a headlight for safe riding at night, too.
9. Rattan Challenger Pro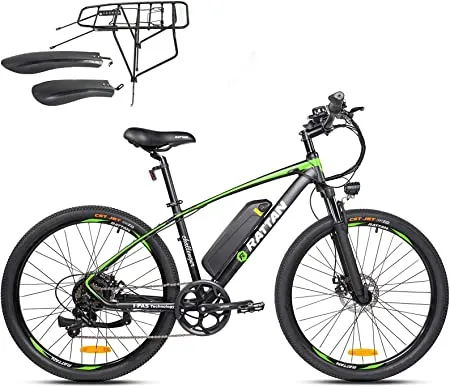 Key Features:
I-PAS technology
7-Speed Shimano Gears
Up to 80 miles of distance with PA
Key Specifications:
Dimensions: Wheel Size: 26 Inch, Frame Size 18 Inch
Weight: 52 lbs
Available Colors: Green
The Rattan Challenger Pro is a fantastic choice if you have a lengthy commute. This bike can go up to 50 miles without a charge, and that's just on the e-bike mode. If you use pedal assist, you can get up to 80 miles on it. It has a 350W brushless gear motor with a 36V Samsung lithium-ion battery. It's also equipped with a front headlight, so it's safe to drive in the dark.
This model also comes with three modes: the electric mode, pedal assist, and normal bike. To activate the engine, the thumb throttle makes it simple and fun. The reason why this bike can go further than most bikes without a charge is because of something called I-PAS (Intelligent Pedal Assist System). The I-PAS essentially makes it so that the motor is more efficient when it comes to helping the rider. It saves energy and extends the life of the battery and the motor.
An aluminum-alloy frame insures strength and a lighter weight. The Rattan Challenger also comes equipped with baking varnish and hydroforming technology. If taken care of, this model can last many years because of these things. It also comes with Shimano gears (7-speed classic transmission system) so when you climb the hills, you'll get plenty of help. Changing the speed is simple and quick.
10. Nakto 26″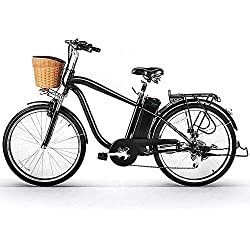 Key Features:
Rear hub 36V 30W motor
Speed sensor
Front and rear disc brake
Key Specifications:
Dimensions: Wheel Size: 27 Inch, Frame Size 19 Inch
Weight: 48 lbs
Available Colors: Matte Black
The Nakto 26 is the kind of electric mountain bike that will enable you to tackle the roughest terrain and mountains that may seem hard to conquer. Made of high-quality aluminum alloy material, this bike will surpass all of your expectations.
The NAKTO Ranger comes with a high-steel front fork for shock absorption and a gear shift system like no other. This 26-inch bike is not only durable but also comes with high quality components including a 6-speed gear makes it easy for you to choose the speed that that you are most comfortable with.
Coupled with a high-speed motor, you can confidently take your bike out for a 25-mile ride.  With a 300w high-speed gear, you can feel the breeze or enjoy nature are 19m/h. The LED headlamp will also illuminate your way should you decide to venture out at night.
Depending on how you want to enjoy your ride, you can use your NAKTO in throttle-only mode, throttle with pedal assist, or a simple pedal-only mode.
3 Things to Think About When Buying an Electric Bike Under $1,000
Power
Power is a crucial buying consideration, especially if you are looking for a mode of transportation. If you primarily want a bike for exercising, power delivery is less significant but it helps if you're going to commute to work.
The power measurements that manufacturers typically list include watts (W), volts (V), and amp-hours (AH.) Wattage ratings are generally not reliable, as there is no way of knowing if the wattage refers to rated power, peak power, or the motor's actual power output. Some manufacturers list the lowest wattage rating to avoid speed regulations.
Watt-hours is the number of watts a unit delivers in an hour, and this is the most accurate power rating. To calculate the e-bike's watt-hours, multiply its battery voltage with its continuous amperage in amp-hours.
For example, consider the GoPlus 26″e-bike. This bike has a battery voltage of 36 volts and a continuous amperage of 10 amp-hours. Multiplying these values gives you a power rating of 360 watt-hours, which is ten watts more than the rating in the specs.
A bike's power rating also affects weight. As a rule, the bigger the motor and battery, the more the bike weighs. If you like pedaling and want a motor as a backup for long trips, consider a lower power rating.
Frame
Like the battery and motor, the frame material and design also contribute to a bike's weight. Most frames are made of aluminum, as it is lightweight, durable, and affordable. Other available frame options include carbon and steel.
Carbon is one of the most lightweight materials available for frames, but it is expensive. Carbon-frame bikes are not readily available under $1,000 unless they feature some lower quality components. A steel frame may be a viable option as it is durable and affordable. However, steel is a relatively heavy frame material and may make your ride sluggish.
Frame strength is crucial, especially if you are planning on doing some trail riding. If you are going to use your bike as a commuter vehicle on the roads, aluminum is the ideal frame material.
In addition to frame material, you should also consider the frame's geometry and size. Select a frame size that is appropriate for your height. The frame's geometry should also fit your unique body measurements to give you complete control.
Range and Top Speed
Top speed is usually the specification most people look at first. There are three classes of e-bikes in the United States, namely:
Class 1 that has pedal assist and no throttle
Class 2 with throttle assist and a top speed of 20 mph
Class 3 that is pedal-assist with no throttle and a speed of 28 mph
In some cases, laws regarding e-bikes may differ from those that apply to bicycles. Legal considerations vary by state for each class regarding where they can be used, safety requirements, and traffic regulations. If you want to use your bike for traveling to work, local laws and speed caps are worth considering.
The distance a bike can travel on one charge is also significant if you don't want to pedal to work and back. The watt-hour power rating of the battery determines the range it can travel, and the higher this rating, the farther you can ride. Other factors that affect range include your speed, weight, and inclines on your route.
Before making a purchase, consider the distance you want to ride carefully, so you don't run out of battery power. On the other hand, if you only have to travel five miles per day, you don't need a range of 70 miles.
What are the Differences Between the Features of a $500 and a $1,000 Electric Bike?
There are several differences in the features of $500 and $1,000 models. $1,000 models generally have lightweight, responsive frames with carefully designed geometries. The frames of the more inexpensive bikes are typically made of heavier, cheaper alloys and iron.
The batteries of products in the $1000 price range also differ. If you spend more, you start seeing branded batteries with waterproof casings and better longevity.
The more inexpensive bikes also have different motors. Higher-priced e-bikes have more powerful, branded motors. Cheaper models may also have high-power motors, but you should research their quality before buying.
E-bikes under $1,000 tend to feature higher-quality electric components as well. These parts include circuit breakers, LCDs, and shielded copper wiring instead of unshielded copper-aluminum wiring.
If you have a limited budget, you don't have to settle for a low-quality model. There are many durable, long-lasting products available for less than $1,000. However, you may have to make a few upgrades over time.
Check out the information we have on cheaper electric bikes if you have budget restrictions.
What Types of E-Bikes are Available on a $1,000 Budget?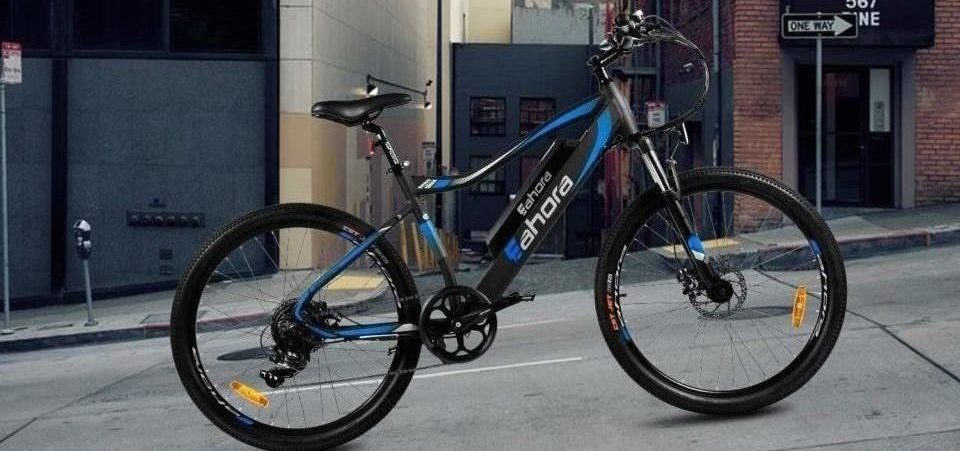 When shopping for an e-bike on a $1,000 budget, you can choose from three types, namely:
Comfort/Cruiser
Hybrid/Commuter
Mountain/Off-road
There are several differences between these types in terms of design and features. Before choosing between the different types, consider your lifestyle and riding needs carefully.
Comfort/Cruiser
Bikes in this category have a relaxed, upright riding position and are suitable for recreational riding around the city. If you want to go sightseeing or if you want to explore your neighborhood, this type may be ideal for you.
Features of this e-bike type include a comfortable saddle and a step-through frame. This type of frame makes mounting and dismounting easy and is ideal for women. Some cruisers also feature diamond-shaped frames.
Cruisers are not suitable for riders who purely want to ride for exercise. These bicycles don't have the wheels, frame geometry, and features for trail riding, either.
Hybrid/Commuter
Hybrid or commuter models are ideal for commuting to work and other functional uses. These bicycles typically come with high-performance features, including things like lightweight frames, an extensive gear selection, and large wheels that can ride on the road and rugged terrain. Some models also have racks that you can use to carry suitcases or groceries.
Commuters are typically more powerful than cruisers. With a hybrid or commuter, you should be able to ride at speeds of more than 20 mph. Models in this category should also be able to travel long distances on one charge.
You can find foldable bikes of this type, as well. The collapsible frame is handy if you have to take your bike with you into your office or grocery store. To learn more about these e-bikes, read our article on foldable electric bikes.
Mountain/Off-road
If you like trail riding and climbing hills, a cruiser or commuter will not work for you. Instead, you need an off-road e-bike. These models feature powerful batteries and mid-drive motors for optimal weight distribution and power delivery to the wheels. Power is essential if you want to ride uphill or on sandy or muddy roads.
You also have to ensure that you have a lightweight, responsive frame that is strong enough to withstand rugged terrain. A suspension system is necessary to ensure a comfortable ride and optimal control, too.
Off-road wheels are large and thick in comparison with those of commuters. The larger size of these wheels allows for optimal grip and traction when you are trail riding.
How Long Can You Expect Your Bike to Last for When Spending More Money?
If you are willing to take proper care of your bike and replace obsolete components, you can ride it for many years. The parts that last the longest are the frame, handlebar, and fork. When the time comes for you to upgrade these components, it may be time for a whole new bike.
High-end batteries and motors can last three to five years, depending on how much you ride. With proper care, they can last even longer. If you notice that your battery's capacity starts to decline, or if the motor's performance drops with age, you only have to install a new electric kit. Check out our page on kits that allow a bike to run on electricity.
If you are willing to spend more money on quality tires, you can expect a lifespan of up to 3,000 miles. You may also have to replace your chains and your ybrakes every 3,000 miles. High-quality disc brakes on many $1,000 bikes can last for up to 6,000 miles, though.
Should I Spend More Than $1,000 When Buying an Electric Bike?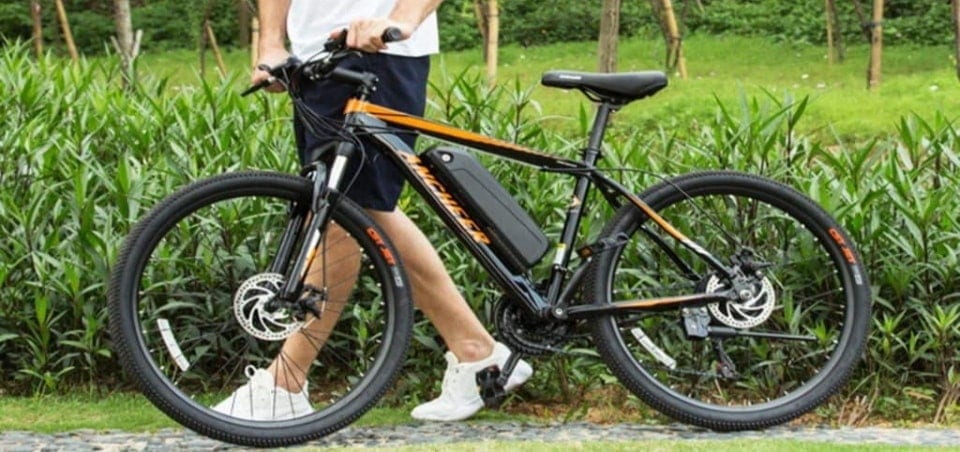 It is possible to get all the value you need from a bike in the $1,000 price category. There are many options in this price bracket that feature lightweight frames, high-capacity batteries, powerful motors, and display panels.
However, if you have the budget to spend more, then it may be best to do so. Higher-priced models tend to offer better value in terms of longevity, power, and versatility. If you want to spend more than $1,000, take a look at the top electric bikes on the market.