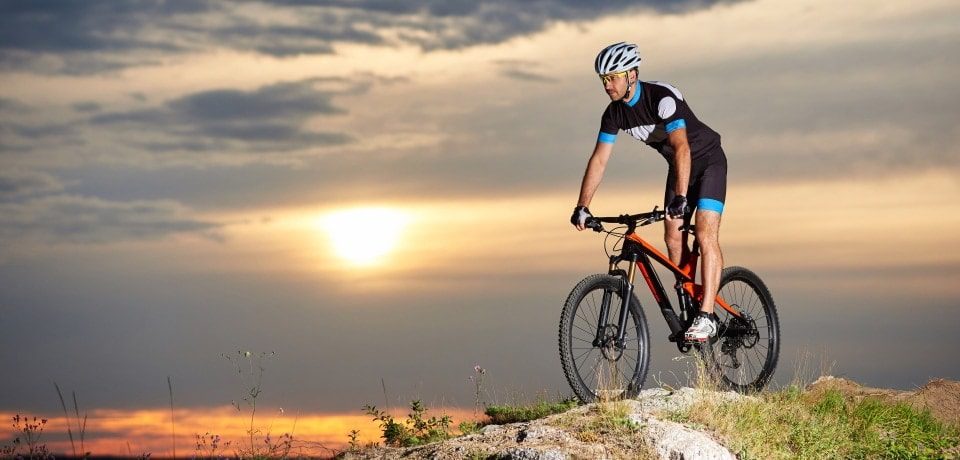 10 Best Enduro Mountain Bikes in 2021 (Review)
Undeniably, mountain biking has increased in popularity worldwide. People are quickly falling in love with this energy-intensive activity as an excellent way to keep fit while spending quality time outdoors.
Enduro mountain bikes can enhance your experience as they are designed for improved stability and versatility on rough terrain. However, with so many Enduro bikes on the market, it can be challenging to find one that meets your needs.
To help you with that, our team of biking experts spent hours researching the top bikes and developed a detailed review of the ten best Enduro mountain bikes in 2021.
Short on Time? See our Top Rated Products From 3 Categories
The Best Enduro Mountain Bikes
1. Remedy 8 Enduro Mountain Bike
The Trek Remedy 8 conquers rough terrain effortlessly as it features an ultra-light and durable Alpha Platinum aluminum frame. It has a 60mm fork fitted with plush springs and Charger 2 RC dampers for easy adjustment and control.
This model also features RE:aktiv technology that enhances support for efficient and smooth pedaling on rough trails. It comes with a suspension calculator for easy adjustments to match your riding weight.
It also has Mino Link adjustable geometry that enables you to fine-tune your pedaling position without hurting the suspension performance as well as four-piston hydraulic disc brakes that offer reliable stopping power. The 12-speed drivetrain puts it among the most reliable trek Enduro mountain bikes on the market.
For a clean look and an efficient custom setup, this bike features control freak cable management which allows for a swift combination of brakes, lockout, shift, and dropper post lines, enhancing its versatility and unique style.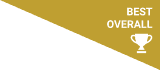 2. Slash 8 Enduro Mountain Bike
The Trek Slash 8 is the ideal race bike. It features 29-inch wheels and has an Alpha Aluminum frame and high-end suspension which deliver superb performance for riders of all skill levels.
The 150mm rear travel and RockShox Deluxe shock absorbers make this bike ultra-responsive, ensuring you have maximum control and better grounding on racing tracks. The Slash 8's RE:aktiv technology with Thru Shaft also makes it faster than other top bikes with standard shocks.
If you are looking for bikes that offer both Enduro and trail bike experiences, the Slash 8 is a perfect choice. With Mino Link adjustable geometry, this bike allows you to adjust it according to your desired biking experience. The fine-tune head angle that offers a BB height of up to 10mm enables you to set your geometry without affecting the suspension performance.
These bikes have 1×12 Eagle drivetrains and a 54-tooth Rapid Drive rear hub for super-fast engagement.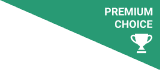 3. Slash 9.8 Enduro Mountain Bike
Like the Slash 8, this bike makes the perfect choice for big hits and rail corners. It features an OCLV Mountain Carbon frame that makes it robust and stable for rough racing trails. The 150mm rear travel features RockShox Deluxe RT3 shock and RE:aktiv technology with Thru Shaft dampers for impressive responsiveness and stability.
The Trek Slash 9.8 comes with a 1×12 Eagle drivetrain and a 54-tooth Rapid Drive rear hub that offers superb acceleration. It has a Mino Link adjustable geometry with an allowance of up to 10mm on its head tube. You only need to turn a nut and set it to your desired head tube height.
It also features a complete tubeless system with tubeless-ready rims that guarantee you better traction by eliminating flat tire issues.
This mountain bike delivers super stopping power thanks to SRAM G2 RSC hydraulic disc brakes that feature a 6-bolt round-edge CenterLine. Primarily, the bike offers you a Mini DH riding experience that enables you to ride uphill and downhill with ease.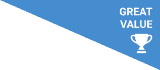 4. IBIS RIPMO AF GX BIKE 2021
This option is the best Enduro bike under $3000 on this list and features an aluminum frame that makes it super light. It has DW-Link designed suspension, which uses anti-squat for suspension bob elimination.
The design of the IBIS RIPMO AF NX EAGLE BIKE 2020 reduces pedaling feedback from the suspension movement. It helps to balance acceleration and braking effects leading to enhanced efficiency and traction. It comes with a 12-speed drivetrain providing you with the perfect gear range to fit your riding needs. Its hydraulic disc brakes system offers superb braking capability.
When considering the geometry aspect, this model has a head-angle with a slack of up to 64.9-degrees plus a short offset fork that helps you get around tight corners. It has a 435mm chainstay for stability while at high speeds.
The 76-degree seat tube angle helps to manage weight and offer a stable climbing position. Its progressive leverage ratio also provides you with an option to run coil shock, preventing any pedal strikes when riding uphill.
Overall, this IBIS model is an excellent and affordable bike that will enhance your riding experience.
Slopes and hills can be tiresome and challenging at times, but not with the Santa Cruz Nomad. This long-travel bike is one of the best Enduro bikes for climbing steep inclines with ease.
The bike has a 65-degree head tube angle with a high setting that enhances your riding comfort. Its steep 75-degree seat tube angle enables you to have an optimum pedaling position that eases your ride on hilly terrain.
For easy configuration to your riding preferences and terrain, this bike comes with a flip-clip fitted on its adjustable swing-arm which enables you to choose a high or low pedaling setting to enhance your uphill and downhill riding experience.
It also comes with a Carbon C frame for durability and features an SRAM Eagle 12-speed drivetrain. The bike's RockShox Super Deluxe R air shock and FOX's 36 Float Performance fork combination in the rear offer optimal balance for small-bump suppleness and big-hit composure. Its shuttle guard, mud-blocking shock guard, and aluminum alloy chain-stay protects your bike from scratches and dings.
The Trek Remedy 7 is the best mountain bike for hilly and technical trails. It features an Alpha Platinum aluminum frame combining a 150mm rear travel and 160mm RockShox 35 Gold fork that makes it lightweight, durable, and incredibly stable. Its reliable 12-speed drivetrain delivers a gear range to fit your speed and riding needs.
If you're looking for a mountain bike with a superb geometry, the Remedy 7 is one of the best options. Its frame has an incredible design that ensures you have a balanced pedaling position downhill, and the drop post seat allows you to pick a superior saddle position on different trails with the simple touch of a button.
The frame also features Knock Block defense that protects you from fork crowns and spinning bars, enhancing your biking comfort and safety. The Straight Shot down tube also provides additional stiffness on rough trails.
Overall, the Remedy 7 is one of the best high-end mountain bikes for speed and a playful, unique biking experience.
7. Transition Patrol Carbon GX
The Transition Patrol Carbon GX focuses on offering you speed and balanced geometry in all your riding sessions. It has a balanced design tailored for shorter travel and for harnessing pedal strokes on its 12-speed drivetrain and 29-inch wheels. This aspect offers reliable weight-balance while maintaining low-speed agility.
The geometric design features a slacker head tube angle for standardized rear weight distribution that enhances stability at high speed, improves traction, and ensures easy maneuvering.
For firm and efficient pedaling, it features a GiddyUp 2.0HH suspension system that offers excellent and progressive travel. At the same time, its DPX2 Performance Shock-and-Dual piston base valve provides the ultimate small-bump sensitivity and control during the riding transitions.
It uses a 12-speed chain fitted with Hard Chrome technology that helps boost chain performance. That way, you can enjoy high-speed riding without experiencing fatigue. The Reverb Stealth Dropper Post with overlapping bush for enhanced performance is also a stand-out feature.
8. YETI SB140 TURQ T2 BIKE 2020
Yeti is a household name for racing bikes that stand out in any competition. The brand applied the same concept in designing the YETI SB140 TURQ T2. The bike features a Switch Infinity Suspension platform that makes it a beast for steep rides.
The platform has a rail-mounted pivot that enhances translation between the switch infinity and anti-squat to reduce and prevent chain decoupling, and the flat peak of the anti-squat maintains pedaling stability.
For extra stability, it comes with a long travel fork featuring a 140mm rear travel and 433mm chainstays as well as a 65-degree head angle. Plus, the bike caters to your climbing position with a 77-degree seat angle.
It has open-shock capability to eliminate any bobbing and for enhanced traction and riding on any bike park. For superior speeding and gear range, the SB140 has 1×12-speed drivetrains with SRAM G2 RSC brakes that provide efficient stopping power. This aspect makes it one of the best Enduro MTB for flow trails.
The Pivot Trail 429 is one of the best XC mountain bikes for cross-country use on the market—and in our Enduro mountain bike reviews. With a carbon frame that has superb pacing, this bike is an excellent choice for responsive rides.
The frame consists of composite fibers and resin mixture that make it sturdy, durable, and lightweight. It has a 140mm fork and 120mm rear travel that enhance front-end stiffness and increase travel speed. Its DX2 shocks enhance the bike's downhill capability while the longer travel fork makes the bike more stable. You can trust that you'll enjoy comfortable biking at both high and low speeds.
The Trail 429 also features DW-Link suspension enabling you to deal with rough and tough biking terrain. Its super-boost plus rear axle shortens the chainstays while ensuring efficient mud-clearance on sticky and muddy grounds.
Overall, the Pivot Trail has versatile and premium descending capabilities. The shortened rear-end and longer wheelbase improve the stability and performance of the bike, all of which boost its reliability.
10. Santa Cruz Bicycles 5010 A D
A shoestring budget shouldn't stop you from owning a mountain bike! If you are searching for a cheap Enduro mountain bike, then the Santa Cruz Bicycles 5010 A D is the perfect option. This bike comes from Santa Cruz, a renowned brand in the racing world. The low price doesn't negate its capability for durability or quality.
With a VPP suspension system, it provides a flexible design for easy manipulation of the shock rate. The Aluminum Alloy frame and Float Performance DPS make it one of the best lightweight bikes on our list. The SX Eagle 12-speed drivetrain provides optimal gear range for terrific trail feel and value agility.
The 5010AD has an efficient pedaling system that reduces pedal bob when riding up steep terrain. It also comes with a more extended front wheel and relaxed head angle for stable downhill rides, allowing for easy maneuvering on rough trails.
An upper link on the bottom bracket height enables you to fine-tune it, and a slack geometry and wide tires boost its speed and traction on rough and steep terrains.
What is an Enduro Mountain Bike?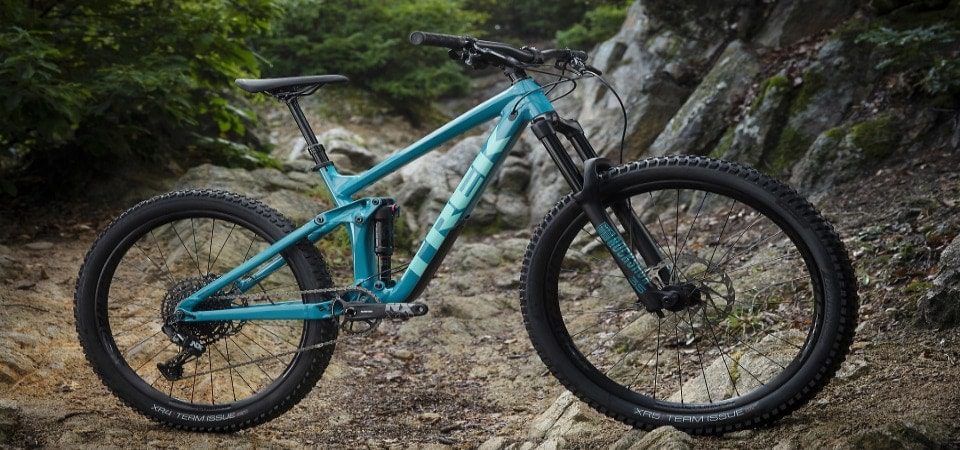 If you're new to the world of mountain biking, then the term Enduro may not be that familiar. An Enduro is a mountain bike race that involves untimed uphill and timed downhill rides on often steep and rough terrain. These races combine fun and physical endurance.
Manufacturers designed Enduro mountain bikes to meet the riders' specific needs by ensuring that these bikes feature a suspension length of at least 150mm.
These bikes also have durable construction and designs to provide big hits and strides for conquering hilly and rough terrain. Enduro bikes also have features of dual suspension mountain bikes that enhance their capability and stability for both uphill and downhill cycling.
3 Things to Think About Before Buying an Enduro Mountain Bike
If you're planning on purchasing an Enduro mountain bikes, here are three essential things to consider:
Frame Material
The frame material is the first element to consider when looking at Enduro bikes. These bikes have carbon fiber or aluminum alloy frames. Carbon frames are lighter and sturdy but pricey. On the other hand, aluminum frames are more durable and cheaper. Which will be best for your needs will depend on your budget and preferences.
Suspensions and Drivetrains
Drivetrains determine the performance levels of your bike. Most Enduro bikes have 12-speed drivetrains, while others offer 1x 12-speed. For suspension, check the fork and shocks to ensure that they are adjustable and provide less friction.
Geometry
An Enduro mountain bike should have the capability to serve you on tougher terrain—ensure its geometry offers stability and comfort to keep you safe as you ride.
What Are the Most Important Enduro MTB Features?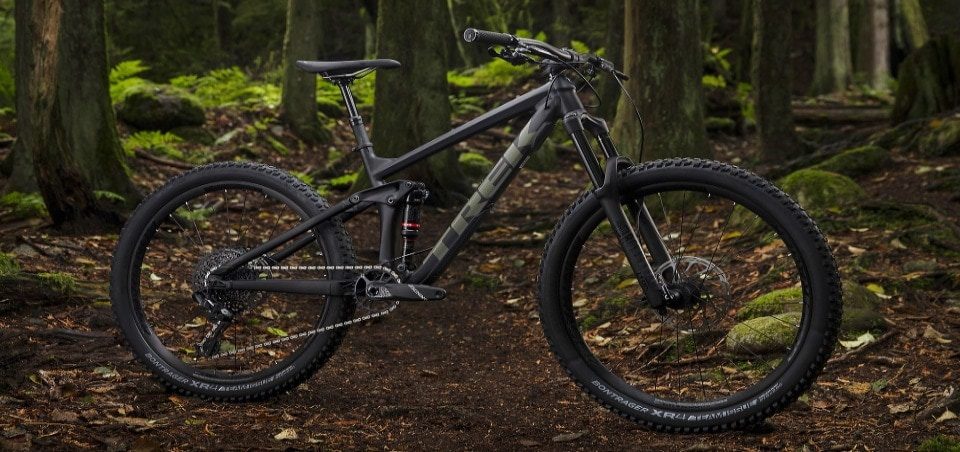 While every feature on an Enduro mountain bike matters, some are must-haves. Consider the following essential elements:
Rear Travel Length: Aim for a rear travel length of at least 150mm.
Brake Type: Ensure your bike uses a hydraulic disc braking system that offers enough stopping power.
Slack Head Tube Angle: These aspects enhance your confidence and comfort when cycling on steep slopes.
Tire and Wheel Size: Tires play a crucial role during your cycling session. Wider wheels offer enhanced grounding and traction. As a result, you enjoy faster speed on rough stretches and rock gardens.
What Are the Best Maintenance Tips for My Enduro MTB?
If you want your Enduro bike to last longer, then maintenance is vital. Here are some maintenances tips that you can apply to keep your investment in mint condition:
Always clean your bike after use
Ensure its brakes are in good condition and properly adjusted before any cycling session
Check your wheels regularly, and ensure they don't rub against the brakes
Always inspect your bike's drivetrain and ensure it has a smooth shift, and if not, then fix it as soon as possible
Inspect your tires regularly to ensure that they have the ideal pressure on the front and rear wheel for your expected riding terrain