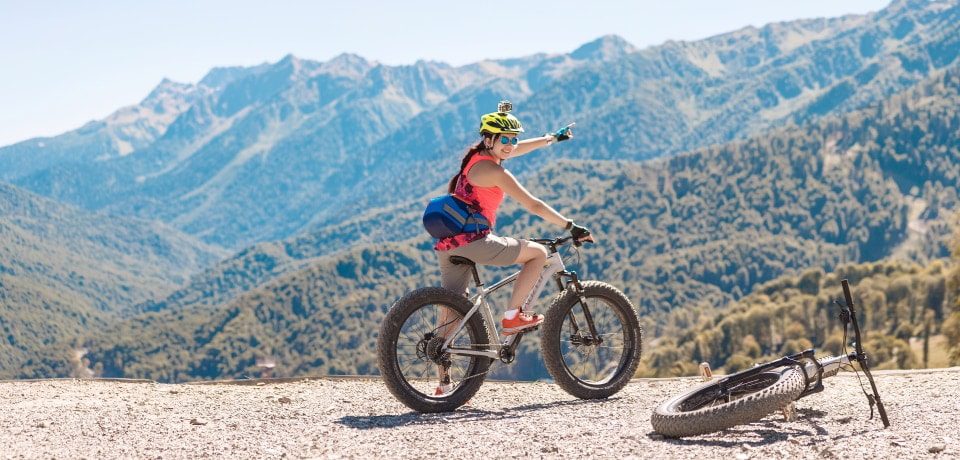 10 Best Fat Tire Mountain Bikes in 2021 (Review)
Who says you can't go biking on ice, snow, or sand? Not the inventor of fat tire bikes—that's for sure! The wide-tire design of fat mountain bikes is perfect for traversing unstable terrain. Given their versatility, it's no surprise that these bikes are quite popular, which means there's also no shortage of models on the market.
Today, we're going to take a look at the best fat tire mountain bikes in 2021. We're going to see how they measure up in terms of the most important fat tire bike features, such as the ride quality, bike packing, and rear hub spacing.
We defined fat tire bikes as bikes with wheels four inches wide or wider. Let's get started!
Short on Time? See our Top Rated Products From 3 Categories
The Best Fat Tire Mountain Bikes
1. Mongoose Dolomite Fat Tire Mountain Bike
The Mongoose Dolomite Fat Tire Mountain Bike is a smooth ride for any off-road trail. It has a seven-speed Shimano rear derailleur so that you can climb hills as well as change gears easily while riding. The Dolomite receives high marks for both comfort and functionality.
You want a mountain bike that is lightweight for the best speed and bike packing. This bike's alloy rims keep the overall weight down while giving you support you can trust. However, it is still a bit heavier than other, more expensive bikes. You can also adjust the threadless headset to suit your height.
The beach cruiser petals make this bike extremely easy to ride—it cruises like a dream—and it's stylish, too. This bike is suitable for all riders, regardless of age. It's sized for riders 5'6" to 6' tall. Because it is easy to assemble and affordable, it's also a great starter bike for beginners.
2. Mongoose Malus Fat Tire Mountain Bike
If you want a supersized beach cruiser, you'll love the Mongoose Malus Fat Tire Mountain Bike. Its wheels are 26" x 4", and you should be able to ride on any terrain such as sand, snow, and dirt. Like the Dolomite, this bike has seven-speed gearing from the Shimano Deore rear derailleur.
The Mongoose Malus is fun to ride for bike packing and has lighter tires than the Dolomite. The nimble bike tires allow for good handling and acceleration.
The Mongoose Malus is fun to ride for bike packing and has lighter tires than the Dolomite. The nimble bike tires allow for good handling and acceleration. It is also easy to make upgrades to this bike if you need to. Many users choose to upgrade a single crankset. However, this bike comes with everything you need for a relaxed ride, including powerful disc brakes and a threadless headset. The mechanical disc brakes make it easy to stop even when you are riding on dusty or wet terrain.
The bike comes mostly assembled when you order it online. You don't have to have a lot of skill to put the rest of it together, but make sure you don't over tighten the parts.
3. Farley 7 Fat Tire Mountain Bike
Trek's Farley 7 has a lightweight aluminum frame, dropper post, and wide-range drivetrain. You can use it on snow or sand as well as for regular bike packing. If you want to ride your fat tire bike all year long, you will appreciate the high-quality parts of this bike. It feels and rides like a traditional mountain bike.
Many fat tire bikes can feel slow and heavy, but this one is the perfect mix of sturdy and nimble. Although it is on the pricey side, it will last a long time and comes with an unbeatable Manitou Mastodon fork. The wide tires help you trek through any terrain. You can customize this bike's geometry to work for you based on your handling needs, too.
It has impressive 27.5-inch wheels and is truly eye-catching. If you are a mountain biker who needs a serious ride, you should strongly consider the Farley 7 Fat Tire Mountain Bike. Although it is a fat bike, it won't slow you down.
The Trek Farley 5 can roll through snow and dirt with impressive stability and traction. It has a Bontrager Haru carbon fork and is affordable for beginner riders, especially if you are interested in getting into winter sports. Although it makes a great starter bike, it is still high-quality and will last many years.
When you get this bike, you get a platinum aluminum frame that has 197 x 12-millimeter Stranglehold dropouts. These thru-axle dropouts are adjustable, and the frame is lightweight, so you can still get speed. You can enjoy rides in the winter and summer and even participate in fat tire bike races.
This bike comes with all sorts of tech, such as a wide-range drivetrain, Tubeless Ready wheels, and SRAM hydraulic disc brakes. You can remove the tubes on the wheels when you need less weight and better traction. All you have to do is add valves, rim strips, and a sealant. Additionally, the horizontal sliding dropout allows you to ride single-speed or geared.
5. Gravity Bullseye Monster Aluminum Fat Bike
With 26-inch wheels, the Gravity Bullseye Monster Aluminum Fat Bike is one of the best affordable options available, but it doesn't skimp on features either.
It has powerful Tektro disc brakes, so you know you'll have control riding on any terrain. Although most people think of fat tire bikes as winter bikes, you can ride over more than just deep snow—rock, sand, and mud are fair game too.
This bike also comes in different sizes so you can find the appropriate size for your height. It has an alloy 6061 frame, and there are double-walled rims on the tires. You don't have to worry about difficult assembly, either. The bike comes mostly assembled and with all the tools you'll need to finish up.
It comes in some interesting colors that will certainly make you smile, as well, such as orange and bright green. We love the quality of this mid-range bike, and you can buy a set for the whole family to enjoy. The bike is durable and able to handle all of the abuse that comes with riding in dirt, rain, or sand.
The Mongoose Aztec Fat Tire Bicycle has all-terrain knobby tires that are four inches wide. The tires allow for greater contact with the ground, so you get increased traction and more control on tough trails. This fat tire bike features a seven-speed rear derailleur and twist shifter.
Like many Mongoose bikes, this one has a beach frame geometry, which allows you to ride in an athletic position while remaining comfortable. The wide wheels are set with disc brakes so you can stop easily, and the handlebars are low rise.
It comes with an expert assembly option if you don't want to put it together yourself. However, the manual comes with easy-to-follow photos for self-assembly. The Aztec is a great introduction to off-road biking, and you can use it to find out what you do and don't like in a fat tire bike. It is heavy but perfect for cruising the beach.
The bike seat is small but chic. If you need more comfort, you can easily switch it out for the seat of your choice. The wheels run smoothly and silently, and all of the parts are simple to replace in the event of wear and tear.
The Max4out Outroad Fat Tire Mountain Bike is affordable, stylish, and durable. It comes with an adjustable ergonomic seat and a three-gear front chain. You can use this bike safely on any off-road trail as it comes with a Shimano rear derailleur and a 21-speed shift lever. In addition to sand and snow, this thick tire bike handles hilly terrains with ease.
It comes 85% assembled. If you want more features, you can easily add a water bottle handle or other fun modifications to the frame. The alloy frame and linear-pull brakes on the wheels give you lightweight strength and precise stopping power.
If safety is your main concern, you can trust the carbon fat bikes' steel frame to be durable and high-quality. The front and rear double disc brakes are made from rust-proof aluminum alloy. The front suspension uses great shock absorbers so you can feel confident on rugged terrain.
This bike can complement any skill level at a great price. It has a single-crown suspension fork and can hold a max weight of 440 pounds.
The Framed Minnesota 1.2 fat tire bike is the perfect bike to use as an introduction to fat tire bikes. The frame is made of lightweight 6061 aluminum, and it features an oversized alloy frame and fork with a tapered head tube that allows you to install any suspension forks you wish.
It includes a ten-speed rear cassette and a 175-millimeter crankset that works well on any terrain. The Framed 1.2 is an upgraded version of the manufacturer's 1.0 version. It comes in four sizes so that you can find the one that suits your height, and the single-wall rims are drilled out.
The 26 x 4-inch wire bead tires impressed us, too. This fat bike features a sealed bottom bracket to keep wear and tear on your cranks to a minimum.
While the bike ships mostly assembled, you may want to take it to a bike shop to finish the job professionally. That way, you can make sure the bike is safe to ride and save yourself some time. When you want to transition from winter to summer, you can easily swap out the tires with other framed wheels.
The Mongoose Hitch Men's is hands down one of the best men's fat tire mountain bikes. It is a supersized beach cruiser with knobby tires, and the frame design allows plenty of clearance to master any terrain. It is made from durable steel with front and rear disc brakes.
The bike geometry allows for a comfortable and athletic riding position, and the low-rise handlebars give you even more comfort. It has three-piece cranks and seven-speed gearing so that you have ultimate control and stability.
If you want to try fat tire biking without breaking the bank, then you should try the Mongoose Hitch. It is made of steel, which makes it heavier than an aluminum bike. However, you get a sturdy ride with powerful braking capabilities. This bike is a great choice if you want to build leg strength, or you are biking as part of your exercise regimen.
The color is bright and noticeable, too, so you'll be easy to spot for safety reasons.
10. SAIGULA Fat Tire Bicycle
If you want a sturdy bike with great control, go for the SAIGULA Fat Tire Bicycle. This bike has a 100% steel frame with dual suspension. Not only do you get a smooth ride, but the front and rear disc brakes give you the ability to stop quickly on any trail. The front forks have high-grade cushioning and are shock-absorbing. This comes in handy on the rougher trails. It's easier on your back, too.
You can ride this bike on the street, a mountain trail, the beach, or the snow. It has a seven-speed rear derailleur so that going uphill is no problem. The derailleurs and shifters make it easy to change gears while you ride without worrying about slowing down. This improves the quality of safety, as well. You should be able to stop quickly whenever you need to, and going down hills should be a breeze.
It is a quality bike for the price and easy to assemble yourself.
How to Choose a Fat Tire Mountain Bike – 3 Things to Know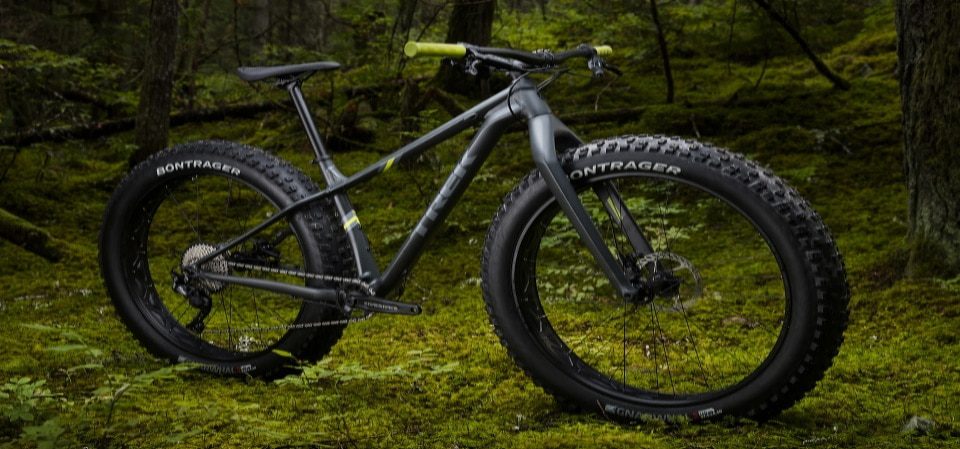 To select the perfect fat bike, you have to consider quite a few features. Three, in particular, are most important when looking at top-rated fat tire mountain bikes:
Suspension
As you look at fat tire mountain bike reviews, you'll find that these bikes are different from full suspension MTB. Most fat bikes are a hardtail MTB with a rigid fork. If you ride on uneven or rocky surfaces, you may want a bike with full-carbon suspension to help you control it better. However, a rigid fork may be better for riding in cold temperatures.
Fit
You should consider the fit of your bike, whether it is full-suspension or hardtail. Having higher standover is not a bad thing, but you may want to downsize if your standover is over three inches.
Wheel size
There are a few 27.5 fat tire mountain bike models on the market and even some 29er fat tire mountain bike options, but most fat tire bikes use 26-inch tires. Bigger wheels can help you go faster and roll over obstacles. If you are looking to ride on mostly trails, you can also look into dirt trail mountain bikes.
What are the Advantages of Having Fat Tires?
Fat bikes have many advantages:
They are fun to ride. Regardless of your age, riding a fat bike will put a smile on your face. You can go fast or slow and enjoy the thrill of being on a bike again. Some riders explain it as being similar to riding a monster truck.
They are comfortable. The large, low-pressure tires absorb shock so you can have a comfortable ride. Unlike athletic bikes, you can sit back and cruise with minimum stress on your arms and lower back. You can also adjust the tire pressure based on the riding conditions.
You can ride on most terrains. As we've expressed many times, the joy of fat bikes comes from their versatility. You can ride the bike all seasons for any occasion. You may even enjoy fat bike races during the summer. For more racing bikes, take a look at Enduro racing mountain bikes.
You'll want to ride your bike. People who own fat bikes tend to ride more often than most other bike-owners. They enjoy the ride, the workout, and the attention they get from other people who are curious about fat bikes.
What Types of Terrains Can a Fat Tire MTB Handle?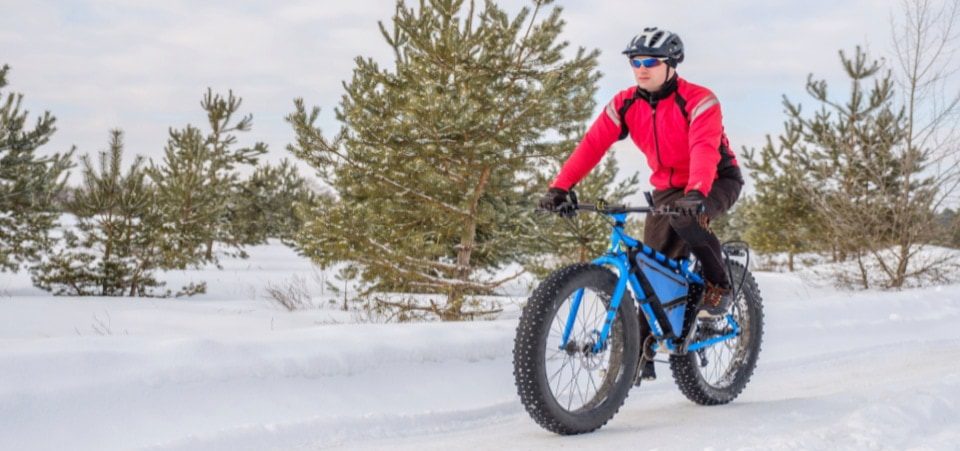 The best fat tire mountain bikes allow you to ride on terrains you couldn't tackle on a standard bike. These bikes can handle:
Snow
Sand
Rocks
Logs
Mud
Dirt
Fat tires help mitigate impact issues that would stop other smaller bikes. They can travel across loose sand because the large surface area of the wider tires disperses your weight so that you don't sink in. However, you may still have some trouble with light, fluffy snow.
If you are a beginner biker, you might enjoy the slow pace of a fat bike. They are easy to handle, and you can trust them to take you over any tricky roads. If you're not sure you'll like it, there are also plenty of cheap fat tire mountain bikes on the market to test the trail with.
Some riders choose to add motors to their bikes to expand their limits and travel faster. You can find fat tire electric bikes if you want a bike with a motor.