Interested in trying out mountain biking? Are you a road rider who wants to hit the dirt, or just an experienced rider looking to upgrade? The first step is getting the right mountain bike for the riding you want to do. As you will know from two minutes of online research, you have no shortage of choices. There are hundreds, if not thousands, of bikes available to riders of various skill levels.
To make things worse, bike specs tend to be technical and difficult to understand. To help you out, we compiled a list of the best hardtail mountain bikes in [current_year]. We'll also discuss crucial considerations and provide insights to help you make an informed buying decision and find the highest possible value.
Short on Time? See our Top Rated Products From 3 Categories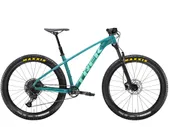 Shimano MT200 hydraulic disc brakes for consistent stopping power
High-performance SRAM SX Eagle 1 x 12 drivetrain
Tubeless Ready Bontrager Line rims with 27.5-inch tires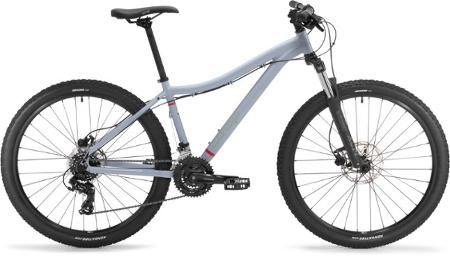 SR Suntour XCT 27.5 suspension fork
Shimano Altus/Acera groupset mix
Tektro hydraulic disc brakes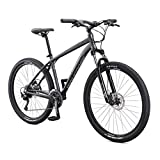 8-21 Speeds
27.5-Inch Wheels
Aluminum Frame
The Best Hardtail Mountain Bikes
1. Roscoe 7 Hardtail Mountain Bike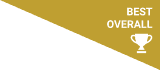 Key Features:
Shimano MT200 hydraulic disc brakes
High-performance SRAM SX Eagle 1 x 12 drivetrain
Tubeless Ready Bontrager Line rims & 27.5-inch tires
Key Specifications:
Dimensions: Wheel Size: 27.5 Inch, Frame Size: 19.5 Inch
Weight: 32.43 lbs (14.71 kg)
Available Colors: Aloha Green/Battleship Blue
The Trek Roscoe 7 hardtail mountain bike is a mid-fat model for experienced trail riders who prefer a lively ride. However, if you are new to rough terrains, the Roscoe 7 is also a viable option with its wide range of comfort and control features.
This bike has an Alpha Gold aluminum frame that is highly responsive and lightweight. The frame's construction also meets the latest standards to ensure optimal compatibility with new upgrades.
Complimenting the responsiveness of the frame is a RockShox Judy SL air spring fork and a suspension lockout to increase your pedaling efficiency. The fork has a relatively long travel of 120mm to allow for easy climbing.
An SRAM SX Eagle 1 x 12 drivetrain allows for quick and accurate shifting in all conditions. The drivetrain's simple chainring setups contribute significantly to the Roscoe 7's reliability and minimal input requirement. You also get optimal traction, thanks to the Maxxis Rekon 27.5" x 2.8" tires with their aggressive tread patterns.
2. Stache 5 Hardtail Mountain Bike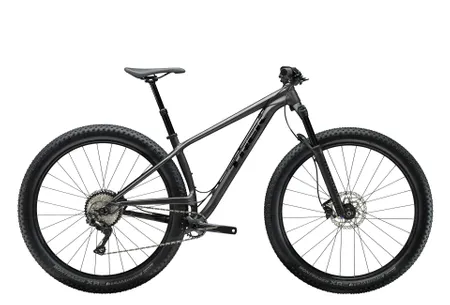 Key Features:
Mid-fat tires for sufficient grip on rough terrain
31.6mm dropper post with internal cable routing
A lightweight frame with G2 geometry
Key Specifications:
Dimensions: Wheel Size: 29 Inch, Frame Size: 17.5 Inch
Weight: 29.5 lbs (13.40 kg)
Available Colors: Matte Dnister Black
The Trek Stache 5 mountain bike is a mid-fat hardtail model that is ideal for riders who prefer short chainstays and optimal grip on loose terrain. It features an Alpha Platinum Aluminum frame with an elevated mid-stay and stranglehold dropouts. The framework also has boot hub spacing to allow for sufficient tire clearance.
Another high-end feature is the Manitou Machete 32 Comp air spring fork with 120mm of travel. Like the short chainstays, the fork contributes to the lively ride. It also keeps you on track when the terrain gets rough.
Components that make the Stache 5 stand out from other models in this price bracket include a Shimano Deore 1 x 10 drivetrain with M6000 shifters and wide 3-inch tires. The tires provide complete traction, giving you the confidence that you need to feel safe while riding.
The Stache 5 comes with a high-performing Shimano MT200 hydraulic disc brake set. This set provides complete and controlled stopping power in all conditions.
3. Diamondback Overdrive 29 Hardtail Mountain Bike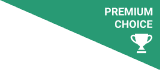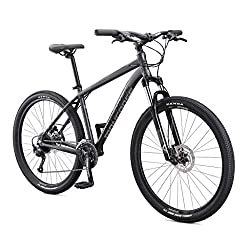 Key Features:
8-21 Speeds
27.5-Inch Wheels
Aluminum Frame
Key Specifications:
Tectonic T1 aluminum frame for lightweight durability
27.5″ tires for a stable and smooth ride
Internal cable routing
Disc brakes
The  Mongoose Switchback Mountain Bike is a viable option for riders who want the benefits of 29-inch wheels and performance components without the high price tag. The Overdrive 29 has a hand-built 6061-T6 aluminum lightweight steel frame. The geometry allows for a relatively low riding position that grants effortless handling and cornering.
The SR Suntour fork with its 80mm of travel doesn't match the frame in terms of performance, and it doesn't feature a rebound adjustment. However, it does a decent job of absorbing shocks while optimizing your pedaling.
The Overdrive 29 has a Shimano/SR Suntour 3 x 8 drivetrain, a TX50 front derailleur, and a Shimano Acera 8-speed rear derailleur. This pairing provides smooth, reliable shifting with a quality feel.
This bike offers incredible value for money and outperforms most models in the same price range. The Overdrive 29 also holds its speed well, especially on single-track. If you are looking for a high-performing starter bike at an affordable price, this model is worth considering.
4. Tommaso Siena – Shimano Tourney Gravel Adventure Bike with Disc Brakes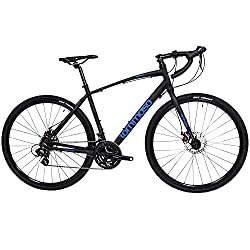 Key Features:
Durable and lightweight construction
Enough gears for mountainous terrain
100mm travel fork to ensure a smooth ride
Key Specifications:
Dimensions: Wheel Size: 29 Inch, Frame Size: Medium (5'8″ – 5'11")
Weight: 33.5 lbs
Available Colors: Matte Black/Gloss Black
The Tommaso Siena is an inexpensive hardtail model packed with performance features. This bike is ideal for male riders who ride light trails as well as mountain terrains.
Like other models from Tommaso, the Gran Sasso has quality construction that features a lightweight and responsive SLA 6061 frame. The bike also has a lightweight aluminum seat post and Suntour SF15-XCM fork with 100mm of travel. These components allow for a lively ride and complete control, even on rugged surfaces.
The Shimano drivetrain has a bottom bracket, three chainrings in the front, and eight cogs in the back. As a result, the Gran Sasso is suitable for inexperienced riders, but also for riding hilly terrains without experiencing fatigue. The drivetrain and Shimano brake set combination allows you to take on any terrain with confidence, even if you are a novice rider.
With the tire size of 29" x 2.1", you'll have traction on loose or muddy terrain. The tires are also large enough to roll over obstacles with ease.
5. Cannondale Trail 8 Bike 2021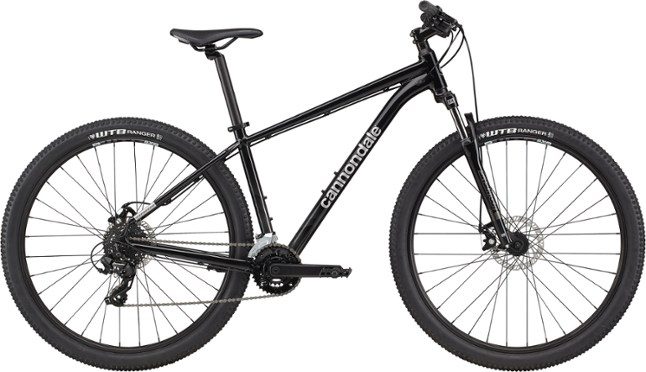 Key Features:
Durable SmartForm C3 alloy frame is light and snappy
Tektro mechanical disc brakes provide reliable stopping power
2 x 7-speed drivetrain offers the wide range of gears
Key Specifications:
Dimensions: Wheel Size: 27.5 Inch, Frame Size: XS & S
Weight: 32 lbs
Available Colors: Gray
You'll love the contemporary trail geometry of the Cannondale Trail 8. It's made for a number of different options, and is suitable for both bike packing and single tracking. When it comes to off-road riding, you'll be in just the right position to be instilled with confidence, thanks to the shorter stem and longer top tube than you'd find with other frames.
In combination with angles and offsets on each frame size, the stem length offers another advantage in that it provides a consistent front-end ride across the entire size range. The front-end ride combined with the extra-sort chainstays makes for an agile trail bike.
You won't be bothered by bumps, either, as the Suntour XCR 34 Air suspension fork eats them up with its 130mm of travel. Set the Alternator Dropouts all the way forward for a nimble handling and shorter wheelbase, or set them back if you want increased stability. Overall, the bike offers a super-customizable ride.
6. Mongoose Dolomite Mountain Bike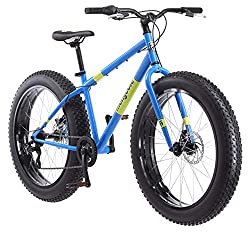 Key Features:
26-Inch Wheels
4-Inch Wide Knobby Tires
7-Speed
Key Specifications:
Steel Frame
Front and Rear Brakes
Multiple Colors
The Mongoose Dolomite is an affordable, reliable bike for strong cyclists with a limited gear range. It features an SRAM NX 11-speed cogset and SRAM NX X-Horizon 11-speed rear derailleur. This model also comes with 32T chainrings and an 11-speed SRAM level PG1130 cassette, which is widely known to provide incredibly smooth shifting.
There are several benefits to an 11-speed gearing configuration with 11 cogs in the back. These bikes typically are lightweight, and they only need one shifter, which leaves room for a dropper post remote. The 29C 1's shifter is an SRAM NX Eagle 11-speed X-Actuation trigger.
Other high-end features include a DB AMMP XC MTB Carbon Technology frame and RockShox Recon Gold RL fork. The 29C 1 also has 29" x 2.25″ WTB Nineline, DNA Compound, 60TPI tires. This tire size is sufficient for taking on large obstacles like rocks. The width of the tire also provides all the grip you need on slippery or loose surfaces.
7. Mongoose Switchback Mountain Bike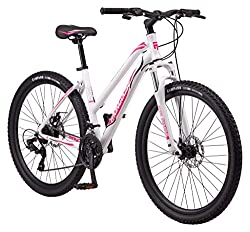 Key Features:
8-12 Speeds
27.5 – Inch Wheels
Aluminum Frame
Key Specifications:
Disc Brakes
Multiple Colors
With SR Suntour XC-E28 suspension fork
The Mongoose Switchback Mountain Bike is a lightweight hardtail model for female trail riders. Features that make this model suitable for ladies include a low stand-over height and a frame geometry that allows for a short reach. The women-specific 6061-T6 frame makes for a neutral, comfortable riding position, and it is ideal for cross-country trips.
Adding to the responsiveness and comfort of the Lux 2 is an SR SunTour suspension fork with 100mm of travel. Both the frame and fork are lightweight to enhance maneuverability and alleviate fatigue.
The durable Shimano 3 x 8 drivetrain provides a selection of 24 gears for comfortable riding on rolling hills. This gear configuration is ideal for female riders who are new to trail riding and who are still improving their skill level. With a relatively small wheel size of 27.5-inch, the Lux 2 has an optimal weight, and it fits the height of most female riders. However, the wheels are large enough to take on most surface obstacles
8. Huffy Hardtrail Mountain Bike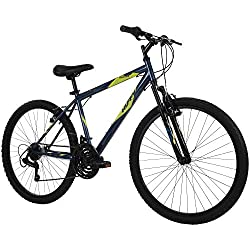 Key Features:
Stone Mountain 26 inch
21- Speed
Lightweight
Key Specifications:
Steel Frame Material
Linear Pull Break Style
17 inch frame
The Huffy Hardtrail Mountain Bike is a no-nonsense trail blazer for women. It comes with the same components and high-level performance as the Mason 2, its bigger brother 27.5 plus bike. The only real difference is the Rely 2 offers a size range sortable for women.
While the bike offers a hardtail-like efficiency, it also comes with extra width, with its 27.5×2.8-inch tires capable of gliding over overwrought terrains. For added control and traction, you can set up the tubeless wheels. You'll remain in a centred position on technical descents thanks to the dropper seat post.
The components package features Level T hydraulic disc brakes that provide a great amount of power, a SRAM NX single-ring drivetrain, with its crisp shifting ability, and a 120mm RockShox Judy Gold RL travel fork.  If you're looking for a bike that is all about performance, you'll have fun riding along challenging terrains with this one.
9. Co-op Cycles DRT 1.1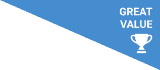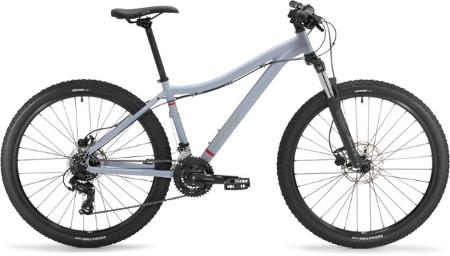 Key Features:
SR Suntour XCT 27.5 suspension fork
Shimano Altus/Acera groupset mix
Tektro hydraulic disc brakes
Key Specifications:
Dimensions: Wheel Size: 27.5 Inch, Frame Size: S, M, L, XL
Weight: 31 lbs
Available Colors: Ether
If you're getting serious about taking up mountain biking, then the Co-op Cycles DRT 1.1 could well be the choice for you. The DRT 1.1 comes with a carefully thought out specification and is a bike that is more than worthy of a few upgrades as time goes on.
The DRT 1.1 comes with better stopping power than other bikes on this test. It features Tektro hydraulic brakes. These brakes will bring you to a halt quickly if you've made the wrong line choice out on the trails.
As well as having better brakes, the DRT 1.1 features a mix of Shimano Altus and Acera drivetrain parts. As this is the highest level in any of the bikes on test, you can be sure of crisp and clean gear changes, even when the bike is under load.
You'll also find an SR Suntour XCT 27.5 fork. The XCT fork will bring you 100mm of travel, and it will move through that travel in a smooth and linear style. You won't feel random movements and diving.
The Co-op Cycles DRT 1.1 is the bike to pick if you want a good, affordable trail bike.
10. Diamondback Overdrive Hardtail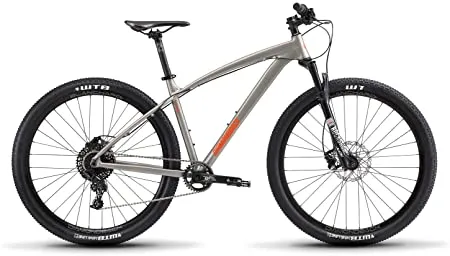 Key Features:
Durable, lightweight aluminum frame
RockShox Judy Gold fork
Tubeless compatible DB Blanchard wheels
Key Specifications:
Dimensions: Wheel Size: 20 Inch, Frame Size: 20/LG
Weight: 44.65 lbs
Available Colors: Silver
The OverDrive Hardtail is built on a light and strong aluminum frame with a thru-axles front and rear for extra strength, and Boost 148 rear spacing. The bike will carry you through technical terrain thanks to the RockShox Judy Gold 100mm travel fork.
It also has the capacity to see you riding at top speed up and down hills, with its SRAM GX/NX 1×11-speed drivetrain. Shifting is easy and efficient with the SRAM NX/GX 1×11 drivetrain, and you'll stop with power as a result of the Shimano MT500 hydraulic disc brakes.
The bike is nice to look at, too, with a design that's both practical and aesthetic. The WTB Nineline 29×2.25" tire design might be nothing new, but its fast-rolling tread design makes for a comfortable ride. You'll get 100mm of luxury travel with the RockShox Judy Gold fork.
Overall, the Overdrive 29 3 is a great choice for local cross-country, challenging climbing days, or taking on the singletrack.
4 Things to Know When Buying a Hardtail Mountain Bike
There are hundreds of top-rated hardtail mountain bikes to choose from, and each one has unique features, benefits, and advantages. Because good hardtail mountain bikes don't come cheap, you want to make sure that you select one that meets your requirements. If you don't spend some time researching your needs and the different models that are available, chances are you'll waste money on a bike you can't use.
However, if you are new to trail riding, you may feel overwhelmed by the technical product descriptions and specifications on mountain bikes. You also might not know how the information pertains to your cycling needs.
Fortunately, there are only four simple things you need to know to make an informed buying decision and derive optimal value from your investment. In this section, we'll cover five things you should consider before buying a new bike.
Your Budget
Your budget is undoubtedly a top consideration when shopping for a mountain bike. Having a budget in mind will streamline your search and prevent overspending. By paying attention to your budget, you also ensure that you pay the right price for the right model.
Generally speaking, the prices of hardtail bikes range from $200 to $2,000. Some professional trail riders will dish out as much as $10,000 for a high-end model. However, you don't have to spend that much for a high-quality, durable bike.
One of the advantages of hardtail bikes over full-suspension models is that you can find a decent one for $500 or less. This price bracket is suitable for beginners who are not sure if they want to commit to the sport.
If you are looking for a 29er with weight reduction features and room for upgrades, consider models between the $500 and $1,500 price range. Many of these bikes have the same frames and forks as professional models of the same brand. However, they may have cheaper components that you can upgrade as your skill level improves.
If your existing bike is starting to inhibit your trail riding performance, it may be time for an upgrade. Bikes in the $1,500 to $3,000 price category provide lifelong value, and they feature components like carbon frames and lightweight gear systems.
The Wheel Size You Need
You have several options in terms of wheel sizes. 29-inch hardtail mountain bikes are the most common. These models don't accelerate as fast as those with 26-inch wheels. However, once you reach your desired speed, larger wheels require less input than smaller ones.
In the past, all mountain bikes featured 26-inch wheels. Today, this wheel size is prevalent with female geometries. 26-inch wheels weigh less than 29ers, and they accelerate faster, but they tend to have difficulty rolling over trail obstacles. 27-inch hardtail mountain bikes are also popular as they provide a middle ground in terms of acceleration, weight, and maneuvering.
Wheel size is one of your crucial buying considerations. If you are a female rider with short legs, you can still go with a 29er, but select one with a female-oriented geometry. A lower stand-over height will ensure that you are comfortable, even if the wheels are bigger.
Your Type of Riding
Knowing the type of riding you intend to do is crucial when shopping for a new mountain bike. There are three types of mountain bikes, namely, cross country (XC), enduro, and downhill. Cross country is the least extreme and involves long-distance racing between two points through preselected sections.
Cross country bikes can climb well, and they have knobby tires for grip. These models are also highly controllable and stable. To learn more about this type of mountain biking, take a look at our article on cross country mountain bikes.
Enduro cycling differs from CX in that it is more adventurous and technical. Enduro tracks feature steep climbs, jump sections, drops, and timed descends. For this variation, you need a full-suspension bike with long travel. You can learn more about all-mountain bikes in our article on enduro mountain bikes.
Downhill races are all about balance, speed, and navigating through treacherous terrains. This type of racing requires full-suspension- or top hardtail mountain bikes with a slack geometry, long suspension travel, and limited gear range.
Where You're Going to Ride
Before you buy your new bike, you should also know where you want to ride. If you're going to explore your local park or neighborhood, a road bike may be more suited to your needs. However, if you want to explore mountainous areas or dirt trails outside your town, a hardtail may be the ideal choice. Here is a bit more about trail mountain bikes.
What are the Main Hardtail Mountain Bike Features?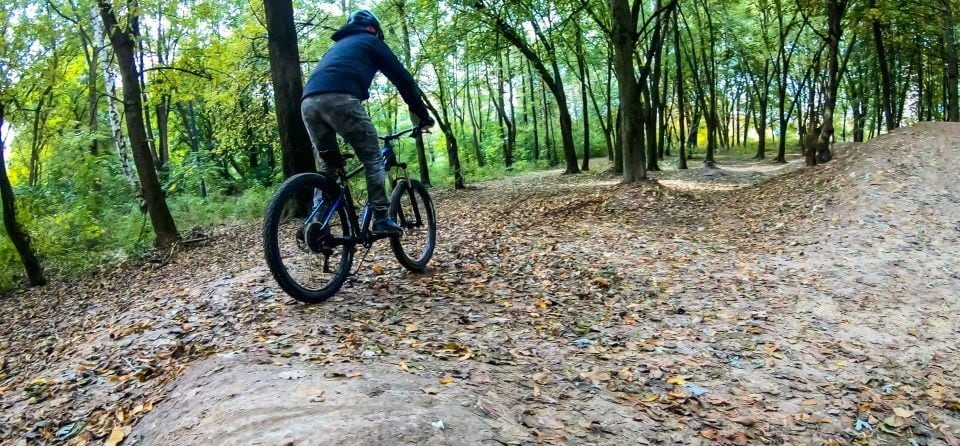 There are several features that need to be considered to determine a bike's capabilities. These features include the frame, gears, and brakes.
Frame
A bike's frame material not only influences its price and weight, but also ride quality, strength, and durability. Aluminum alloy is the most commonly used frame material for hardtail bikes as it is affordable, relatively lightweight, and durable.
Many cross-country- and fat bikes feature carbon fiber frames because of this material's lightweight and longevity. These frames are expensive, however, as their manufacturing process is labor- and time-intensive.
Other frame materials include steel and titanium. The former is not ideal for hardtail mountain bikes as they are heavy. Titanium, on the other hand, is one of the lightest and most durable materials for frames. Still, it is expensive and not readily available for models in the lower price categories.
Gears
A mountain bike can have anywhere from one to thirty or more gears. The number of gears a bike has is the number of front chainrings times the number of sprockets on the cassette. Most mountain bikes feature one, two, or three chainrings.
Ideally, you want a single chainring for the sake of weight reduction and simplicity. However, if you are not an experienced hill climber, you want a gear selection at the low end to help you, which requires more chainrings.
Brakes
If you want to push your riding to the limit with fast cornering and enhanced control, you need efficient braking. There are two types of braking systems for mountain bikes, namely disc brakes and rim brakes.
Disc brakes feature braking pads that clamp the brake rotor and wheel hub together, providing reliable and precise braking power. Rim brakes consist of pads that grab the wheel rims to bring the bike to a halt.
Most mountain bikes feature disc brakes as this is the most efficient braking system. Rim brakes are also less effective in wet conditions and may wear the wheel rim out over time. Some entry-level models still come with rim brakes.
What is the Difference Between Hardtail Mountain Bikes and Full Suspension Mountain Bikes?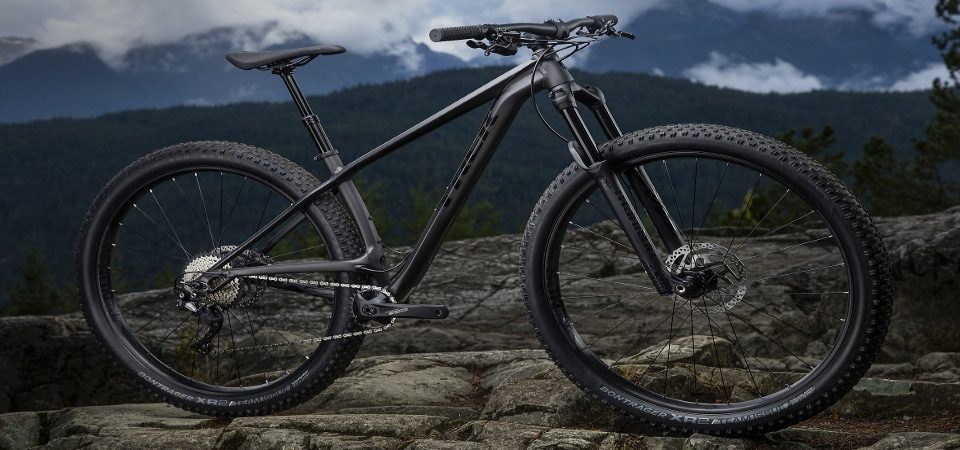 Is a hardtail really what you need? There are two types of trail bikes, hardtails and full-suspension. The latter is sometimes referred to as dual-suspension.
These names refer to suspension systems, which contribute to control, traction, and comfort. Understanding the difference between a hardtail and full-suspension bikes will help you choose the best type for your riding style and setting.
Every mountain bike, regardless of whether it is a hardtail or full-suspension, has a suspension system in the front fork. The fork features a specific amount of travel, which is the distance the suspension can move before it is fully compressed. Travel has a significant impact on a bike's handling characteristics.
Hardtail models only have this front suspension to soften the impact of rough terrain, but no rear suspension. Full-suspension models, on the other hand, feature a second suspension system on the rear wheel.
The travel of the rear and front suspension are the same. For example, if the suspension fork has a 100mm travel, the rear suspension will also have a 100mm travel.
The advantages of hardtails over full-suspension bikes are that they are more affordable and typically weigh less. Hardtails also have lower maintenance requirements. Full-suspension models, on the other hand, provide more comfort and stability on rough terrains with rocks, tree roots, and drops.
If you feel that you need a bike for hard rides on rough trails or high-speed descents, check out this page on full-suspension mountain bikes.
What are the Limits of a Hardtail Mountain Bike?
Many people prefer hardtail mountain bikes because of their lighter weight and low maintenance requirement. However, they do have their limitations, with a lack of shock absorption being the most prominent. These bikes only have shock absorption at the front, which means riding on rugged terrain is less comfortable than with a dual-suspension. Hardtail bikes also have streamlined constructions and are not as rugged as dual-suspension models.
Are Hardtail Mountain Bikes Good for Jumps?
Hardtails are great for jumps. These models have a lighter weight because they have one less suspension system than dual-suspension bikes and they are more streamlined. As a result, you can get more air than you would with a full-suspension bike.
However, if you set up your dual-suspension bike's back wheel suspension up correctly, you can get the same jump results. You will have to set the appropriate sag, spring rate, compression, and rebound settings, though. This may require some time and effort. You can learn more about the features you need for jumping and other disciplines by checking out this year's best mountain bikes.
What is the Average Weight of a Hardtail Mountain Bike?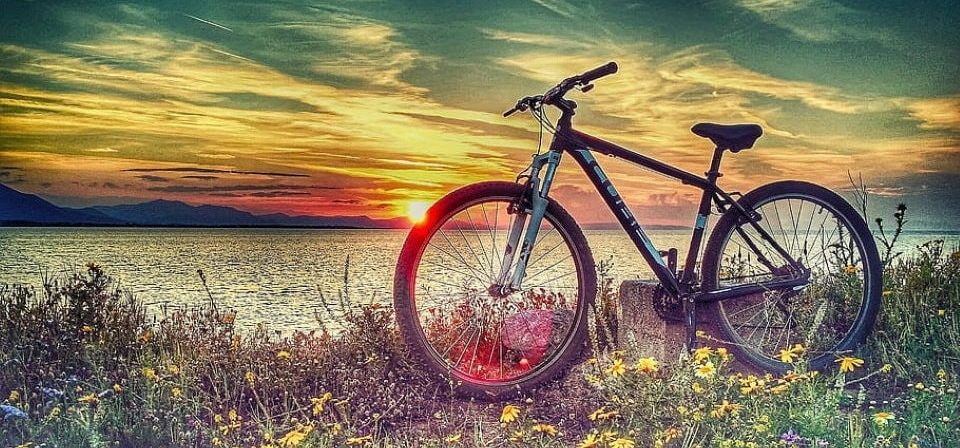 The average weight of a hardtail is 30 pounds (13.6 kgs). This is about one pound lighter than the average weight a full-suspension. Hardtails are relatively lightweight because they have no rear shocks and less moving parts.
On average, hardtail bikes weigh six pounds more than cross country bikes, and five pounds less than downhill bikes. The average weight of enduro bikes and hardtail bikes are the same. The average weight of a 29-inch bike is 39 pounds. If you find a 29er that weighs closer to 30 pounds, you are looking at high-end weight reduction technology.
How to Adjust a Hardtail Mountain Bike
Adjust your suspension fork by following the recommendations on the leg. You will need a shock pump to adjust the fork sag. If the fork has a lockout, make sure that it is in the open position. Then, lean against a wall while sitting in a comfortable riding position. Bounce up and down to let the fork settle to the sagged position, which is the level of suspension compression under your weight.
Use a zip tie to measure 20 to 25% of the fork's travel. For example, if the fork has 100mm travel, it should compress between 20mm and 25mm.