10 Best Hybrid Bikes Under $1000 in 2019
Hybrid bikes are a jack of all trades bike but are they the "master of none"? Should you spend your hard-earned money on one? If you follow our bike review on the 10 best hybrid bikes under $1000 in 2019, you'll be sure to find one that is exactly what you need.
 As well as guiding you to your new hybrid, we'll explain how hybrid bikes differ from road and mountain bikes. We'll also help you decide the size of hybrid bike you need to buy and what the 3 best providers of hybrid bikes are on the market. The bikes you're about to read about are high-quality and reliable.
Short on Time? See our Top Rated Products From 3 Categories
The Best Hybrid Bikes Under $1000
1. Tomasso La Forma​​ Hybrid Bike
The Tomasso La Forma​​ lightweight aluminum hybrid bike is the perfect lightweight hybrid for commuting to work. It has a nice on-road focus, but it comes with a lower range of gears than a road bike. With a Shimano Acera 27 speed gear system you will find gears for going uphill, downhill, and fast along the flat.
To keep the Tomasso La Forma lightweight, it has an alloy frame and a carbon fiber fork. The fork will help to smooth out road vibrations. The lighter fork will come in handy you as you climb because gravity will have less of a pull on you. A great feature if you have a few hills on the way home from work.
To allow you to have  a carbon fiber fork, the Tomasso La Forma does not have disc brakes. The money saved by not having discs is added in a form that Tomasso thinks will work better for you. The bike comes equipped with a set of V-brakes, and as a commuter bike will be riding mainly on roads, you will more than likely not need anything more powerful.
Key Features:
Carbon fork
Lifetime frame and fork warranty
27 speed
Key Specifications:
Colors: White/black  
Weight: 35 lbs.
Dimensions: Not listed
2. Raleigh Cadent 3​​ Hybrid Bike
The Raleigh Cadent 3 is a similar hybrid bike to the Tomasso La Forma above.  It has a carbon fiber fork fitted to its alloy frame to keep weight down, and its geometry is closer to a race bike, making it a lightweight commuter bike.
It has fewer gears than the Tomasso. It has 16 speed Shimano Claris derailleurs matched to Acera Rapid Fire Plus shifters. Using Claris helps to signify that the Cadent 3 is more of a road-going hybrid. Claris has a higher gearing than the Tomasso.
You'll find this makes the Cadent 3 great for fitness rides and longer commutes. With longer commutes, you can use the gearing to set a nice tempo going, and your legs should not arrive at work too tired. Like all Raleigh bikes, you'll find this model is well-adapted to its role.
To help you slow down if you get snarled up in city traffic, you'll find Shimano BR-MT200 hydraulic disc brakes.
Key Features:
Hydraulic brakes
Claris derailleurs 
Carbon fork
Key Specifications:
Colors: Blue, tan  
Weight: Not listed
Dimensions: Not listed
3. Raleigh Redux 2​​ Hybrid Bike
The Raleigh Bikes Redux 2 is a very specifically designed urban bike. It is a hybrid that is ready to take on all the adventures you can get into during a trip around your city or town. It has an aluminum frame and fork, and this helps to make it one of the lightest bikes in this hybrid bike review.
It has a feature that is becoming more and more common hybrid bikes. It has dropped the 3 or 2 chainrings at the front. It has a single front ring, meaning you only have the gears on your wheel. The Redux 2 is a 9-speed bike.
While 9 speeds are fewer gears than many people expect on a hybrid bike, it has a major advantage: it requires less maintenance. It is also easier to set up if you're a home mechanic, and you'll never have your chain drop off when you're riding.
The next feature that we like is the 27.5" wheels. These wheels are smaller than the standard hybrid size of 700c which is 29". The wheel size allows Raleigh to do a bit of magic. If they fit wider tires, you'll get a suspension-like feeling, but the wheel will roll as if it is the larger sized wheel — speed and comfort in one package.
The Raleigh Redux 2 is the best hybrid bike under $1000 for those of us that want a simple no thrills commuter bike.
Key Features:
Aluminum frame and fork 
27.5" wheels 
1 x 9 drivetrain
Key Specifications:
Colors: Yellow  
Weight: 25.9 lbs
Dimensions: Not listed
The Mongoose Reform Comp is the first aluminum hybrid bike in our bike reviews to come with a front suspension fork. Like all the bikes with suspension forks in our hybrid bike review, you'll find that the Mongoose comes with a coil spring SR Suntour fork.
SR Suntour forks dominate this end of the market, as their forks are a great value and come with all the features you want. The NRX-D fork is a 700c hybrid specific model. With 63mm of travel and the 40mm wide tires on the Mongoose, you should find it easy to roll over uneven terrain.
The Mongoose is an excellent choice if you'll be riding a lot of offroad trails and paths. To keep you safe and in control when offroad, the Mongoose comes with Shimano M315 hydraulic disc brakes. You will have more than enough stopping power if you come across surprises out on the trail.
Key Features:
Shimano M315 hydraulic disc brakes
SR Suntour NRX-D suspension fork 
Tubeless ready rims
Key Specifications:
Colors: Black  
Weight: 33 lbs.
Dimensions: Not listed
The Co-op Cycles CTY 2.1 also comes with 63mm of suspension. It comes with the SR Suntour NEX HLO features a nice upgrade over the fork on the Mongoose. The Co-op's fork comes with a lockout lever.
A lockout is excellent for riding on roads or climbing up hills when offroad. It locks your suspension out, making your bike ride more as if it has a rigid fork. It eliminates the bobbing you get from a fork when you pedal. You are wasting energy if your bike is doing this.
A cool feature on the Co-op is that the decals are reflective. Even the tires have reflective sidewalls. They don't show up during the day but come night, when car lights shine on you, you'll be lit up like a Las Vegas show.
As with the Mongoose, you'll find Shimano's M315 hydraulic brakes are there to keep you nice and safe. As well as Shimano brakes, you'll find a mix of Shimano Altus and Acera groupset parts to make sure you have value and quality in your gear changes.
Key Features:
360° reflectivity 
Shimano M315 hydraulic disc brakes 
SR Suntour Nex HLO suspension fork
Key Specifications:
Colors: Eclipse blue  
Weight: 31.2 lbs
Dimensions: Not listed
6. Ghost Square Cross 4.8
The Ghost Square Cross 4.8 is an aluminum frame hybrid bike has a Shimano Deore groupset. Deore is often considered the point where Shimano offroad groupsets go from hobbyist to serious. You'll notice smoother and crisper gear changes with Deore.
Deore being a 10-speed groupset combined with a triple front chainring means you have all the gears you could ever need. Ghost has picked a widespread on the square Cross. You have a big gear for when you're powering along the flat, and very small gear for those days when your legs have deserted you on a climb.
Deore has a certain rugged look to it, with a burly frame is that makes it aesthetically pleasing. Bear in mind though, the Ghost comes with an SR Suntour NEX DS HLO, which only comes with 50mm of travel.
The 50mm of travel will cover you on more sedate offroad trails. With 700 x 35mm tires you'll have a bike that enjoys simple offroad but will still give you a speed boost when riding on the road. To help with on-road riding, the Ghost's fork also features a lockout lever.
Key Features:
Shimano Deore groupset 
SR Suntour NEX DS HLO suspension fork
30 speed
Key Specifications:
Colors: Grey/red  
Weight: 29. 12 lbs.
Dimensions: Not listed
The Cannondale Quick CX 3 has a name that lets you know exactly what it is.  It is a fast hybrid bike. To help make the bike light, Cannondale has used their SmartForm C2 aluminum frame construction. The SmartForm C2 construction is the most advanced lightweight aluminum manufacturing process on the planet. It helps to make the Quick CX a popular hybrid choice.
As well as having the most advanced frame technology in this review, you'll find that the Quick CX comes with a tapered head tube. A tapered head tube makes the front end of your bike stiff. Not uncomfortably so, but it means wherever you point your bike, it'll go. It will also allow you to upgrade your bike if you wish, as tapered steerers will be found on most high-end forks.
With its light frame and 700c wheels, the Quick CX is a great city bike for those of us who want to get to and from work fast. With its Sr Suntour NCX 50mm travel fork, the Quick CX will also enjoy detours down paths and trails that are less traveled.
Helping you to commute to work you'll find a set of Kenda 700 x 40c Flintridge tires. The Kenda tires are puncture resistant. No tire is puncture proof. Puncture resistant tire need to be pumped up to the correct pressure to work so make sure you check your tires regularly.
The Quick has a nice sloping top tube which would make it a good women's hybrid bike without looking like a hybrid bike for women.
Key Features:
SmartForm C2 construction 
SR Suntour NCX suspension fork
Kenda Flintridge tires
Key Specifications:
Colors: Meteor grey  
Weight: 27.32 lbs.
Dimensions: Not listed
The Co-op CTY 2.2 is $300 more expensive than the 2.1, so what do you get for your extra spend? The one you might be most pleased with, especially if you live somewhere hilly, is that the bike has lost some weight.
One of the ways that Co-op has done this is that the suspension fork has gone up a model in the SR Suntour range. You still get the same 63mm of coil induced suspension travel, you just now get it in a lighter package.
The next significant change is that you a full Shimano Alivio groupset, including their hydraulic disc brakes. You may only save a few grams with this change, but you'll benefit from smooth shifting, better braking, and the ability to change gears under load. The Shimano shifters make a satisfying click when you press them.
The 2.2 is also a stealthier option than the others in this review. You lose all the reflective detailing. Instead of having reflective tires, you now get puncture-resistant Kenda Flintridge tires. These 700 x 40c tires will allow you to start getting adventurous in your offroad explorations while remaining fast for on-road riding.
The Co-op Cycle is the best bike if you fancy an understated but high spec alloy hybrid.
Key Features:
SR Suntour NRX suspension fork
Alivio hydraulic disc brakes 
Kenda Flintridge tires
Key Specifications:
Colors: Dark army green  
Weight: 30.8 lbs.
Dimensions: Not listed
The Cannondale Bad Boy 3 may be the most unique looking hybrid bike in these hybrid bike reviews. The defining feature of the bad boy is the rigid Lefty forks. Cannondale invented the Lefty fork as a lightweight but stiff suspension fork for in the Cannondale catalog.
You might now be wondering why you'd want a rigid version of a suspension fork? A good answer is that if you get a puncture, you won't need to remove your wheel. You can just pull the tube out to the side.
The Bad Boy comes with 650b (27.5") wheels. The reason for the smaller than 700c wheels is that bad boy is designed as a rugged hybrid. It is one that you can fly downstairs, cut down alleyways, and power down dirt paths. It is a hybrid for those that want to commute as if they were riding a big BMX.
To keep the rugged theme going, The Bad Boy features Cannondale's Integrated Urban Armour. Along the top tube, there is a padded trim. The trim is designed to protect the bike against dents and scrapes while it is locked up against a pole or bike rack.
The Bad Boy is the best bike to buy if you like having conversations with strangers; the Lefty fork will spark some interest.
Key Features:
Lefty rigid fork 
Integrated Urban Armour 
650b wheels
Key Specifications:
Colors: Black  
Weight: 27 lbs.
Dimensions: Not listed
The Raleigh Route 2 is the hybrid bike with the largest amount of suspension travel in these bike reviews. It comes with 75mm of travel in its SR Suntour NVX fork. 75mm of travel means that rough ground should be easier to get across.
The Route 2 looks comes with 700 x 47c tires, which comes out as 1.85". These tires will devour some XC riding and give you lots of grip on wet or muddy days.
If you go out and hit the trails on the Route 2, you'll be thankful for the Tektro Airies hydraulic disc brakes. Disc brakes are a great advantage for riding offroad. Conditions can be unpredictable, and you may need to stop in a hurry. These Tektro brakes will let you do just that if you set them up according to Tektro's instructions.
The only real concession to riding on the road is that the suspension fork has a lockout. Putting all this together means that the Route 2 would be the perfect bike for someone to commute to work on and then hit some trails at the weekend. Like the other Raleigh bikes in this review, the Route 2 is well-placed in its niche.
The Raleigh Route 2 is the best hybrid bike under $1000 for those of us that want a hybrid that can also shred the trails and easily tame rough terrain.
Key Features:
SR Suntour NVX suspension fork
700x 47c tires 
Tektro disc brakes
Key Specifications:
Colors: Brown  
Weight: Not listed
Dimensions: Not listed
Hybrid Bike Buying Guide – 5 Things to Think About
What type of riding will you be doing?
If you're mostly riding along the road to work and never offroad, do you need a suspension fork? The answer will more than likely be no. If you ride offroad a bit this answer will be yes.
Do I really need a lot of gears?
Modern Hybrid bikes come with a lot of gearing options. The question to ask yourself is: will you use all of them? If you already know you'll only use 3, don't buy a hybrid with 30, as it'll cost you more for servicing in the long run. Single front chainrings might seem like a fad, but they're here to stay. They look cleaner and will make setting up your bike easier.
Don't be put off by rigid forks
Not all of us need a suspension fork. If your local routes are smooth, don't get one. You'll save on maintenance with one on your bike. As well as saving on maintenance you'll also save on effort. A rigid fork will bring you less weight to push around, and you'll also not have the bob you get from suspension forks when you pedal. The bob can suck some speed from you and requires more effort from you to overcome it.
Puncture-resistant tires
As the majority of people use a hybrid bike as their work commuter, puncture-resistant tires could be a godsend. You don't want to be spending more time at the side of the road fixing punctures than riding your bike or being late to work because of punctures. Make it easy and make sure your new hybrid bike comes with puncture-resistant tires. Many of the best hybrid bikes will come with puncture-resistant tires as standard.
Brakes
If you're going to be riding offroad a lot, you'll want disc brakes on your hybrid bike. You'll find that many of the faster road-based hybrids will have V-brakes, and higher up the range they may have dual caliper brakes. Dual caliper brakes will give you next to no mud clearance for when you're riding offroad, and more importantly, they will give you issues when you're trying to slow down in muddy conditions.
Will I Be Getting a Great Hybrid Bike for $1000 or Do I Need to Spend More?
If your budget is $1000 and that is all you have to find the best bike, then the answer is no. If you can afford to spend more, then the answer is yes. Once you start to get over $1000, you will begin to see carbon fiber framed hybrid bikes. The weight for these will drop significantly, and you'll be surprised how much easier that makes cycling.
On the suspension forked hybrid bikes, you will be getting lighter air forks that will be more adjustable and in tune with your riding. You'll not see any more of the heavier coil sprung forks that you'll see on many of the sub $1000 hybrids.
You'll also be getting better groupsets on the more expensive hybrid bikes. Once you start climbing from Deore, you'll notice that you can change gears as you climb. The ability to do this should not be taken lightly. On cheaper groupsets, changing gears on a climb will involve you stopping, and you may not regain your momentum.
The higher price range hybrid bikes should also see that you get a full groupset including disc brakes. Many of the sub $1000 hybrid bikes will have Shimano brakes swapped out for cheaper Tektros. The Tektros will do the job, but Shimano has some of the best disc brakes available
What are the Main Differences Between a $500 and a $1000 Hybrid Bike?
Weight
You should be able to feel the weight difference just by picking up an example of each. You should be a couple of pounds lighter on a $1000 hybrid bike.
Groupset
You should be getting a higher level of groupset for your money. A higher level of groupset should last longer and bring you crisper gear changes and better braking. You will find Altus and Acera on $500 bikes, and you should be on Alivio and Deore by the time you reach $1000.
Tires
You'll find better tires on $1000 hybrids. It might seem like a small thing, but cheap unbranded tires are heavy. They make a bike feel sluggish and can make 100m inclines feel like a whole mountain climb. Lighter, branded tires will almost be like putting a rocket under your bike.
Tapered headtubes
A tapered headtube is one that goes from thin to thick at the bottom. Tapered headtubes make your bike stiffer and stronger than a standard headtube. It also means you'll have a bigger bottom headset bearing. Your bottom headset bearing is usually the one to die first. If you use a bigger bearing though, it is in a tapered headtube, and it will last longer.
Bottom brackets
Similar to your headtube, at $1000 we'll be moving to better bottom brackets. At the $500 level we will see square taper and Octalink bottom brackets, these are a pain to service. At the $1000 level, we will start to see external bearing bottom brackets. These are easier to work with and tend to last longer.
Seat post
Again, it is something that seems small, but you'll start to move from aluminum seat posts to carbon seat posts. These bring a nice bit of comfort to your bike, and a little less weight.
3 Reasons Why You Would Buy a Hybrid Bike Instead of a Mountain Bike
You ride on road more often than offroad
If you ride on the road more often, a hybrid will be a more comfortable bike to ride. It has geometry that is focused on riding on the road. You'll be able to sit in the same position for a while and turn your pedals over. A mountain bike is designed to be ridden with you moving your body about a lot. The geometry here is not as suitable for long road miles.
It'll be lighter
A hybrid being lighter goes back to the previous point. To make it more road worthy it will have a rigid fork or short travel suspension fork. These will be lighter than their mountain bike versions. A hybrid will also be less overbuilt, as it does not need to do 10-foot drop offs every day.
It'll be faster
A mountain bike will have a lower gear range than a hybrid. Lower gears work well for low speeds in precarious situations where you can't just keep turning your legs around. As a hybrid bike will be used on the road, it will have a bigger gear to make pedaling at speeds more comfortable and feel less like you're trying to spin your legs off.
What Can You Do with a Hybrid Bike That You Can't with a Road Bike?
You can race cyclocross on most hybrid bikes. The irony being that cyclocross professionals will be riding bikes that look like road bikes but are hybrids with a drop bar instead of a flat bar. Racing cyclocross is excellent fun and one of the best ways to get fit during winter.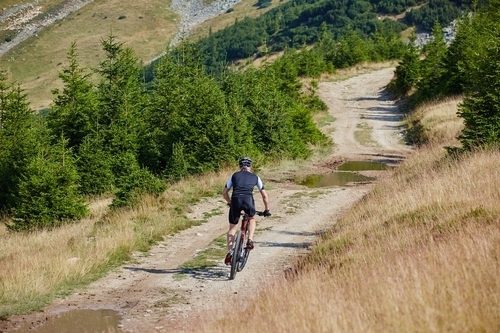 Road bikes don't like being ridden offroad, as they aren't strong enough to survive rough terrain. That is where the rugged styling of  hybrids comes in. They are built stronger as they are not designed to be a lightweight speed machine.
Being burly is why hybrid bikes are great fun for cross races. They can help you navigate the churned earth and rutted tracks. No one will look down on your for riding a hybrid as well. They get upset about that sort of thing at road-specific races.
You'll also be expected to eat fries and drink beer at cyclocross races. What is not to love about that? 
If you don't want to race, you'll also be able to take your hybrid bike on rough terrain. You can ride along disused railways, trails, and down gravel roads and your bike will not grumble. Road bikes will have tires that will not provide grip in these situations, and the frame and forks might not have clearance for mud.
Unlike most road bikes, hybrids will have mounts for pannier racks. Combine pannier racks with tougher hybrid wheels, and you have a nice package for going touring on. Yep, you can ride to work all week on your hybrid, and come holiday time you can go and explore rural France on your work transport carrying everything you need with you. Hybrids make for a good choice as touring bikes.
How to Know What Size Hybrid Bike You Need?
Hybrid bike sizing is not as scary as you think it is, and you don't need a bike shop to help you. The most important measurement for you to know is your inseam, and your height and our handy table below will help you to the optimum bike size for a good riding position. This size chart is a generic chart so please, always double-check to see if a manufacturer has their chart available.
If you are in between sizes, it is always better to opt for the smaller size. It is easier to make a bike bigger but a lot harder to chop parts off a bike frame. A shorter bike will also bring you an upright position. An upright position on a bike is a simple way to get comfortable. A comfortable upright riding position is a must for a hybrid.
Our size chart will also work well as a guide for sizing hybrid bikes for women.
Your height

Your leg inseam

Suggested Frame Size

Feet/Inches

Centimeters

Inches

Centimeters

Inches

Size

4`10"-5`1"

147-155 cm

24-29"

61-73 cm

14"

XS

5`1"-5`5"

155-165 cm

25-30"

63-76 cm

15"

S

5`5"-5`9"

165-175 cm

26-31"

66-78 cm

16"

M

5`9"-6`0"

175-183 cm

27-32"

68-81 cm

17″

L

6`0"-6`3"

183-191 cm

28-33"

71-83 cm

18″

XL

6`1"+

191 cm+

29"+

73 cm+

19″

XXL+
The Top 3 Brands on the Market for This Price Point
Cannondale
Cannondale has a lot of experience making aluminum bikes. They were found in 1971, and they have singularly focused on aluminum. They carried on pushing lightweight aluminum frame designs even as other manufacturers concentrated on their carbon fiber bikes. For the below $1000 hybrid bike market, Cannondale brings you the most advanced lightweight aluminum frame tubing and the best experience with working with the material. The welds on Cannondale bikes belong in a modern art gallery.
Raleigh
Raleigh started making bikes in England in 1885 and are famous for making entry-level bikes that have sold in vast quantities all around the world. In Britain, some of their models are considered to be cultural icons. They are one of the few manufacturers to offer excellent value hybrid bikes under $500.
Mongoose
Mongoose started in 1974 and initially catered for the BMX market. They then progressed to the offroad market. In 1985, they were sold and begun to diversify the bikes they make. Now they are mainly aimed at the entry-level market. As we are in the price point that they are targeting, they know precisely how to make the perfect hybrid bike at a budget price.