If you want to start riding, you may have heard and thought about hybrid bikes. The problem is that you don't know much about bikes and are worried you may buy the wrong bike. We don't want you to do that, so we have compiled a list of the 10 best hybrid bikes under $500 in 2021 for you.
You can have a look through our reviews and see if a bike steals your heart. If you're still trying to decide what to do, we have a created a list of things to know when buying a hybrid bike that can help guide you. We'll then explore where different budget options might make life easier or harder for you.
The Best Hybrid Bikes Under $500
1. Schwinn Network 3.0 700C Hybrid Bike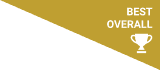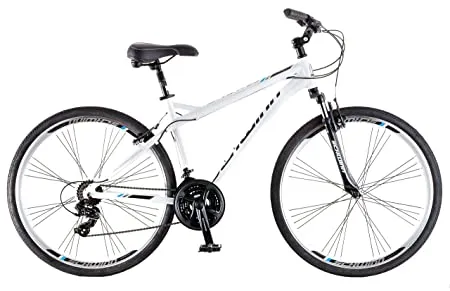 Key Features:
Suspension fork
Swept-back handlebar
21 speed
Key Specifications:
Dimensions: Wheel Size: 28.3 Inch, Frame Size: 18 Inch
Weight: 41.3 lbs
Available Colors: White
The Schwinn Network 3.0 700C is set up to be comfortable. It is the style of hybrid bicycle that many people will instantly be drawn to as their first bike. Equipped with a front suspension fork, it will help to tame some of the worst bumps and rough terrain around your city.
As well as the fork, the Schwinn comes with a suspension seat post to help bring some relief to your posterior. On top of the post, we'll find a big padded saddle that is shaped for the upright riding style of a hybrid bicycle.
To complement this riding position, Schwinn has also fitted a swept-back handlebar. A swept-back bar will bring your grips in closer to your body, allowing you to have an almost perfectly upright riding position. The upright position will let you quickly see any oncoming dangers as you're riding along.
Getting the bike going will be easy because the bikes comes equipped with a Shimano 21 speed EZ-Fire gearing system. Including that all-important Shimano rear derailleur. The EZ-Fire gear shifters will make changing gears pretty simple, and with a Shimano rear derailleur, those changes should be quick and fast.
2. Co-op Cycles CTY 1.1 Hybrid Bike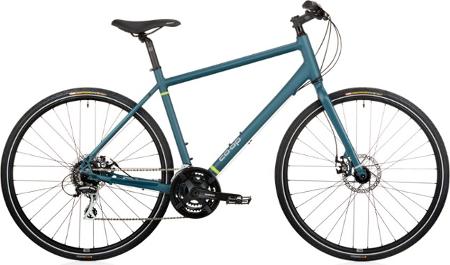 Key Features:
6061 aluminum frame and fork
Mechanical disc brakes
Selle Royale saddle
Key Specifications:
Dimensions: Wheel Size: 700 Inch, Frame Size: S, M, L, XL – 40c
Weight: 41.3 lbs
Available Colors: Nightsea
The Co-op Cycles CTY 1.1 is a pretty light entry-level hybrid. It achieves its low weight by not only having a 6061 alloy frame but also an aluminum fork. An aluminum fork can bring you a lot of road chatter and vibration, which can lead to a numb feeling hands and arms.
Co-op though has thought about this and have fitted the CTY 1.1 with a set of Kenda K-1024 700 x 40mm tires. These tires are wide enough that they will cushion you from the road, stopping any vibrations before they reach the fork.
Given that the CTY 1.1 is a light bike, it will get up to speed quickly. The aluminum frame should also ensure that your pedal power is directed straight to the back wheel. You may then need to slow down quickly, and thankfully Co-op has fitted the bike with Tektro M300 mechanical discs.
To help bring you comfort as well as speed, Co-op has fitted the bike with a Selle Royale Shadow+ saddle. The Selle Royale Shadow+ is a gel saddle, and it will conform to the shape of your buttocks as you ride.
The Co-op is the best men's hybrid bike under $500.
3. Schwinn GTX 2.0 Hybrid Bike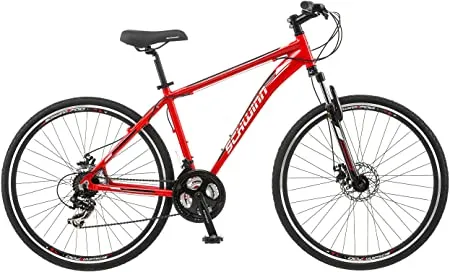 Key Features:
Schwinn aluminum dual sport frame
Micro shift 21 speed twist shifters
Schwinn alloy crank
Key Specifications:
Dimensions: Wheel Size: 28 Inch, Frame Size: 20 Inch
Weight: 42.05 lbs
Available Colors: Red, Blue, Grey
The 700c Men's Schwinn GTX 2.0 is the perfect solution for those who want to mix up fitness and speed with longer rides and tough trails. In fact, this hybrid bike can handle almost anything. You can take it around your local area with your family, head to work on it in the morning, or take it on your favorite trails. The combination of mountain bike versatility, cruiser comfort, and road speed give this bike the ability to ride just about anywhere.
The GTX 2.0 includes a Shimano rear derailleur that makes for an easy and accurate gear change. A Shimano 21-speed trigger, light and strong alloy rims for increased stability, and a Schwinn suspension fork to make for a smoother ride.
The mechanical disk brakes at the front and rear provide additional stopping power. Schwinn's multi-use tires are ideal for off-road adventures or on-road riding. Furthermore, like any other Schwinn bike, the GTX2 includes a limited lifetime warranty.
4. Schwinn Wayfarer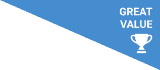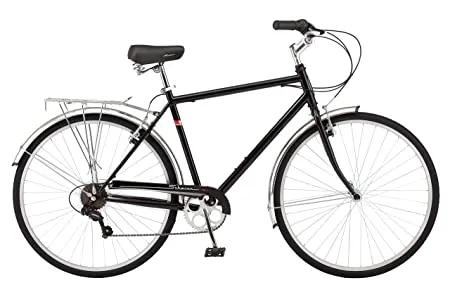 Key Features:
Classic looks
Mudguards
Pannier rack
Key Specifications:
Dimensions: Wheel Size: 700 Inch, Frame Size: 18 Inch
Weight: 42 lbs
Available Colors: Black, Mint, Yellow
The Schwinn Wayfarer is a classic Schwinn men's bike. It will be a great bike for riding to coffee shops or the local bars. It is probably not the bike you want to go long distances on. It can sit in your garage all winter and come out for nice summer cruises. It is also a hybrid bicycle that you don't want to try offroad riding.
It does come with a few nice features that'll help to make your ride more fun. It comes with fenders as standard. The fenders will help to stop you from getting covered in dirt and water from the road and will help keep your feet dry and warm.
There is also a rear rack fitted to the bike. That will account for some of the 42 lbs that the Schwinn weighs. You should be able to get a few days of shopping on your rack, and that should help cut down on your fuel bills.
The Schwinn is also a 7-speed bike. With only 7 gears you should find maintenance a breeze, and it will be easy to set up your gears at home.
It could be the best bike for you if you love classic and retro looks.
5. Vilano Hybrid Retro Urban Commuter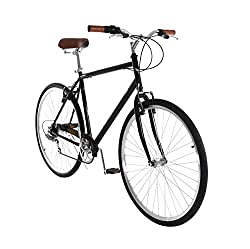 Key Features:
Steel Frame Material
700cm Wheel Size
Linear Pull Brake Style
Key Specifications:
Retro Urban Style Steel Frame
7 Speed Twist Grip Shifters
700c Wheels, 700x35c TIres, Linear Pull Brakes for Great
The Vilano Hybrid Retro Urban Commuter Cycles Barron is based around a 6061 aluminum frame. Attached to the front end of this frame is a Zoom front suspension fork. Zoom leads the way in budget forks and will be the best option at the Barron's affordable price point.
To add to the comfort provided by the Zoom fork, the bike comes outfitted with Kenda Kwest tires. The Kwest is a fast rolling semi-slick tire. They will be great for riding when on the road, but you might want to think twice about heading offroad on them. They should handle hard packed dirt roads.
At the back of the Shimano groupset, you'll find a Mega Range freewheel. The name tells you that the 21 speed Shimano system has a wide range of gears. Mega Range has a small cog for speed and a huge rear cog for helping you to spin up the local hills.
6. Co-op Cycles CTY 1.1 Step-Through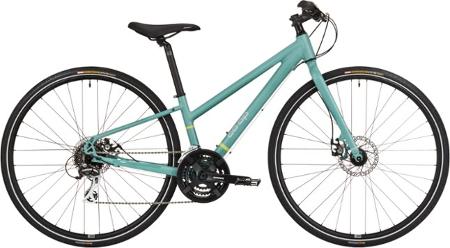 Key Features:
Step-through design
Mechanical disc brakes
Kenda K-1024 tires
Key Specifications:
Dimensions: Wheel Size: 700 Inch, Frame Size: XS, S, M – 40c
Weight: 26.8 lbs
Available Colors: Spa Blue
The Co-op Cycles CTY 1.1 Step-Through is the women's hybrid compatriot to the CTY 1.1 above in our bike reviews. The idea of a step-through frame goes back to the time when women wore dresses to ride bikes. It allowed easy clearance and the ability to get on the saddle and hold your dignity.
A step-through frame design is helpful if you're old, male or female, or if you've had a leg injury. Due to the low step-over height, it is easier to get on and off for people with mobility problems. It can help bring freedom to people who may otherwise have been stuck in the house.
As with the CTY 1.1, it is a lightweight bike that still has the same disc brakes and Kenda K-1024 700 x 40mm tires. The CTY 1.1 is a versatile hybrid, and it can be a good performance hybrid or a comfortable leisure bike; depending on how you ride it.
7. Stone Mountain Women's Mountain Bike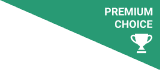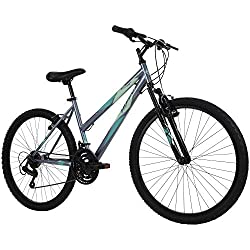 Key Features:
26 Inch Wheels
17 Inch Frame
Steel Frame Material
Key Specifications:
Ideal for ages 13 and up and a minimum rider height of 5 feet
Durable steel frame backed by our limited lifetime warranty
Kraton grips are comfortable to the touch.
The Stone Mountain Women's Mountain Bike  is one of the more expensive bikes in this test. The reason is that Pure Cycles have given you everything you need and stripped out what you don't need. By doing so bring you a performance hybrid.
The first thing you might notice is that the Urban is only 8 speed. For the majority of people that number of gears will get you around town and to work easily. It will then save you on maintenance costs as you'll get less chain and drivetrain wear with one front chainring.
The frame and fork are made of steel, making the bike a little heavier than the aluminum bikes in our bike review. Steel though, and particularly the 4130 chromoly that the Urban is built with, is comfortable and strong. The steel fork will flex just enough to remove road chatter.
To finish the Urban off, Pure Cycles have gone with a mustache bar. A mustache bar is a flat bar that looks like a mustache, and this brings the grips round into a place that is very comfortable for your hands. If you want to cycle to work, the Urban is the bike to do it on.
The Pure Urban is one of the best performance hybrid bikes under $500.
8. Raleigh Bikes Talus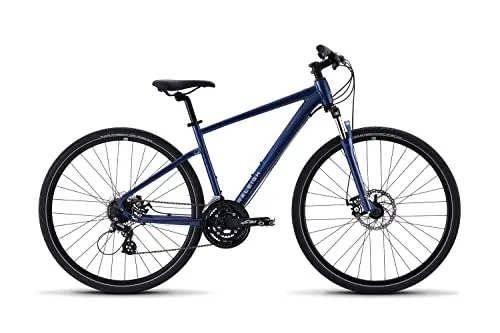 Key Features:
SR Suntour fork
Mechanical disc brakes
Wide tires
Key Specifications:
Dimensions: Wheel Size: 700 Inch, Frame Size: 20/Large
Weight: 46 lbs
Available Colors: Blue
The Raleigh Bikes Talus is the bike with the best fork in our bike review. It comes with an 80mm travel SR Suntour fork. It looks burlier than the other bikes and is a good choice if you occasionally want to use your hybrid bicycle like a mountain bike.
Similar to most mountain bikes, the Route 1 comes with Tektro Airies Mechanical front and rear disc brakes. The Airies are simple to set up brakes and offer a lot of stopping power when you need it.
The Route 1 comes Vee Zilent 700x47c tires. These tires are wide and will help provide you with comfort. When riding offroad, you will want to drop the pressure in them to get you some more grip. These tires are good if you're going to get miles in, as Vee designed them to be excellent trekking tires, and this will help give you a nice ride quality.
To keep your hands feeling happy as you ride, Raleigh has equipped the bike with their own Comfort grips. These grips give your hands a nice ergonomic position and help to remove some of the road chatter.
9. Schwinn Discover Hybrid Bike for Men and Women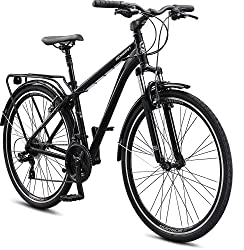 Key Features:
Durable Schwinn Steel Frame
21 speeds with twist shifters and Shimano rear derailleur offer quick, precise gear changes
Front disc and rear V-brake deliver superior stopping now
Key Specifications:
Alloy rims with dual sport tires are perfect for pavement and bike paths
Designed with a 700c wheel, this bike fits riders 5 feet 4 inches to 6 feet 2 inches
The Schwinn Discover Hybrid suffers from the same issue as its sibling in our review. It does not have any sizing information other than it comes in medium or large frame size. Not knowing a little more on the frame sizing can make the Giordano a risky purchase if you sit somewhere in between sizes.
The G7 does have some redeeming qualities, though. The bike is designed to provide you with a comfortable riding position. It features an adjustable stem. You can use the stem to allow you to have an upright position or to get a racier position on the bike. It makes fine-tuning your riding position that little bit easier.
You'll also find a suspension seat post on the Giordana. The post will help to damped out any bumps and ruts that you come across on your travels. Combine this with a 50mm travel fork and you should have many pleasant journeys — a perfect combination for the majority of people.
With front and rear Shimano derailleurs, your gear changes will be crisp and fast. You should not have to keep pressing the shifter and hope that your gears will shift this time.
10. Raleigh Bikes Redux Hybrid Bike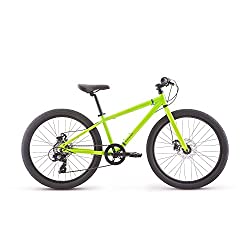 Key Features:
Lightweight
V-brakes
21 speed
Key Specifications:
Dimensions: Wheel Size: 700 Inch, Frame Size: 35C/Large
Weight: 41.8 lbs
Available Colors: Black
The Raleigh Bikes Redux Hybrid Bike is the first bike in Raleigh's Cadent Urban series. The Cadents are performance hybrid cycles designed to be comfortable for long rides or for a quick pedal out to the local coffee shop. To make those hour-long rides fun, Raleigh has centered the Cadent range around lightweight aluminum frames.
The Raleigh Cadent comes with a Shimano Tourney 21 speed gear setup to allow you a lot of gear choices when out riding. Its 700c wheels are outfitted with 35mm tires. These tires will help to take the sting out of the road but still bring you an excellent fast riding bike.
To bring your speed down, and keep the bike light, Raleigh has fitted V-brakes to the Cadent. V-brakes will bring you good and reliable stopping. With reliable brakes, you'll feel more confident seeing just how much speed you can get out of the Cadent.
The Cadent is an excellent choice if you want a bike to help you get fit, and this is the best lightweight hybrid bike under $500.
Hybrid Bike Buying Guide – 3 Things to Look For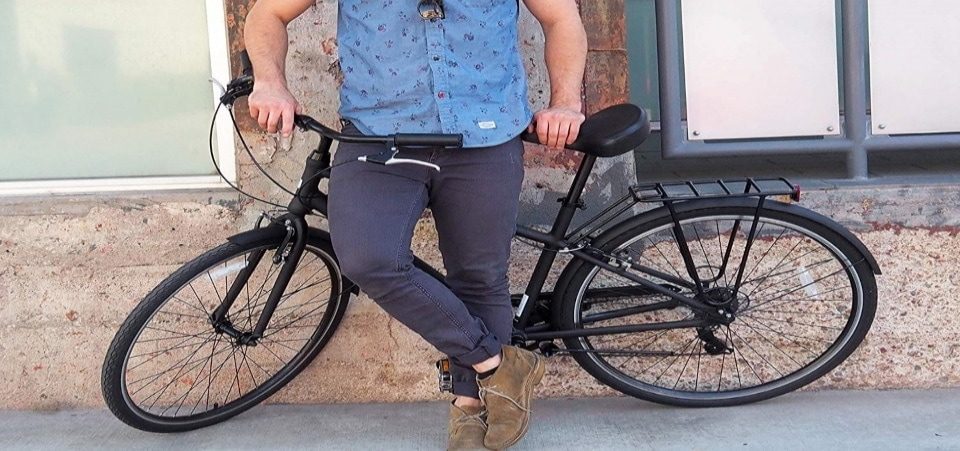 Fender and rack mounts
All the bikes in our review feature fender and rack mounts. If a hybrid doesn't have them, you'll be limiting what you can do with the bike. Having mounts for a rack will make a bike a great commuter, an excellent tourer, and a fitness bike.
Thin or fat tires
Thinner tires will suit those of us that want speed. They are a good choice for a fast commuter bike or a fitness bike. Fat tires will work for those that prioritize comfort and the ability to ride offroad. Hybrids are designed to be able to ride both road and mountain, but they will always favor one side.
Steel or aluminium
Aluminum will generally be used to make bikes lighter. It is a stiffer material, which means it does not flex when you ride. The lack of flex can be uncomfortable for some people. Steel does flex. It is a much more comfortable material to ride on. It has the drawback of being heavier than aluminum.
Will I be Getting a Good Hybrid Bike for $500 or do I Need to Spend More?
You'll be getting a great hybrid bike at $500. Bikes like the Pure Urban and the Co-op CTY 1.1 will be hard bikes to beat for value and well-thought-out designs. They come with good specifications and parts that have been proven to work time and time again. The reason for this is that they are both fairly new bike manufacturers and they're fighting for market position.
There is nothing to stop you spending more than $500 if your budget allows it. What you'll find on hybrid bikes around $1000 is that you get lighter and better-machined groupsets. The better machining allows gear changes to be easier. Once you get to the top tier groupsets, you'll even be able to change gear while pedaling.
As well as better groupsets you'll get lighter frames. The more expensive alloy frames have been hydroformed into complex tube shapes. The shapes allow the frames to be lighter. And have strength added to their critical points.
More of the bearings used in your bike will be sealed. Sealed bearings are better at dealing with bad weather conditions and should last longer, saving you money on maintenance. Should you be a home mechanic, they will also be much easier to service at home.
You'll also see that the suspension forks start to come with better features and lighter weight. You'll get rebound and compression adjustment. These features are both missing on forks on hybrids that cost less than $500.
What are the Main Differences Between a $300 and a $500 Hybrid Bike?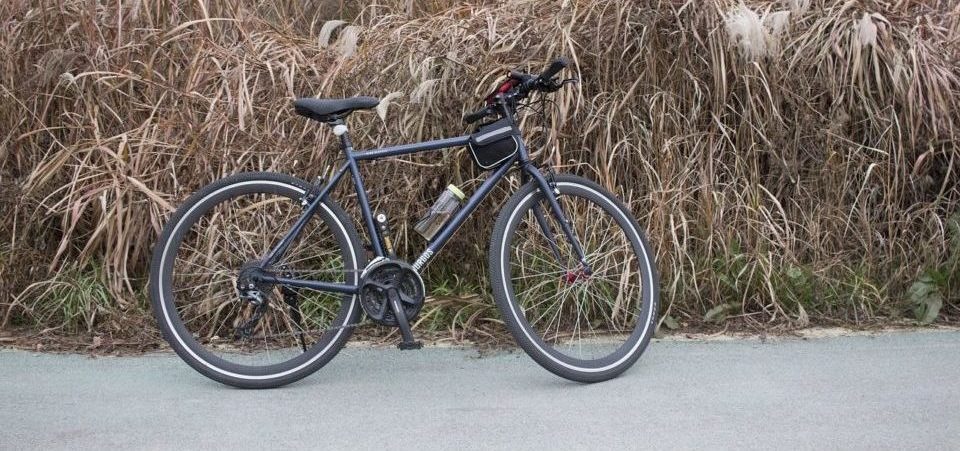 You'll be amazed by the difference in quality between hybrid bikes under $300 and hybrid bikes around $500. $500 is a competitive price point, and many manufacturers will be fighting for your money at this price. That is why you get great value bikes at $500.
The manufacturers believe that at $500 you may become a serious cyclist. Below that, they tend to think that you'll only have casual involvement in cycling. They then use the $500 price point to try and coax you into their brand and hope that you buy into their brand in the future.
Putting this together means you'll start to see less of Shimano Tourney and more of Shimano Altus or Acera and if you're really lucky Alivio. V-brakes start to become disc brakes, except on lighter bikes where there will be fitted lighter but higher quality V-brakes. The lighter bikes are designed to be ridden on the road, and as such you don't always need disc brake power.
3 Reasons Why You Would Buy a Hybrid Bike Instead of a Road Bike
Comfort
Hybrid bikes will always be more comfortable than a racer. You won't have to sit in an outstretched position all day. You'll be able to sit upright and watch the world go past. A good comfortable upright position is something that makes cycling fun. Hybrid bikes will almost certainly have wider tires than a road bike. Wider tires work as a mini suspension system and will help to keep road shock away from your body. The flat bar on hybrids is also something that most people like. The road drop bar can be a scary handlebar.
Durability
You'll be able to fit pannier racks and pannier bags to your hybrid bike. The sturdier wheels of a hybrid easily carry the extra weight of these. The sturdier wheels will also deal better with potholes, and if you're less than cautious, getting your bike up curbs.
Onroad/offroad
You can go by either route when you're riding a hybrid. If your local roads are too busy, you should be able to find a quiet lane or secluded trail to get you to where you need to be. You don't need to dice with death when you're riding a hybrid.