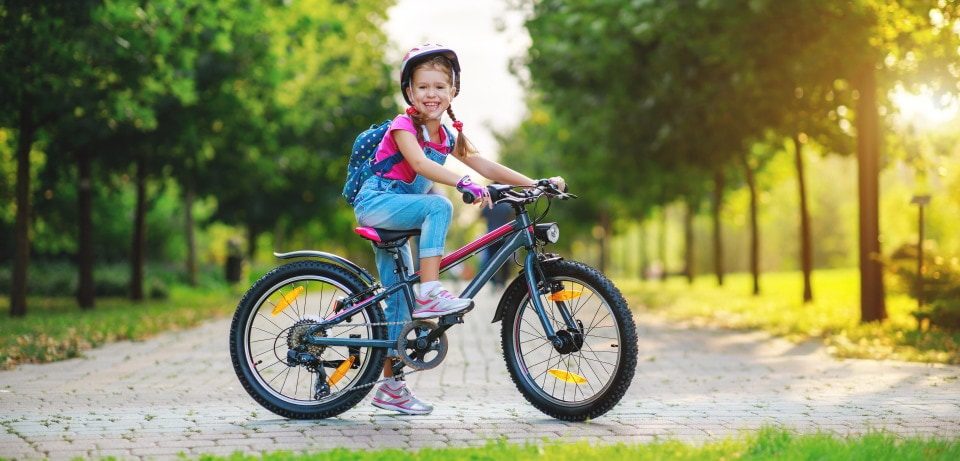 10 Best Kids' Mountain Bikes in 2021 (Review)
Mountain biking can offer your child the mobility to explore their surroundings and burn energy in the process. However, there are many models available. Choosing one that meets your child's needs and your budget can be difficult.
To help you out, we've compiled these in-depth kids' mountain bike reviews. We'll cover everything from basic dimensions to features to ensure that you know just which bike to buy.
Most of the bikes we will review today are for kids five years and older. But what if you are looking for a bike for a younger child? Follow this link to help you find a bike for a toddler. Otherwise, keep reading to learn more about the best kids' mountain bikes in the market today!
Short on Time? See our Top Rated Products From 3 Categories
The Best Kids' Mountain Bikes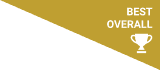 The Huffy Summit Ridge is one of the more affordable bikes for kids, but the low price tag is not a reflection of its quality. This 20-inch Summit model has a 6-speed gear system and drivetrain and comes as a complete bike needing no assembly. Just put your bike helmet on, and you are good to go.
The Shimano TZ-31 rear derailleur and gear system feature micro twist shifters for seamless gear transitions.
The Summit Ridge is also an all-terrain model, and your little rider can take on everything from sidewalks to moderate outdoor bike trails. With linear-pull handbrakes, bringing the 20" x 1.95" tab tires to a halt is easy and safe, as the brake system is highly responsive and reliable.
It is a hardtail model with front suspension, meaning it can accelerate quickly on smooth surfaces, but it also makes for a smooth ride on rugged terrain. This bike is built tough and suitable for kids aged 5-9.
2. REI Co-op Cycles REV 24 Plus
Instead of building a smaller bike that's less capable, Co-op has created a full-blown mountain bike in children's size. The REI Co-op Cycles REV 24 Plus comes with mechanical disc brakes, extra-wide tires, and a 1 x 7 Shimano Tourney drivetrain controlled by easy revo-twist shifters.
Made from 6061 aluminum alloy frame, the bike is easy for young riders to ride and control. Despite not having any suspension, the REV manages to soak most shocks thanks to its plus-size, 2.6-inch tires. However, they also add some extra weight.
The top tube slants elegantly toward the seat post, making it an easy standover frame for small riders. Co-op has ensured that all the bike components, including the chain, hubs, and pedals, are high quality.
Overall, if you want a bike that not only helps your child get from point A to B but also makes them discover the joy of mountain biking, the REI Co-op Rev 24 Plus is one of the best bikes for the job.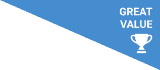 The Huffy Valcon is a high-quality boys' mountain bike for riders between the ages of 5 and 9. It has a durable but lightweight hi-tensile steel frame, an alloy quick-release for easy seat height adjustment, and a sleek design. This bike is easy to assemble, transport, and store.
It has a 6-speed drivetrain with Shimano derailleur and twist-grip shifters for smooth and easy gear transitions. A removable derailleur guard protects the gear system from mud spray and blows.
The 20 inch wheels aren't just for mountain biking; they are big enough for street and smooth trail riding as well. They are thick enough to provide ample grip and traction on loose or muddy surfaces, making it a good option among bikes suited for 5-7 year olds. The Huffy Valcon offers a smooth ride, thanks to the Kolo full suspension system consisting of a front suspension fork and rear spring shock.
Providing consistent stopping power on both bike trails and the streets are front and rear steel linear pull handbrakes specially designed for smaller hands.
4. Rei Co-op Cannondale Trail 20
If you want your child to fall in love with mountain biking, or just biking in general, get the Cannondale Trail 20! Some of its highlights include a responsive aluminum frame, 7-speed Shimano Tourney drivetrain, and front suspension.
Its slanting top-tube offers good control for even shorter or younger riders. A rigid, Suntour XCT fork with 40mm travel provides excellent damping over small rocks and gravel.
The bike rolls on 1.95-inch-wide tires that provide enough traction for confident rolling and turning. However, its 20-inch diameter means this bike is more suitable for younger kids and might not be a good choice for taller than average kids.
The only thing not common with higher-end mountain bikes is its brakes. But when it comes to bikes for kids and the speeds they are supposed to reach, its linear-pull brakes prove sufficient. Cannondale has kept the gear ratios on this bike on the lower side to make it easy to ride on slightly rougher surfaces or ascents.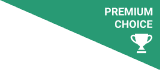 The Woom Off 5 is a high-quality but relatively affordable choice among 24-inch kids' mountain bikes. This is a bike that weighs only 18.1 pounds and was created with child-specific geometry, giving it a well-suited design for kids. The Woom Off comes with several high-end features to ensure optimal control in off-road settings.
The rigid aluminum fork allows for comfort and control on rough terrain, as it effectively absorbs vibration. A rigid fork doesn't allow for the same performance levels as a suspension fork, but it weighs less and is more affordable.
Another high-value feature of the Woom Off 5 is the high-volume Schwalbe Rocket Ron mountain bike tires, which also absorb vibration. Additionally, these bike tires make it easier to roll over obstacles, and they maintain optimal traction on loose or wet surfaces.
The hydraulic disc brakes provide plenty of stopping power, and they are easy for smaller hands to operate. They contribute to the bike's controllability and bring it to a fast, complete halt while minimizing skids.
6. Rei Co-op Cycles REV DRT
If you think Co-op's REV Plus is a solid bike, wait until you see its older sibling. The Rei Co-op Cycles REV DRT is an advanced version of the REV – a suitable model for kids who are slightly older and are practiced trail riders.
The key highlight is the Suntour suspension with a notable 80mm fork travel. Mechanical disc brakes become hydraulic with the DRT, and gearing changes from 7 to 8-speed revo-twist shifting.
The bike features a near-perfect aluminum frame with a slanting top-tube. Its 2.6-inch, extra-wide tires provide exceptional grip on various surfaces while also adding to the machine's shock absorption capacity.
On the design front, nothing changes much except the color, but the minimal design with matte olive-green paint and red accents is attractive and resembles more mature, adult mountain bikes. To sum up, the REV DRT is a superb choice for kids, especially teens, looking at slightly more advanced trail riding adventures.
At the high end of the girls' mountain bike category is the Mongoose Exlipse with its comprehensive range of high-quality features. It has 24-inch wheels, full suspension, and a durable, lightweight frame. Another stand-out feature is the 21-speed Shimano gear selection, which is wider than similar models.
These features make the Exclipse one of the best kids' mountain bikes for off-road and trail riding. Because of the wide gear selection, it is suitable for riding uphill and downhill, and kids can select gear pairings suitable for their fitness level. At 44 pounds, this bike is relatively heavy, but its performance features make up for the added weight.
The front and rear linear-pull brakes are reliable in their power to stop the bike in all conditions, and they are easy for little hands to access and use. Being a mountain bike for girls, this model is only available in bright pink, but girls can love this bike for its many fine features despite any difference in color preferences.
8. Royalbaby Chipmunk Explorer
Several features make the Royalbaby Chipmunk Explorer a cool mountain bike for a kid. The most notable attribute of this model is its lightweight alloy frame with double-curved tubes design. This frame geometry is not only eye-catching, but it makes mounting and dismounting the bike easy.
The Explorer also has a front shock, a must-have feature for kids' downhill mountain bikes. Additionally, the front and rear disc brakes provide reliable stopping power on downward slopes or loose surfaces. Other safety features include reflectors and compatibility with training wheels.
These 20-inch mountain bike wheels mean it is the correct size bike for the child if they are 53 to 65 inches tall. The frame has a kid-specific geometry with a lower standover height, making it comfortable for most kids over seven years old.
Some assembly is necessary. You need to attach the training wheels, kickstand, handlebar, saddle, and pedals. Assembling the bike is quick and easy, however and the complete bike package includes all the tools you need.
The Raleigh Tokul 24-inch mountain bike is one of the most popular models for kids. Though it has a relatively high price tag, it offers excellent value for the money. Frame dimensions make the Tokul an ideal boys' mountain bike, but older girls can also ride it without discomfort.
With a wheel size of 24 inches, standover height of 25.1 inches, and a weight of only 28 pounds, the Tokul seems to be designed specifically for kids aged 8-12 years. This relatively low weight is the result of the bike's construction materials, including an aluminum frame and carbon drivetrain components.
The frame has a slightly slanted top tube and features a suspension fork with 50mm of travel to absorb surface vibrations. The tires are 1.95 inches wide and are large enough to take on different terrains. The 7-speed drivetrain also contributes to the bike's drivability on various terrains, including inclines.
Another high-end feature of the Tokul is its mechanical disc brakes with reliable stopping power, especially when mountain biking on downhill trails.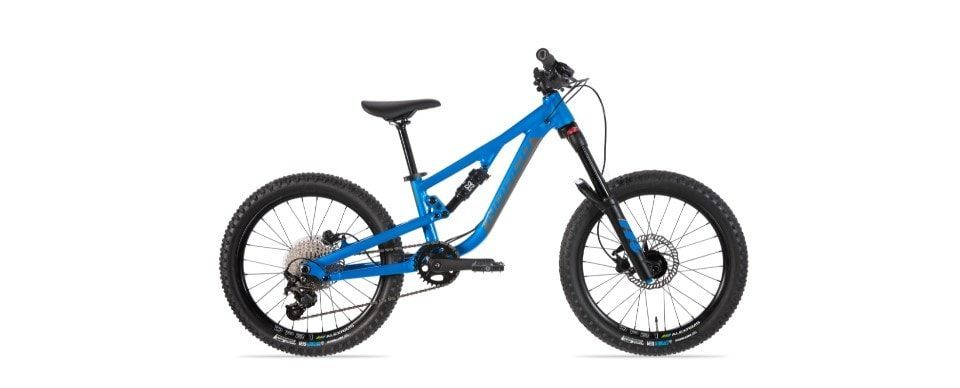 The Norco Fluid 2.2 FS 20" is not just another of the kids' mountain bikes; it is an authentic mountain bike that also happens to be a kids' bike. The designers of the Fluid 2.2 did not hold back even a bit while selecting components. The result is the epitome of children's mountain bikes.
The bike flaunts front and rear suspension from brands like RST and Rockshox – making a large variety of adventures possible. It also comes with Tektro's full-sized hydraulic disc brakes for reliable stopping.
This is one of the very few 20" bikes to sport a 10-speed Shimano Deore drivetrain – one that can crush hills far easier than lower-end bikes.
The Fluid 2.2 FS is not cheap by any means for a kids' bike, but if you want your child to embrace mountain biking, this is one of the best kids' downhill mountain bikes you can get. Don't forget your mountain bike helmet!