Mountain biking is a fun and exciting way to explore the outdoors and stay fit—but it can be an uncomfortable and possibly dangerous venture if you don't have the right equipment, especially the right mountain bike.
A high-quality bike can be expensive. That's why we are here to help you save money by recommending the best mountain bikes under $1000.
Every bike on our list is from a reputable brand and has impressive features to guarantee a safe and smooth ride. Let's look at what makes each of these bikes special. By the end of our review, you should have no trouble picking a bike that's a perfect fit for your needs.
Short on Time? See our Top Rated Products From 3 Categories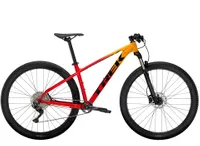 2 x 9 drivetrain
Rear rack mounts
Suspension lockout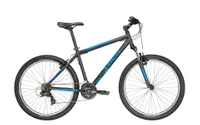 3 x 7 drivetrain
Rear rack mounts
26-inch tires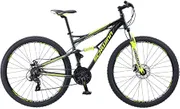 29-inch wheels
Full Dual Suspension
Disc brakes
The Best Hardtail Mountain Bikes Under $1000
1. Trek 820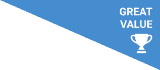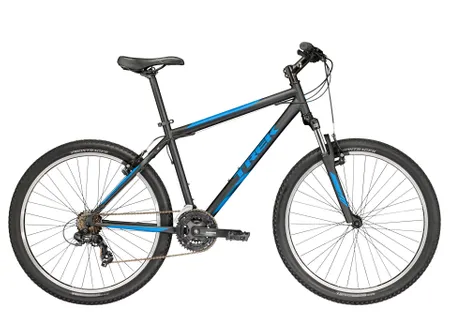 Key Features:
3 x 7 drivetrain
Rear rack mounts
26-inch tires
Key Specifications:
Dimensions: Wheel Size: 26 Inch, Frame Size: 13-22.5 Inch
Weight: 33.68 lbs (15.28 kg)
Available Colors: Matte Trek Black
The Trek 820 can be called a gateway to mountain biking. If you are looking for basic off-roading without spending a fortune but still want a highly reliable brand, the 820 bike is made for you.
It comes with a steel frame, an entry-level SR Suntour fork with a modest 75mm travel, and a 3×7 Shimano Tourney drivetrain that is basic yet trustworthy for almost all terrains. Its 26-inch tires and linear-pull brakes do not leave room for complaints either.
At nearly 34 pounds, it is not what you would describe as a 'lightweight bike'. But it isn't difficult to ride and proves to be highly capable for light trails, gravel, and city riding alike.
The bike sports a minimal design common among its costlier siblings, making it easier to disguise its 'entry-level' tag. Trek has been building top-rated hardtail mountain bikes for ages, and the Trek 820 carries the same DNA, making it an excellent bike for someone looking for light off-roading on a budget.
2. Trek Marlin 6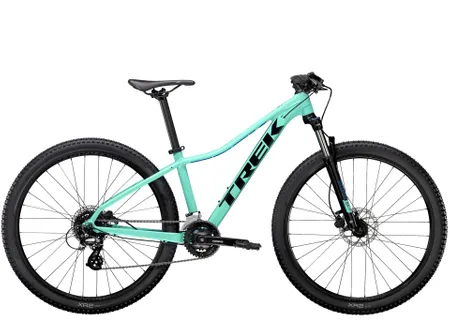 Key Features:
Hydraulic disc brakes
Lockable suspension
User-friendly design for smaller sizes
Key Specifications:
Dimensions: Wheel Size: 27.5-29 Inch, Frame Size: 13.5-23 Inch
Weight: 31.97 lbs (14.50 kg)
Available Colors: Miami Green/Royal
Trek claims its Marlin 6 to be 'a real mountain bike at a great value,' and that claim is 100% true. Read through the specs, and you would think the bike costs $1000 or more when it costs a lot less than that. A classic looking aluminum frame with internal cable routing and a sporty design gets the Marlin 6 second glances.
The admirable 2 x 8 Shimano Altus gearing provides you with ample gears you need for trail riding, while hydraulic disc brakes on both wheels help you roll and stop with confidence. Despite all the tech it carries, it is one of the lightest bikes in this price bracket.
This bike is probably the most thoughtfully designed machine in this budget, with a sloping top tube, narrower handlebars, and shorter brake-lever reach for smaller sizes. It also comes with features such as mounts for a kickstand, rear rack, and a lockable front suspension, making the bike suitable for commuting as well.
If you have decided to get your first serious mountain bike and have a limited budget, you can't go wrong with the Marlin 6.
3. Trek Marlin 7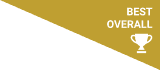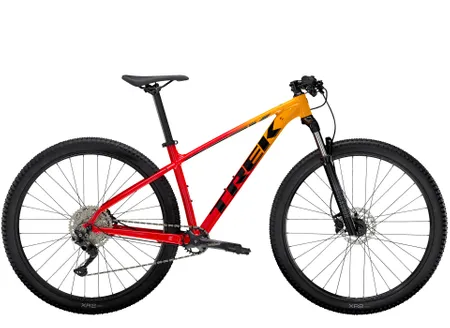 Key Features:
2 x 9 drivetrain
Rear rack mounts
Suspension lockout
Key Specifications:
Dimensions: Wheel Size: 27.5-29 Inch, Frame Size: 13.5-23 Inch
Weight: 30.35 lbs (13.77 kg)
Available Colors: Marigold to Radioactive Red Fade
The Trek Marlin 7 is one of the best downhill mountain bikes under $1000 for its quality components, user-friendliness, and features.
With its 2x drivetrain, you get all the gears you could need to enjoy the Marlin 7 as a racing or stunt bike. It also has a lightweight suspension fork and other upgraded components that make rides easier for those new to mountain biking or dirt bike racing.
The bike's lightweight body and sleek design are partly thanks to its aluminum frame and internal cable routing. For a smooth ride and solid control, there's a 100mm front travel and Shimano hydraulic disc brakes. The bike's Shimano Shadow rear derailleur offers even more stability by preventing snagging when biking over debris-strewn dirt trails.
Simply put, the Marlin 7 is a great value and versatile bike that delivers many features of a more expensive mountain bike without breaking the bank. That includes better suspension for various off-road terrains and lots of gears for racing.
4. Cannondale Trail 7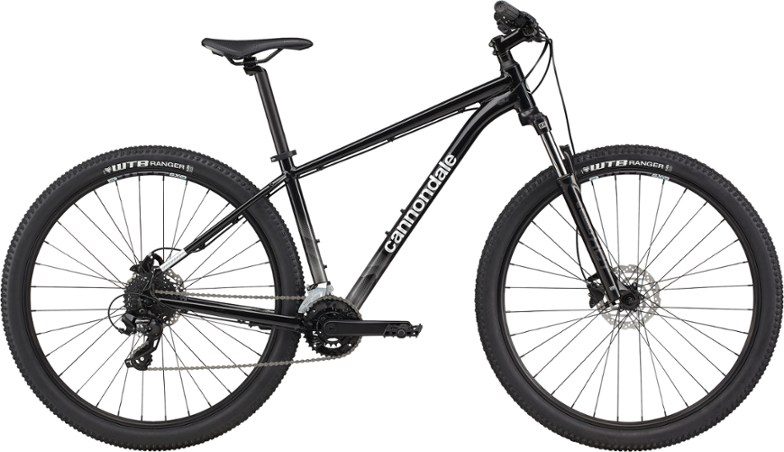 Key Features:
Rear triangle flex zones for added comfort
Hydraulic disc brakes
2 x 8 drivetrain
Key Specifications:
Dimensions: Wheel Size: 29 Inch, Frame Size: not mentioned
Weight: 32 lbs (14.51 kg)
Available Colors: Black
Cannondale is another reputed brand that has been building impressive bikes for over four decades now. The Trail 7 is an entry-level mountain bike by a brand that does not disappoint. It sports a minimal monochrome design but offers highly capable components.
A lightweight alloy frame with internally routed cables provides superb handling on almost all surfaces. Wider and larger 29" x 2.25" (27.5" for smaller sizes) tires provide excellent traction and steering.
The only area where the previous Cannondale Trail 7 did not impress was its microSHIFT gearing. But Cannondale has upgraded that to a 2 x 8 Shimano drivetrain for the 2021 model, making the bike a perfect package at its price.
The bike comes with other excellent components, such as Tektro hydraulic disc brakes and a lightweight Suntour front fork with 100mm travel. One feature that sets the Trail 7 apart from most other hardtail bikes is Cannondale's use of 'strategically engineered flex zones' in the rear triangle, adding more comfort on rougher terrains.
5. Mongoose Tyax Comp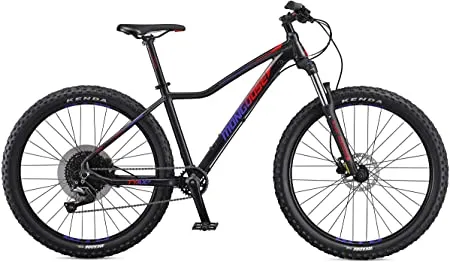 Key Features:
Lighter, stronger T2 Aluminum frame
Hydraulic disc brakes
1 x 11 drivetrain
Key Specifications:
Dimensions: Wheel Size: 27.5-29 Inch, Frame Size: 17-19.5 Inch
Weight: 52 lbs
Available Colors: Black or Orange
Behold the Mongoose Tyax Comp, a beast of a mountain bike under $1000. The bike features an aircraft-grade aluminum frame that Mongoose claims to be 50% stronger and 30% lighter, which is astonishing for an entry-level bike, making it one of the top mountain bikes under $1000.
The makers have also played around with the geometry to produce what they call 'Refined Geometry,' wherein the stem is shorter and the top tube is longer, providing more responsive steering.
The bike rolls on reliable Kenda tires with the help of a 1 x 11 Shimano SLX drivetrain. A set of Tektro hydraulic brakes provides perfect stopping power. The shorter stem can easily fit a 100mm travel Suntour fork, which is more than sufficient for almost any trail you ride on.
Speaking of design, Mongoose sticks to a more classic hardtail design but still manages to make the bike look impressive. The bike comes in both 29 and 27.5-inch wheels. Overall, the Mongoose Tyax Comp is a perfect bike for someone looking for entry-level yet not-so-entry-level mountain biking.
6. Cannondale Trail 8 Bike 2021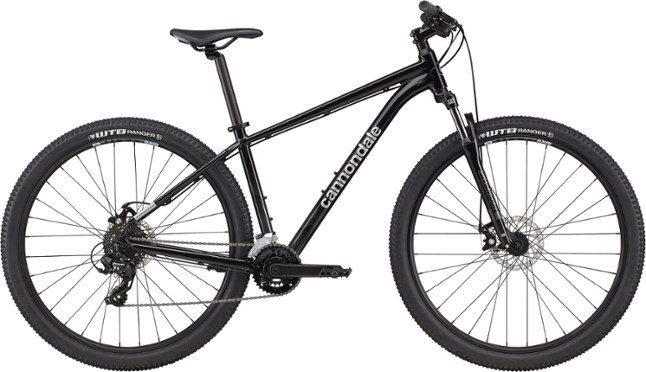 Key Features:
Durable SmartForm C3 alloy frame is light and snappy
Tektro mechanical disc brakes provide reliable stopping power
2 x 7-speed drivetrain offers the wide range of gears
Key Specifications:
Dimensions: Wheel Size: 27.5 Inch, Frame Size: XS & S
Weight: 32 lbs
Available Colors: Gray
If you are more inclined to freestyle/BMX riding with some aerial stunts instead of zipping through the trails, the
Cannondale Trail 8  is a bike to consider. The Reserve is a practical bike with a chromoly steel frame that is as minimal in design as it can get.
The steel frame is more suitable for freestyle riding, while the shorter geometry helps with taking off and landing for your aerial stunts. The bike comes with a single but reliable Tektro hydraulic disc brake on the rear. Its single speed with a relatively smaller chainring means you can't go at high speeds on flat roads, but it certainly helps with freestyle riding.
As an essential component of this bike, its front fork is top-quality and reliable – the Manitou fork with 100mm travel is arguably the best you can get in this budget. The wheels sport extra-strong rims and wide Kenda tires for safer landings.
If your definition of adventure consists of aerial stunts more than forest trails, the Cannondale Trail 8 is for you.
7. Diamondback Bicycles Overdrive Hardtail Mountain Bike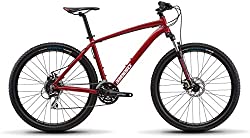 Key Features:
26-inch wheels
Shimano twist shifters and 21 gears
580mm bars and Jr PVC grips
Key Specifications:
Dimensions: Wheel size: 27.5-29 Inch, Frame size: 13-21 Inch
Weight: 45.8 to 47.3 lbs (20.77 to 21.45 kg)
Available Color: Black
The Diamondback Bicycles Overdrive is one of the more affordable mountain bikes on our list. While it's built tough, it's not exactly ideal for rough terrain mountain biking. Its frame, suspension, and tires that are 2 inches wide are better suited for light gravel trails and paved paths.
The bike fits well with its 26-inch wheels and low standover height for mountain bikers with shorter legs. Its custom-tubed frame and 580mm bars also make it a good fit for lighter riders with a slim build.
When it comes to speed, the Diamondback Bicycle is a real lightning bolt, with 21 gears and Shimano twist shifters for switching between them.
The Talus 3 is not meant for experienced riders. But if you are on the lighter side, on a budget, and don't intend on using your mountain bike on hardcore off-road trails, then this bike could be exactly what you need.
The Best Full Suspension Mountain Bikes Under $1000
8. Schwinn Mountain Bike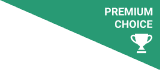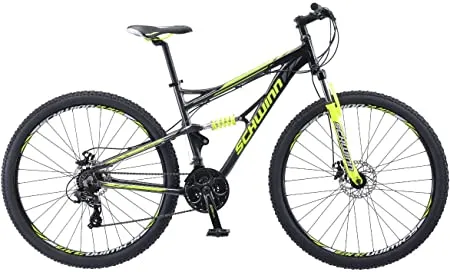 Key Features:
29-inch wheels
Full Dual Suspension
Disc brakes
Key Specifications:
Dimensions: Wheel size: 27.5 Inch,
Weight: 49 pound
Available Colors:  Blue/Grey
The Schwinn Traxion ticks almost all boxes for a proper mountain bike while still being affordable. This bike is perfect for light to medium trails, thanks to its dual suspension and wide, knobby tires.
The gearing is relatively basic, with Shimano Tourney derailleurs providing 24 speeds, but it is certainly a dependable drivetrain that will serve a few thousand miles. The same is the case with the disc brakes – you do not get hydraulic discs or a reputed brand like Tektro, but the mechanical disc brakes are sufficient unless you plan to do some serious downhill riding.
The frame is a typical 3-triangle alloy frame that slightly resembles GT's design and is reliable for the job it is supposed to do. The dual suspension adds some weight to the bike, but if you don't mind a few extra pounds, this is a great bike.
Schwinn does not hold back much on the design side, with a colored fork and bright stickers on the frame and the rims, and it might not be to everyone's liking.
9. Schwinn S29 Mens Mountain Bike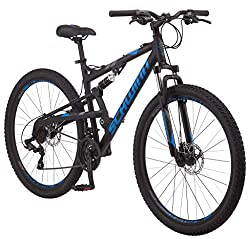 Key Features:
Lockable dual suspension
24-speed Shimano drivetrain
Disc brakes
Key Specifications:
Dimensions: Wheel size: 26 Inch, Frame size: 15 Inch
Weight: not mentioned
Available Color: Black/Red – red rims
The 2020 Gravity FSX 2.0 is like the quiet kid in class who's not very popular but has a few tricks up his sleeves. A simple, black frame with colored rims and no signature design can fool you into thinking that it is not capable.
However, take a closer look at the components, and you will realize it can put some top full suspension mountain bikes to shame. Its Tektro disc brakes, Shimano drivetrain, and Suntour crankset are highly reliable, not to mention a new hydroformed aluminum frame. Not many bikes at this price come with reputed components like these.
The front and rear shocks are both lockable, making the bike suitable for smoother terrains. Some components seem too basic, like the seat or the tires, but you can't expect a lot at this price, and you can always switch these components for better ones if needed.
Overall, the Gravity FSX 2.0 is one of the best mountain bikes under $1000 for light to medium mountain riding on a budget.
10. Eurobike S7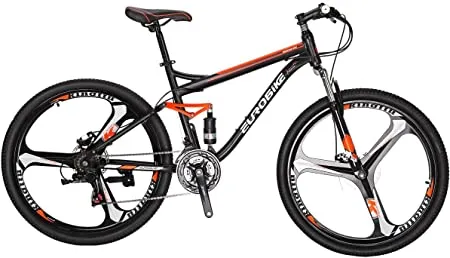 Key Features:
Dual disc brakes
Double aluminum alloy rims
MTB suspension fork
Key Specifications:
Dimensions: Wheel size: 27.5 Inch, Frame size: 18 Inch
Weight: 40 lbs (18.14 kg)
Available Colors: Black/Orange
Look through various mountain bikes under $1000 reviews, and you'll see that the Eurobike S7 is one of the most affordable mountain bikes on the market. Despite its remarkable affordability, this bike compromises on very little when it comes to quality and features.
Its build includes an 18-inch steel frame and double-aluminum-alloy rims, keeping the bike lightweight yet tough enough to tackle various terrains. With its 21-speed shifter, you get a high-performance bicycle with a frame suspension that you can upgrade for greater comfort.
There is a mechanical disc brake on the front and a V-brake on the back. While both are competent, they aren't as satisfying as having front and rear disc brakes, especially for those sudden turns and obstacles that may pop up on intense mountain trails.
Because of its size, this bike is a better fit for average to smaller-sized people. If that's you and you are looking to get your first mountain bike, then the Eurobike is an attractive, budget-friendly place to start.
3 Key Things to Consider Before Deciding
Price
The best mountain bikes are expensive—often over $2000—because of their many features. However, like those on our list, there are great options that cost less. Even though these cheaper options don't have some of the features and advantages of more expensive models, they are still capable of satisfying newbie and pro bikers' needs.
With that in mind, if you want a good deal on a mountain bike, then don't focus on buying the most expensive or cheapest option. Instead, go for a bike that offers all the features you need without exceeding your budget. By prioritizing features, you are more likely to end up with a mountain bike that fully satisfies your reason for buying one.
Material
Generally, the best mountain bikes are made with carbon fiber or aluminum. These premium materials are lightweight yet durable enough to withstand the rough terrains of biking a mountain trail.
Carbon fiber is lighter yet more durable than aluminum, but it's also more expensive. As such, it's rare to find a mountain bike under $1000 with a carbon fiber frame and components. At this price range, aluminum and steel frame bikes are more common.
Size
If you are too big or small for your mountain bike, riding it on any terrain can be uncomfortable and possibly dangerous. As such, go for a bike that's appropriate for your size. Generally, 29-inch bikes are suitable for bikers who are over 6 feet. Bikers who are under that height are better off with 27.5-inch or 26-inch bikes.
Ensure the bike has adjustable components, such as a saddle, tires, and handle for a more comfortable and secure ride. You might even want to explore fat bikes with ultra-wide tires for easier riding in sand or snow.
Why $1000 is a Good Budget to Have
The cheaper a mountain bike is, the fewer features it will have. For example, a higher-priced model may have an air fork, a dropper post, lighter weight, stronger frame, tubeless wheels, and more. It will also have higher quality components from leading brands, such as an 11-speed drivetrain Shimano or SRAM.
On the other hand, among bikes available for under $700, many of these features may be missing, leaving you with just the essentials. If you want a mountain bike with more robust features, you'll need to pay more for it.
Is It Worth Increasing the Budget Up to $1500 Instead?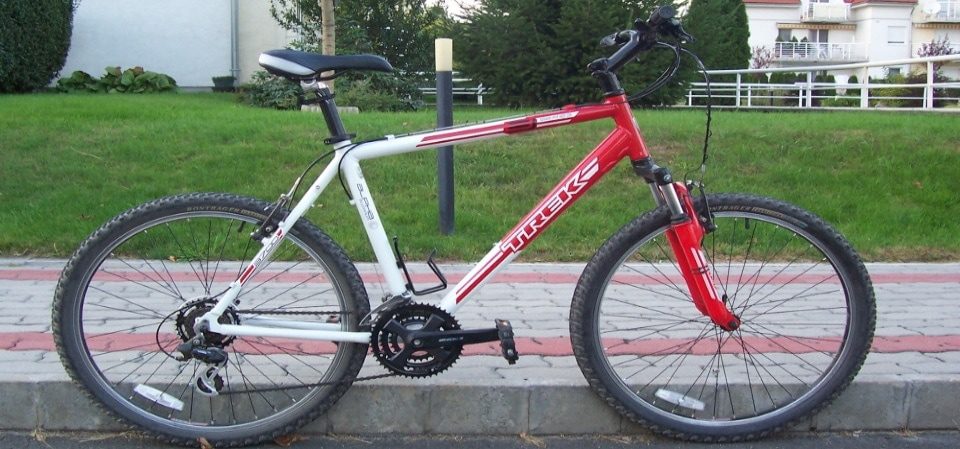 The previously mentioned bikes are good enough to satisfy the needs of entry-level professionals and newbie bikers. But if you are a full-time professional who needs a quality mountain bike with all the bells and whistles, then yes—you may have to look at bikes costing around $1500.
At $1500, you get not only the basics, but also advanced features like a capable full-suspension, durable carbon fiber components, better shocks, 1x drivetrain, dropper seat post, and more. However, since not all these features are essential, it's up to you to decide if they are worth paying extra for.