Spending $1500 on a mountain bike is a big commitment. You want to get the right mountain bike, and we want to help you get the right bike for you. In the bike reviews below, we've found what we feel are the 7 best mountain bikes under $1500 in 2021. These bikes have been picked as they offer the best value for money and will inspire you to take your riding to the next level.
After the reviews, we'll look at some tips to make sure that you don't make any mistakes when you're buying your new bike. We'll then have a look at what you should expect to find on a mountain bike costing around $1500 and whether you should spend another $500 or not.
Short on Time? See our Top Rated Products From 3 Categories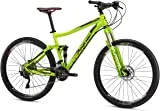 Full suspension design
SR Suntour air suspension fork
X-fusion O2 RL Pro rear shock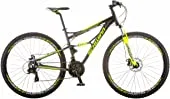 Aluminum dual suspension frame
Double wall alloy rims
Durable Schwinn alloy cranks


Internal cable routing for durable ride
29-inch wheels fit  riders 5'4" to 6'2"
29″ x 2.35 " tires for extra stability
The Best Full Suspension Mountain Bikes Under $1500
1. Mongoose Salvo Expert Full Suspension Mountian Bike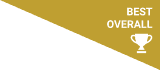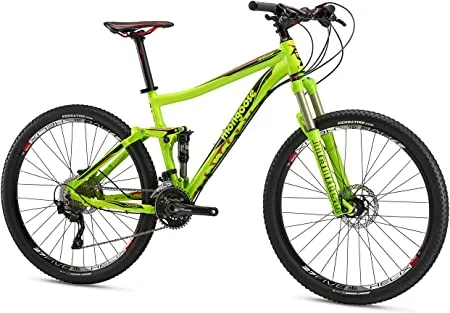 Key Features:
Full suspension design
SR Suntour air suspension fork
X-fusion O2 RL Pro rear shock
Key Specifications:
Dimensions: Wheel Size: 27.5 Inch, Frame Size: 15, 19 Inch
Weight: 39 lbs
Available Color: Green
Mongoose Salvo Expert is the first full suspension mountain bike in our bike reviews. The Salvo Comp is a 120mm travel bike, putting it in the trail bike category. You should find that the X-Fusion O2 RL Pro rear shock helps you out when you make mistakes that should otherwise have resulted in a crash.
The front SR Suntour XCR fork is an air sprung fork. You'll then find it easier to balance both your front and rear suspension. You'll want to do this before you go on a trail. Otherwise, you may find that the bike is trying to throw you off when you're riding.
The Salvo Comp uses the 27 speed Shimano Alivio M4000 groupset. You do get an upgrade to the Shimano Deore Shadow Plus rear derailleur. The Shadow Plus system is more important on a full suspension bike than on a hardtail. As your bike moves through its travel, the rear wheelbase will lengthen or shorten, and by keeping the tension applied with the rear derailleur you'll be less likely to have your chain fall off.
2. Eurobike 26 Full Suspension Mountain Bike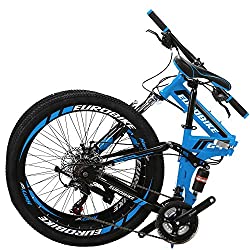 Key Features:
Shimano 21 speed Shifters easy to use
Dual disc brakes make brakes more sensitive
Affordable price
Key Specifications:
Dimensions: Wheel Size: 26 Inch, Frame Size: 17 Inch
Weight: 40 lbs (18.1 kg)
Available Color: Blue
Eurobike 26 is an entry-level full-suspension bike that offers a wide range of high-end features but at an affordable price. As a result, this model is an ideal option for people who are looking to get into mountain biking without breaking the bank.
The lightweight ALUXX aluminum frame has a modern geometry and features its suspension platform. The platform consists of a single-pivot design that provides stable pedaling and sufficient traction. The frame also features internal cable routing, and the front triangle is fitted with a mount for a bottle cage.
This bike also has Aluminiu Alloy Rims with a 25mm inner width. In combination with the suspension platform and 29-specific geometry, the wheelset allows the bike to climb particularly well.
This model is designed around a MTB Suspension fork. This is the longest travel fork that you are likely to find on a hardtail. This length allows for all-around riding, but it is suitable for trails.
3. Schwinn Traxion Full Suspension Mountian Bike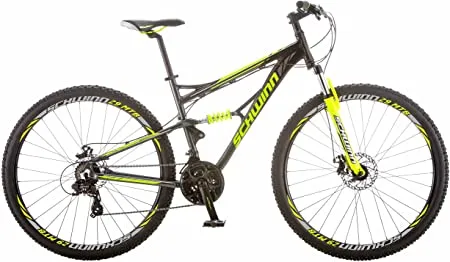 Key Features:
Aluminum dual suspension frame
Double wall alloy rims
Durable Schwinn alloy cranks
Key Specifications:
Dimensions: Wheel Size: 27.5 Inch, Frame Size: 18 Inch
Weight: 49 lbs (13.6 kg)
Available Color: Neon Green
Ride through challenging trails and race down hills on the Schwinn Traxion , a mountain bike that can't wait to show you what it can do. Its mountain tires are built to take on everything that comes its way. There is no need to worry about any bumps in the road, as the powerful suspension fork is durable enough to take care of any such issues.
If you appreciate durability, you'll love the double wall alloy rims. Changing gear is smooth and simple, too, thanks to the Shimano derailleurs at both the front and rear. And the alloy cranks make gearing steady and less maintenance required.
Own every trail you ride on with dependable Schwinn alloy cranks, a Shimano rear derailleur, and 24-speed Shimano EZ-Fire trigger shifters. Each time you stop, you'll be impressed by its efficiency and smoothness. Get ready to experience a bike that will never let you down.
The Best Hardtail Mountain Bikes Under $1500
4. Mongoose Impasse HD Mountain Bike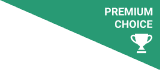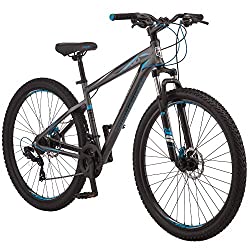 Key Features:
Internal cable routing for durable rid
29-inch wheels fit adult riders 5'4" to 6'2"
29″ x 2.35 " tires for extra stability
Key Specifications:
Dimensions: Wheel Size: 29 Inch, Frame Size: 18 Inch
Available Color: Charcoal
This mountain bike is a lightweight, precision-based aluminum cross-country model. Mongoose has gone above and beyond with this newer model by increasing the stiffness and handling. They did this by adding rear spacing and thru-axles.
This bike is meant for the roughest terrain and toughest climbs. Slipping in between rocks and over logs is going to be the least of your concerns due to their top-of-the-line granny gear. They were able to make this happen without making it the typical mountain bike with the traditional front derailleur system. (This also makes the bike more pleasing to look at.) They've also added a Blanchard 25 tubeless ready wheelset along with their 29" wheels for this model. For the brakes, the manufacturer has included Shimano MT500 hydraulic disks for accurate and fast stops. One of the greatest things about this model is that it is easy to switch out parts to meet your preferences (or upgrades, should you wish).
5. SAVADECK Carbon Fiber Mountain Bike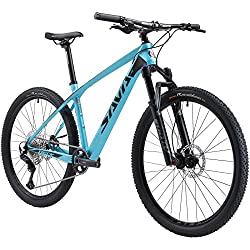 Key Features:
Carbon fiber frame
RockShox SID RLT fork
30 speed
Key Specifications:
Dimensions: Wheel Size: 29 Inch, Frame Size: 18.5/Medium
Weight: 29 lbs
Available Color: Black/Red
SAVADECK Carbon Fiber Mountain Bike is a great choice of mountain bike if you want to race cross country (XC). The bike has a stiff and light carbon fiber frame to make sure that every watt from your pedal stroke is converted into forward momentum.
The Tundra Pro comes with a RockShox SID RLT fork. The 100mm travel fork has a huge heritage in XC racing and is the lightweight fork of choice for many racers. The fork also comes with a remote lockout. The remote lockout lets you lock out the fork's suspension. Locking out your suspension will make sure that the mountain bike doesn't bob and waste your pedal stroke.
If you're racing, you'll want a great groupset to make sure that every gear change will happen and do so quickly. Thankfully the Steppenwolf features a Shimano XT groupset. There is only one groupset higher in the Shimano hierarchy, and for under $1500 this is great value.
The quality rating for the Steppenwolf gets even higher when you realize it also comes with 29" DT Swiss X 1900 Spline wheels. These wheels feature the phenomenal DT Swiss Star Ratchet Drive, as soon as you put any pressure on the pedals your drivetrain will have engaged.
6. Mongoose Tyax Comp Mountain Bike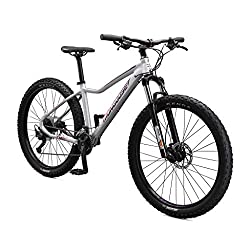 Key Features:
146 mm rear hub spacing for more stable & rigid hardtail
Kraton lock-on grips for comfort & security
Tectonic T2 aluminum frame is lighter & stronger
Key Specifications:
Dimensions: Wheel Size: 27.5 Inch, Frame Sizes: S, M
Available Color: Black
Mongoose Tyax Comp has a conservative geometry and offers a somewhat frenetic riding style. The geometry provides a stable platform that allows for an upright riding position with the eyes forward.
This model's frame is a SmartForm C2 alloy, and its features include a Boost QR rear axle and two bottle mounts. The fork has 120mm travel, and it has a head angle of 68.5 degrees, which is relatively steep. The model offers several high-end features, including the 11-speed Xt mech, TranzX dropper post, and RockShox Recon RL fork. These features allow for precise handling and comfort while riding on rugged terrain.
Contributing to the forgiving feel are the 27.5-inch wheels with 2.8-inch WTB Ranger Comp DNA Compound Tires. Bringing the wheels to a halt in any conditions is 180/160mm Shimano M425 hydro disc brakes that operate with precision Shimano M425 hydro disc levers.
7. Huffy Hardtail Mountain Trail Bike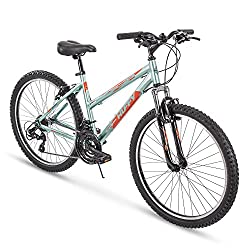 Key Features:
Lightweight aluminum frame has 10-year warranty
Alloy linear pull brakes with machined alloy wheel rims provide smooth stopping power
Front suspension delivers the right response for whatever terrain you ride
Key Specifications:
Dimensions: Wheel Size: 26 Inch, Frame Size: 17 Inch
Weight: 41.8 lbs
Available Color: Gloss Metallic Tint
This bike is the perfect trail bike with wide tires that make for perfect traction. Not only does the Huffy Hardtail Mountain Trail Bike provide stunning traction, but the wide tires also offer additional cushioning to make the ride a stunningly smooth one. The 26" tires also mean that you'll get a great ride in loose dirt. The frame geometry also aids in making the bike ideal for trail riding.
The Expert model of the James Eden bike features a SRAM NX 1×11 drivetrain with a crankset, an NX rear derailleur, and an NX shifter. You can stop with power and confidence thanks to the Shimano Deore M506, allowing you to easily descend steep hills.
The WTB Ranger tires teams up with the WTB Scraper l40 rims for a tubeless-ready design that offers a smooth ride with fewer puncture flats and improved traction. The Expert model is a clear upgrade over the original James Eden.
5 Things to Think About When Buying a Higher Price Range Mountain Bike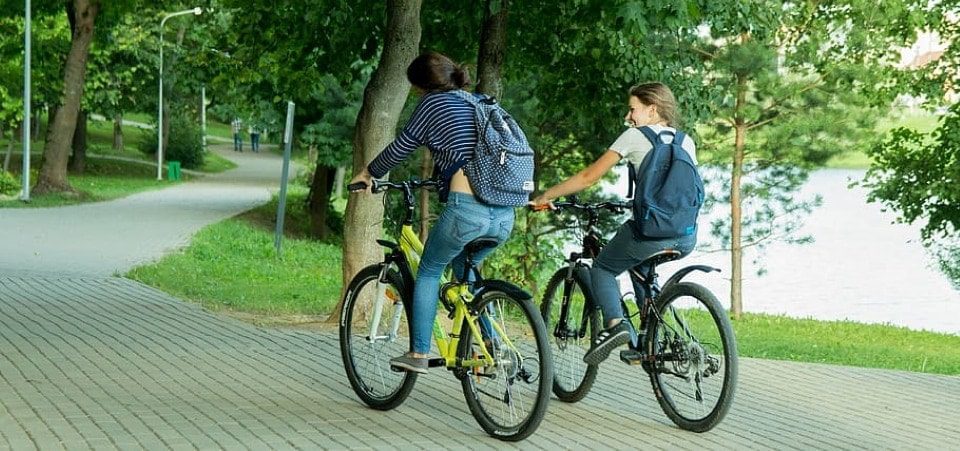 Specialization
As you start to buy higher-priced bikes, they start to have a more defined role. You'll find lightweight XC bikes that don't like being raced downhill. You'll find bikepacking specific bikes that will be less maneuverable than an XC bike. Make sure you buy a model that fits how you ride at least 90% of the time. You don't want to buy a downhill bike when you only ride downhill twice a year, as it will be horrible for every other style of riding.
Upkeep
Can you afford to keep buying parts at the same level of spec, or upgrade, as parts wear out? There is no point buying a bike dripping with Shimano XTR if you can only afford Deore parts in the future. Parts such as 11-speed chains will wear out faster than 7-speed chains, so make sure you have money aside for future servicing and repairs.
You may also find that it is not possible to downgrade your bike anyway. You won't be able to go from 11 speed Shimano SLX to 10 speed Deore without changing the majority of your drivetrain and shifters.
Longer travel
As the price increase, you'll find bikes offering more travel. The question is, do you need more travel? If you stay away from the downhill courses, then the chances are that you will be paying for something you don't use. You may actually make riding your bike more difficult.
The longer wheelbase needed for the extra suspension can make your bike harder to turn. A longer wheelbase will require you to ride at faster speeds to be able to get the proper handling effects. If that isn't you, then don't feel you have to buy a longer travel bike.
Future proof
$1500 is a lot of money to spend, and you'll want your investment to last. You'll want to read the spec sheet of your bike to make sure that it comes with thru-axles, a tapered headtube, and press-fit bottom brackets appear to have had their time in the sun, and we're heading back to using threaded bottom brackets. Threaded bottom brackets will save you from getting any little creaks out on the trail. Creaks can ruin a ride, so always try and see if the bike you're thinking about has a threaded bottom bracket.
Pedals
Your brand new $1500 mountain bike won't come with pedals, and if it does, they will be cheap, no-grip, test ride pedals. You'll then want to make sure you have a set of pedals for when your new bike arrives, or you'll be waiting a little longer before your first ride. Don't just use old pedals you have lying around, buying new pedals will make your new mountain bike feel great.
What Can I Expect from a Mountain Bike Costing Around $1500?
On a mountain bike costing around $1500, you can expect a bike that is more than capable of taking on your local trails, and some bigger trails. The bike when it comes out the box will not need upgrades for you to unlock its full potential. You can pull it out and get ready to go and ride the trails.
You should be getting air sprung forks. Cheaper coil sprung forks are harder to set up. You would have to take them apart and fit new springs to adjust them to your weight, and these springs might not even exist for cheaper forks. Coil sprung forks will be something you want to avoid if you're buying a full suspension bike as it will be hard to dial in with your rear shock.
Air sprung forks can easily be tuned to your riding style with a shock pump. Don't try and use your handy track pump or you risk damaging your fork, or rear shock. A good shock pump will cost you around $30. It can help you make a cheap fork ride as well as an expensive fork, and it'll help you set up your expensive fork so that it works correctly. You also don't want to take the settings your friend uses. There are many good setup guides on YouTube. Follow them, and your mountain bike will feel great.
You should also be looking at mid-range Shimano groupsets. Ideally, the bike should come with Deore or SLX. If the mountain bike comes with SRAM, we would be looking at an NX level of groupset. These groupsets are a great point for balancing the meeting between price and quality.
These groupsets will bring you some high-end features. One of the main reasons for buying mid-range parts is that they may not be fancy, but you can be sure they will work out on the trail.
You may also now start to find fewer gears than you expect. Mountain bikes are now starting to run a single front chainring, rather than 2 or 3 as they have done in the past. The reason for this is to save on drive train wear, and it makes picking a gear to ride in a lot easier. You might even save a little bit of weight when you go 1x as well.
All of the mountain bikes at around $1500 should have hydraulic disc brakes. No mountain bike at this price point should be without hydraulic disc brakes. If the mountain bike you're looking at doesn't have them, move on.
Should You be Setting a Budget of $2000 or More to Spend on a Mountain Bike Instead?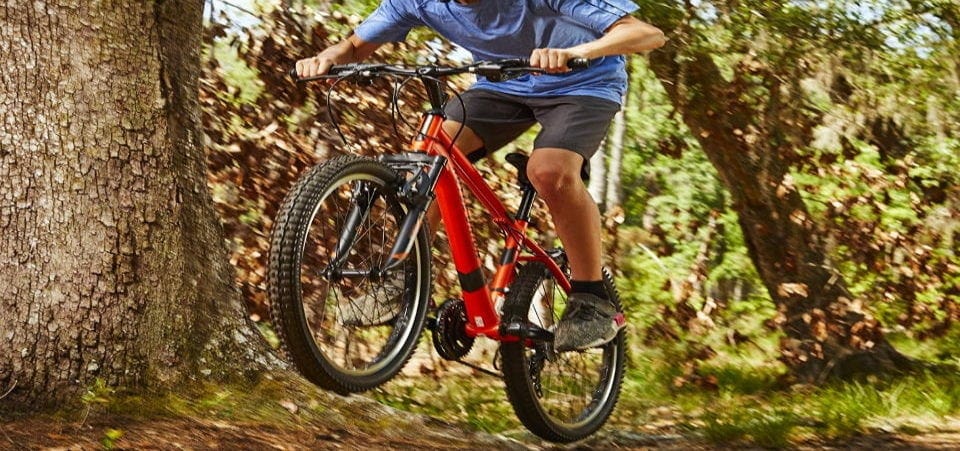 If you can easily budget for $2000, then you should give that some thought. You'll find that the usual rules of bike buying will apply. As you go up in price, you can expect a lighter bike, a better groupset, and higher quality parts. That doesn't mean that you should spend $2000.
If you spend $1500, you can be sure of getting a great bike. All bikes around the $1500 price point will be good bikes. Your biggest problem might be buying a mountain bike that doesn't suit the way you ride, this is not a fault on the part of the mountain bike but a fault on the part of the person who bought the bike.
There are a few differences you'll find between the mountain bikes under $1500 and the mountain bikes under $2000. If you want a full-suspension bike, you'll find that you start to get suspension systems that are a little easier to dial in. You'll also find that they tend to become a little lighter.
The next thing you'll notice, and this is the same for hardtails, is that you'll find more choice in groupsets and you'll find higher-end groupsets. You'll no longer find Shimano Alivio. You'll be looking at Shimano SLX or SRAM GX and above. You'll definitely only start to see 1x bikes with multiple front chainrings being an exception rather than a rule.
On the bikes costing around $1500, some will have a dropper post and some won't. At around the $2000 mark, the majority of mountain bikes will come with dropper posts. A dropper post is a style of seat post that descends at the flick of a switch, making downhill riding easier and safer. When you flip the switch back, the seat will return to your preferred riding height.