Are you looking to do some off-road exploring on two wheels? One of the best things about mountain biking is that you can find a reliable model at a low price – if you are willing to do some homework.
Even in the low-price categories, there are many different options, and it can be overwhelming sifting through them. This article is an excellent place to start, as it looks at the best mountain bikes under $400 in 2021. We will also go into buying considerations to ensure that you find the best bike for your needs.
Short on Time? See our Top Rated Products From 3 Categories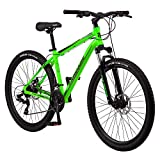 8-21 Speeds
27.5-Inch Wheels
Multiple Colors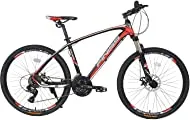 A 6061 heat-treated aluminum frame
80 mm travel suspension fork
Front and rear derailleurs

21-speed Shimano rear derailleur
Alloy wheels with a quick-release front
Element suspension fork
The Best Mountain Bikes Under $400
1. Mongoose Impasse Dual-Suspension Mountain Bike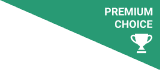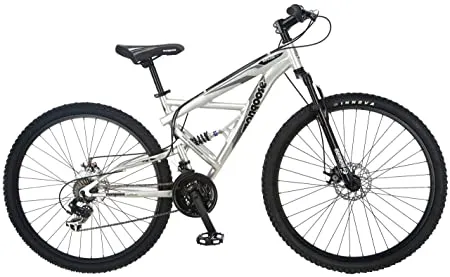 Key Features:
21-speed Shimano rear derailleur
Alloy wheels with a quick-release front
Element suspension fork ensures a smooth ride
Key Specifications:
Dimensions: Wheel Size: 29 Inch, Frame Size: 18 Inches
Weight: 44 lbs
Available Color: Silver/Charcoal
The Mongoose Impasse Dual-Suspension Mountain Bike offers a wide range of high-value features. This bicycle has an aluminum suspension frame that strengthens the entire structure, but that also reduces its weight significantly. Because of its unique design, the framework also does a decent job of absorbing shocks and vibrations.
Another high-end feature of the Impasse is its dual suspension, which other models in this price category don't have. The suspension enhances the controllability of the bike and alleviates fatigue-related issues. As a result, this is an ideal option for longer rides.
The Impasse is a 21-speed bicycle, which is suitable for entry-level riders. Gear components include Shimano rear derailleurs and SRAM twist shifters, which allow for precise gear shifts.
Designed for rugged terrains, the Impasse features 29-inch wheels with tires that are 2.1″ thick. The wheelset features alloy rims. Other components include a Suntour crank, alloy pedals, and an oversized threadless headset that makes quick replacements and adjustments possible.
2. Merax Finiss Mountain Bike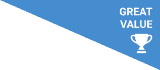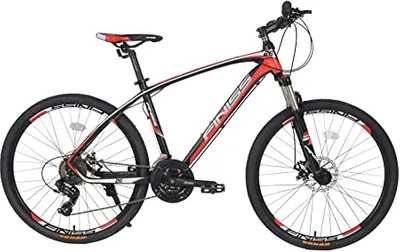 Key Features:
A 6061 heat-treated aluminum frame
80 mm travel suspension fork
Shimano RD-TZ50 front and rear derailleurs
Key Specifications:
Dimensions: Wheel Size: 26 Inch, Frame Size: 17 Inches
Weight: 32 lbs
Available Color: Black/Red
The Merax Finiss Mountain Bike with Suspension Fork has all the features you need for cross-country biking, including high-performance wheels, reliable brakes, and professional suspension. This model features an 80mm travel front suspension fork that absorbs the vibrations of rugged terrains. The Merax also has a dual mechanical braking system for reliable braking in the rain and on surfaces covered with mud and snow.
Other popular components include Shimano 21-speed derailleurs. The wide gear range makes it easier to conquer steep inclines while maintaining a consistent pace. The Shimano EF51 shifter allows for seamless and quiet gear changes.
This model has a heat-treated aluminum frame and double-wall rims. As a result, it has a lightweight to accommodate high speeds. The aluminum components are also highly durable and enhance the rigidity of the bike.
The seat adjustability of the Merax makes it suitable for riders as tall as 6'2". At this price, this bike offers real value for money, and it is ideal for almost any off-road setting.
3. Mongoose Switchback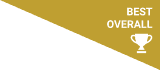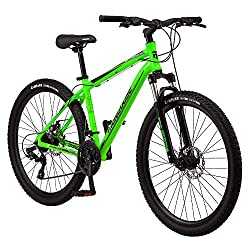 Key Features:
8-21 Speeds
27.5-Inch Wheels
Multiple Colors
Key Specifications:
Aluminum Frame
Disk Brakes
Front and rear disc brakes deliver crisp
The Mongoose Switchback Adult Mountain bike is a great choice if you like to ride in a variety of weather conditions and terrains. It comes with all-terrain knobby tires with 27.5-inch rims, so you won't need to replace those tires anytime in the near future. This is a bonus, because often when you're buying the more inexpensive mountain bikes, the tires are the first things that need to be swapped out.
With a 21-speed shifting system, this bike works great for uphill climbs, downhill climbs, and acceleration. It also comes with dual disc brakes, so you'll have powerful control when it comes to quick stops.
One thing that stands out about this bike is its versatility. The manufacturers claim it can be used in the mountains, flat plains, throughout the city, on the beach, and even in the snow. No matter what time of year it is, you'll be able to hop on and get wherever it is you need/want to go.
4. Sirdar S-900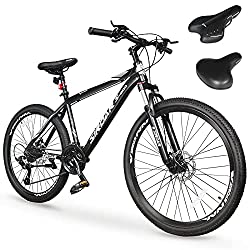 Key Features:
27.5 Inch Mountain Bike
Aluminum Alloy
High Carbon Steel
Key Specifications:
Full Suspension Disc Brake
Excellent Shock Absorber
95% Assembled
The Sirdar S-900 mountain bike is made with over 50% alloy. Because of this, the manufacturers were able to make the bike 10lbs. lighter than its earlier model counterpart. The wheels, hubs, crank, and handlebars are all alloy. It also has an alloy seat post (with quick release), alloy crank arms, and a chrome-plated crank. That makes this bike great for long trips and storage.
This bike is equipped with front and rear suspension shocks, with a front Jak Super brake disc braking system. It has 21 speeds, so it's good for a multitude of terrains. It also has a Shimano Tourney TX rear gear changing derailleur and dnp front derailleur – this makes the shifting process a lot smoother and easier (a bonus for newbies).
The frame is also made of steel, which gives it strength on the trails. If you were new to mountain biking, this might be a good choice. It also works for both men and women.
5. Mongoose Switchback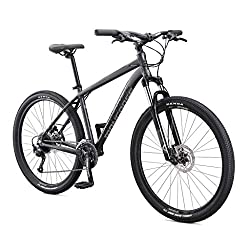 Key Features:
8-21 Speeds
27.5 inch wheels
Multiple Colors
Key Specifications:
Tectonic T1 aluminum frame for lightweight durability
27.5″ tires provides stable and smooth ride
Internal cable routing allows for neat, clean lines while providing added protection
The Mongoose Switchback Mountain Bike is larger than average with its 29-inch wheels and 20.5-inch frame. The larger dimensions allow for added off-roading capabilities and comfort to taller cyclists.
This bike has an aluminum frame and aluminum suspension fork to keep the cyclist comfortable when riding over rugged terrains. Other aluminum components include the seat post, stem, and handlebar. The Innova 29×2.125 tires are wide enough to handle off-roading and provide ample grip on slippery surfaces.
The drivetrain consists of Shimano components, including 24-speed SL-310 shifters, an RD-310 Altus rear derailleur, cassette, front derailleur, and KMCZ72 chain. The gear range provides sufficient power for inclines and allows you to maintain a comfortable and consistent pace on flat terrain. At the front is a Zoom DB-280 brake, and at the rear is a Promax aluminum rear V-brake.
6. Vilano Blackjack 3.0 29er Mountain Bike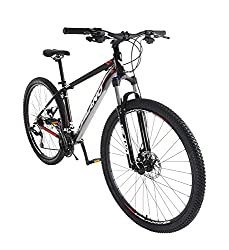 Key Features:
Electric Sport Hybrid Road Bike
55cm/Medium Frame
Matte Black/Copper
Key Specifications:
Custom formed alloy frame with flared drop bar
Frame – 6061 aluminum
SRAM Apex 11-speed
The Vilano Blackjack 3.0 29er Mountain Bike Hybrid Road Bike is a mountain bike built specifically for men with alloy rims and a front quick-release wheel (ideal for anti-theft). This bike is equipped with front and rear disc brakes, a suspension fork, and 21 speeds. The rear derailleur is Shimano and the twist shifters are SRAM.
This bike is considered best for the trails because of the three-piece crank and alloy rims. The front and rear disc brakes are also ideal for rough terrains and dirty conditions. It's also a great bike for those quick turns and rocky paths – but it isn't ideal for harsh weather conditions. The aluminum and alloy mix in the frame should make for a light weight, but the weight of this bike is actually 52 lbs. That being said, Mongoose is one of the country's most recognized and trusted brands when it comes to mountain bikes. It's most likely sturdy and will last a while.
7. Mountain Bike X1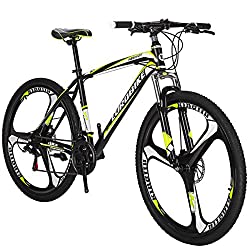 Key Features:
27.5 Inches Wheels
Dual Suspension Bicycle
Disc Brake System
Key Specifications:
Provides long lasting and stronger fasting stopping power
Multiple Choices of colors
Maximum load capacity up to 300 pounds
The Mountain Bike X1 is an attractive hardtail mountain bike. It has a variety of components that will keep you riding for quite a few years. The fact that many of the parts are easy to replace is also a bonus: that way if you'd like to upgrade, it would be an easy thing to do.
This Navi comes with a 6061 aluminum alloy frame, a front SR Suntour XCT suspension fork with a manual lockout, and an aluminum alloy handlebar, stem, seat post, and pedals. This makes for a slightly lighter, more versatile bike.
This model comes with Kenda 27.5" x 1.95" tires and aluminum alloy double wall rims with stainless steel spokes. It's a nice model to start out with because of the sealed bottom bracket, the Acera derailleurs, and the Shimano Freewheel. Just keep in mind that the weight limit of this bike is 200 lbs., so if you're heavier than that, you'll need to go with a thicker bike frame.
3 Things to Consider When Buying a Mountain Bike Under $400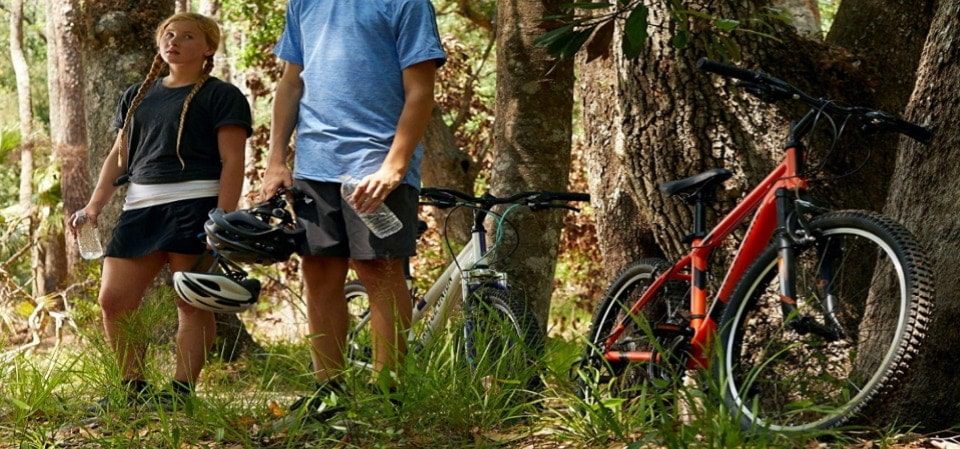 There are excellent mountain bikes under $400, but finding one is not an easy task. If you take the first bike that fits your budget, it may not perform adequately. Or, after you buy it, you may find it's not suitable for your needs.
To ensure that you find the right bike for your needs, you have to gain an understanding of your needs and how mountain bike features can meet them. There are also crucial considerations that you should keep in mind. If a bicycle doesn't meet minimal requirements, it is not the right model for you.
Below, we look at three things you should consider when shopping for a budget model.
Quality and Durability
An off-road bike has to be durable with high-quality components to withstand the abrasions of rugged terrains. A top mountain bike under $400 can outperform one that costs more than $500 if it has decent quality and durable construction.
If you look at models between $800 and $1000, chances are most bikes will have decent quality and sturdy builds. When you go below $400, however, you have to start sifting as there are many sub-par products in this price bracket.
Fortunately, there are many high-quality models under $400, and you don't have to compromise on quality and durability because you have a limited budget.
Size
When you climb on the nearest bike and take it for a quick spin, chances are you will not experience any discomfort or pain. You may even think that the frame is the correct size for you because you can reach the handlebar, pedals, and ground.
If you are riding for hours on end, however, you need a bike that is the correct size to prevent strain on your back and neck muscles. If you don't go to the effort of finding the right size bike, you will reach a point where you will not want to ride anymore.
How do you find the correct size? The most effective way is to take your measurements and use a bike size chart. You can also visit a cycling shop and ask them if they offer a fitting service.
Frame and Wheel Construction
Your mountain bike needs a durable wheel and frame construction to perform optimally on the trail. The most common materials for frames are carbon steel and aluminum.
With this type of bicycle, lightweight is not as critical as it is with road models. Off-road wheels are not as aerodynamic as the thinner road wheels. However, you don't want an unnecessarily heavy bike. As a rule, try not to go over 60 lbs, especially if you have a lighter bodyweight yourself.
The frame and wheelset also determine the bike's ability to take on different surfaces. Fatter wheels are generally more suited to rugged terrains. If you typically ride in wet conditions, consider anti-skid tires.
What is the Difference in Quality Between a $300 and $400 Mountain Bike?
Mountain bikes improve every year, and manufacturers are continually finding new ways to enhance the quality without increasing their input cost per unit. As a result, you can find high-quality models for next to nothing. To see what we mean, take a look at our article on cheap mountain bikes under $200.
There is no definitive quality-related difference between $300 budget mountain bikes and $400 models. Several factors determine the price of a bicycle, including the brand, application range, and materials.
However, a $400 model may feature higher-quality drivetrain components or additional features like padded seating.
Are Bikes in This Price Range Suitable for Using in Dirt Trails?
Whether a bike is suitable for use on dirt trails or not doesn't depend on its price, but rather its components like the frame, fork, gear range, and wheels. Price is a secondary indication of a model's capabilities.
Budget models can be suitable for riding on off-road trails. If you are shopping in this price range, pay attention to the construction of the bike and the quality of its components. You should also read reviews of people who used the bikes to find out how they perform.
Lower-priced bicycles from established mountain bike manufacturers should also be suitable for dirt trails. These companies use the latest technology and simplistic designs to keep production costs low without reducing the bike's performance.
How Long Will a Mountain Bike Under $400 Last For?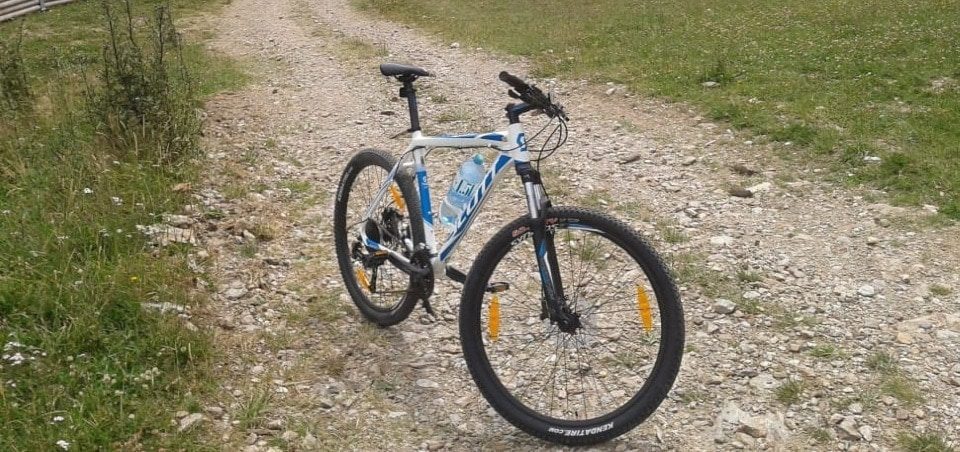 A mountain bike under $400 can last a lifetime, provided that you selected a high-quality bike and that you stored and maintained it properly. Cyclists who go out every day will inevitably have to deal with the effects of depreciation. If you replace components like brake pads, tires, and chains when they are depleted, there is no reason why you can't drive your bike for years to come.
The parts that should last for a few years include the frame and fork. In most cases, however, cyclist tends to buy new bikes to benefit from the latest technology and not because their old bikes are too deteriorated.
Is it Worth Increasing My Budget up to $500 Instead?
The differences between $400 and $500 models are not as significant as the differences between $400 and $2,000 bikes. For example, a $500 bike may feature a better groupset than a $400 one, or it may have a slightly lighter weight.
Doing proper research will help you determine the difference between the two models you like. Remember to read product reviews to see what actual users think about a bike model. In most cases, however, the advantage is not worth the added $100. You can compare the different features by looking at our article on mountain bikes under $500.