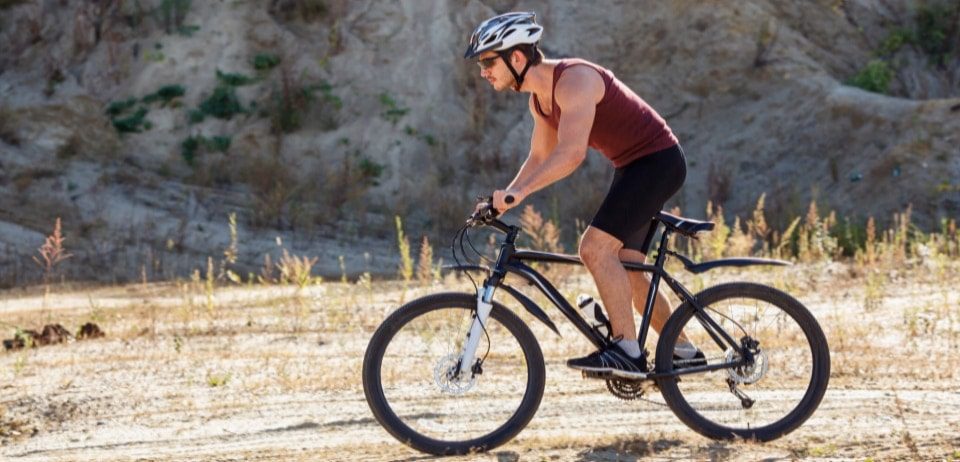 10 Best Mountain Bikes Under $500 in 2021 (Review)
We all have budgets that we have to adhere to, and it would be great to spend a lot of money on a new mountain bike. For many of us though, spending thousands of dollars on a new hobby that we might not like is not a great idea. That is why we've created a bike review of the 10 best mountain bikes under $500 in 2021.
You don't have to spend a lot to ride away on a quality bike, and our guide will maximize your budget. If once you've looked through the bikes you still need some advice, we've included some great tips on how to buy a great bike.
Short on Time? See our Top Rated Products From 3 Categories
The Best Full Suspension Mountain Bikes Under $500
1. Eurobike S7 Full Suspension Mountain Bike
The EUROBIKE S7 is a dual suspension 27.5" wheeled mountain bike. Similar to EURX9 it is only available in 1 size. The S7 will suit smaller people, due to the wheel size. Eurobike does claim it can fit 5' 4" to 6', that is a large range, and you'd be best served only looking at the S7 if you fit in the middle of that range.
Above we mentioned the mag-style wheels on the EURX9, and the good news is the S7 doesn't come with them. You get a set of 27.5" spoked wheels. You'll then be able to service and true your wheels when they get knocks when riding offroad.
You also get the same 21 speed Shimano Tourney groupset to bring you a great spread of gears to cover from fast downhill to slow crawls uphill. You only get a front mechanical disc brake paired to a rear V-brake. These brakes will work well but lack the bite of front and rear disc brakes.
The S7 could make a great first mountain bike for a teenager, as its looks are more likely to suit them.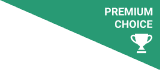 2. Mongoose Dolomite Mountain Bike
The Mongoose Dolomite is an aluminum framed full suspension mountain bike. It is also one of the few budget mountain bikes to feature SRAM gearing. The Mongoose comes equipped with an SRAM X4 groupset. Given that some people prefer to use SRAM over Shimano, it is great to see some bikes offer SRAM at this price point.
The XR-PRO uses an SR Suntour suspension fork, with 80mm of travel. The 80mm of travel complements the 29" wheels that come on the XR-PRO. With the low travel and the 29" wheels, the XR-PRO will be a full suspension bike that can climb as well as be fun on the downhill sections on the trail.
On the downhill sections, you'll again be happy, as the XR-PRO comes with mechanical disc brakes. They are fitted to the front and back of the bike. Given that there is a brand name suspension fork, an SRAM X4 groupset, and front and rear discs, you might be wondering how Mongoose have managed to bring the XR-PRO in under $500.
3. Gravity FSX 1.0 Full Suspension Mountain Bike
The Gravity FSX 1.0 comes in a variety of colors, you should be able to find one that suits you.  The FSX 1.0 is a coil shock based dual suspension mountain bike. As well as the rear shock, you also get an SR Suntour front suspension fork to keep your wheels in contact with the ground.
You'll find a 24 speed Shimano gear set, that is shifted again by their EZ-Fire system. Many of our affordable bikes are using EZ-Fire over twist shift systems that used to be prevalent in the budget end of the mountain bike market. The reason is the EZ-Fire systems work better, you can shift them much more easily, and as time has gone on, so the cost of making them has come down.
The Gravity FSX 1.0 might have a set of newer shifters, but it still comes with 26" wheels. 26" wheels make a bike great fun to play around, but the bike industry is slowly trying to make them obsolete, and that may be a consideration if you're planning on having the bike for a while.
4. Qazqa 26 Inch Road Bike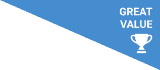 The Qazqa is an aluminum-framed dual suspension mountain bike. Like all mountain bikes in its price range, the shock and suspension fork are both coil sprung rather than air sprung. The coils do add a small weight penalty, and the suspension will not be as active as an air sprung bike.
That is nothing to be alarmed about though, as you'll be looking at more than tripling the price of the bike to get air sprung parts. What you do get is a wide range of gears to help you ride over a variety of terrain. Shimano provides the gearing on the Schwinn Protocol 1.0, and you get EZ-Fire shifters and an Altus rear derailleur.
The Schwinn S29 is Schwinn's second full suspension entry in our review of affordable mountain bikes. The S29 is an aluminum framed 29er bike. The 29er wheels will help add to the ability of the SR Suntour fork on the front to help comfort you when riding offroad.
As well as the SR Suntour fork, SR Suntour has also supplied the bikes chainset, including triple rings at the front. With 3 chainrings out front and with a 7-speed freewheel, the S29 has a choice of 21 gears for you. For the first time in our review, gear shifting is not handled by Shimano but by their rival SRAM. The S29 features an SRAM 3.0 rear derailleur and shifters to bring you crisp and fast gear changes.
To keep you safe on tricky and technical downhill sections, the Schwinn S29 uses mechanical disc brakes. These brakes will help slow you down, and with then being attached to double walled and the bike will take a few good hits because the brakes are attached to double-walled wheel rims.
The Best Hardtail Mountain Bikes Under $500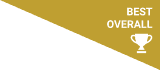 The DD-upstep Road Bike Aluminum Full Suspension hardtail mountain bike is unique because of ability to roll over anything in its path. With the width of its wheels and the strength of its alloy frame, this bike is built for adventures in rough terrain.
The XR Suntour XCT 4-inch fork allows for 80mm suspension travel, so the risk of falls or fumbles is greatly reduced. Combined, it has 24 speeds to choose from. 3 of the years are for the front, and 8 are for the back.
This model is good for cyclists who are advanced when it comes to mountain biking, but it's also good for beginners. Its size and frame make it easy to hop on and off, and the disk brakes are predictable due to their strength. This is also considered a cross-country mountain bike because of its reputation for longevity.
This Diamondback also has a full-suspension design, Shimano derailleurs, and Shimano 3×8 speed drivetrain with Suntour XCT cranks.
7. Marlin 4 Hardtail Mountain Bike
The Marlin 4 is perfect for those who are looking for a riding introduction. It is a commuter bike that is capable of hopping through any kind of rugged terrain. Marlin 4's greatest gift has to be its versatility. It is ideal for anyone looking to get to class or work. It comes with a stylish fender that makes it easy for you to run a quick errand. With a combination of mechanical disc brakes, sturdy wheels and 21 speeds, this bike has the rest beat by far.
The Marlin 4 boasts a lightweight and durable alloy frame. It also has a 42mm fork and Bontrager parts that give you ultimate stopping power no matter how fast you are riding. Its high-end parts give you the confidence to know that you are riding a stellar two-wheeler.
If you are embarking on a long-distance ride, the rubber grips and the narrow, edgy, and smooth saddle will offer you comfortable support. Additionally, the bike has Bontrager 29" tires that offer a good grip on any terrain you take.
8. Mongoose 27.5" R4054WMC Ledge 2.1
Mongoose is a legendary bike company, and for many us, a Mongoose will have been our first ever bike. The Mongoose 27.5 R4054WMC carries on this legacy as a great first bike; if you want to try mountain biking.
The TYAX features a lightweight aluminum frame and attached to this frame you'll find an SR Suntour XCT V3 HLO suspension fork. The fork will bring you 100mm of travel and help you to keep your front wheel rolling smoothly across uneven terrain. Being an HLO fork, you get a lock out feature with this fork. Locking out your fork helps with climbing and if you have to ride on the road.
To help you speed up, you'll find a 27 speed Shimano Acera groupset. The Acera trigger shifters will bring you a sharp and crisp feeling when you want to change gear. The Acera rear derailleur will move efficiently and quickly and allow your gear changes to be made with precision.
Slowing you down is a set of Tektro Novela mechanical disc brakes. Once set up these brakes with their 160mm rotors will bring you a lot of stopping power. These brakes are helped to bring you to a stop with a set of Kenda Small Block 8 tires. These tires will deal with the majority of trail conditions you'll come across.
The Schwinn Bonafide looks like a much more expensive mountain bike than it is. The lightweight aluminum frame design works well with the large 29" wheels. Schwinn has designed the Bonafide to be a budget-friendly trail bike. With a low standover, thanks to the sloping top tube, the Bonafide will be a good bike to throw around.
The bike comes with a geometry that makes it fun to ride on trails. It is designed to be a good first step into mountain biking and will breed confidence in even the timid of first-timers. Before you know it, you'll be using those 29" wheels to their full advantage as you ride down the steep stuff.
As you build up speed, Schwinn has opted for mechanical disc brakes for the Bonafide. The extra stopping power will let you see just how fast you want to go and keep you safe at the same time. You'll find 24 gears to help you find the speed you need, and you'll be able to select those gears using Shimano's excellent EZ-Fire shifters.
10. Royce Union Performance
The Royce Union Performance mountain bike comes with 27.5" wheels. These wheels sit exactly halfway between 29" inch wheels and the old standard of 26" wheels. Companies have gone to this standard as it brings you bikes that are just as much fun to ride as bikes with 26" wheels, but with a similar ability to roll over more obstacles like 29" wheels.
27.5" wheels, sometimes referred to as 650b wheels, are becoming the number 1 choice for the majority of mountain bike manufacturers. The Royce Union Performance mountain bike does also come with a Zoom suspension fork. Zoom is a brand that specializes in the budget end of suspension forks. They are not quite as good as SR Suntour forks, but they are better than many unbranded forks.
Royce Union has specified the bike with a 21 speed Shimano Tourney groupset. Unlike the other bikes, so far featured, the Royce Union comes with Shimano Revoshift, a style of twist shifter, a step below the EZ-Fire shifters we've already seen.
The next step down is that the Royce Union comes with V-brakes. With other bikes still having at least one mechanical disc brake, as well as a full suspension frame at a similar price, this may be a step down you don't want to take.
3 Things to Look for When Buying a Mountain Bike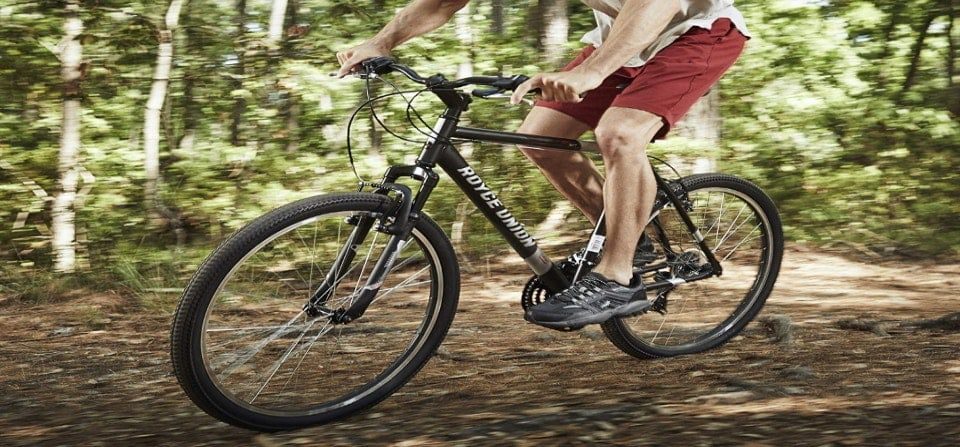 Fit
Fit is the most important aspect of any bike. You can change or sort any other issue, but if a bike doesn't fit you correctly, you'll not have a fun bike to ride. When in doubt go smaller, as you can make a bike slightly larger, but you can't make a bike smaller.
Buy a hardtail
If you're on a tight budget, buying a hardtail will bring you a lighter and better-equipped bike than a full suspension bike. It'll also save you money on upkeep, and it is worth remembering you'll need to service your bike in the future.
Get good disc brakes
Having brakes that work well can be the difference between a fall or staying upright. To make sure your disc brakes work properly, follow the manufacturer's advice and bed them in properly. The bedding in process will mean you have the best braking performance your brakes can bring.
Should I Be Budgeting to Spend up to $1000 Instead?
When you're out riding and having the time of your life, fun doesn't care if you're riding mountain bikes under $1000 or bikes over $5000. The most important part of cycling is riding, not the amount of money you've invested in a bike. If you do have $1000 to spend on a bike and are sure you want to stick with cycling, it might be cheaper in the long run to spend more.
By doubling your budget, you can expect a much lighter bike, better groupset parts, and you should start to find air sprung suspension forks and hydraulic brakes. They might not be needed for mountain biking, but they will make riding offroad a little bit more fun.