We all have budgets that we have to adhere to, and it would be great to spend a lot of money on a new mountain bike. For many of us, though, spending thousands of dollars on a new hobby that we might not like is not a great idea. But contrary to popular belief, you don't have to spend a fortune to ride away on a quality bike.
To prove this, we've created a bike review of the 10 best mountain bikes under $500 in 2021 to help maximize your budget. And if once you've looked through the bikes, you still need some advice, we've included some great tips on how to buy the best budget mountain bike that will suit you perfectly.
Short on Time? See our Top Rated Products From 3 Categories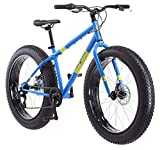 26 in wheels
4 inch wide knobby tires
7-speed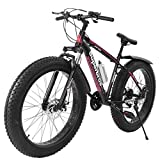 21 Speed Gears
Lightweight Steel Aluminum Frame
MTB bikes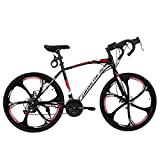 700C Wheels 21 speed
Dual Disc Brakes
26 inch road bicycles
The Best Full Suspension Mountain Bikes Under $500
1. Eurobike S7 Full Suspension Mountain Bike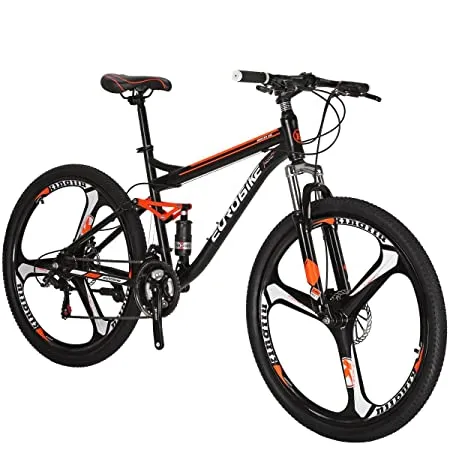 Key Features:
Aluminum Frame
Full suspension design
Shimano Tourney groupset
Key Specifications:
Dimensions: Wheel Size: 27.5 Inch, Frame Size: 18 inch
Weight: 40 lbs
Available Color: Black/Red
The EUROBIKE S7 is a dual-suspension 27.5" wheeled mountain bike perfect for any beginning biker. Similar to EURX9, it is only available in 1 size. The S7 will suit smaller people due to the wheel size. On the other hand, a taller person might find it quite uncomfortable to ride on. Eurobike does claim it can fit 5' 4" to 6', which is a large range, and you'd be best served only looking at the S7 if you fit in the middle of that range.
The good news is the S7 doesn't come with mag-style wheels like EURX9. You get a set of 27.5" spoked wheels. You'll then be able to service and true your wheels when they get knocks when riding offroad.
Eurobike S7 also comes with the same 21 speed Shimano Tourney groupset to bring you a great spread of gears to cover from fast downhill to slow crawls uphill. You only get a front mechanical disc brake paired to a rear V-brake. These brakes will work well but lack the bite of front and rear disc brakes.
Because of its smaller size, Eurobike S7 could make a great entry-level mountain bike for a teenager. However, if you are a more advanced biker, we'd recommend going for a slightly bigger mountain bike. Nevertheless, considering its price and specifications, the S7 is a great choice.
2. Mongoose Dolomite Mountain Bike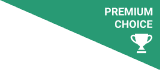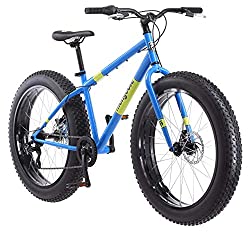 Key Features:
26-Inch Wheels
4-inch
7-speed
Key Specifications:
17 inch/Medium
Steel Frame Material
Disc Brake Style
The Mongoose Dolomite is an aluminum-framed full-suspension fat tire mountain bike. It is also one of the few budget mountain bikes to feature SRAM gearing instead of Shimano drivetrain. The Mongoose comes equipped with an SRAM X4 groupset. And given that some people prefer to use SRAM over Shimano, it is great to see some bikes offer SRAM at this price point.
The XR-PRO uses an SR Suntour suspension fork with 80mm of travel. The 80mm of travel complements the 29" wheels that come on the XR-PRO. With the low travel and the 29" wheels, the XR-PRO is a full suspension bike that can make any climb faster and more convenient.
It can also be fun on the downhill sections on the trail, as the XR-PRO comes with mechanical disc brakes. They are fitted to the front and back of the bike, providing fantastic support when going downhill.
Given that there is a brand name suspension fork, an SRAM X4 groupset, and front and rear discs, you might be wondering how Mongoose has managed to bring the XR-PRO in under $500. They have, though, and the Dolomite is definitely one of the best mountain bikes you can get for such a price. However, considering the brand's reputation, this shouldn't come as a massive surprise.
3. Gravity FSX 1.0 Full Suspension Mountain Bike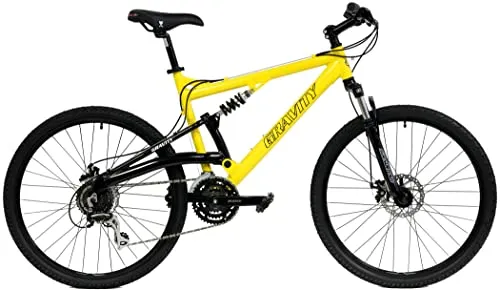 Key Features:
Full-suspension design
Shimano EZ-Fire shifters
Shimano Tourney groupset
Key Specifications:
Dimensions: Wheel Size: 27.5 Inch, Frame Size: 17 Inch
Weight: 35 lbs
Available Color: Yellow, Black, White
The Gravity FSX 1.0 is yet another top-quality mountain bike under $500 that is hard to believe comes at this price range. The FSX 1.0 is a coil shock-based dual-suspension mountain bike. As well as the rear shock, you also get an SR Suntour front suspension fork to keep your wheels in contact with the ground. Additionally, the FSX 1.0 comes in a variety of colors, so you should be able to find one that suits you.
The bike utilizes a 24 speed Shimano gear set that is shifted again by their EZ-Fire system. Many of our affordable bikes are using EZ-Fire over twist shift systems that used to be prevalent in the budget end of the mountain bike market. The reason is the EZ-Fire systems work better is that you can shift them much easier, meaning they are more convenient for beginners. Their production costs have also come down, so it's not surprising that bike manufacturers use them in their cheap mountain bikes./p>
The Gravity FSX 1.0 might have a set of newer shifters, but it still comes with 26" wheels. 26" wheels make a bike great fun to play around with, but the bike industry is slowly trying to make them obsolete, and that may be a consideration if you're planning on having the bike for a while. Still, despite this downside, the FSX 1.0 is a great mountain bike that will bring you a lot of joy.
4. Qazqa 26 Inch Road Bike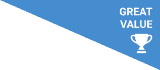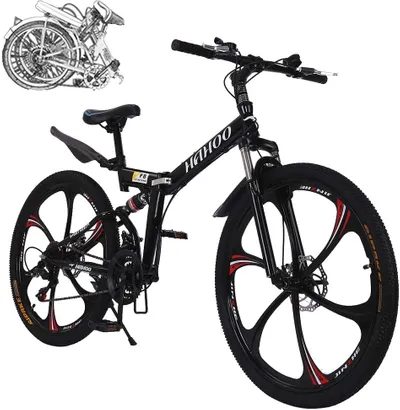 Key Features:
21 speed mechanical disk brake
Aluminum Full Suspension
Steel Frame Racing Cycle
Key Specifications:
High Carbon steel frame material
26 Inches wheel size
Disc brake style
The Qazqa is an aluminum-framed dual-suspension mountain bike. Like the majority of mountain bikes under $500, the shock and suspension fork are both coil-sprung rather than air-sprung. The coils do add a small weight penalty, and the suspension will not be as active as an air-sprung bike.
That is nothing to be alarmed about, though, as you'll be looking at more than tripling the price of the bike to get air-sprung parts. What you do get is a wide range of gears to help you ride over a variety of terrain. Shimano provides the gearing on the Schwinn Protocol 1.0, and you get EZ-Fire shifters and an Altus rear derailleur.
The Qazqa comes with 26-inch wheels, and thanks to its high carbon steel frame, it's both lightweight and durable. Overall, it's a top-quality, affordable mountain bike and certainly one of the best you can get for such a price.
5. Schwinn S29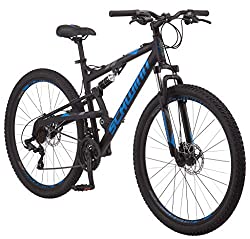 Key Features:
SRAM 3.0 groupset
29" wheels
Full suspension design
Key Specifications:
Dimensions: Wheel Size: 29 Inch, Frame Size: 18 Inch
Weight: 47 lbs
Available Color: Matte Black/Blue
Schwinn is one of the most renowned brands in the mountain bike industry, and the S29 model perfectly shows why. The Schwinn S29 is an aluminum-framed 29er bike that will suit great both beginning and higher-level bikers. The 29er wheels will help add to the ability of the SR Suntour fork on the front to help comfort you when riding offroad.
As well as the fork, SR Suntour has also supplied the bike's chainset, including triple rings at the front. With 3 chainrings out front and with a 7-speed freewheel, the S29 has a choice of 21 gears for you. For the second time in our review, gear shifting is not handled by Shimano but by their rival SRAM. The S29 features an SRAM 3.0 rear derailleur and shifters to bring you crisp and fast gear changes.
To keep you safe on tricky and technical downhill sections, the Schwinn S29 uses mechanical disc brakes. These brakes will help slow you down when riding downhill. They work smoothly, and when taken care of, will serve you for a long time without losing their quality. All in all, the Schwinn S29 is a great mountain bike, especially for entry-level bikers. However, as mentioned, even the more advanced bikers will also find it suitable for them.
The Best Hardtail Mountain Bikes Under $500
6. Huffy Hardtail Mountain Bike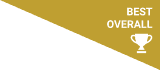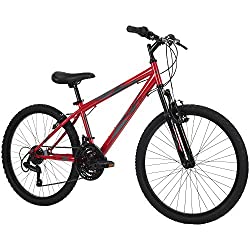 Key Features:
21 Speed Disc Brakes
700C Dual Disk Brake
Fitness Cycling
Key Specifications:
26 inches wheel size
disc brake style
35 pounds item weight
The Huffy Hardtail Mountain Bike hardtail mountain bike is unique because of its ability to roll over anything in its path. With the width of its wheels and the strength of its alloy frame, this bike is built for adventures in rough terrain.
The XR Suntour XCT 4-inch fork allows for 80mm suspension travel, so the risk of falls or fumbles is greatly reduced. Combined, it has 24 speeds to choose from. 3 of the years are for the front, and 8 are for the back.
This model is good for cyclists who are advanced when it comes to mountain biking, but it's also a great choice for beginners. Its size and frame make it easy to hop on and off, and the disk brakes are predictable due to their strength. This is also considered a cross-country mountain bike because of its reputation for longevity.
This Diamondback also has a full-suspension design, Shimano derailleurs, and Shimano 3×8 speed drivetrain with Suntour XCT cranks. All that makes it one of the best mountain bikes you can get. And the fact that it's available at this price makes it even better. One thing for sure, if you're looking for a top-quality mountain bike under $500, this Diamondback should be on the top of your list.
7. Marlin 4 Hardtail Mountain Bike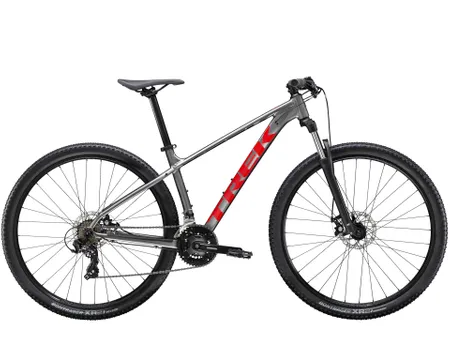 Key Features:
Aluminum Frame
SR Suntour XCE shifters
Mechanical disc brakes
Key Specifications:
Dimensions: Wheel Size: 29 Inch, Frame Size: 17.5 Inch
Weight: 31.97 lbs
Available Color: Matte Anthracite – Magenta
The Marlin 4 is a perfect mountain bike for those who are looking for a riding introduction. It is a commuter bike that is capable of hopping through any kind of rugged terrain, allowing you to have fun wherever you ride. However, Marlin 4's greatest gift has to be its versatility. It is ideal for anyone looking to get to class or work and for an adventurer who loves offroad biking. It comes with a stylish fender that makes it easy for you to run a quick errand. With a combination of mechanical disc brakes, sturdy wheels, and 21 speeds, this bike has some amazing features for the price.
The Marlin 4 boasts a lightweight and durable alloy frame. It also has a 42mm fork and Bontrager parts that give you ultimate stopping power no matter how fast you are riding. Its high-end parts give you the confidence to know that you are riding a stellar two-wheeler.
If you are embarking on a long-distance ride, the rubber grips and the narrow, edgy, and smooth saddle will offer you comfortable support. Additionally, the bike has Bontrager 29" tires that offer a good grip on any terrain you take. With all that in mind, it's no difference that the Marlin 4 is one of the most popular mountain bikes under $500.
8. Mongoose Mountain-Bicycles Impasse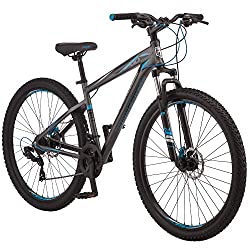 Key Features:
Trail and Mountains
Aluminum Full Suspension Frame
Twist Shifters through 21 speeds
Key Specifications:
Linear Pull Brake style
Dual Suspension
27.5 Inches Wheel Size
Mongoose is a legendary bike company, and for many of us, a Mongoose will have been our first ever bike. The Mongoose Mountain-Bicycles Impasse  carries on this legacy. It is a fantastic first bike for anyone who wants to try mountain biking. It comes with numerous features that make it one of the best mountain bikes available at a lower price range.
The TYAX features a lightweight aluminum frame. Attached to this frame, you'll find an SR Suntour XCT V3 HLO suspension fork. The fork will bring you 100mm of travel and help you to keep your front wheel rolling smoothly across uneven terrain. Being an HLO fork, you get a lock-out feature with it. Locking out your fork helps with climbing and when you have to ride on the road.
To help you speed up, the TYAX utilizes a 27 speed Shimano Acera groupset. The Acera trigger shifters will bring you a sharp and crisp feeling when you want to change gear. The Acera rear derailleur will move efficiently and quickly and allow your gear changes to be made with precision. All this ensures a smooth and comfortable ride on any terrain you can think of.
Slowing you down is a set of Tektro Novela mechanical disc brakes. Once set up, these brakes with their 160mm rotors will bring you a lot of stopping power, which will come in handy when riding downhill. These brakes are helped to bring you to a stop with a set of Kenda Small Block 8 tires. These tires will deal with the majority of trail conditions you'll come across.
9. Schwinn Bonafide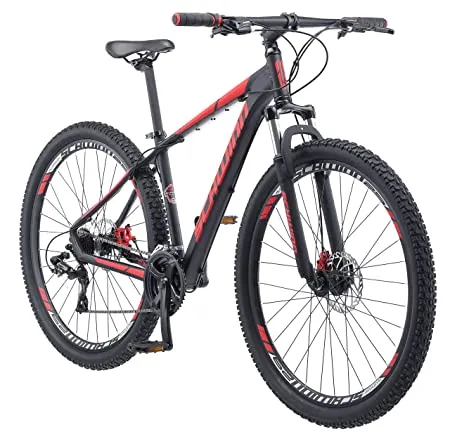 Key Features:
Aluminum Frame
Shimano EZ-Fire shifters
Merchanical disc brakes
Key Specifications:
Dimensions: Wheel size: 29 Inch, Frame size: 17 Inch
Weight: 39 lbs
Available Color: Matte Black/Red
The Schwinn Bonafide looks like a much more expensive mountain bike than it actually is. Yet, it is one of the best mountain bikes under $500. The lightweight aluminum frame design works well with the large 29" wheels. Schwinn has designed the Bonafide to be a budget-friendly trail bike. With a low standover, thanks to the sloping top tube, the Bonafide will be a good bike to throw around.
The bike comes with a geometry that makes it fun to ride on trails. It is designed to be a good first step into mountain biking and will breed confidence in even the timid of first-timers. Not to mention it will make you look like a pro. Before you know it, you'll be using those 29" wheels to their full advantage as you ride down the steep stuff.
As you build up speed, Schwinn has opted for mechanical disc brakes for the Bonafide. The extra stopping power will let you see just how fast you want to go and keep you safe at the same time when riding downhill. You'll find 24 gears to help you find the speed you need, and you'll be able to select those gears using Shimano's excellent EZ-Fire shifters. In other words, you'll find the Bonafide perfect both for downhill and uphill rides. And that's exactly what the best mountain bike should deliver.
10. Royce Union Performance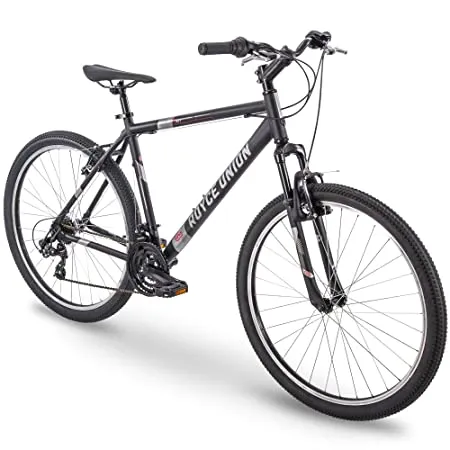 Key Features:
Aluminum Frame
Zoom suspension fork
Shimano Tourney groupset
Key Specifications:
Dimensions: Wheel size: 27.5 Inch, Frame size: 18 Inch
Weight: 42.9 lbs
Available Color: Matte Black, Eggplant Purple
There aren't many better mountain bikes than the Royce Union Performance. It comes with 27.5" wheels, which is a size that will provide any beginner with the best performance. These wheels sit exactly halfway between 29" inch wheels and the old standard of 26" wheels. Companies have gone to this standard as it brings you bikes that are just as much fun to ride as bikes with 26" wheels, but with a similar ability to roll over more obstacles like 29" wheels.
27.5" wheels, sometimes referred to as 650b wheels, are becoming the number 1 choice for the majority of mountain bike manufacturers. The Royce Union Performance mountain bike also comes with a Zoom suspension fork. Zoom is a brand that specializes in the budget end of suspension forks. They are not quite as good as SR Suntour forks, but they are still high-quality and better than many unbranded forks you see in many cheap mountain bikes.
Royce Union has specified the bike with a 21 speed Shimano Tourney groupset. Unlike the other bikes so far featured, the Royce Union comes with Shimano Revoshift, a style of twist shifter, a step below the EZ-Fire shifters we've already seen.
The next step down is that the Royce Union comes with V-brakes. With other bikes still having at least one mechanical disc brake, as well as a full suspension frame at a similar price, this may be a step down you don't want to take. On the other hand, if you're looking for a less demanding mountain biking experience, the Royce Union might be just the right choice considering its low price.
5 Things to Look for When Buying a Mountain Bike
Reading the mountain bikes under $500 reviews is one thing. The other is understanding the differences between them to pick the best bike possible. When it comes to that, there are several things you should keep in mind: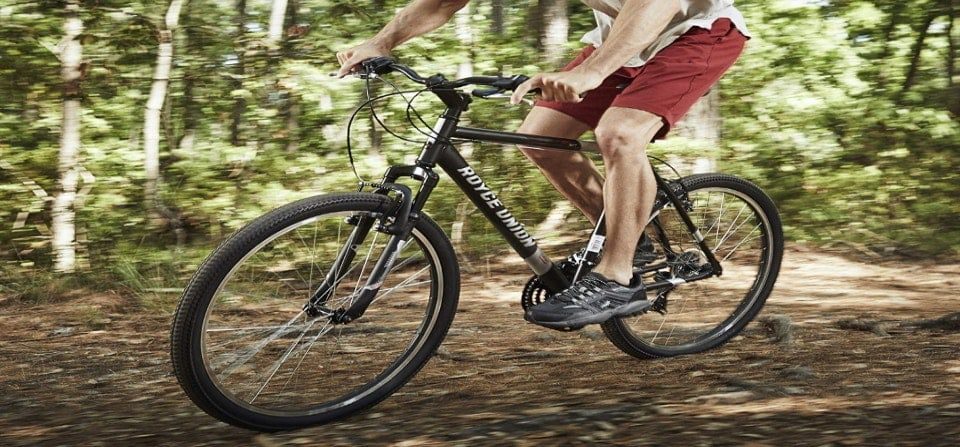 Fit
Fit is the most important aspect of any bike. You can change or sort any other issue, but if a bike doesn't fit you correctly, riding it might soon become a nightmare. When in doubt, go smaller, as you can make a bike slightly larger, but you can't make a bike smaller.
The best idea is to take a bike for a test ride. Unfortunately, it is usually not possible when buying online. Our tip here would be to visit a brick-and-mortar bike store and see whether the bike you want to buy is available there. If yes, measure it and see whether it fits you. It is as simple as that.
Full Suspension vs. Hardtail
As you've read in the guide, there are full suspension and hardtail bikes. Understanding how they differ is a crucial factor that will help you choose the mountain bike that will suit you best. Here's a quick comparison.
Full suspension bikes have forks at the front and shock on the rear. This allows them to cover technical terrain faster and more smoothly. Hardtails, on the other hand, are bikes that have a set of forks and a rigid rear. They are fantastic when it comes to climbing and a perfect choice for cross-country and trail center riding. What is more, they are usually more affordable.
Generally speaking, if you're on a tight budget, buying a hardtail will bring you a lighter and better-equipped bike than a full suspension bike. It'll also save you money on upkeep, and it is worth remembering you'll need to service your bike in the future.
Wheel Size and Tyres
Wheel size plays a huge part when it comes to choosing the appropriate mountain bike. In general, you can choose between 29″, 27.5″, and 26″ wheels:
29-inch: The biggest wheels currently available in mountain bikes. Their size provides them with more momentum, meaning they roll more easily over rough terrain. On the other hand, they are less maneuverable, and they are not suited for smaller riders.
27.5-inch: Popular in most cross country bikes, 27.5″ (or 650b) wheels can roll smoothly through any terrain, but unlike 29er wheels, they are more responsive and agile, meaning they are much better suited for beginners.
26-inch: What used to be the most popular wheel size among mountain bikes, 26-inch wheels have been almost entirely replaced by 27.5″ and 29″ wheels. That is why picking a bike with them might not be the best idea if you want a bike that will serve you for a long time.
Get Good Disc Brakes
Having brakes that work well can be the difference between a fall or staying upright. To make sure your disc brakes work properly, follow the manufacturer's advice and bed them in properly. The bedding in the process will mean you have the best braking performance your brakes can bring. What is more, the right brake system will make all the difference when it comes to safety, especially when going downhill at a higher speed.
Consider the Terrain
It is always a good idea to ask yourself one simple question. Where will I ride my bike? The terrain you are going to ride on should have a massive impact on your final decision. The rougher the terrain, the more advanced and therefore expensive the mountain bike you'll need. Estimate your riding skill, and choose the bike accordingly.
Should I Be Budgeting to Spend up to $1000 Instead?
When you're out riding and having the time of your life, it doesn't matter if you're riding mountain bikes under $1000 or bikes over $5000. The most important part of cycling is riding, not the amount of money you've invested in a bike. If you do have $1000 to spend on a bike and are sure you want to stick with cycling, it might be cheaper in the long run to spend more.
By doubling your budget, you can expect a much lighter bike, better groupset parts, and you should start to find air-sprung suspension forks and hydraulic disc brakes. They might not be needed for mountain biking, but they will make riding offroad a little bit more fun.
However, if you don't know whether mountain biking is something you want to embrace in full, going for a mountain bike under $500 is probably the best idea. Consider your options, look at different bikes, and pick the one that will suit your skills, size, and goal.
Buy your mountain bike today, and start the incredible journey that mountain biking certainly is! And for more information regarding bikes, don't hesitate to contact us. We'll do everything we can to help you.
References
Technique: Perfect Mountain Bike Fit – BikeRadar
Hardtail Versus Full Suspension Bikes – Red Bull