For the last couple of years, e-bikes have proved to be an excellent alternative to cars and regular bikes for city commuters. You get to exercise without much effort and reduce your carbon footprint at the same time.
These days, the electric bike and battery technology have advanced enough to replace standard fat-tire mountain bikes. Of course, it's not perfect yet, but there are a lot of e-bikes in the market designed for off-roading on mountain trails and hills.
Though, it's super important to make the right choice because the outdoors are just as dangerous as they're beautiful. Let's find out which off-road e-bikes are actually worth buying.
Best Off-Road Electric Bikes to Buy in 2022!
1. eAhora ACE 27 Mph Electric Bike – Premium's Choice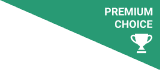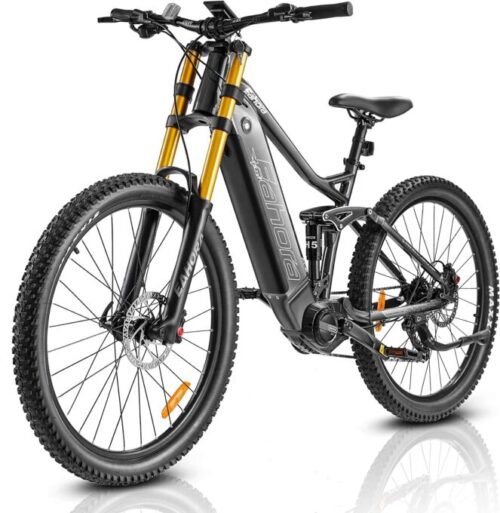 At 500W, eAhora's ACE isn't equipped with the most powerful motor for a mountain bike but has a solid build to back it up. With 27.5-inch tires, dual hydraulic brakes, and a 9-speed gear system by Shimano, ACE is one of the best mountain e-bikes on the market.
The bike has a triple sensor system and pedal assistance to instantly react to your movements. You should be able to squeeze 70-85 miles worth of ride time from its 16Ah battery. 
2. VELOWAVE Electric Bike Adults 750W – Editor's Choice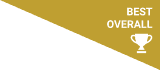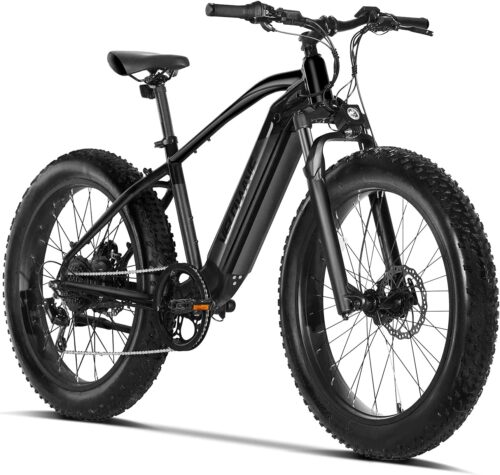 VELOWAVE's 750W ebike variant is the best mountain bike you can buy in 2022 for under $2000. The bike falls under the hybrid category and is suitable for both on-road and off-road adventures.
The bike uses triple mode technology – full-electric, pedal assist, and classic bike – to give you a tailored experience. VELOWAVE's e-bike tops out at 28mph and can go about 25-40 miles on a full battery.
Although, I would've preferred 27″ tires on this thing.
3. Opeak Ebike Foldable Electric Bike – Best in Foldable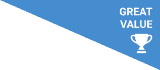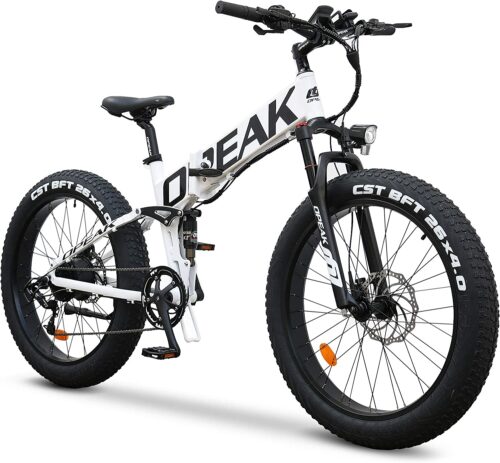 4. Heybike Mars Electric Bike Foldable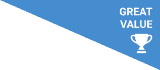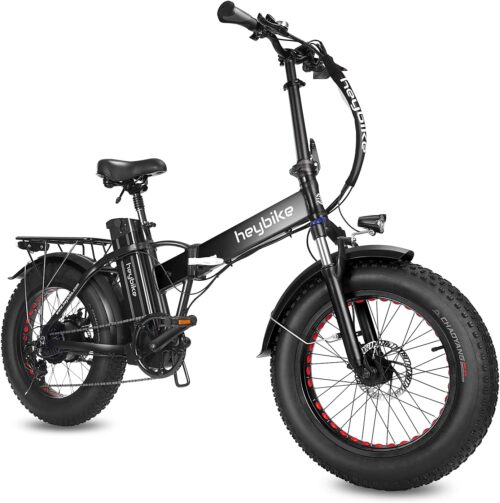 5. ANCHEER Electric Mountain Bike – Cheapest Option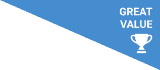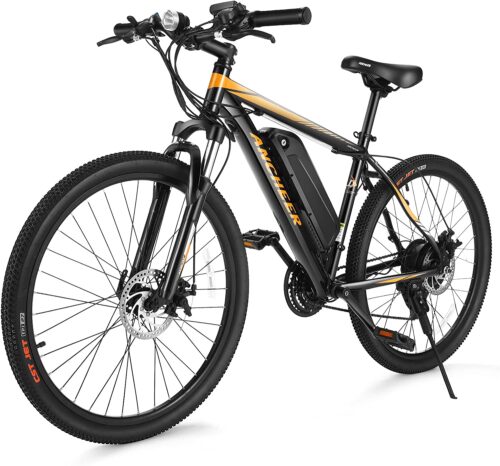 Read More: Beginner's Guide to Best E-Bikes Under $1000 in 2022!
How much does an e-bike cost?
A standard off-road electric bike for mountain trails and hills will cost between $1500 to $5000 in the US. Mountain bikes that cost upwards of $2000 tend to be more reliable and have features such as "pedal assist" to give you a boost during uphills.
How to choose an electric mountain bike in 2022?
I know what you're thinking – now that you have so many options, how to choose the most suitable electric bike for off-roading? Let me help you with that. Choosing an e-bike for the mountains largely depends on 4 factors – bike type, battery composition, motor placement, and safety features.
1. Electric Bike Types
Obviously, not every e-bike is equipped to handle off-road adventures such as mountain trails and hills. There are four basic bike types – road, mountain, fat, and hybrid.
Road Bikes: They're mainly designed for city commutes and unsuitable for off-roading, especially with those narrow tires. Many road bikes don't offer appropriate suspensions either.
Mountain Bikes: As the name suggests, these e-bikes are designed with heavy suspensions and wider tires to accommodate the rocky terrain. You can also find pedal-assist electric motors on high-end mountain e-bikes.
Hybrid Bikes: With all their quirks, mountain bikes are unsuitable for pavement and city roads. That's where hybrid bikes come in. Hybrid bikes are equipped with suspension and can install an electric motor. Their tire sizes are typically between road and mountain bikes, so they're only good for casual bikers.
Fat Bikes: These are a specialized version of mountain bikes with even wider tires and a sturdier build. Fat bikes are made for hardcore off-roading but lack high-power motors, so biking up steep hills isn't their specialty.
2. Battery Composition
Two batteries make ebike cells, Lead-Acid, and Li-Ion.
Lead-Acid batteries are the conventional batteries that predate the Li-Ion composition technology. They're certainly cheaper but not as powerful or long-lasting as their counterparts.
Li-Ion or Lithium-Ion batteries are smaller, lighter, and more long-lasting than lead-acid batteries. They also provide more power as they can efficiently store charge with less leakage. Although, they're a lot more expensive compared to Lead-Acid.
3. Motor Placement
The motor used for assistance in mountain bikes can be placed at any of the three spots – front, rear, and middle.
| | | |
| --- | --- | --- |
| Front | Rear | Middle |
| More stable on rough terrain | Less stable on rough terrain | Most stable on rough terrain; gives most control to the rider |
| Better traction | Less traction than front-mounted | More traction than rear-mounted |
| Comparatively less faster | Faster | Comparatively less fast |
| Ideal for off-roading | – | Ideal for off-roading |
| Comparatively provides less power | Offers most power | Comparatively provides less power |
Front-mounted and middle-mounted motors are considered ideal for mountain trails and rough terrain as they're more stable and balanced compared to rear-mounted motors.
4. Safety Features
You must ensure that all the safety features are upto code for an off-road adventure. Pay special attention to the shockers, suspensions, and, most importantly, the brake system's stopping power.
You gotta be able to slow your speed quickly to prevent any downhill mishaps.
Are mountain e-bikes better than conventional ones?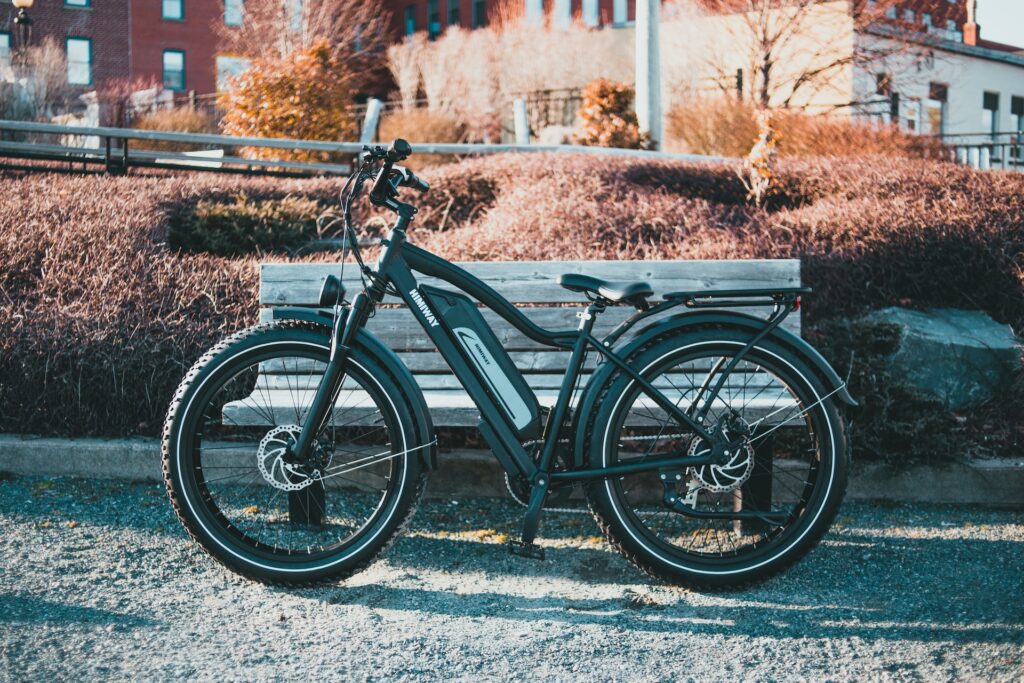 Electric mountain bikes are neither better nor worse than conventional mountain bikes. Both bike types have their advantages and disadvantages against each other, and it's up to the rider to decide which suits them the best.
Let's start with some of the obvious pros. Electric bikes are more convenient, especially for riders with physical limits that discourage them from biking on mountain trails. They're a great way to exercise and enjoy nature sweat-freely.
More importantly, you can ride longer and further thanks to the pedal assistance than you would on a conventional bike. Speaking of electrical assistance, it's beneficial against off-roading obstacles such as uneven terrain and rocks.
To be fair, it's not all roses. There are quite a few cons as well. First, electric mountain bikes are a massive investment.
You'll spend anywhere between $1,000 to $6,000 or upwards of 10K. Then there's the legal issue: certain trails don't allow motor vehicles, and electric bikes are categorized as motorbikes instead of conventional bicycles.
Maintaining an electric bike is also more expensive due to the specialized parts should they ever malfunction. And they're comparatively heavier in case you need to move them around.
Read More: Can you legally ride an electric bike on the street and footpaths?
Do e-bikes damage trails?
Electric bikes damage mountain trails, but the damage is no bigger than that caused by conventional fat-tire mountain bikes. Even walking (hiking) on these trails can cause minimal damage.
In short, it's not a big deal.
Can electric bikes go up steep hills?
Electric bikes designed for mountain biking can technically go up steep hills thanks to fat tires and pedal assistance. However, an e-bike, or any mountain bike for that matter, cannot get you up to the face of a steep cliff without physical effort on your end.
It's a common misconception that e-bikes with pedal assist features can get you on a steep hill. They aren't magical; it's just a bike with a battery. Of course, many expensive bikes offer several levels of pedal assistance. Still, their efficacy depends on how steep the hill is.
Ebikes are certainly great for biking on mountain trails and standard hills, but steep hills are a different story altogether.