Whether you're intrigued by the concept of these strange-looking recumbent road bikes or are wondering which one to buy for yourself, you've come to the right place.
Strictly speaking, upright bikes are nothing new. They've been around for quite some time, but the trend never really caught on until recently. The recumbent road bike may look rather odd to traditional diamond frame bike lovers, but they're unquestionably more comfortable, safer, and statistically faster than their counterparts.
We'll explore the reasons in detail today – along with some of the key factors to keep in mind when choosing a recumbent bike for yourself. And, of course, we'll wrap up with a handpicked list of the best recumbent bicycles to buy in 2021.
Let's first start with a quick introduction to recumbents and why you should consider buying one.
What is a recumbent road bike?
Recumbent road bikes are a modernized version of standard road/mountain bikes where you can sit in a laid-back reclined position instead of a straight-back forward one. The design, despite unusual-looking, is very ergonomic, and it distributes the rider's weight artistically over a wide area instead of resting it on one place and letting gravity hurt your sciatic area.
These bikes give you a choice to keep your legs forward instead of the conventional body-forward seating that puts tremendous pressure on the legs. Your risk of falling forward and hitting your head during an accident is also reduced with recumbent bikes because your body is in a backward position and the center of gravity is relatively close to the ground.
1. How much do recumbent road bikes cost on average?
Recumbent road bikes come in many shapes, sizes, and costs – just like standard diamond-frame road bikes. A regular recumbent bike can cost between $130 and $1000. The mid-range and professional ones are priced between $1000 and $3000, while high-end ones go above $4000-$7000.
2. What makes upright cycling unique?
Remember when I told you the concept isn't as new as you think. Well, the first use of a "recumbent" bike goes as back as 1892! Unfortunately, the people from the 19th century didn't know what real "swag" is.
It took us more than a century to recognize their worth, especially for cycling enthusiasts. Did I just hint that in many cases, they're actually better than traditional diamond-frame bikes? Yes. You should think of recumbent bikes (and even trikes) as someone going back in time and rethinking the meaning of "bike" itself.
Recumbent road bikes aren't a "trend" created by bike companies to boost their sales for some time, they are modern bikes. Recumbent bikes are just as capable, if not better, in everything a diamond frame bike does. You can take them to the office (many people do), to the park and for other regular stuff. Here are some reasons why they're so unique and popular:
Ps…if you think you know all the "unique features," you can skip to #3 – how to choose the right bike.
A. Speed
If you think recumbent bikes are for old people and children, you couldn't be any farther from the truth. Thanks to their unique aerodynamical design, recumbent road bikes are faster than traditional diamond-frame bikes in some situations. In fact, if you're a city biker, they're your fastest cycling options today.
Recumbent bikes are designed to have the riding position closer to the ground since the drivers themselves are in a low, laid-back riding position. This creates less wind resistance than the straight-back rider and allows the bikes to go faster on flat areas and downhills.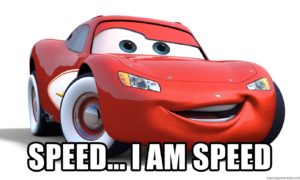 An uphill track is the only situation when traditional bikes are faster than recumbent bikes because the driver is in a forward riding position.
B. Design & Style
Say what you will, but there's a certain "cool" factor to the frame design of recumbent bikes. After some practice, you're literally laying down, smooth cycling, and having fun while your bike-mates are getting tired and pushing their weight onto the handlebar.
At the end of the day, you'll be much happier and refreshed on a recumbent bike that's comfortable and fun to ride.
C. Options
It's a common misconception, thanks to social media, that recumbent bikes come only in one feet-above-handlebar design like some old diamond-frame design. Not. At. All.
Recumbent road bikes give you a plethora of options. Firstly, there's a recumbent bike and a recumbent trike. After which, there are different designs for children, women, the elderly, heavy riders, tall riders, and many more.
You also have the option to choose your pedal position (whether the feet go from above or below) and the size of the wheelbase (whether you need a short one or a long one) on your recumbent bike. I honestly think they were less popular because buyers were getting confused by so many exciting options.
Read More: How to Whip a Mountain Bike Like the Pros
D. Oh, The Panoramic Views!
You'll see this entry in every single list on the Internet, not because we only have few reasons to work with, but this one is just that true. Any good list is incomplete without mentioning the awesome views you'll witness on touring around the world on a recumbent road bike.
On a regular bike, you'd be too busy with peddling and getting tired. Also, your eye-line is generally downward (towards the ground) when riding a standard bike. In comparison, your eye-line is forward in a panoramic manner, giving you access to beautiful views.
E. Perfect for & Injured Disabled Folks
Another great thing about recumbent road bikes is that their use cases are way more than regular bikes. People with injuries and disabilities or repetitive stress to certain muscle-driven body parts like the back, neck, and knees cannot ride standard diamond-frame bikes.
In fact, old people have to leave cycling because they can't use diamond frames anymore. That's where recumbent bikes shine the best – if you have any injury or disability that prevents you from biking, it's generally because of the seating posture and vertical stress on your body. Recumbent bikes eliminate that entirely since your weight is evenly spread over a wide area.
F. Versatility
It's not a unique trait per se because regular bikes have it too, but it's something people don't often know about. Like regular bikes, you can use recumbent road bikes for cycling in the city and through the hills.
You can also use it for your day-to-day activities and to carry stuff since the "basket" of a recumbent bike is considerably bigger. You can bike to your office on your recumbent while lying down and having the time of your life.
How do I choose a recumbent road bike for myself?
Now that I have convinced you to buy a recumbent road bike let me explain all the factors you should consider before buying one.
After this, you'll be perfectly equipped to going to a showroom and choosing a bike for yourself. Although, if you think you know the features and types already, you can skip to #4 and check out the best recumbent bikes to buy in 2021.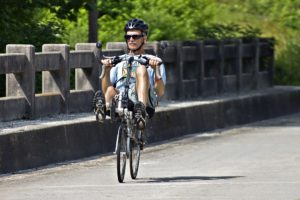 Let's begin!
I have divided the factors into two sections (primary and secondary) for ease of explanation. The primary factors are to understand what category of bike and features you want, and secondary factors will help you choose the exact type for yourself.
1. Primary Factors
You should consider four primary factors when buying a recumbent road bike:
The location of the front wheel seat-steering.
The wheelbase length offering you the most comfort.
The type of frame that you need (titanium, carbon fiber, and more).
Whether you want a bike or a trike.
A. Seat-steering Location
Recumbent road bikes come with two choices of steering location – above the seat and below it. Although, you'll mostly see front-wheel drive and steering mechanisms above the seat since that's more popular and familiar (to diamond frame bikes).
Another good reason for this choice is that it makes it easier to navigate the recumbent bike aerodynamically, probably because your arms are at the side. Cyclers statistically also take less time to get used to above-seat steering.
The only downside to above-seat steering is the awkward position (and dynamics) of legs and knees, so it may not be as comfortable for tall bikers. My advice is to go with a below-seat recumbent bike if you're taller than average to ensure the most fun and pain-free exercise on your recumbent bike.
And even if you're not particularly tall, you should still check out a below-seat recumbent bike. Cyclers often find that below-seat steering offers more comfort, but it really depends on your body.
B. Wheelbase Length
In layman terms, wheelbase is the horizontal distance between the rear wheel and front wheel of your ride. Both short and long-wheelbase are equally common, and their features are straightforward as well.
Short wheelbase recumbent bikes tend to be shorter, thus being lighter and quicker. They're obviously easier to fit in your car when traveling and have seats slightly more laid-back and higher cranks. This allows them to maintain optimal foot position and compensate for the short length.
Riding a long wheelbase bike is easier to learn because of a relatively "smoother" ride, thanks to the bump force being absorbed over a wider area. They're pretty comfortable and suitable for longer rides but harder to travel with if you're going to your destination in a car.
Read More: Are Road Bikes Faster Than Hybrids?
C. Frame Material
Like standard diamond frame bikes, recumbent road bikes come in all frame materials – from steel and aluminum to titanium and carbon fiber. The titanium and carbon fiber frame recumbent road bikes are the steepest in price, while steel and aluminum frame ones fall in the general price range.
D. Bike vs. Trike
Recumbent road trikes are very good and have come a long way from their "just for old people" status to recently driving on ice-filled roads. Though there's a common misconception around them that I wanna debunk. Recumbent road trikes are believed to be the only choice for kids and old people, but they shouldn't be.
While the recumbent road bikes are relatively harder to learn, they're pretty fun. So, if you're a parent buying for your kid or an elderly rider, I recommend checking out recumbent bikes before going for the "obvious" choice.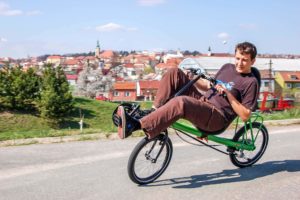 2. Secondary Factors
Once you have decided on the features of your first recumbent investment, you should consider secondary factors such as your price range, BMI, and riding style to choose an upright bike that's engineered to your needs.
A. Your Price Range
The price range should be your first consideration for obvious reasons – you don't wanna decide on a recumbent bike only to find out that it's way above your price range. Yes, the average recumbent road bike is priced slightly higher than the average diamond frame bike, but the difference is certainly worth the features.
You can get an excellent above-seat steering recumbent road bike at about $1,000 – $1,500 with a steel and aluminum frame. The price starts getting higher as you add more features, such as a different frame or a back-basket. Cost can generally go as high as $6,000 – $7,000 for titanium and carbon fiber frames.
B.Your Height & Weight
As you already know, a long wheelbase bicycle is preferable if you're tall or want a comfortable ride. Bikers usually get short wheelbase bikes for the "slightly sportier" feel, and they tend to go faster than long wheelbase as well.
Suppose you're overweight or have circulatory issues in your arms and legs or both. In that case, you should go with a long-wheelbase (LWB) and above-seat steering mechanism for ease of use.
C. Your Riding Style
Understanding your riding style and use-case is probably the most important decision when buying a recumbent road bike. Some bikes are designed for comfort, while others are performance-driven. Not that performance-driven recumbents are entirely uncomfortable, but there's some tradeoff, so you'll need to choose one over the other.
For example, if you wanna go fast, low-racers with cutting-edge aerodynamic design are the obvious choices. In comparison, if you're gonna be touring hills and mountains or in cities with traffic, you should go with a high-racer bike alternative.
Read More: Are Mountain Bikes Good for Long Distances?
Generally, recumbent bicycles with a long wheelbase and lower bottom bracket is the easiest to ride. And bikes with higher bottom brackets and laid-back seats have the best aerodynamics (they go faster) and are challenging to ride.
D. Your Fitness Level
Your fitness level should also pair well with your riding style. I often see less-than-casual riders buy rather expensive and high-performance recumbent road bikes, hoping it'll help them learn faster. That's not how it works.
You should have a complete awareness of your fitness level and frequency – whether you are a casual rider who goes once in a while, if you go once or twice a week, or if you ride regularly (maybe every morning).
All three biking frequencies I just mentioned have different styles of bikes engineered to your needs.
Best Recumbent Bikes to Buy in 2021
After lengthy research and sifting through the reviews, I've shortlisted the five best recumbent road bikes that 2021 has to offer. I've indicated the best options in their respective categories: overall, budget, children, heavy riders, and seniors.
Keep in mind that there's no separate category "best for tall riders" because most good recumbent road bikes are adjustable, or the options are given at the time of purchase to suit the rider's height. The adult bikes mentioned below can be easily driven by a 6-foot, 3- inch tall athlete.
1. Best Overall: Performer JC26X Recumbent Trike 27 FRP
Cost: $2,499
You'll find Performer JC26X in almost every "best bikes" list, not because we're all copying each other but just because it's that good.
Performer's JC26X is currently the best recumbent road tricycle (trike) on the market with three major variants: 20 speed, 22 speed, and 27 speed. I think its 27S FRP model is an absolute steal in the $2000 and above category.
This bike is literally perfect for everyone from adult men and women to senior and heavy riders. Its aircraft-grade aluminum frame body, Michelin tires, and FRP (Fiber Reinforced Plastic) cushion mesh seat can provide the most comfortable recumbent road bike experience to the tallest and heaviest of riders.
According to the official website, the wheels and brakes of these upright bikes are suitable for city rides, touring through the hills, and climbing the K2 and Himalayas on mountain biking trips. The only con to Performer JC26X is that it's slightly heavier than other recumbent bikes on this list, so you'll have to worry about logistics at times.
Key features:
Strong aircraft-grade aluminum frame
Tektro NOVELA CS disc brakes
Amazing Michelin tires
Rear rack and fenders
Easy assembly
Ergonomic design
Aerodynamically engineered for high-speeds
2. Best for Budget: Mobo Triton Pro Adult Tricycle for Men & Women
Cost: $599
Mobo Triton Pro Adult is not only budget-friendly but one of the best recumbent road bikes for men and women of average or short stature. Its ergonomic design is highly comfortable, and its aerodynamics are worth much more than $600.
It's the perfect option for beginners trying to get into the recumbent biking space but who aren't sold just yet. This budget-friendly option allows you to try recumbent road biking at a low price and without compromising safety.
Mobo Triton has a high tensile strength steel frame, like most good-grade recumbent trikes. It's also easily adjustable and suitable for riders as tall as 6 feet and 1/4 inches. The bike's low center of gravity increases the sense of balance, stability, and "smooth cycling" even for newbie riders.
The bike has two small cons: it only has a single-speed derailleur even though it's pretty powerful. Secondly, the turning radius is reportedly too narrow, but that's subjective.
Key features:
Highest price-to-performance ratio
High-Ten Adjustable Steel frame
Comfortable seat cushions
Suitable for new riders
Provides good workout for casual riders
3. Best for Children: Mobo Triton Pedal Go Kart Trike
Cost: $499
Mobo's Triton Pedal Go Kart is the best purchase under $500 if you want your kids to get excited about workout and getting healthy. It's the perfect blend of leisure and fun that your kids will love!
The recumbent bike is made of steel, making it durable and ergonomically designed for quality assurance, comfort, and good posture that can help your kid's growth. The unique rear-wheel steering of the bike enhances hand and eye coordination, and the steering mechanism is designed to provide extra maneuverability with less steer to put the least amount of strain on the child's muscles.
The frame of these recumbents is adjustable enough to accompany your kid during their growing years. It can accommodate children from a height of 3ft 8inches up to 5ft 2inches.
Key features:
Best recumbent road trike for kids
Kid-friendly steering design and high-performance brakes
Adjustable frame to accommodate growing kids
Extremely stable and designed for accident prevention
Fun to ride and promotes healthy exercise and fitness
4. Best for Heavy Riders: Mobo Shift 3-Wheel Recumbent Bicycle Trike
Cost: $699
Mobo Shift 3-Wheel Recumbent Bicycle Trike is the second-best recumbent road bike/trike on this list after Performer's JC26X. It was just $100 too expensive to be the "best budget option" on this list.
It's absolutely flawless and most versatile – being considered the best option for seniors, tall riders, and heavy riders. It's also the best reverse gear recumbent on the market. Yes, it's even better than the top contender JC26X in that regard.
The recumbent bike is made of High-Ten steel that can support up to 250lbs and a height of 6ft 3inches. It's also extremely comfortable. Pedallers.com even rated it as the "BEST THREE WHEEL RECUMBENT ROAD BIKE FOR SENIORS."
The design and build are suitable for high-speed riding and offer dual joystick steering for better maneuverability.
Key features:
Suitable for tall riders and seniors
Dual joystick steering
High tensile steel frame
Best reverse gear mechanism
5. Best for Seniors: Mobo Shift 3-Wheel Recumbent Bicycle Trike
Cost: $699
The Mobo Shift 3 Wheel Recumbent Bicycle also comes in at number one as the best option for seniors. I would have recommended the Top End Force-3 Stock Handcycle but it's not always in stock, at least not on Amazon anyway.
The Mobo Shift is a gem for going on a leisure ride or for a low-impact, low-strain exercise. It truly allows you to ride with comfort and confidence.
While the word "normal" was never associated with the recumbent designs, this bike goes even further. You won't find such exquisite features anywhere else.
The recumbent road bike has reverse gear so it's easy to back up. It also has an ergonomic reclining back seat that you can adjust to six different angles, accommodating someone as short as 4ft tall to as tall as 6"3. And the bike frame of this 3-wheel cruiser is made with high-durability Hi-Ten steel.
The Mobo Shift is a brilliant way to keep fit and minimizes strain on your joints, knees, and back. It's also designed with stability in mind to help you balance. The low center of gravity aerodynamics also helps with balance and maneuverability.
Should you buy it? Well, it depends. If you're a regular cyclist who has invested $3,000 in a diamond-style bicycle but is now getting older and doesn't need as much gear power, then, by all means, you should consider this bicycle trike. It's also much more cost-effective and has a cushioned set and adjustable back support.
Plus, road recumbents have tons of health benefits as well such as improving cardiovascular fitness, strengthening your heart and lungs, and lowering cholesterol.
Key features:
Adjustable back seat with back support
Reverse gear
Single Speed
Hand caliper brake with emergency brake system
20″ front 16″ rear inflatable rubber tires
Ideal for small and large riders
Why should I switch from diamond frame bikes?
If the uniqueness of recumbent road bikes wasn't enough to convince you, there are many more benefits to switching that are critical if you ride regularly. Here are five major reasons why you should at least consider switching to a recumbent road bike:
A. Easier To Maintain
If you're a regular biker, you already know the importance of maintaining your road bike in terms of safety, quality, and longevity. Recumbent road bikes are slightly better in that regard.
While you'll need to learn how to maintain the bike parts properly, the maintenance of upright recumbent bicycles is considerably easier as they have fewer parts than standard bikes.
B. Old People Kinda Have To
As I mentioned earlier, regular biking for a long time will slowly build up stress in your arms and legs that'll make you easily tired. You'll also be forced to leave biking after a certain age. This is one of the reasons the recumbent bike trend started with old bikers who were forced to make the switch.
So, if you're getting "too old for that bike," it's not the right time to drop the hobby but to make the switch to a recumbent bike that fits your exercise and fitness needs.
C. Comfort & Safety
Thanks to their closer-to-ground, laid-back ergonomic riding position, recumbent road bikes are much more comfortable and safer compared to standard diamond frame bikes. You're less likely to get injured in an accident when riding an upright bike because you sit shifted slightly backward instead of forward.
D. Learning Curve
The learning curve of a recumbent road bike is different than your standard diamond frame bike. It'll take some time to learn the basics, but the process of going from basics to advanced is faster in recumbent road bikes.
E. It's A New Experience
We're not real cyclists if we aren't suckers to new and exciting rides, especially one that offers a great view and quality exercise. Amazing benefits aside, a recumbent road bike is a unique riding experience that all bikers must try at least once.
It's quite different than the typical bike ride. Even the gearing system in recumbent road bikes and trikes is bizarre as some of them have as many as 72 gears in them. Cool, right?
Now you can pick out any recumbent road bike from the many choices in this list and saddle up for a fun ride. Get your new bike locally and ride recumbent in town or in all corners of the world.