Best Trick Bikes (Freestyle BMX) To Buy In 2022 & What To Look Out For
After talking about road, mountain, and electric bikes, it's only fair that I move to the quirkiest option of all – BMX bikes.
There are basically two types of BMX bikes – the rugged ones designed for dirt racing and the rock-solid ones designed for tricks. The best part about BMX bikes, freestyle ones to be specific, is that they're specifically made for "having fun." They're incredibly sturdy and durable, and you can thrash them around as much as you want.
But, which one should you buy? When flexing your air tricks and grinds at the local skate park, you'll want a clean, street-worthy freestyle BMX bike. I've compiled a list of the best BMX bikes for sale in 2022 and through the end of the year. This list will also give you an idea of the approximate budget for bikes designed for street riding.
Let's get right to it.
Short on Time? See our Top Rated Products From 3 Categories

Mongoose Title 24 BMX Race Bikes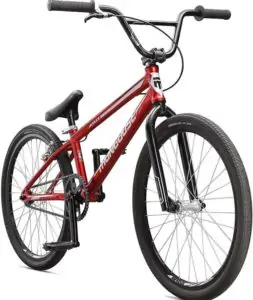 Hiland 20 inch BMX Freestyle Bike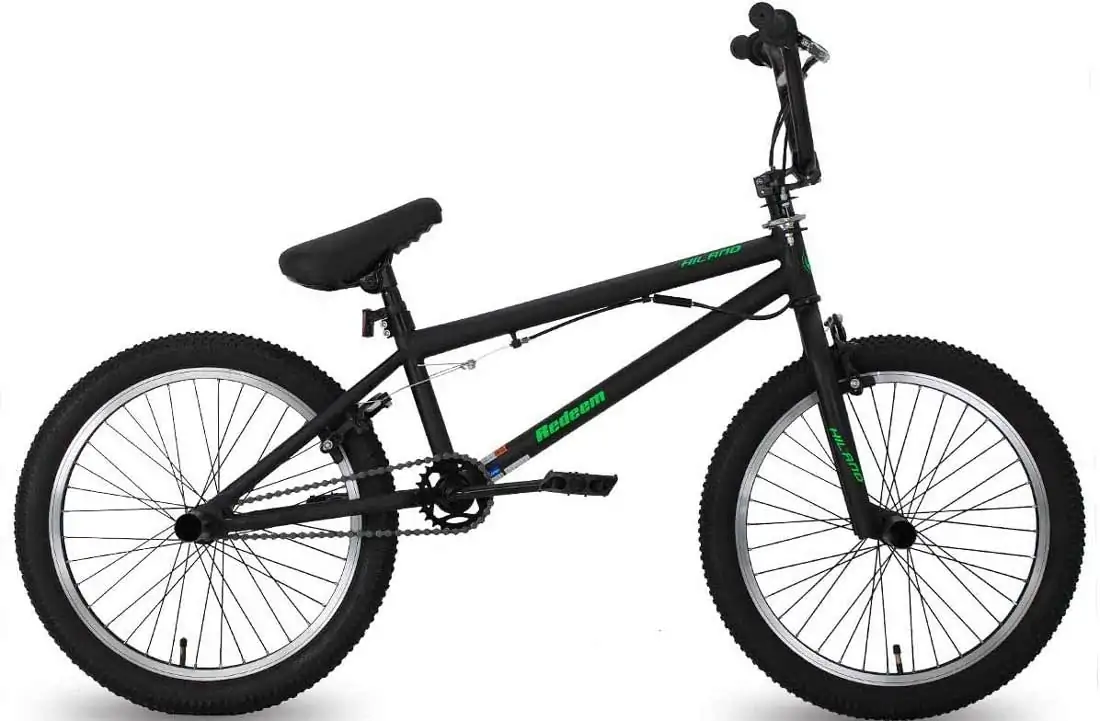 Tony Hawk 20″ Jargon Freestyle BMX Bike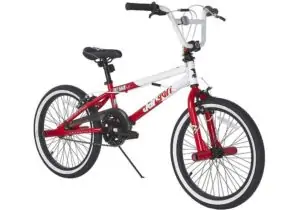 Which is the best trick bike to buy?
Freestyle-BMX-Bicycles Legion series from the Mongoose Store is the best BMX bike you can buy in 2022. The Legion series comes with 20-inch wheels and aluminum frames suitable for young children and adult freestylers. The bike costs $350 to $520 between L20 and L100 series.
Having tried it for some time myself, I can confidently say that Mongoose's Legion series is the best freestyle bike for BMX riding on the market right now. The L100 model even comes with a U-brake system and Chromoly Steel frame, making it an even better option for the price.
Buy Mongoose Freestyle-BMX-Bicycles Legion BMX On Amazon here
Read More: 5 Best Recumbent Road Bike Options in 2021 (and how to choose)
What to look out for when buying a freestyle BMX bike?
Of course, you may not have the same preferences as me. You might want something other than the Legion BMX. So, what are the essential factors you should know about when buying a BMX bike?
1. Wheels & Tires
While BMX bikes are famous for their solid and thick tires, you should still carefully check the wheel's width. The thicker tires in BMX bikes tend to provide extra grip on uneven roads, but they aren't as fast as their narrower alternatives. So, manufacturers make BMX bikes in both tire sizes.
And since you'll be freestyling, you should look at the tires on the thicker end of the spectrum of BMX bikes. The thicker tire would also mean that you need to get an extremely durable wheel, so it's able to handle your trick shots.
Even if you're not a heavy rider, I recommend investing in good-quality sturdy wheels from a reputable company in the BMX racing equipment space.
Pro Tip: The number of spokes is an excellent identifier of a wheel's durability. Find the right balance between a good company and maximum wheel spokes that fit your budget.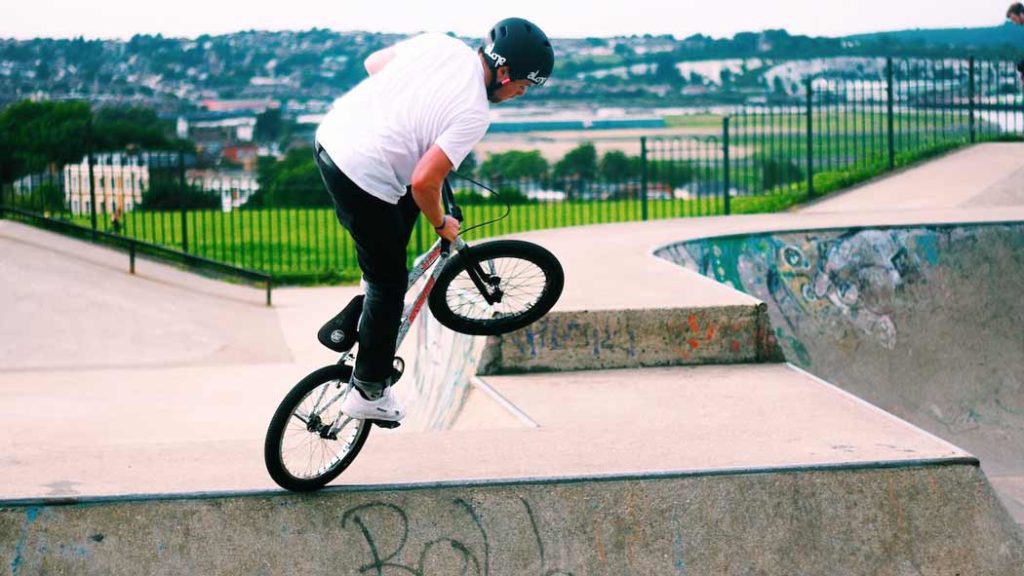 2. Breaks
Unlike other bikes, brakes are the trickiest when buying a BMX bike. Let's take it from the top – many freestyle BMX bikes don't have front breaks at all. This is done to ensure they don't interfere with the tricks. Some riders go as far as removing their rear breaks as well to shed off extra weight.
Sure, it's something you can get away with if you're a pro and don't have much speed during the tricks anyway. But, you'll want breaks 100% if you're a beginner or buying it for your child.
3. Bike Frame
Your frame takes the most beating when performing stunts on a BMX bike. Period. It takes the shock from your weight and the wheel every time you hit the ground or a surface after a jump. You'll need a frame you can count on with your eyes closed.
It's probably a wiser choice to go with a slightly heavier frame if it's more durable – that's why aluminum isn't often used despite being an excellent lightweight material for bike frames.
Freestyle bikes come with two major frame options – high-tension steel (or, Hi-Ten) and Chromoly. Hi-Ten is cheaper, heavier, and slightly less durable, but it's still a good option for beginners.
Chromoly frames are considered the best for freestyle BMX tricks. It's lighter than Hi-Ten while being considerably more durable. Both of these pros make up for their expensive cost.
4. Pegs
BMX axle pegs are super crucial for you freestylers since they provide support in multiple stunts on the BMX bike. These pegs are used when grinding against a surface like a curb or a rail as they help manipulate the bike by shifting the rider's break.
When pushed against the surface, they provide an extra pivot point for you to move around. I'd say they're an absolute must-have for BMX trick bicycles, even if you don't freestyle regularly.
While you can buy them separately and attach them, I'd suggest buying a bike that already has pegs for ergonomic purposes. But if you do end up buying them separately, you can either put all of them on one side or some on each side. Both configurations are equally good and depend on your riding style.
The size of a typical BMX axel peg is between 4 – 4.4 inches.
5. Budget & Use Case
I know you wanna buy the best bike possible, so does everyone else. Although that might not be the best option depending on your use case.
First, sit down and think about your use case. Are you just a beginner? Is this your first BMX bike? Or are you a reasonably good rider or maybe a pro? If it's the former, then get a decent and safe bike to learn the tricks. If it's the latter, then you obviously know better.
Next, think about how much will you be riding every week because that'll play a massive role in the choice of frame and wheels for durability. Make a budget according to these choices, and then stick to it!
Speaking of looking for other options, let's check out the top 5 trick cycles in 2022.
Read More: 10 Best Entry Level Road Bikes for Beginners in 2021
Best BMX Bikes To Buy In 2022 For Every Need
1. Editor's Choice: Elite 20″ BMX Bicycle Destro Model Freestyle Bike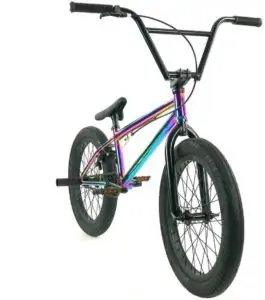 Elite's BMX Destro comes at a premium price of $380 compared to other freestyle BMX bikes, but it's worth every penny. And, it's probably the best BMX bike if we go by aesthetics.
Unlike other BMX bikes from influential brands, Elite's Destro doesn't come in a solid color. The frame is a rainbow-ish color made of Cr-Mo (Chromium Molybdenum) steel known for its extreme durability. And the 4-piece handlebar is in a league of its own.
Finally, you have two-wheel options – 18 inches and 20 inches made of Neo Chrome. Again, a masterpiece in aesthetics! The Destro Pro model has reinforced tubing, a premium saddle attached to a 25.4 mm alloy post, and a 3pc Cro-Mo crankset.
Oh, did I mention the Tektro alloy U-brake that performs even better than you'd think?
2. Best In Mid-Range: Mongoose Legion Freestyle Sidewalk BMX Bike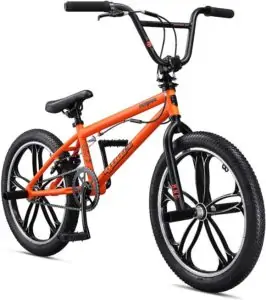 Mongoose's Legion Mag comes at an astounding price of $280, putting it at the cheaper end of Mongoose's Legion Freestyle series of BMX bikes. This bike has everything you'll need, from thick 20 inch wheels to the highly durable Hi-Ten steel frame.
It's made for someone as small as 4ft, so don't hesitate to buy it for your kids but don't mistake it for actual kids BMX bikes. The bike comes with four freestyle pegs, a cable detangler for 360-degree handlebar spins, and U-brakes.
In short, it comes equipped with everything you'll need on your next trip to the local skate park!
3. Best-Budget: Hiland 20 inch BMX Freestyle Bike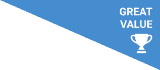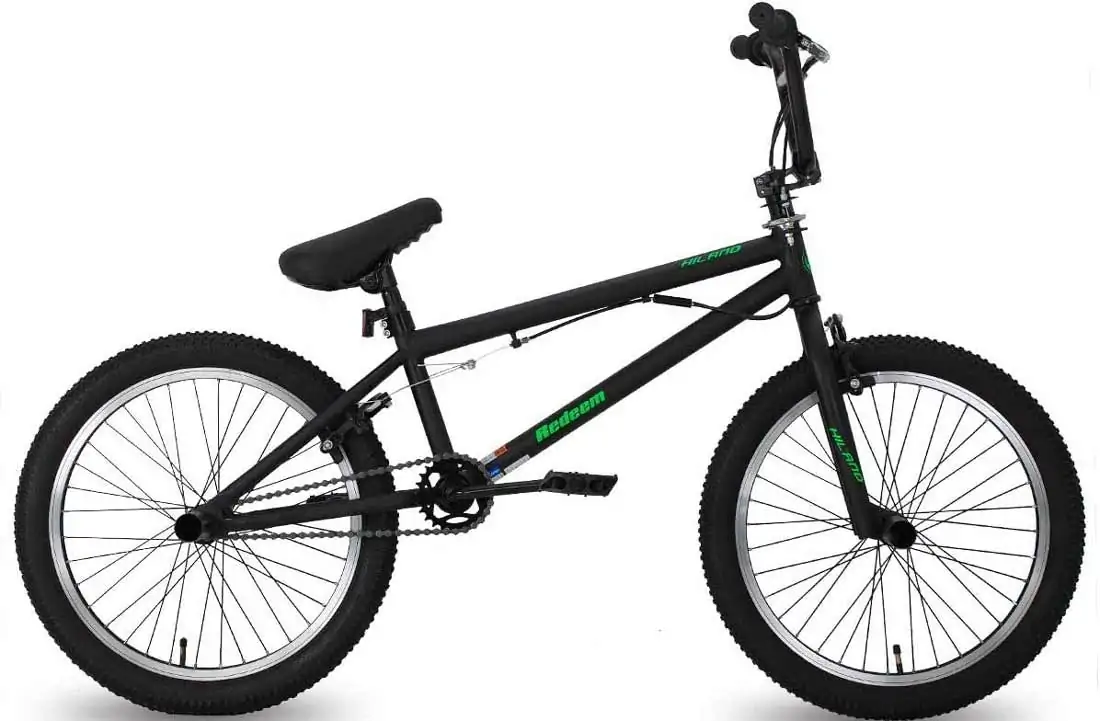 Hiland's BMX Freestyle bike doesn't stand out much, but it's the best budget BMX bike you can buy. Though, you shouldn't underestimate it because it's got everything you'll ever need for $190. Now, that's a killer deal.
The Hiland is suitable for beginners and advanced freestylers thanks to the durable Hi-Ten steel frame, wide 20 inch wheels, a professional double U-break system. And if this wasn't cool enough, it has a 360-degree rotor on the handlebar, so it rotates all the way.
4. Best For Tall Riders: Mongoose Title 24 BMX Race Bikes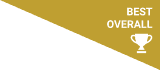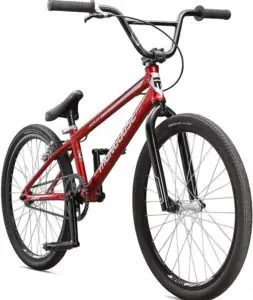 And we're back to Mongoose.
Mongoose's Title 24 BMX is the best bike for freestyle BMX bikers who are taller than average because it comes with an Arisun XLR8 24 inch tires system. Don't believe me? Suggested rider height is 5' 7" or taller.
Title 24 has a lightweight Tectonic T1 aluminum frame that comes equipped with Chromoly 3-piece tubular cranks. And since it's made for BMX racing, free-racing, and bicycle motocross, it has a V-brake for high-speed situations instead of the standard U-brake.
5. Amazon's Finest: Tony Hawk 20″ Jargon Freestyle BMX Bike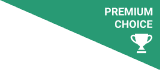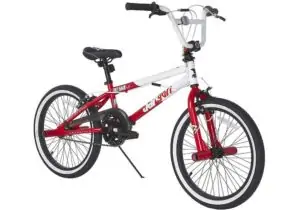 Dynacraft's Tony Hawk Jargon Freestyle is one of the best freestyle bikes available on Amazon right now. The bike comes in 2 models based on wheel sizes – 20 inches and 24 inches that cost $180 and $215, respectively.
Similar to Elite, Tony Hawk is a masterpiece in aesthetics that comes with alloy-threaded handlebars and Promax alloy rear U-brakes. The model is suitable for both average and tall riders because of the wheel size choice.
So, this was the line-up of currently the best bikes for freestyle riding and BMX riding on the market. Even though you can choose from any of them, I'd suggest reading up on each one carefully and then deciding which suits your needs the best.
Enjoy your next ride, my friends.