I'm sure you never imagined being out in the market shopping for something as mundane as a rubber grip. But they're super important. Bike handle grips aren't just for the aesthetics, they provide better control and protection for road cyclists and mountain bikers.
And of course, ergonomic grips are VERY comfortable. The only issue is that there are enough options and variants in the market to confuse seasoned professionals.
Lucky for you, I recently bought new bike handle grips for my bike and you get to reap the benefits of my research. Here are my top picks for every budget, feature and usage, then I explain how you can make the right choice for your ride.
How much do bike handle grips cost?
Road and mountain bike grips could cot anywhere between $5 to $25 depending on the brand, design of the ergonomic grips, materials, and a couple other factors. You can get excellent handlebars for about $15 – $17 as they're comparatively cheaper than other bike products.
Best Bike Handle Grips to Buy in 2022
1. SAPLIZE Bike Handlebar Grip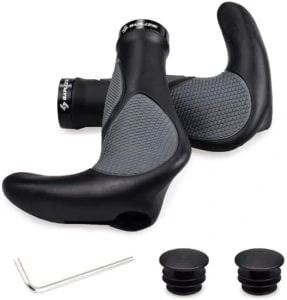 SAPLIZE bike handle bars are available on 21 different variants on Amazon but the one that deserves the title of the best is "SAPLIZE Bike Handle Bar Big Horn Shape." It costs around $16.99 with "Small Horn Shape" coming just under $15.
While these handlebars don't have a downside in particular, there's one factor you need to consider. Even though the big horn design is ergonomically amazing, it doesn't suit everyone.
If you're one of those people who don't like such over-the-top ergonomic grips, let's give you some more options.
2. Oury MTN Grip

Oury's MTN grip is the most simplistic design on this list but it's an irreplaceable one. Don't be deceived by the mundane design because MTN bike grips has many subtle changes that provide comfort and control without the design trade-off.
These handlebars work flawlessly for even the pro mountain bikers at various recent events and biking trips thanks to the precise attention to detail during production. And if that wasn't enough, Oury MTLB grips are designed to fit most handlebars with minimal effort!
3. Weanas New Generation Bike Handlebar Grip For MTB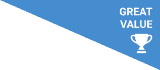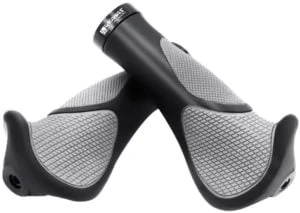 Weanas New Generation Bike Handlebar grip is arguably the best on the market – the design is ergonomic but the protruding aren't so over the top that some people find it comfortable. And it just costs $17 to get a pair of these bad boys!
These handlebars offer the perfect blend of price, aesthetics, and performance. The advanced aluminum locking rings of Weanas are arguably more durable than other grips on the market. That's also why they're excellent on rugged terrains and make for the perfect mountain bike handlebar grips.
Just to show you their confidence in the product, Weanas New Generation grips come with a 12-year warranty and a 30-day trial period.
4. Odi bike grips handle Ruffian Bonus Pack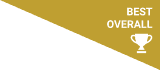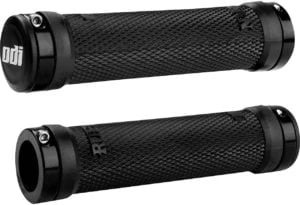 I can't tell you why ODI goes with the "bonus pack" naming scheme, but what I can say is that they make pro-grade products with the most minimalistic design.
The normal-looking lock on grips have an ultra narrow racing profile for less arm pump. And it's diamond zed grip surface gives unbelievable traction to your hands while being super comfortable.
But good things often come with a price – the con for ODI's Ruffian Bonus Pack is that it costs slightly more than other grips of similar quality. Although, I have nothing bad to say about it's price-to-performance ratio.
5. TOPCABIN Bike Grips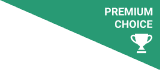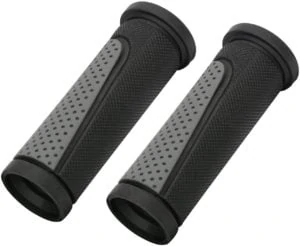 TOPCABIN's short mini bike handlebar grips are a perfect example of when a company knows exactly what the consumers want.
A pair just costs $8.85 – half the price of other grips on this list. And that's not even the USP – the grip is made of dust-proof TPR green rubber with extremely tiny anti-skid protruding that don't let the sweat get in your way.
The slide on grips fit on most handlebars (including e-bikes). With such a simple design, they're not the most aesthetically pleasing but they're quite durable and perform better under prolonged use.
6. Lizard Skins Northshore Lock-On Grips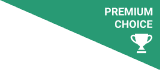 The final addition to this list is also its most expensive one.
The Northshore Lock-on Bike Handlebar Grips by Lizard Skins are arguably the most premium grips that cost about $32. The Northshore grips take the "simple-looking" plain gauge grips one step further than TOPCABIN and offer a wide variety of features.
The Northshore lock on grips are quite thick so they can be used with and without gloves. They're made of a high-grade rubber material which gives you relatively similar performance in any weather condition.
Although they're somewhat expensive, none of the pros and I have anything bad to say about them.
In short, Northshore lock on grips are the best handlebar grip you can currently buy on the market  in 2022.
Read More: Best Bike Mirrors in 2021: How to make the right choice?
How do I choose bike handle grips?
Don't worry if I just got you confused with so many options. The truth is that you have seemingly endless options for bike handle grips with various features ergonomics and subtle changes.
Regardless of the number of options, you really only need one. So, how can you make the right choice? It depends on three factors – the grip's type, material and design.
1. Lock on Grips vs Push on Grips
Push-on grips are the ones you're probably familiar with. They have a sound rubber grip design without any locks. You'll need a liquid adhesive to be able to push them onto the tight handlebar and even then you'll face good amount of resistance. But that's a good sign.
This gives slide on grips a tight fit and hence they don't move from their position regardless of how many times they're pulled.
Lock-on grips are used more prominently as mountain bike grips because they're made with rubber in the middle and grip fasteners on each end. So handlebars with lock on grips firmly stick on the handlebar with minimal movement.
The selling point is that you can try pulling them from any direction and they won't budget. The fasteners are made of hard-plastic which are literally a dime a dozen so don't worry about breaking them. They're easily replaceable.
2. Grip Handle Material
When I say "grip handle material," I mean both the material and the process of making the bike handle grip. Both factors play a significant role in the durability and desired comfort of the product.
Some of the newer grips on the market by ESI and RedMonkey are made of Silicone instead of the usual material. It supposedly gives a better grip with shock-absorption and less weight.
3. Comfort & Ergonomics
I know you like "cool" grip features with various protruding on it. But is it really a durable and viable grip surface? Go for comfort first because you'll get bored of the design of handlebars sooner or later.
Remember that the most important rule when buying handlebar grips is that "ergonomics over aesthetics." Excluding the extra features, there are basically two types of bike handle grip designs. First, cylindrical and smooth. Second, cylindrical and bumpy.
If you ride for leisure and commuting purposes, you should look for comfort and buy a smoother grip. Get a harder (bumpy) grip if you want more reaction when road biking or mountain biking.
Read More: How to change a mountain bike tire?
Are bike handle grips all the same size? Are they universal?
All bike grip handles (or simply handlebars) are not the same size. In other words, bike handle grips aren't universal. These grips come in different shapes, colors, designs, and sizes to accommodate various handlebar sizes and personal preferences.
How do I measure my bike grip size?
Measuring your grip size for a replacement handle grip is pretty straightforward if you already own a bike. Just measure the circumference of the cylindrical handle.
Next, measure the size you need for the grip part that'll be in direct contact with your palm. Go to an appropriate bike shop, and they'll have a size chart for you.
Put your hand on the chart by aligning your middle finger, and then spread your thumb sideways. You need to measure the bend of the thumbs through the chart and then check the suggested size according to the size chart. There are different bike grips for larger vs. smaller hands.
While you can get by without buying a premium-quality grip handle if you ride every once in a while, I recommend getting a good pair if you commute daily (road biking). They're also one of the best mountain bike grips.
Be safe and enjoy your next bike ride!