Gravel bikes are where the simplicity and ease of road biking meet the adventurous trails and sturdiness of mountain biking. It's the perfect blend of nature and riding for the lone wanderer.
However, a perfect gravel biking experience is incomplete without the right equipment. Your new gravel bike won't come with the pedals. Means you gotta buy a pair of pedals and set it up before you go off-roading in the dirt.
I know you're thinking, why can't you just use the old road bike pedals? Wouldn't they serve the same purpose? Well yes, in theory, but truthfully, the answer is no. Trust me, I have tried using road pedals on gravel bike trails, and it's a nightmare for several reasons. I'll explain in detail in this guide.
Now that the need has been established, your first order of business is to choose between pedal type: flat or clipless. Let's see which one suits you best.
If you already know, skip to the next section: best gravel bike pedals in 2022.
Choosing Best Gravel Bike Pedals: Flat vs. Clipless
Unlike road and mountain biking, the sub-genre of gravel biking isn't as famous or well-established, leading to a poor distinction and a lack of variety among pedal options.
Regardless, buying a gravel bike pedal has one simple rule: the best gravel bike pedals are lightweight and double-sided. They should be cross-platform, so they work correctly with your mountain bike.
Despite the ironic name, clipless pedals are the ones you actually clip onto. Flat pedals, on the other hand, don't come with clip mechanisms. Flat pedals perform the best during complex and technical trails where you need to get on and off the pedals as fast as possible. In these situations, wearing a clipless pedal body can cause problems that get you into trouble later.
Although clipless pedals are far superior if you're looking for better transmission of your power and energy. As for me, clipless pedals provide a more stable and efficient platform, primarily because of the spring mechanism and cleat attached at the bottom that further attaches itself to your cycling and mountain bike shoes.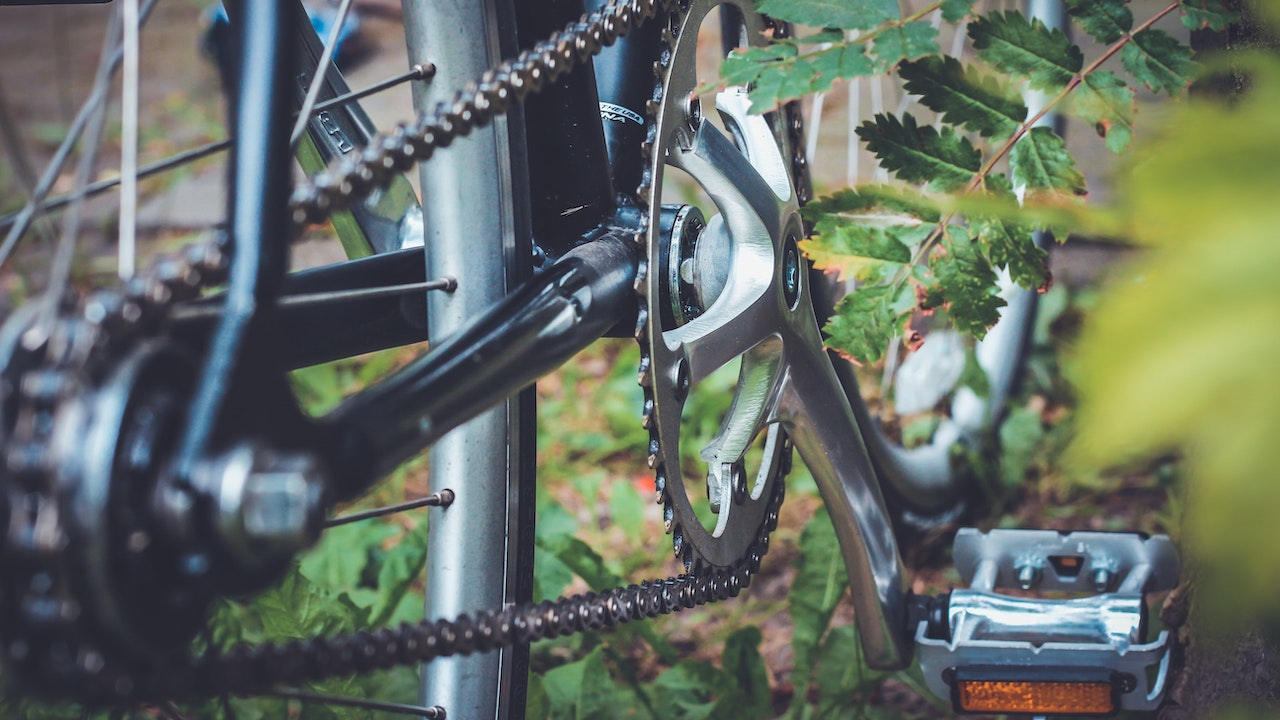 The upside is that it reduces the risk of injury by A LOT, but there's also a considerable downside. The cleats on the bottom will require you to wear special cycling-specific shoes. And if you don't have one, you'll have to spend money to get a new pair compatible with the bike.
Additionally, you'll have to carry another pair of sports or formal shoes with clipless pedals if you want to go somewhere else like work. While there may be other minor differences between flats and clipless, this should be enough to make an informed decision. Move that.
Read More: Read More: Beginner's Guide to How to Ride a Bike?
Best Gravel Bike Pedals to Buy in 2022
1. Shimano PD-M520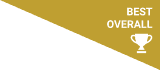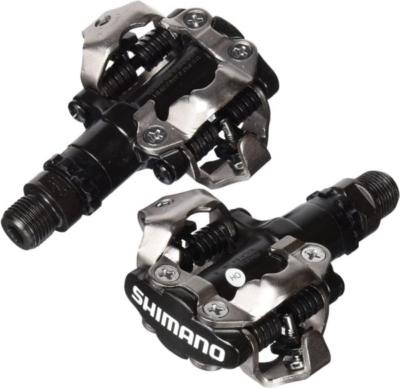 It is a clipless gravel bike pedal with two choices – regular and automatic. Both are highly durable and so well made that you won't find a single list on the Internet without this product.
Shimano's PD M520 is the best clipless gravel bike pedal beginners can buy in 2022 at a meager price. As of writing this article, the model is being sold for different prices on different websites ranging from $46 to $90.
It has a 4° float with options available for single and multi-release cleats. At 0.8 pounds, the pedals might be heavier than usual, but the adjustable bearings and 6-15mm attachments make the purchase worth your dime.
Ps…you can also go for Shimano PD-M540 if you have extra bucks to spare.
Purchase Links:
2.  LOOK X-track Race / Mountain Pedals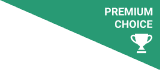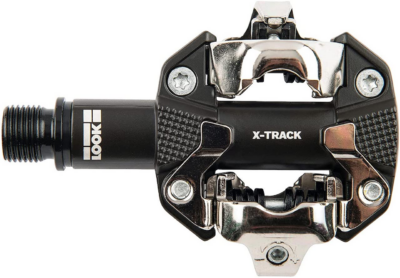 At just $55 and $90, respectively, LOOK X-track Mountain and LOOK X-track Race pedals are an absolute steal, especially considering their 0.08-pound weight. The product is SPD cleat compatible if you have the right mountain bike shoes for it.
It is an amazing clipless pedal body that's famous among intermediate gravel bike riders and hobbyists for its wider cleat platform allowing bigger float.
Purchase Links:
3. DMR V12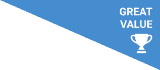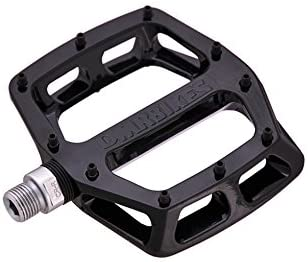 4. Crankbrothers Eggbeater 3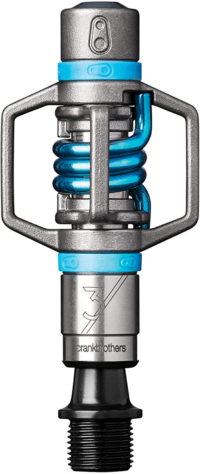 At $140, the Eggbeater 3 might not be the cheapest clipless pedals on the market, but they're ergonomically designed for clipping and unclipping faster.
The proprietary spring mechanism far exceeds any mud-shedding capabilities of any clipless and most flat pedals you'll ever use. Although the product doesn't have anything else going for it – at 0.077 pounds, the Eggbeater 3 is vulnerable to impact, so you should take extra care.
For me, its greatest con is the non-adjustable bearings.
Purchase Links:
5. Shimano PD-A530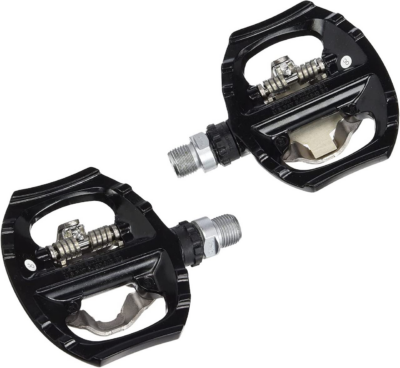 A530 is another great product by Shimano that can best be described as a hybrid between flat and clipless pedals. It has an SPD cleat on one side for you to clip onto and a clip-less platform on the other side.
The platform on the flat end might not be as big as a standard flat pedal since the product is designed to be sleek like other clipless alternatives.
Regardless, it's pretty comfortable. If you're off by a second or two, you can just put your foot on the platform and wait till you can clip on the other end.
Purchase Links:
6. HT PA03A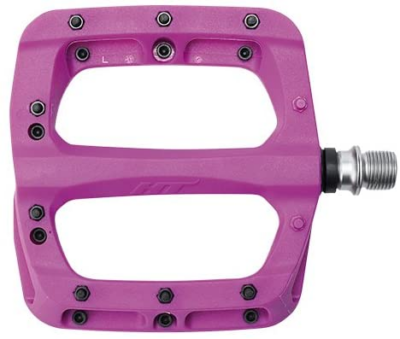 Speaking of big platforms, HT PA03A is the best flat-style pedal for mountain and gravel bike pedals. It's a little heavier (0.77 pounds), but the large size and $54 price tag are enough to compensate for the weight.
The super-wide platform has a concave profile and two ball bearings with rings. The interchangeable nubs will make it easier to keep the pedals maintained for an extended period.
Purchase Links:
7. Crankbrothers Candy 2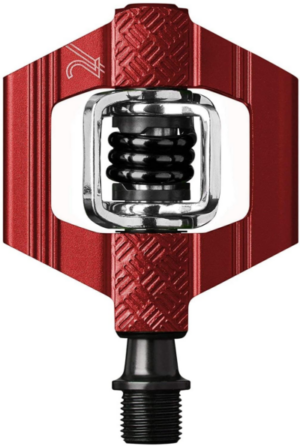 Crankbrothers have set their names in stone with their Candy line-up of bike pedals. We can go from the normal Candy 1 to as high as the extremely lightweight titanium-rich Candy 11. Although, Candy 11 would be a bit too expensive.
Coming back to the list, Candy 2 is made of a touch alloy coated with anodized color to make it stick longer. As for the style, Candy 2 is a clipless mountain bike pedal with a spring-style mechanism similar to Eggbeater.
At $100, however, Candy 2 is a bit pricey, so you should weigh the pros and cons against your needs before buying it for the features you might not even need. Although, it is pretty cool to use because of the soft in/out clearance!
Purchase Links:
8. Shimano M9100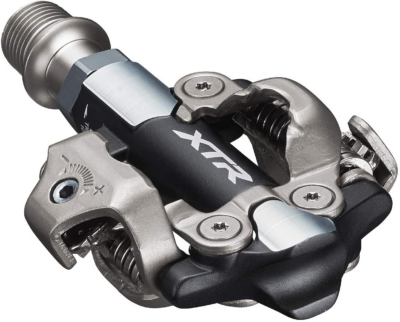 For $180 and weighing 1.1 pounds, M9100s are neither lightweight nor cheap. But they're designed to be the flagship model for experienced off-roading enthusiasts.
M9100 models are designed and polished via machine for smooth in/out clearance, and they come with cleats to compensate for the cost. But that's just about everything going for them.
They're super comfortable and frankly amazing to use initially. Still, their durability is worse than the cheaper M520 and M540 models despite the outlandish cost difference.
Purchase Links:
9. Time ATAC XC 12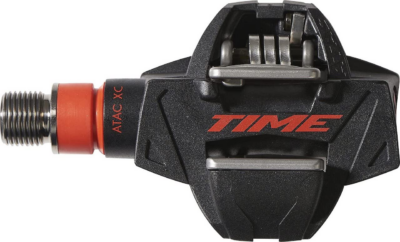 I had saved the best (and the most expensive) for last! At $300, XC 12 is clearly not made for beginners.
Time ATAC XC 12 are the best clipless gravel bike pedals money can buy in 2022, within reason, of course. The pedals are carbon fiber titanium and come with a revolutionary self-cleaning design.
It allows you to set the pedals up in various directions without getting worried about clearance, thanks to the ergonomic double-sided clipless design.
Purchase Links:
What Gravel Riders Should Know Before Making a Purchase
Read More: Best Bike Computers in 2022 – An Odometer, A Speedometer & Much More
How much do gravel bike pedals cost?
Good gravel bike pedals can cost anywhere between $60 to $200, and some will even go higher than $300. The axle material is usually the driving factor. So, lightweight gravel bike pedals with an axle made of better steel or titanium will cost higher than usual.
You don't need to go any higher than $100, especially if it's your first set. Gravel pedals are specialized, but they aren't rare. More money will get you more "extra features" in most cases (not all).
You'll forget about the feature in no time and just use the product for what it simply is – pedaling your bike off-road.
Should you spend more on the axle material?
Pedals are super durable, and they're gonna last forever, even if you go rough on them every once in a while. The axle material is essential, but it's more than secure enough with just the standard steel quality.
If you feel like spending more, you can get the titanium alloy, which is more durable and lightweight than standard steel.
Which company makes the best gravel bike pedals?
Shimano is known for making the best gravel bike pedals in the United States. Their basic M520 model is well-engineered and highly durable, outlasting pedals double the price. Shimano's multi-release pedals are the most optimal.
They're ergonomically designed to allow the biker to release or clip their foot much more smoothly than the standard pair. It also provides a more secure hold, so you don't have to expend more energy than necessary.
What are 'floats' and how much do you need of them?
A 'float' is basically the space on either side of your foot before disengaging it from the cleat. You can have as much float as you prefer. People with knee pay generally add more float as it helps with the condition.
Also, the float should just be an added bonus and not the deciding factor. If you decide by the float, you'll likely end up with a gravel bike pedal that doesn't fit your bike.
Do road bike pedals work on gravel bikes?
As you know, road pedals do work with a gravel bike. But you should NOT use them. Here's why.
Most road bike pedals are one-sided. It's no surprise that trying to find the right angle while riding off-road is inconvenient and dangerous. Road bike pedals and cleats are also a nuisance. Just imagine coming across mud during your off-roading cycling adventures.
If you really want to save the extra bucks, using your previous mountain bike pedals might be better than road bike pedals. Although, you still shouldn't do it.