Baby bike trailers have been used for multiple purposes and on various terrains – they are sturdy, well-manufactured, and suitable for babies of different ages. Unfortunately, it is hard to find one trailer that will universally suit every kind of sport, terrain, and storage capacity. However, if you know your desired criteria, the search will be quick and effortless.
Baby bike trailers are more common to spot now than ever before, and they bring the comfort and safety of travel to your kids. They are also great for parents who are keen on cycling or keeping fit and would like to take children with them without tiring them.
If you are unsure which bike trailer will best suit your needs, read on to learn how to choose one and what to look for in your future purchase. In order to ease your search further, there is also a list of the best bike trailers sorted by a budget allowance.
How to Choose the Best Baby Bike Trailer
There are a lot of factors to keep in mind when choosing a bike trailer for your baby. It is not only the price that concludes your decision but the functionality and usability of the product. Since a bike trailer is planned to be used for many years, it is a one-time purchase that needs to be thought through and weighted. Though it doesn't mean you can make a grave mistake with a product, you would definitely feel satisfied getting a bike trailer that meets all your requirements.
Here is a list of features you should take into consideration when deciding which bike trailer is best for your family.
Single or Double Trailer
Cabin size is the first criterion you should check before making a purchase. A single trailer is ideal for one child, and a double trailer can fit more children; however, you may as well consider a double trailer to provide bigger space for your kid or if you plan to have another baby. Investing in a double trailer seems to be the safest choice because it can have more storage and a place to put a mini blanket and other things. On the other hand, a single trailer has plenty of space for one kid, and it is lighter and easier to steer.
When you are decided on the number of seats, you can check the dimensions and compare which bike trailer is longer and wider. Even a few inches can make a tremendous difference and provide more comfort for your kids.
Keep in mind when opting for a double trailer to check its weight capacity, which in some cases can be too low for two children. And if you want to purchase it for your only child, the majority of bike trailers with two seats will have the same amount of safety buckles.
Multi-Purpose Bike Trailers
Depending on what your kids love doing the most, you can find a bike trailer matching this activity. The good thing about bike trailers is that you can have them for more than one kind of sport. The majority of people use them to attach to bicycles; however, you can convert them for jogging, strolling, and skiing. You can choose among the following types:
Multi-sport (biking, strolling, jogging, skiing)
Trailer and stroller
Trailer only
Multi-sport trailers are ideal for families who are passionate about active sport and would like to take their children together with them. Since they come at a higher price, you should decide what sport you plan to do with your children.
The benefit of a standard bike trailer is its lightweight and affordable price. Budget trailers usually can be manufactured only for biking, and some can be convertible for strolling. And more expensive options have more possibilities.
Terrain
The terrain matters a lot because it will decide what size and materials the wheels should be and whether your bike trailer needs an adjustable suspension.
Standard bike trailers can be used on paved roads or on any smooth surface without a suspension. However, if you plan to have a trip off-road or on rocky and bumpy terrain, your children will have a lot more comfort in a bike trailer with suspension. Otherwise, the bike ride will be anything but enjoyable.
Storage
Bike trailers are not universal and highly differ in size and weight. If you look for a portable option, check how lightweight the trailer is and if it has a folding frame. This way, you will save a lot of space in your garage or your car. You can also check the dimension of the trailer when folded to decide whether your choice can fit everywhere.
If you are a fan of long walks or rides, you will want to take some snacks and drinks with you. Some products will have storage or a bag section to place food in a trailer.
Suitable for All Ages
Bike trailers are recommended for young children, and they are big enough to hold a baby car seat if you want to take your toddler for a trip. Note that only children who are one year of age can be transported in a trailer. But if you attach a swirling wheel, you can walk with your infant as young as six weeks. Remember to add a head and neck supporter for your infant or toddler.
Weight Capacity and Size
Bike trailers have similar shapes and hitches. The size of the wheel is either 16″ or 20″, and the frame weight can be up to 45 pounds. It is important to look up such information because you will be the one pulling the trailer, loaded with your children and extra things. Usually, the rider doesn't experience a big problem unless climbing the hill. However, the heavy load is almost unnoticeable on a flat surface.
Accessories and Other Parts of Bike Trailers
Accessories are not a must but a nice addition to have if you want to improve your child's bike trailer. They also depend on the type of trailer you are interested in. Some of them can be already included in the order and some you will need to buy yourself. Your bike trailer can be adjusted to various weather conditions, sometimes even harsh ones. If you happen to be out in heavy rain or snow, you will greatly benefit from having an external cover. During hot sunny days, your baby will feel comfortable and protected under a shade cover, and lots of ventilation will provide enough air circulation.
Standard bicycle trailers can only be attached from the front or back, while stroller types need a front wheel. Three kinds of wheels can be attached to a trailer arm:
Foldable tow – You may find bike trailers that feature a foldable tow and a wheel that can be put up, so you do not have to carry or store it anywhere. When in stroller mode, the arm can be extended for better positioning.
Attachable swivel stroller wheel -A swivel wheel can be detached and reattached when needed to the trailer body rather than to the bicycle arm.
Double attachable swivel wheel – The dual wheel is attached the same as the previous one, and the only difference is in the quantity that helps to balance a trailer and maneuver it better.
Since the wheels for the strolling trailer are mainly swivel, they are not suitable for jogging. The wheel for jogging usually has a different dimension and is pneumatic, meaning it contains air. Another attachment is present if you have a bike trailer for skiing – skis and other equipment for a secure and fun ride.
One detail that is often omitted is a trailer hitch. While some brands will add their designs, some smaller manufacturers will have a standard hitch compatible with all bikes. It is usually attached to a rear axle with a quick-release skewer. If your bike has a thru-axle, you will need to have a bike trailer with an adaptor. Bike trailers are suitable for many bike models, be they mountain, road, or electric ones – trailers can be attached to all of them, unlike seats.
Lastly, look for adjustable handlebars if you want to experience ultimate comfort during a stroll or a jog. You will be able to change the height by flipping the handlebar or pressing the button; it depends on the model of a bike trailer. Most products will have two options, while more expensive trailers can have multiple adjustments.
Budget Limit
The price for bike trailers ranges from around $200 to $999 and higher. The price is determined by the quality of material, features, and purposes. The size matters a lot; the trailers with a single seat come at a cheaper price and can have a smaller storage capacity and only a stroller function.
Cheaper trailers may have a less comfortable seat for your child, or the frame is not as sturdy as in high-end products. But they are enough for straight flat surfaces, and you will face no major problems. However, if you plan trips outside the city, you should consider more expensive options. The premium trailers have plushy seats, extra storage, and an adjustable suspension to withstand rocky terrain.
Make sure to estimate how much money you are willing to spend on a bike trailer and what purpose you will put it to.
Other Factors that Matter in Child Bike Trailers
A pull-behind bike trailer has other features that are often ignored, and these factors will influence your purchase decision for the better. Your final choice will be excellently tailored for your needs only.
Quality and Size of Wheels
Wheels are no less important than the size of a frame, and many buyers pay little attention to them and may regret it after the product has been put to use. If you want your child to have a fun and enjoyable ride, it is always better to opt for 20″ wheels with metal rims. They are sturdy and can roll smoothly on rough terrain, absorbing the bumps.
More affordable trailers usually have 16″ wheels with plastic rims. This is not an ideal choice but serves the purpose for those who have limited funds. Keep in mind that budget bike trailers should be used on flat surfaces not to experience any difficulties and problems like cracking. However, if you plan to take a trip on rough terrain, consider a more expensive bike trailer.
The speed is another difference between these two types. The 16″ wheels shouldn't exceed 10 mi/per, and 20″ wheels can go as fast as 15 mi/hour.
The Comfort of a Seat
The comfort of a seat will determine whether your children will be excited and willing to travel with you ever again. You cannot force a child to sit in an uncomfortable trailer and expect them not to whine about it. To avoid any discomfort, look for trailers with regular bench seats because they provide more support, and it is especially easy to load two kids. High-end bike trailers usually have reclining seats that can be adjusted. Hammock seats, in contrast, look exactly like a hammock, so there is stretched fabric attached, and it can be saggy.
Brakes
Brakes are mostly present in high-end models where you can stop or "park" the trailer by using a handbrake or a footbrake. This is a helpful feature if you climb uphill and need to take a break or during a stroll. Unfortunately, it is absent in budget bike trailers; however, if you plan to use the product solely for cycling – there is no need to have it.
Removable Child Seats and Mats
The last feature on the list is optional, and it is removable seats and mats. Whether you need it or not depends on the activities you are going to perform. If you think your kids can make the trailer look dirty, it is useful to detach the parts, clean them, and attach them again. This feature is rare to find as it is not the main priority of many.
Baby Bike Trailers Tailored for Your Budget Range
High-End Baby Bike Trailers
Some of the best pull-behind bike trailers are from infamous brands like Thule and Burley. Their products are made of premium material and have various features useful during short and long trips.
Thule Trailers
Thule Chariot Cross
Thule Chariot Cross is a truly multi-sport bike trailer that can be converted to stroll, jog, and ski modes. This trailer holds one child, and you can start using it as soon as your baby is an infant in stroller mode with head and neck support. There is an infant sling that can only be used in a stroller mode and let new moms go out more often.
The trailer works well in good and bad weather. It has a protective rain cover that stretches over the front opening and keeps the child dry and warm even in lower temperatures. In sunny weather, you can apply a sunshade, it is long, and you can adjust it by pulling it up or down.
The Thule Chariot Cross does not only provide you with lots of options, but it also has a smart design. It looks neat with straight clear lines, and it is effortless to fold and pack away. The trailer was manufactured to be convenient and practical. That is why the front wheels are always up; you can always convert a trailer to a stroller in a matter of minutes. Moreover, the trailer arm and jogging wheel can also be kept in the trailer at all times.
Advantages of the product:
The Thule Chariot Cross is a durable and reliable product that can be used daily for an extended period.
It can be used for all four sports: strolling, jogging, cycling, and skiing.
It has 20″ wheels with metal rims that absorb bumps and ensure a smooth ride even on a rough surface.
The trailer has adjustable handlebars and reclining seats for the ultimate comfort of a child and mother.
The seats have padding, and the bottom one is removable.
There is an adjustable suspension, ideal for trips even on dirt or gravel.
The double chair Thule Chariot Cross is available here.
Thule Chariot Lite
Thule Chariot Lite is another excellent trailer that comes in two types: single and double. It is lightweight and adjustable, and it has a comfortable seat with lots of ventilation.
Like the previous model, this one can be used for jogging, strolling, cycling, and skiing. Since it is the lite version, some features are different:
The seat doesn't recline but only puts a child in a standard seating position.
The Lite version has suspension; however, it is not adjustable.
The seat bottom is padded but cannot be removed.
The storage bag on the back of the trailer has a different design but lacks the rear box.
Advantages of the product:
The package includes a rain cover and sunshade.
The Thule Lite is lighter and can be even easier to maneuver.
It is a more affordable trailer, ideal for families who enjoy cycling and strolling.
Burley Bike Trailers
Burley Cub X
Burley Cub X for two kids is a sleek, designed pull-behind bike trailer that features premium quality and multi-functionality.
Burley Cub X is a high-end trailer that can be converted for strolling, jogging, and skiing. You can ride on a dirt trail or rocky terrain easily, while on a flat road, you will experience no weight at all because this trailer rolls behind very smoothly. All of this is because of an adjustable suspension that guarantees an enjoyable trip.
Advantages of the product:
The Burley Club X has comfortable two seats that can be reclined separately. The seats have a headrest and can be removed to clean the trailer.
There is an adjustable suspension with five different positions.
You can adjust the handlebar according to your height quickly.
There is plenty of storage in the back of the trailer, and you can pack drinks and snacks, and various games to take with you outside.
The sunshade and a rain cover are attached to the trailer at all times. Moreover, the side windows provide UV protection for your children.
Burley D'Lite X
Burley D'Lite X is a cheaper model that features as many functionalities as the previous Burley. You can ride on uneven terrain and adjust the suspension accordingly. There are premium seats with comfortable padding and a headrest. If you decide to get a double trailer, you can recline seats individually.
Burley D'Lite X can be converted to jogging, strolling, and skiing. You can set the height of a handlebar and extend or shorten the trailer arm to maneuver the trailer easier.
Advantages of the product:
There is an attached sunshade and a rain cover.
The storage is huge and fits a lot of necessary things.
The trailer has a bowed-out design that gives more space for shoulders and elbows.
Budget Trailers
Allen Sports Trailers
Allen Sports Premier
Allen Sports Premier belongs to more economical trailers than high-end ones. However, even at a cheaper price, you still have a lot of benefits from using it in your daily active life.
Allen Sports Premier was mainly designed for jogging as it has an open frame. Apart from it, you will experience a sturdy trailer that can withhold flat and dirt terrain and has a lot of space underneath.
Advantages of the product:
It is very lightweight, so there will be no difficulty pushing it when jogging.
It features rear suspension to ensure a smooth ride.
The seat can be reclined, and there is a lot of storage under it.
Allen Sports Deluxe
Allen Sports Deluxe is a budget trailer that can be used only for one sports activity – cycling. Even though it is a double trailer, its weight is relatively light.
Allen Sports Deluxe is ideal for paved terrain and flat surfaces, and its quality is much better than any other budget trailer. Whether you plan to purchase a single or a double, there is lots of space for your kids.
Advantages of the product:
There are padded hammock-style seats that are less saggy than in other budget trailers.
The 16″ wheels have metal rims and have better durability.
There is a footguard to protect the feet of the passengers.
Pros of Bike Trailers Over Child Bike Seats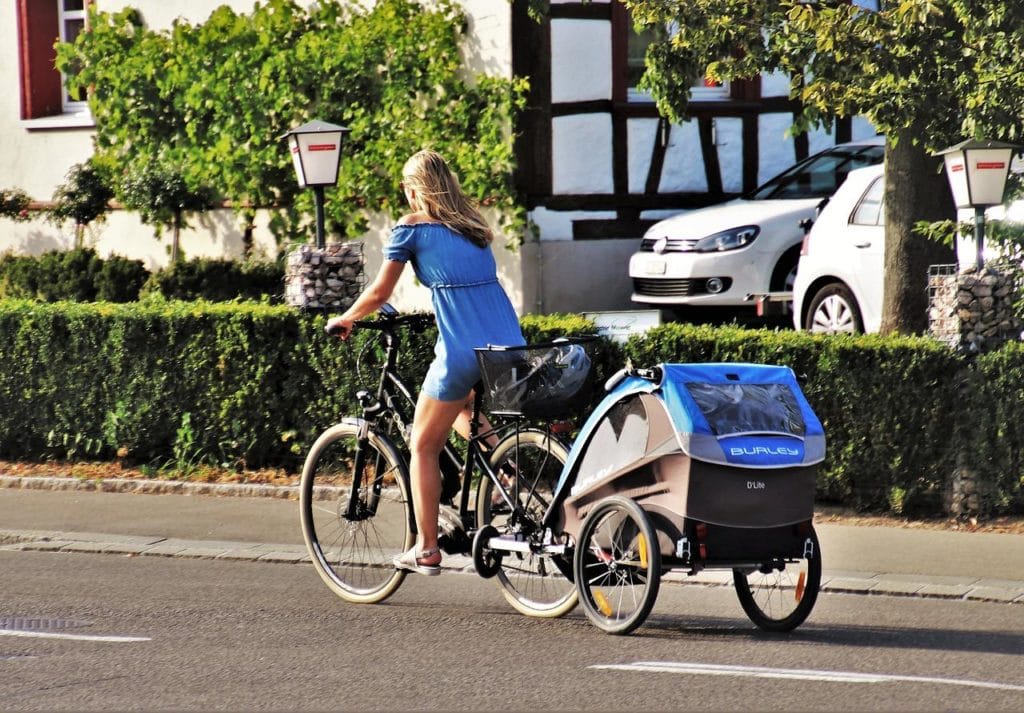 Safety
A trailer is safer than a bike seat and, perhaps, more comfortable, too. You can only place one child on a bike seat, and the movements are very restricted. On the other hand, a bike trailer can hold two kids, protect the passengers from wind, rain, and sun, and have some space to move around, sleep, and eat. Moreover, in case of an accident or tip-over, your child will be safely strapped in a metal frame that should prevent any physical damage.
Another small detail that many cyclers appreciate is when having a break, a bicycle is placed in an inclined position, but the trailer keeps its upright position. This makes it easy to take the child out of the trailer.
Extra Storage
Additionally, a bike trailer can have a storage place to keep valuables or things needed for a trip, which is absent in rear bike seats. Depending on the model, your bike trailer can be more adjustable for off-road trips and be less bumpy on rough terrain with adjustable suspension.
Multiple Functionalities
It is worth mentioning that a bike seat is limited in its usability, while a trailer can be converted for strolling and jogging activities. It can have additional parts to allow better movement on a bike. You can purchase accessories or use the ones offered by a manufacturer.
Apart from being so versatile, some trailers are lightweight and highly portable. You can easily fold them and keep them in your car trunk or a garage.
Conclusion
We have listed the best bike trailers and their specifications to aid you in choosing the one that suits your budget, needs, and future plans. All of them are made of good quality; they are solid and protective, featuring various additional accessories.
As soon as you decide the primary purposes of your next trailer, it will be effortless to choose the right brand and model. Some of them will suit your needs better than others. Make sure to filter the trailers by their weight, functionality, comfort level, and storage capacity.