There's nothing more annoying than your bike breaking down on an otherwise delightful bike trip.
The transition from happily biking one second to hastily parking it along the roadside or at the edge of some mountain is less than ideal. Not to mention the headache of having to push your bike to the mechanic or request on-the-spot repair.
If the last two instances weren't relatable, you're either a beginner or a very fortunate person. Either way, you immediately need to get yourself a bike tool kit (or build one yourself) and learn the basics of fixing a bike.
I know some of you are in a hurry so let's start with the best bike tool kits to buy in 2022. Next, I'll talk about the tips and tricks of choosing the right toolset or making your own.
Best Bike Tool Kits to Buy in 2022
Generally, there are three types of toolkits for bikes. Hidden bike toolkits can be attached to existing slots or openings on your bike. That way, you don't have to put them in a bag or a pouch.
Basic (also called minimalist or beginner) tool kits come with the most basic tools, mostly hex wrenches. These kits can help you with minor issues, but you'll need to add a couple of things like a chain tool and tire levers for slightly advanced problems. New bikers prefer these kits due to their lightweight and less-space-consuming approach.
Finally, the all-in-one kits have everything you'll ever need. You could probably dismantle and reassemble your entire bike part by part using one of these. All-in-one kits consume more space and are bulkier than the other two options.
Now that you know the types let's look at some of the best bike tool kits in 2022.
1. Birzman Unisex Travel Tool Set
Birzman's Unisex Travel Tool Set has everything you'll need on your next biking trip. At approximately 11" by 18", it'll occupy a good amount of space, but you won't need to get individual tools after getting this kit.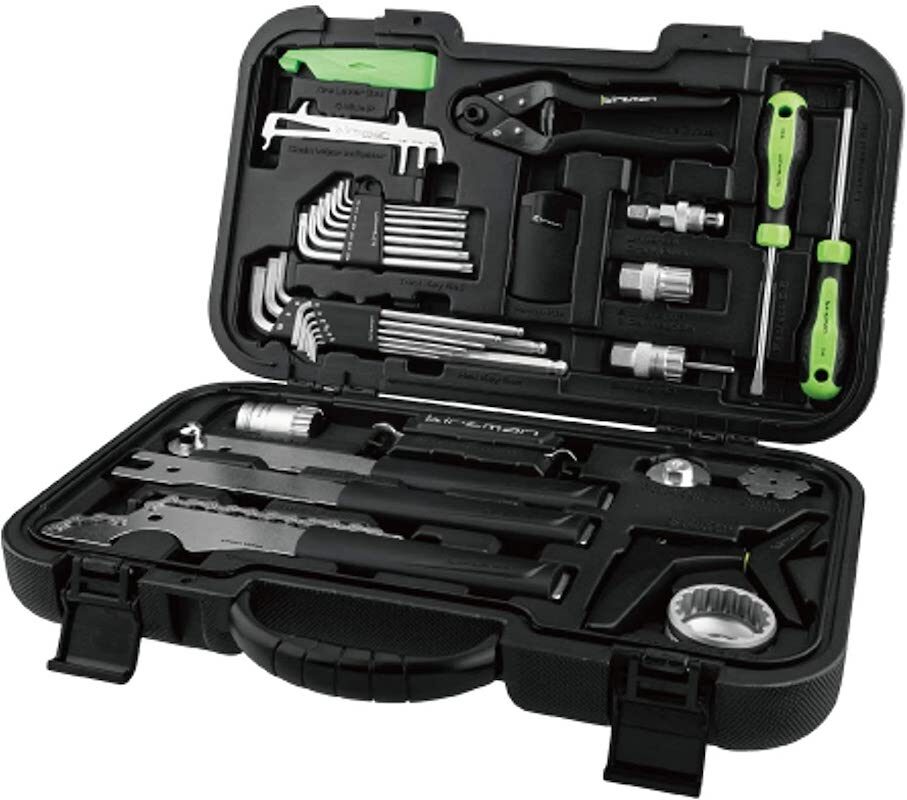 All the tools are high-quality as they're made of alloy steel and aluminum. Additionally, you have a range of Allen / hex keys, so get a multi-tool at your own discretion.
Buy Birzman Unisex's Travel Tool on:
2. Topeak Prepbox 18 Tool Kit
Topeak is a named brand hence the hefty price tag of $370, but its quality speaks for itself. Topeak Prepbox has the 18 most essential tools to help fix your bike in a pinch.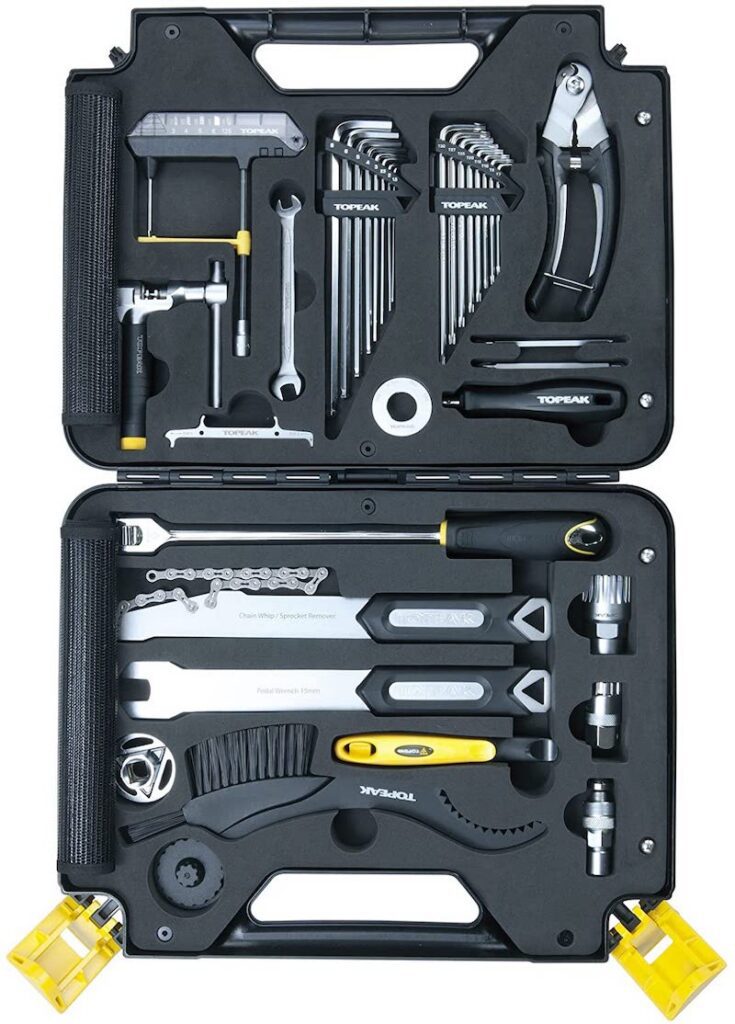 The tool kit is suitable for experienced / intermediate-level bikers and not beginners.
Buy Topeak Prepbox 18 Tool Kit on:
3. XCH Robots Bicycle Repair Bag
The Bicycle Repair Bag by XCH Robots is the best and cheapest bike-specific toolkit at just $25. It has a reasonably efficient multi-tool with Allen keys, a pedal wrench, tire pump, and a couple more essential tools.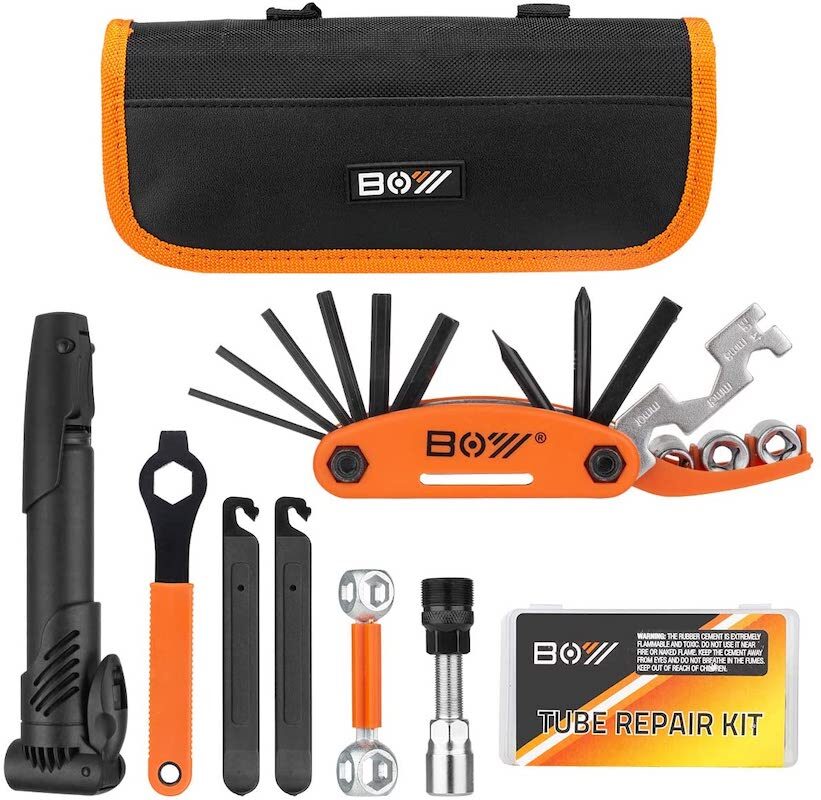 The quality of the tools may not be professional-grade, but it's an excellent entry-level tool kit for beginners.
Buy XCH Robots Bicycle Repair Bag on:
4. Cyclists 23 Piece Bike Tool Kit
At $80, Cyclists' bike tool collection is more than thrice the price of XCH Robots with a comparable quality of tools. So, what makes it worthy of this list, you ask?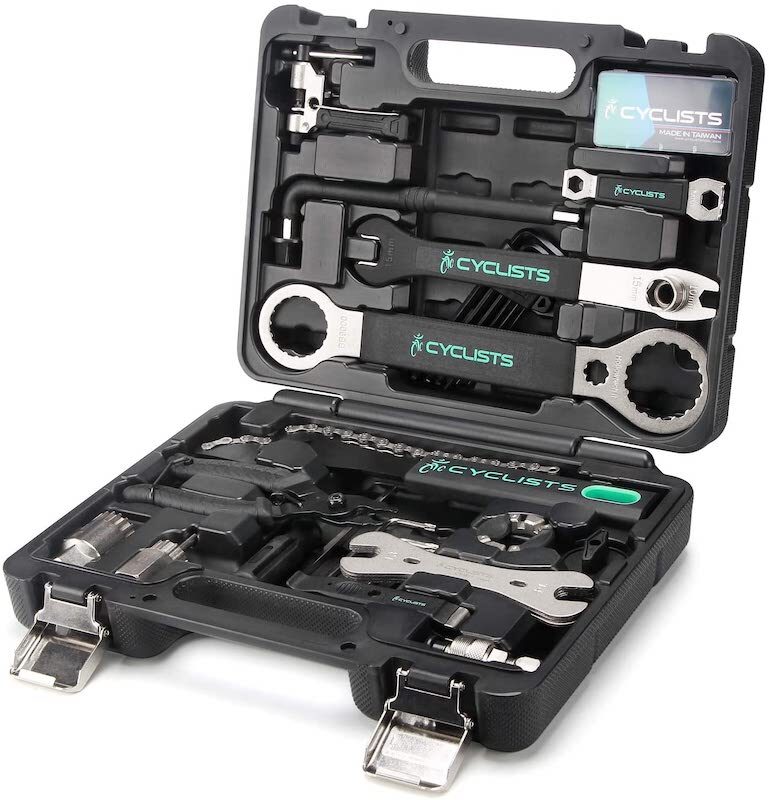 First, it offers a few "extra" tools like a chain rivet extractor and chainring nut wrench, in addition to all the necessities:
Torque Wrench
Allen keys
BB tool
Screwdrivers
Tire patch kit 
Additionally, it comes with a 1-year moneyback guarantee on Amazon.
Buy Cyclists 23 Piece Bike Tool Kit:
Don't worry if you're overwhelmed by so many options. Next, I'm gonna help you choose the best one for you.
Read More: Chamois Cream: Why do you need it? Which one should you buy?
What tools should you carry in a bike repair kit?
1. Multi-Tool with Allen Keys and Screwdrivers
You must have a multi-tool that contains adjustable Allen keys or hex keys (between 1.5mm to 8mm), a Philips screwdriver, a flathead screwdriver, and a chain breaker tool.
Additionally, you can have an Allen key or hex key set (2m to 10mm) at home, but a multi-tool should be more than enough for the road.
Vibrelli's Multi-Tool and WOTOW's 16-in-1 are two of my favorite multi-tools for a bike kit on Amazon.
2. Flat Tire Kit
You must learn how to fix a flat tire on your own. It's the most basic and essential thing. A good flat tire kit will have a spare tube, tire levers (to remove the current tire), a small pump, or a CO2 cartridge.
Ensure that you've adjusted your pump to attach to the type of valve on your tires. You should also have a patch kit for emergencies.
3. Chain Tool 
Keep a separate chain-breaker tool in hand if your multi-tool has one. This chain tool fixes stiff links on the bike chain.
4. Standard Screwdrivers
You should have standard-sized Philips and flathead screwdrivers even if your multi-tool collection has them. You'll need them to make minor adjustments on the derailleur, breaks, and other parts.
5. Wrenches (Pedal, Torque, Adjustable)
If you are a frequent biker, you must have a pedal wrench to fix or readjust your bike pedals. Keep a small adjustable wrench if a large pedal spanner is inconvenient.
You must just get a torque wrench to maintain the pressure. 
6. Cable Cutter
As a beginner, you can rely on pliers for a while. Still, you should immediately invest in a good-quality cable cutter.
7. Chain Lube & Grease
You should have some chain lube and grease just in case you have to fix a rusty or stuck bike chain.
8. Gloves & Cleaning Cloth
Rubber gloves and an extra cleaning cloth are essential to avoid getting dirty. Fixing a bike on the road is just a minor bump. You don't wanna let it affect your trip. Keep some wipes as well.
9. Cleaning Solution
It's ideal to have a cleaning solution and a small brush handy.
10. Other Tools You Might Need
You can add more tools later on based on your need. Your next purchase should include a bottom bracket tool, a chain whip to hold the cassette in place, and a cassette lockring tool to get the job done.
Read More: Best Bike Computers in 2022 – An Odometer, A Speedometer & Much More
How to choose my bike tools set?
Choosing bicycle tool kits is pretty straightforward. You should get one with bike-specific tools, provided that they're of good quality and the toolkit stays within your budget.
Here are some tips:
Your multi-tool kit should have a chain tool and Allen keys that go up to 8mm at least.
Take your time researching and get Allen keys made with good quality metal. Cheaper and bad-quality hex keys often get rounded out from the edges.
Look for innovative solutions that eliminate the need for extra tools. Get magnetized tools so you won't need a tray for the bits. An integrated CO2 dispenser that works with your valve is a wise addition as well.
How do you carry things on a road bike?
Now that you know what bike accessories to carry, let's solve the storage issue next. There are a couple of ways to carry your bike tools.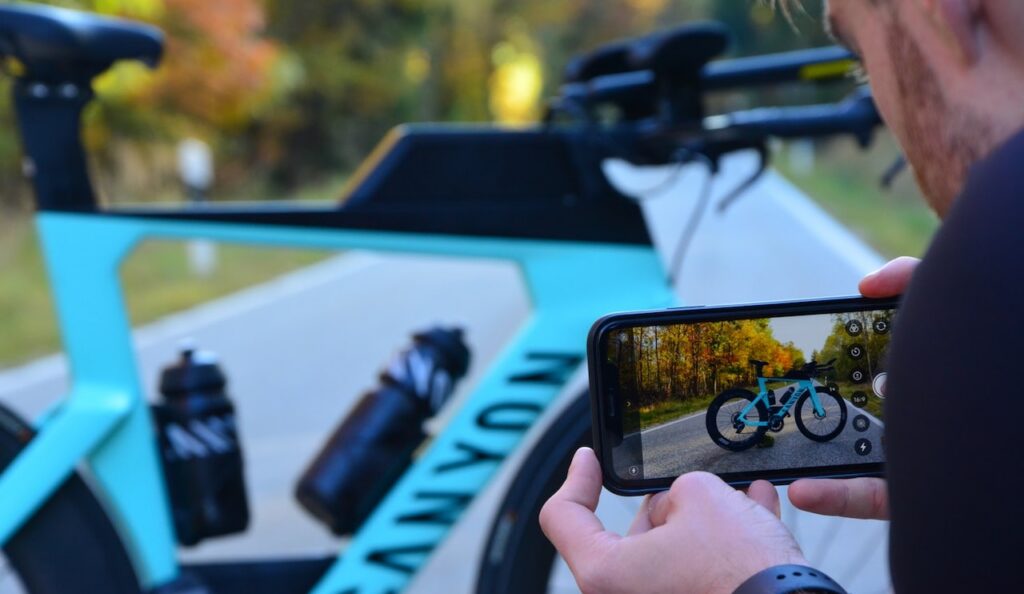 Backpack: Most bikers use a backpack to carry stuff, but I wouldn't recommend it if you just wanna put the toolkit.
Any bag that can utilize empty space: You can use a frame bag as it sits in the big hole on your frame. Handlebar bags are also typical, but bulkier ones can come in the way. I prefer using a saddlebag (sitting under your seat) to store small bike toolkits and an extra tire tube.
Panners and Trailers: Panniers are good because they offer a bunch of storage without coming in your way. But they're chunky and only suitable if you use a bigger (professional) bike toolkit with extra parts).
Water Bottle Cage: These days, you can buy "cage boxes" that are basically water bottle-shaped storage solutions that sit in your bottle cage. Only use this option if you have multiple bottle cages or don't need to carry a water bottle.
How to learn all the essential bike fixes?
It's better to take time and learn all the standard bike fixes before your next biking adventure. Obviously, I can't teach you all of them here. That would make for a very long and tedious article.
Here are the links to individual guides for all the basic bike accessories that every biker should know: