If comfort is your primary concern when searching for your perfect bicycle, then a step-through bike is your ideal choice. The name refers to a step-through frame that allows a person to quickly, well, step through to mount it instead of raising a leg over the rear wheel. In other words, a step-through bike is nothing else than a traditional women's bicycle.
In fact, women bikers are the primary reason why this type of frame was developed. Back in the 1800s, step-through frames were to allow women in skirts to ride bikes. However, as the trends have changed, men have also accommodated step-through bikes, especially seniors who want a bike to provide them with a more relaxed riding style.
Now. If you're in the search for the step-through bike of your dreams, this guide will provide you with all the information you need. Below, you'll find a list of our favorite step-through bikes and why purchasing one is the best choice you can make. Read on, and find your ideal bicycle!
Short on Time? See our Top Rated Products From 3 Categories

Schwinn Wayfarer Adult Bike Hybrid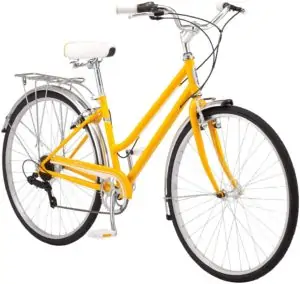 Schwinn Loop Adult Folding Bike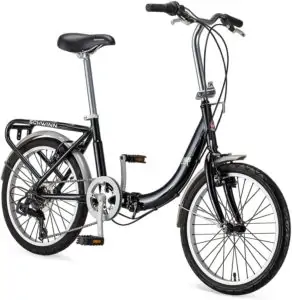 Schwinn Discover Hybrid Bike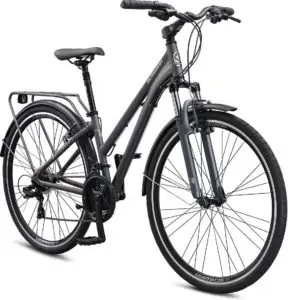 Top 10 Step-Through Bikes for 2021
1. Schwinn Wayfarer Adult Bike Hybrid Retro-Styled Cruiser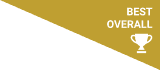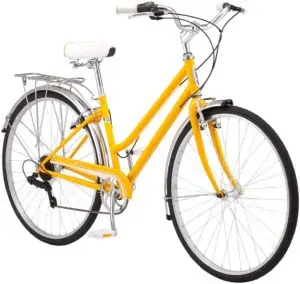 The Schwinn Wayfarer Adult Bike Hybrid Retro-Styled Cruiser opens our list of the best step-through bicycles. Developed by a well-known bike manufacturer Schwinn, the Wayfarer is one of their most gorgeous bikes. Its retro-styled frame looks amazing, making it a perfect fit for your rides through the city.
But enough about its design. The Schwinn Wayfarer is equipped with Schwinn's 7-speed twist shifter and rear derailleur, providing swift and smooth gear changes. On the other hand, its alloy front and rear linear-pull brakes work perfectly, ensuring precise and quick braking. As for the frame, the Schinn's one is made of durable steel.
On top of that, the Wayfarer comes with wheel fenders to protect you from splashes, whereas its rear carrier is convenient and sturdy. You can choose either a small 16-inch step-through version or an 18-inch medium step-over bike.
2. NAKTO 26″ 250W Cargo Electric Bicycle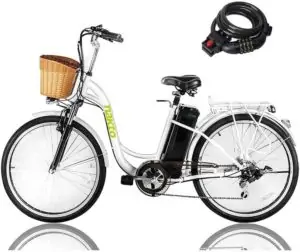 Electric bikes have taken the bicycle industry by storm, and step-through bicycles aren't the exception. However, if we were to choose just one, it would have to be this NAKTO 26″ 250 Cargo. It comes with a mighty, removable, and waterproof 36V10A lithium battery, which will allow you to easily ride 22-28 miles per charge. As for its 250W high-speed motor, you can expect to travel effortlessly at the 18-25mph speed limit. You can also switch between three cycling modes – electric, human, and assisted.
The NAKTO is equipped with a top-quality 6-speed gear shift courtesy of Shimano, as well as the V front brake and rear extension brake. These two ensure smooth and safe rides wherever you go. The frame is made of aluminum, making the bike lighter than it looks, whereas its fat tires on 26″ wheels mean you can even use it as a mountain bike.
3. Heybike Cityscape Electric Bike 350W Electric City Cruiser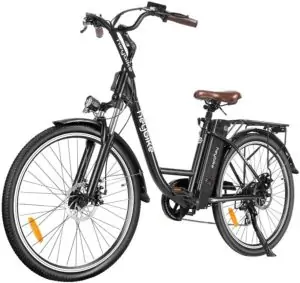 The Heybike's step-through bike frame is made of carbon steel. Its Shimano 7-speed gear shift assures smooth gear changes, with dual disc brakes protecting your safety. On top of that, the Heybike looks just mesmerizing in its black coating, which gives it that cool retro style.
4. Sixthreezero EVRYjourney Women's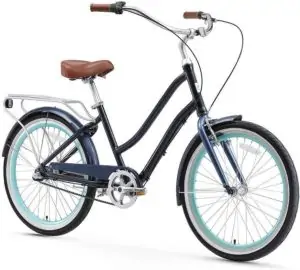 Now something exclusively for the ladies. The Sixthreezero EVRYjourney Women's is a perfect hybrid cruiser that comes with a versatility not many other hybrid bikes can match. And yes, there's much more to it than just the beautiful design. Coming with a Shimano 3-speed internal hub with a Nexus shifter will allow you to travel through greater distances comfortably, whether you're cruising through the streets or countryside hills.
The Sixthreezero is equipped with a 14-inch traditional bike frame made entirely of aluminum, meaning the bicycle is easy to carry around when necessary. Its most significant advantage, however, is the comfort of riding it provides. All thanks to its design that ensures an upright riding position at all times, as well as its wide tires that provide cushioned and stable ride.
5. Sixthreezero EVRYjourney Men's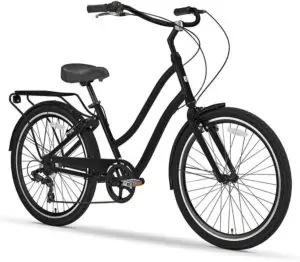 If you're a gentleman who felt envious of the previous Sixthreezero, we've got some good news for you. The EVRYjourney also comes in a men's model. The Sixthreezero EVRYjourney Men's has all the features of its women's counterpart, providing every male cyclist with riding comfort other hybrid cruisers can only aspire to.
The only difference here is that the EVRYjourney men's step-through bike model is equipped with a Shimano 7-speed external derailleur, making it even more versatile!
6. Schwinn Discover Hybrid Bike for Men and Women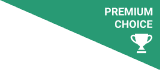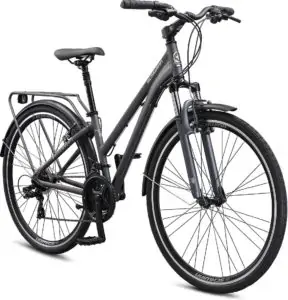 Just take a look at this gorgeous Schwinn Discover Hybrid Bike. Isn't it a beauty? Well, looks are not the only thing it has to offer. Its main feature is the 21-speed gear shifter with a rear derailleur that offers precise and smooth gear changes. On top of that, it comes with a suspension seat post, Schwinn hybrid saddle, and ergonomic grips. This, in addition to the mentioned earlier gear shifter, makes this step-through bike ideal for long trips.
As for the other features, the Schwinn Discover is also equipped with alloy linear-pull brakes for more controlled braking, as well as convenient rear cargo space and fenders to protect you from splashes. You have some options here, as this model comes in two different types and three frame sizes – 15-inch, 15-inch, and 18-inch.
7. Sixthreezero Body Ease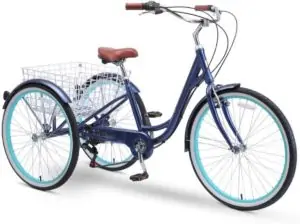 And now for something completely different… a step-through tricycle. Another Sixthreezero on this list, the Body Ease, certainly catches the eye. However, as original as it may look, this tricycle is absolutely phenomenal when it comes to functionality as well. The 7-speed Shimano gear shift works tremendously, allowing the Sixthreezero to reach even 20 mph. The frame geometry is also brilliant. Designed to absorb bumps, it provides a cyclist with riding comfort and eliminates joint fatigue.
There's more, though. Sixthreezero equipped the Body Ease with a smooth cruiser configuration to make pedaling smooth and easy, as well as a seat post suspension to reduce vibrations. The frame is made of aluminum, and on the back of it, you'll find a rear folding basket, ideal for packing up when going on a longer trip.
8. Schwinn Huron Adult Beach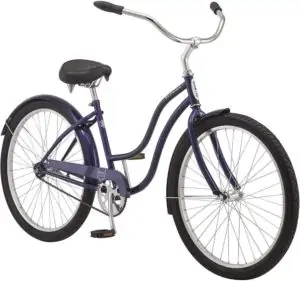 If you're looking for a more economical choice, the Schwinn Huron Adult Beach will definitely do the trick. Sure, it looks inconspicuous, but do not underestimate it. As with every other Schwinn, the Huron is a reliable and sturdy bike, perfect for trips around the neighborhood. Contrary to other step-through bikes on this list, the Huron comes with a single-speed drive train, meaning you won't be able to change gears.
As for the other features, this Schwinn has a wide, dual-spring padded seat and traditional cruiser handlebars, providing a comfortable and relaxed riding position. Its most significant advantage, though, is its durability. With a steel frame and easy-to-maintain drive train, this step-through bike will serve you for many years.
9. Schwinn Sanctuary 7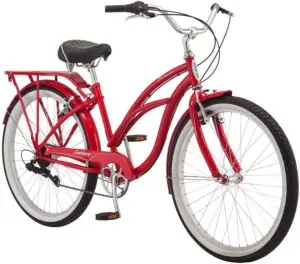 And yet another Schwinn on this list, the Schwinn Sanctuary 7, perfectly shows why we're so in love with this brand. This step-through bike features a 7-speed twist shifter, ensuring smooth gear changes and incredible performance. Additionally, its lightweight aluminum frame is designed to keep your riding position relaxed.
Other than that, the Sanctuary 7 is equipped with the padded cruiser saddle with spring leaves to increase a rider's comfort, as well as fenders to protect you from dirt and mud. All these features make the Sanctuary 7 an ideal bike for longer trips around the countryside. You can also get this bike in a step-over frame style, varying from 16-inch to 18-inch wheel size.
10. Schwinn Loop Adult Folding Bike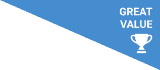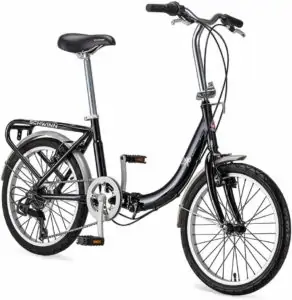 We started this list with a Schwinn bike, and we're going to finish with one. The Schwinn Loop Adult Folding Bike might not seem like the most impressive bicycle here, but don't let its look deceive you. Despite being a folding step-through bike, it can still provide an unbelievable performance. It's equipped with a 7-speed twist shifter to keep your rides smooth, with rear and front linear-pull brakes ensuring fast and secure stops. It's also quite comfortable to ride on, even if it doesn't look like it.
Regarding other features, the Schwinn Loop is easy to fold, and thanks to a detachable nylon bag hidden in the rear carrier, you'll be able to store it with no problem at all. The most significant advantage of the Loop, however, is its price. If saving money is your primary objective when choosing a bike, this Schwinn won't let you down.
Pros and Cons of a Step-Through Bicycle Frame
There are many reasons why you should consider purchasing a step-through frame bike. What makes them so special, though? And are there any downsides coming with step-through bikes? Let's take a quick look at the pros and cons list:
Advantages
When it comes to the advantages of step-through frames, we can include:
Comfort: The most significant benefit of riding a step-through bike, especially for seniors, is that they promote a healthy riding position. These bikes are designed to help maintain an upright position, preventing a body from leaning forward, which often contributes to lower back pains.
Versatility: Step-through bikes can work as traditional city cruisers or mountain bikes. This makes them an ideal choice for people who don't want to spend a fortune on buying two bicycles for different terrains.
Utility: Step-through bikes come in handy, especially for city dwellers. You can easily jump onto your bike when in a hurry; not to mention that these bicycles are perfect when going shopping as they can carry a lot of cargo. If you've been thinking about switching your car or a bus for a bike, choose one with a step-through frame.
Disadvantages
Of course, step-through bikes aren't perfect. They do come with several downsides, such as:
Weight: Although there are several step-through bikes that are relatively lightweight, most models with traditional bike frames tend to be heavy. This can make your rides slightly more difficult when riding uphill.
Speed: If you like to ride your bike fast, we've got some bad news. Step-through bikes aren't built for higher speeds. Sure, some of them, especially electric bikes, can attain a speed of around 20mph but don't expect to go any much further than that. For faster rides, it would be better for you to get a diamond-shaped bike.
Final Word
If you're a biker who values comfort and utility ahead of speed and performance, then getting a step-through bike is an amazing choice. Although primarily designed for women, step-through bikes are now used by women and men alike. They have become especially popular among seniors, as they allow for a healthy upright position and are easy to mount.
If you have any further questions regarding step-through bikes or are still wondering which model to choose, feel free to contact us. Our team of professionals will be more than happy to provide you with all the aid you need!