When I looked at bike rollers for the first time, I had two things in mind – this looks damn cool, and it's going to be just as hard to learn. And boy, was I right.
For those of you who don't know, bike rollers are a type of freestyle and indoor training equipment that helps you practice balance and biking in the most accurate way possible.
Unlike standard trainers, bike rollers don't attach to your bike and aren't very big. The idea is to maintain your balance while biking on three cylindrical rods without wobbling. They're pretty tricky compared to training equipment that provides support by attaching to your bike, and that's why many people, even some professionals, tend to stay away from them.
While I can't dispute their difficulty, I do believe they're severely underrated and might be just the practice you need for that "extra competitive edge." Let me start by comparing them with bike trainers since most of you are familiar with the latter.
Why should you use bike rollers instead of stationary bikes?
It's noteworthy that indoor cycling is incomparable to biking outdoors, regardless of how unique and efficient modern equipment is. But sometimes, you're forced to bike/practice indoors due to unwanted weather, an injury, or any one of the many plausible reasons.
In that case, rollers and trainers are a far better option compared to stationary bikes. Both are cheaper than stationary bikes and are much closer to the authentic experience because you're still "biking" on your bike – something you're familiar with.
Another great reason is their portability. Both indoor bike trainers and rollers aren't that big and can be moved around anytime you want. Ideally, they only require enough space for one bike, which is less than half of the space needed by stationary bikes. Stationary bikes are also super bulky and can't be moved around at will.
1. Are rollers a good workout?
Bike rollers are an excellent workout, even better than bike trainers for competitive bikers because rollers help refine pedaling form. Indoor cycling rollers are universal while trainers aren't, as some bike trainers are incompatible with bike wheels and frames. Rollers also return better output with equal effort.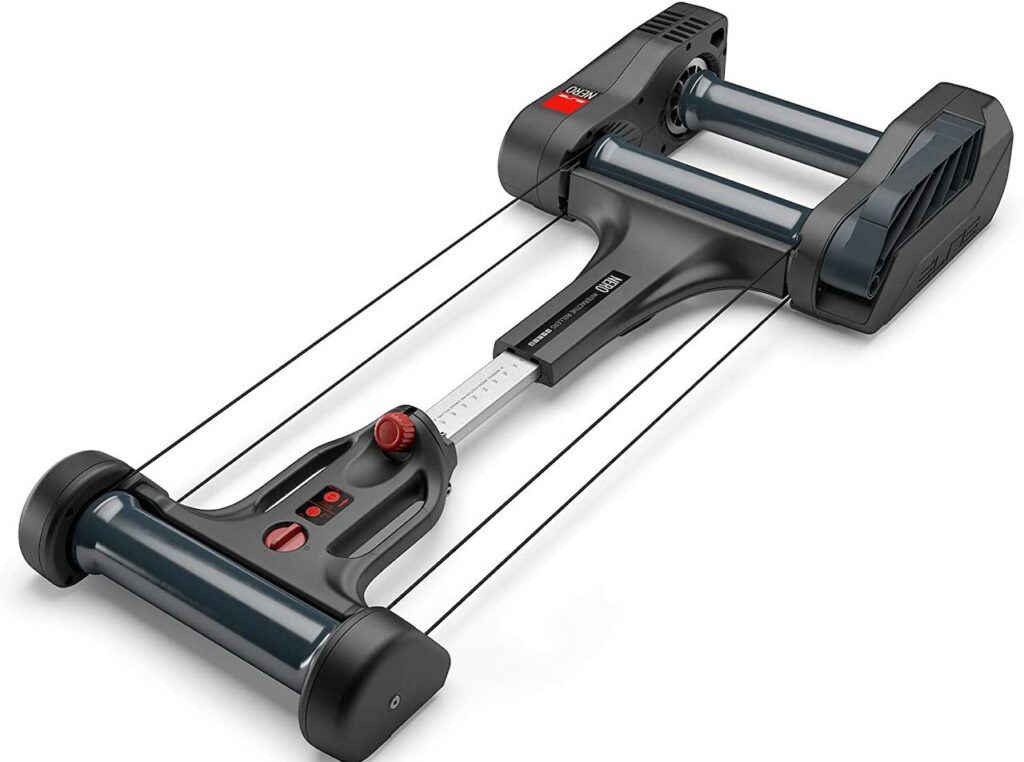 Bike rollers also help in muscle activation throughout the body and refining your cadence/top speed, both of which are difficult to achieve with just bike trainers.
Read More: Chamois Cream: Why do you need it? Which one should you buy?
2. Which is better: bike rollers or trainers?
Bike trainers are way different bicycle rollers since they are used for different purposes. While bike rollers are used to practice balance and technique, bike trainers help build endurance and stamina. They're also quite good for warming up before races or other events.
That said, it's almost impossible to call one of them better than the other since both are designed for niche purposes. Rollers and trainers are also targeted towards a specific rarely-overlapping demographic.
Beginners often find trainers more appealing than rollers, thanks to the recent spike of "smart trainers" that let you run virtual circuits along with various other features. Compared to that, rollers look pretty historic.
Note: Some modern "smart rollers" can be connected to training apps and power meters using Bluetooth, so they aren't as "low-tech" as they look.
Rollers also demand eagle-eyed concentration from the rider while you can flip through magazines when biking on trainers. I'm sure you're thinking, why am I even asking you to get indoor cycling rollers when trainers are the easy and "fun" choice.
It's because bike rollers are the best piece of training equipment a bike enthusiast can have – it not only helps develop strength and endurance but focus on refining your technique rather than just muscles. Rollers help you concentrate and develop your skills better than indoor bike trainers.
Best Bike Rollers to Buy in 2022
Here's a list of the best bike rollers you can get in 2022.
Ps…I won't be recommending rollers like "Feedback Sports Omnium Rollers" even though there are some outstanding products in the category because they're counterintuitive to the road-like experience.
1. Best Overall: Elite Arion Folding Rollers with Mag Resistance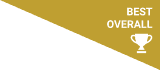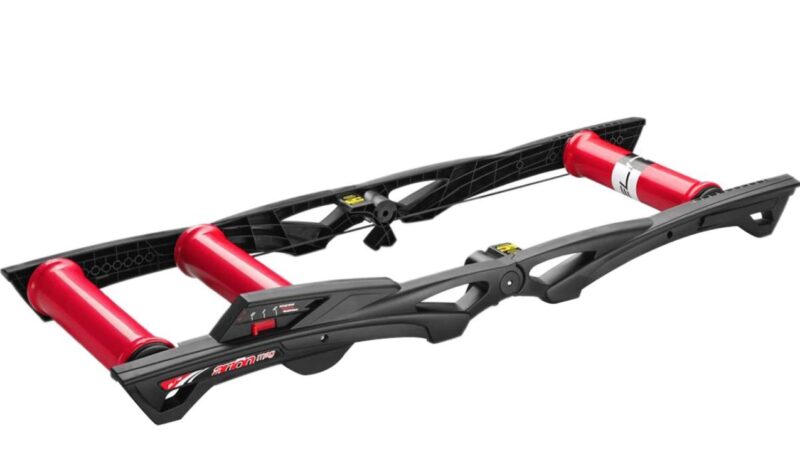 Elite's Arion Folding Rollers with MAG resistance are the best bike rollers you can buy in 2022. With Arion, you're getting a premium-level product at just $380 that has one of the best price-to-performance ratios in the market right now.
The product comes with three different layers of magnetic resistance to adjust the difficulty of your sessions which would further improve your cadence. Its parabolic design might seem odd at first, but it's ergonomically designed to help you stay on for the longest time possible.
Arion also comes with a Misuro B+ sensor that allows you to connect your rollers with a training app, thus eliminating the most prominent concern bikers have with traditional rollers.
Purchase Links:
Buy Elite Arion MAG Rollers on Amazon ($380)
Buy Elite Arion MAG Rollers on Backcountry ($380)
2. Best for Beginners: TACX Galaxia Rollers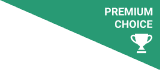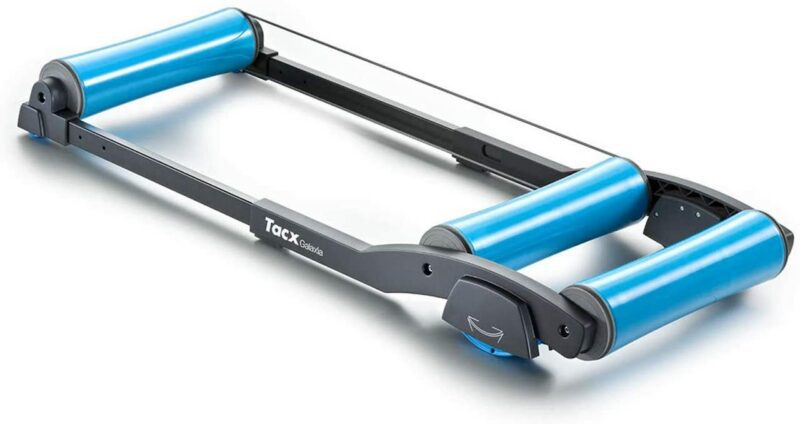 3. Best on Budget: ROCKBROS Bike Rollers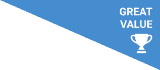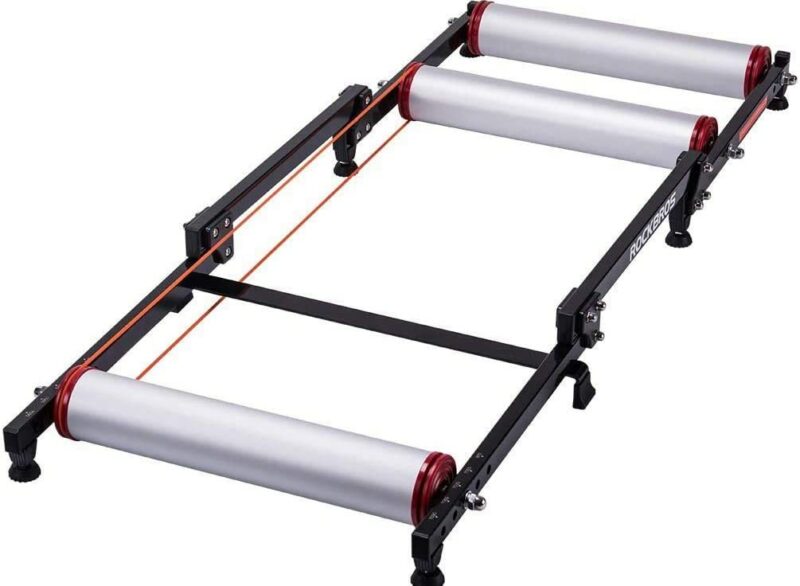 How hard is it to bike on rollers?
Let's do a simple thought experiment. For whatever reason, you're unable to go road biking, so you buy a bike trainer. With tremendous excitement, you attach the front and rear rollers to your bike and start riding. But it's still not the same, mainly because your rear wheel has been lifted attached to the trainer, which sets your front wheel lower than normal. And second, your bike is still stationary!!! Yes, it's pretty easy to ride, but it's not the same.
Next, you try a set of bicycle rollers. Theoretically speaking, this should be perfect. Your bike stands on a leveled plane. Secondly, both wheels are moving, which is as close to an authentic road experience as you can get with indoor cycling. You hop on the bike to try riding it on the rollers, and that's it, problem solved, right? Wrong.
When you try riding on the rollers, you won't be able to. I'm not saying it'll be hard to pedal. I'm telling you you won't even be able to sit on the bike upright before your bike is off the rollers. You hop back on again and again only to end up with results. Why is it so hard even for a reasonably good biker to ride on indoor cycling rollers?
This is what happens at first, even when you set everything up perfectly:
Bicycle rollers are significantly harder to ride on at first because you have limited space (often 36 inches) for riding that discourages wobbling or riding on a non-straight line. Additionally, your bike wheels are rolling on a rotating platform, making it challenging to maintain balance.
You might've heard the common phrase among bikers that riding on a biker roller isn't as challenging as riding on it well. This is because the entire apparatus is interconnected – the rollers underneath your wheels will only roll properly if you perfectly pedal the bike.
In other words, rollers will move irregularly the more you wobble or bounce, which would further disrupt your "ideal" motion, and eventually, you'll fall. Rollers force you to pedal complete circles, which bikers aren't used to doing.
To sum up, don't be fooled by professionals on TV who casually use rollers for warm-up. It's not as easy as they make it look.
Read More: Bike Serial Number: What Does it Mean & Where to Find it?
1. How to set up bike rollers properly?
Assuming you can follow the instructions given in the box and handle the technical details of setting up the bike roller apparatus, I'll give you some tips on setting up the surrounding areas so you can learn it the right way.
The roller must be on even ground, or you'll fall off frequently.
Set things up near a wall or a door so you have plenty of support in case you wobble. Put a soft pillow or footrest to cushion your fall on the other end.
Ensure that the axle of your front wheel is directly above the front roller. It'll put even pressure on the front roller even if your wheel isn't at dead center. This will make sure your wheel stays on the rollers longer than it otherwise would.
Wear sneakers or running shoes instead of biking shoes, so it's easier for you to touch the ground for support.
2. How long does it take to get used to bike rollers?
Bike rollers are tricky to get used to, but the entire ordeal is well worth the effort. On average, it takes at least 3 to 4 months of practicing almost every day to become good at biking on rollers. But it's a gradual process, and you'll notice on-road results within a few weeks.
Can rollers damage your bike? Are they bad for it?
Contrary to the popular misconception, indoor cycling rollers won't damage your bike tires. The roller drums are made of smooth aluminum/plastic that creates enough friction for the tires to stay on but not so much to cause wear and tear.
In fact, rollers cause less wear than indoor bike trainers. Trainers are directly attached to the rear wheel, which causes various issues in the longer run. Many indoor cycling enthusiasts even use older or specialized wheels on bike trainers, but you'll need no such thing for bicycle rollers.