Electric bikes are the latest trend these days. So far, we have been holding out on them due to safety and reliability concerns, but the tech has become quite advanced.
Nowadays, you can get e-bikes with enough muscle to carry you and your kid in a child's seat. Safety aside, taking strolls with your kid around the block has never been easier since you don't have to put in much physical effort. You just have to sit and enjoy.
As you know, a child seat is a detachable seat for a bicycle so a child can ride with an adult. With these child seats, you can enjoy the benefits of cycling with your little ones.
While many kid seats are available, not all are created equal.
Furthermore, you must choose the tried and trusted when it comes to something vital to your child's safety. This article will cover some of the best child seats for e-bikes. I'll also advise you on how to pick your child's bike seat.
How much does a child bike seat cost?
You can purchase good quality child seats for electric bikes at somewhere between $100 – $250. Additionally, you should look at factors such as the desired weight limit and overall compatibility.
Top 5 Child Seats for E-Bikes to Buy
1. Thule Yepp Maxi Child Seat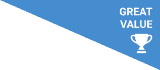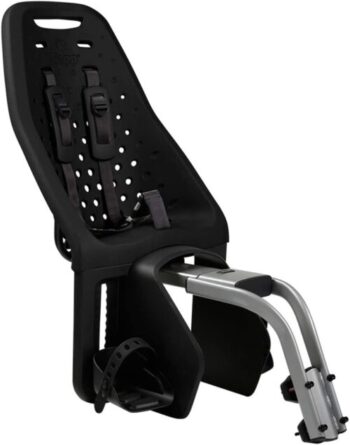 The Thule Yepp Maxi is a great option for heavier children, with a weight capacity of 40lbs. It mounts on the bike's rear and has a comfortable padded seat. It also comes with a built-in reflector and a five-point harness.
You can easily find one available for under $230 on Amazon US.
You can also buy a 2-year protection plan for about 25 bucks. It comes in four colors– Black, Blue, Ocean, and Orange.
The device weighs roughly 10 pounds by itself. It is simple to clean and made of water-repellent material. You can enjoy worry-free rides with features like a safety harness and a childproof seat buckle.
2. UrRider Child Bike Seat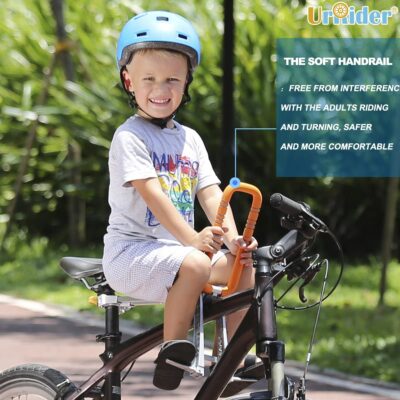 The electric bike child seat by UrRider is the best bang for your buck, priced at just $100. This seat is designed for kids aged 2-6 years, with its weight capacity being 60lbs.
It offers a comfortable, secure ride for children and is simple to install and operate. Given its versatility and adjustability, the seat grows with your child. This seat is designed to be used with a bike's existing seat post and includes a built-in handlebar that you can use to help guide and control the bike while riding.
It also features a padded backrest and a harness system that keeps your child safe and secure while riding. The product is also lightweight, weighing only about 3 pounds.
3. Bobike Kindersitz Mini One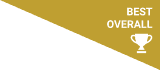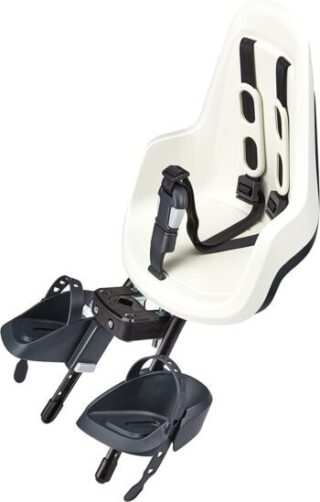 The Bobike Maxi child seat is a front-mounted child seat designed for bicycle use. It features a padded seat, backrest, and a five-point harness system for safety.
The seat incorporates a sunshade and an integrated rain cover for double-layer protection. It is made of water-repellent material for simple cleaning. The seat also comes with an adjustable footrest.
I prefer the design decisions made in this one, even though it is comparable to the Thule Yepp Maxi kid seat in terms of build and functionality. Unlike many other child seats, I have never heard my kids complain about the grip or comfort in this one, and it is durable enough to last you for years. For further protection, a windshield is a fantastic complement to this seat.
It is excellent for children from 9 months to 3 years old since it is on the mild side, weighing around a kilogram yet supporting up to 33lbs. This product is available on Amazon US for $111.
Also, Read 10 Best Electric Bikes Under $1000 in 2022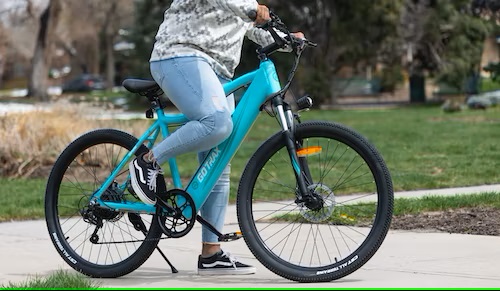 4. Schwinn Deluxe Bicycle Mounted Child Carrier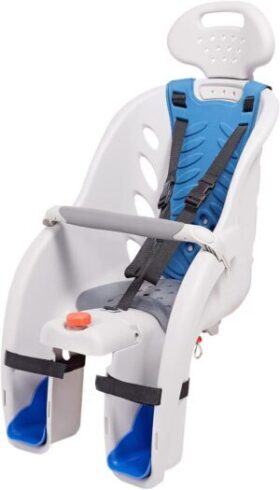 Schwinn Child Carrier is the best child seat for E-Bikes. It attaches easily to most bicycles and has various features to make your ride more enjoyable.
The carrier comes with a nice and comfortable seat and a five-point harness to protect your child. A sun canopy is also included to shield them from the sun!  Even a storage compartment for your valuables is built into the seat.
Schwinn is a reputable brand, and rightfully so. Thanks to the included toolset and instructions, I didn't find the installation procedure intimidating. The Y-shaped belts provide a firm grip, and there are velcro straps around the feet to prevent children from accidentally putting their feet inside the rear wheels.
It also has a kickstand to keep it upright when not in use. Even though Amazon US lists the price as $130, you will most likely be able to get a discount and buy it for a lesser price.
5. Hamax Caress Rear Child Bike Seat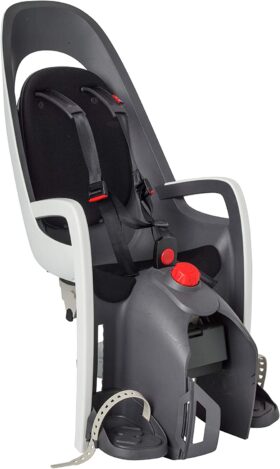 The Hamax Caress is the best rear-mounted child bike seat for children aged nine months to 6 years. It features a 5-point harness system for the safety of your child.
The seat also has adjustable footrests and a padded seat and backrest for comfort. Additionally, you can recline the seat to provide your child with a comfortable riding position.
On Amazon US, you can find this seat available for 210 Dollars in two color combinations– Grey and White and Grey and Red.
How to choose a Child Seat for an E-Bike?
1. Make a budget and stick to it.
A wide variety of child seats are available on the market, each with its unique price tag. Decide on a budget for your purchase and look for options only in that budget. It will make it easy for you to compare products.
2. Type of the child seat
First, you'll need to decide whether you want a front- or rear-mounted seat.
Rear-mounted seats are generally more stable and comfortable for your child, but they can make it more difficult to keep an eye on them.
Front-mounted seats, on the other hand, make it easier to interact with your child and keep an eye on them, but they can be less comfortable for longer rides.
On another basis, the most common type of child bike seat is a seat that straps onto the bike frame. These seats are easy to install and remove. However, they could make it harder to view your child and make them feel less comfortable.
Another option is a seat that mounts onto the bike's handlebars. These seats are premium, but they offer your child much more comfort and a better view.
3. Compatibility
Make sure your child's seat is compatible with your e-bike. Some seats are designed to work with specific models or brands of E-Bikes, so it's important to check that the seat you're interested in is compatible with your bike.
You'll also want to ensure that the seat is the right size for your child. Many child seats are adjustable, so you can find one that will provide a comfortable and safe ride for your little one.
4. Weight Limit
Most seats have a weight limit of around 40 pounds, but some can accommodate up to 60 pounds. If you have a larger child, you may need to look for a seat with a higher weight limit.
So, choose a seat that will be comfortable for your child and has a weight limit appropriate for your child's size.
5. Desired Features
You'll need to decide on the features you want in the child seat while at the same time keeping your budget in mind. Some seats have a built-in seatbelt, while others have a separate seat and belt. Some seats have a footrest, while others do not.
Consider what features are important to you and your child before finalizing one.
Also, Read Best Balance Bikes for Toddlers You MUST Purchase in 2023
Frequently Asked Questions
1. At what age can you take a child on a bike?
Most children can start riding a bike with training wheels from around 4 or 5 years old. However, it also depends on several factors, such as the child's age, ability, and confidence level.
2. Are e-Bike seats safe for toddlers or kids?
Most e-bike seats are safe for toddlers and kids, but it is always best to check with the manufacturer. Many e-bike seats have a 5-point harness to keep your child secure, and some even have a built-in seatbelt.
If you are still unsure about the safety of an e-bike seat, it is always best to consult with the manufacturer or a qualified bike mechanic.
3. Are there any safety tips I should know about when using a child seat on an e-bike?
Following these safety guidelines is crucial when using a kid seat on an e-bike::
1. Make sure that the seat is firmly attached to the bike and that the child is securely strapped in.
2. Do not let the child ride without supervision.
3. Be aware of your surroundings and ride cautiously.
4. Teach the child how to stay in the child's seat safely.
5. Inspect the seat and the bike before each ride.
4. What are the benefits of using a child seat on an e-bike?
The most obvious benefit is that it allows you to transport your child while riding an e-bike safely. Child seats on e-bikes typically have a five-point harness system that helps to keep your child secure and comfortable while riding.
Another benefit of using a child seat on an e-bike is that it can help increase the range of your e-bike. This is because most child seats for e-bikes are mounted over the rear wheel, which helps redistribute the kid's weight more uniformly throughout the bike.
Finally, using a child seat on an e-bike can also help you teach your child about responsible riding habits.