There are quite a few of brands that make mountain bikes in America. The main issue is a lot of them will not be the mainstream brands that get a lot of magazine coverage.
The good news is the range of bikes being built in America covers everything from bamboo mountain bikes to carbon fiber mountain bikes. Being American-made, you will be paying a premium over what you pay for mass produced Asian bikes.
Gearing Up
The other issue when it comes to buying American is that you will need to forgo gears if you want to buy every part from an America company. All of the groupset manufacturers are based in the far-East.
There is also a lack of a tire manufacturers. Indeed, the internet tells us the last US-made bicycle tire rolled off the production line in 1987. If you want to avoid Asian manufacturing, you could go for Continental tires as they have tires handmade in Germany.
You will be able to get suspension on your mtb. Both Fox and MRP are constructed in the USA. They may feature parts made in other parts of the world, however. They are assembled by hand in California and Colorado respectively, though.
Componentry
Likewise, with frames, there are many component manufacturers still based in America. You will find that Thomson and Paul components are lusted all around the world for their high-quality builds. The Paul Components disc brakes and the Thomson dropper posts are two works of art that deserve to be in galleries — not just on your muddy bike.
Now let's take a look at frames. You can find plenty of companies that will build the frame of your dreams for you. The hardest part would be deciding what material you want it constructed using. You can have steel, aluminum, titanium, carbon fiber, and bamboo.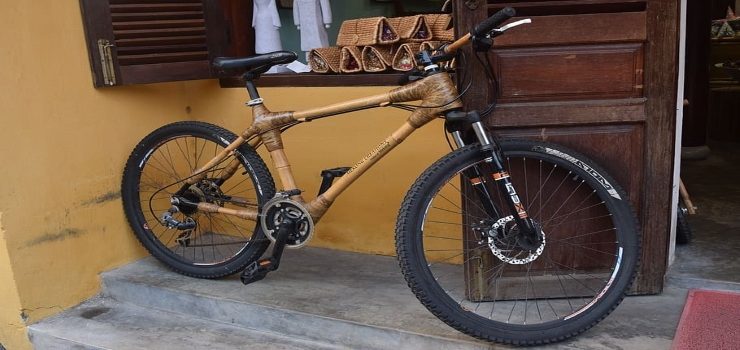 That is right, I said bamboo. You can even go as far as buying a bamboo frame kit from Calfee and building your very own mountain bike frame. How about that for a handmade in America project? Building a frame in your own garage. Calfee loves bamboo, and as one of the pioneers of carbon fiber construction it'll be great to see where they go in the future.
Tied Up
Lynskey is one of the manufacturers you may have heard about from magazines. They make hardtail, fat bike, and full suspension frames in the USA. They make their frames out of titanium. You will need to order one when your bank manager is out of earshot.
They are another American brand that is highly sought after all over the world and have become a benchmark for quality bike construction. You will even find other brands that use them for their OEM requirements.
Titanium frames are something America does well. Along with Lynskey, you will also find Firefly, Litespeed, and Seven Cycles. These are the big brands that use titanium. You will also see many small frame builders beavering away in industrial units all over America building great frames, and not just in Portland.
Steely Determination
If you fancy something a little cheaper and a whole load more hardcore, check out Black Market Bikes. Their website even has a little "American-Made" section, so you can pick the American-made parts that your bike needs.
At one point, Black Market had the most lusted after dirt jump frame on the market. It was handmade in America by the BMX institution S&M. They are still making some of the best 4130 steel frames out there.
If your hardcore needs include needing more bounce, you might want to jump over and check out Foes. Foes build frames that look like they could survive Armageddon. They only build out of aluminum as they have found it to be the best for their particular uses.
The King Decrees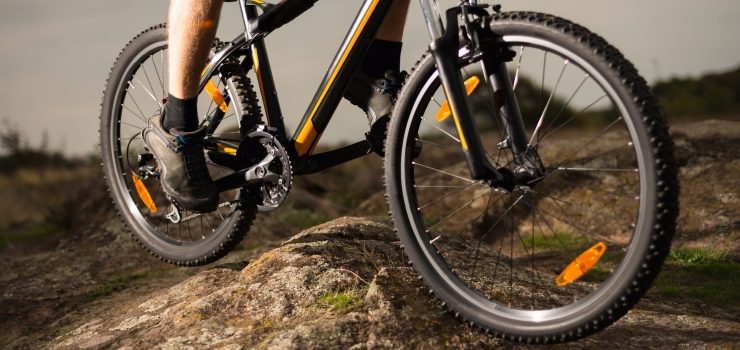 Wheels are where American-made components will truly shine through. Chris King makes some of the finest hubs in the world. They are also one of the best places to work in the world. There are rumors of a Michelin starred chef in the canteen. You have probably already guessed they are based in Portland.
Their surgical-quality parts adorn many professional biker's bikes. Unlike some other companies, Chris King procures all their raw materials in America. They have certified only three mills as being of a high enough standard to produce the metal they need.
They are also one of the most environmentally friendly manufacturers in the bike trade. Everything can be recycled. They use soy oil instead of cheaper petroleum-based oils. Their parts have a warranty that dwarfs our manufacturers in coverage.
Feeling Some "Enve"
The high-quality Chris King hubs need to be laced to a wheel rim of an equally high standard. Thankfully in Ogden, Utah, there is just such a company. Enve are a carbon fiber manufacturer that make highly coveted products.
Their wheel rims are found at the highest levels of the sport. They are at the forefront of new technologies and are pushing the boundaries of what can be done with carbon. They also supply their rims already laced to Chris King hubs. Given that they are based in Utah, you know the wheels have been tested in some severe conditions.
You can pretty much build a bike with all American parts. The only issue is the groupset. You can limit this by buying American-made cassettes and chainrings. In a full build, the only parts you may need from overseas are tires, the shifter, and a rear mech if you go for a 1x build.
The other option is to build a great high-end single speed. Then you would only need to buy tires from overseas. It might not be the cheapest bike in the world, but you can be sure it would turn a lot of heads when out on the trail.
References
Last Bike Tire Made In U.S. – Washington Post